My favourite season is upon us, and no I do not mean winter. I mean the festive season. Ahh! Finally a much needed happy time amidst the sadness of this pandemic. The festive season always reminds me of my childhood. The excitement of having family over, dressing up and eating insane amounts of mithai. Even though it will not be the same this year, the mithai part is one aspects we all do not need to sacrifice on. Which is why to make things more exciting I am starting with a 5 episode series on my Youtube channel called 'Festive baking with Shivesh'.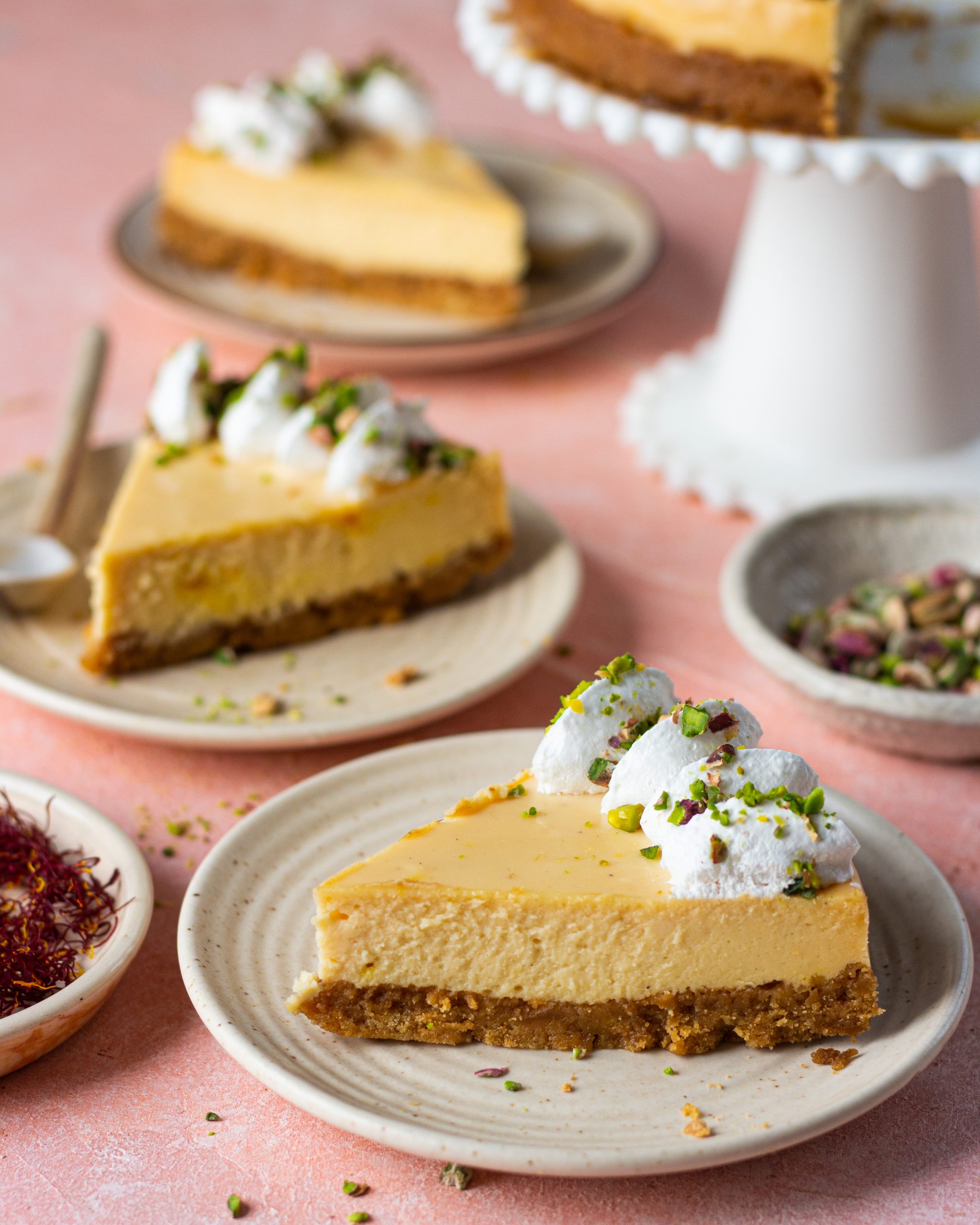 So the first festival that we need to charge for is Durga Puja. Even though I have never personally celebrated it, I have a tonne of friends who have. I had to make a few calls here and there so I understood the culture and represented it properly. Finally stumbled upon the decision of making a Mishti Doi Cheesecake and OH MY LORD! What a fantastic decision it was! This is my NO CREAM CHEESE, Mishti Doi cheesecake and it is absolutely divine. It's got the perfect cream cheese tang and beautifully pairs with the sweet flavors of Mosthi Doi.
I did listen to all you complaining about the availability of cream cheese and trust me with this recipe, even you wouldn't be able to tell it is without cream cheese! 
No cream cheese mishti doi cheesecake
Let's talk about the elephant in the room, now if this is a cream cheese less cheesecake what is the replacement? And drum roll pleaseee? It's yoghurt, your basic homemade dahi! Now if you think about it technically, both cream cheese and yoghurt are made with milk. They are just fermented differently. Now for us to replicate the cream cheese, we need to take out all the excess moisture content present in yoghurt. This is a crucial step when it comes to making our no cream cheese mishti doi cheesecake, so to remove all of the excess moisture we will  be hanging our yoghurt overnight. This will give us the perfect hung curd. 
Tips to make the perfect hung curd
Use a muslin cloth over a large strainer. Muslin cloth will help bind the curds and not allow solids to passover.

Strain for a minimum of 12 hours and do not rush this process.

Do not try to squeeze the excess water out using your hands.

Only measure after hanging the curd, since we are losing a lot of volume while straining. 
No bake biscuit base
This honestly is the easiest biscuit base of all times. It is no bake, super quick, made with only 3 ingredients and yummm! I am using digestive biscuits here since i really enjoy their texture but you can use any biscuit of your choice. To bind the base, we will be adding some melted butter. The quickest way to melt butter is definitely the microwave, quite fast and efficient. And then to add the desi touch, some jaggery. I love the warmth and earthiness jaggery powder adds to my desserts. 
Tips for the perfect biscuit base:
Use melted butter only, this will allow all of our biscuit crumbs to be coated which is important for binding.

Use the back of a glass jar to press firmly against the biscuit base in your baking pan. This will pack them tightly and not allow it to crumble. 

Chill the base for at least 15-20 minutes or until completely set.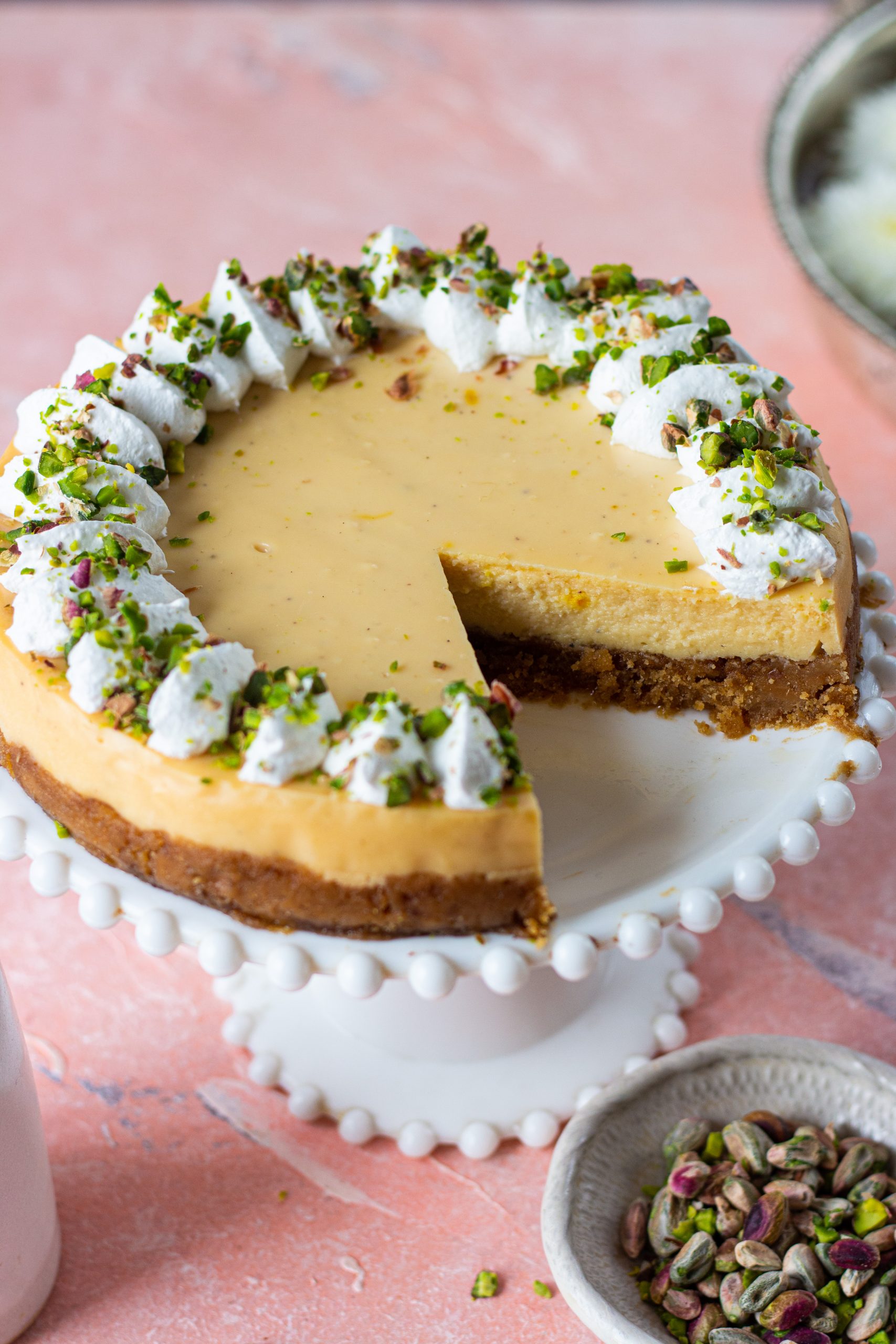 Mishti Doi- festive flavours
In Bengali Mishti Doi means sweet curd. With durga puja around the corner I had to incorporate the flavours of this amazing dessert in my cheesecake. So the base of our no cream cheese cheesecake is simply that of a mishti doi. And to make it all a little extra and festive I am adding cardamom powder, which is elaichi. This magic spice is the essence of Indian flavour, from chai's to savoury meals to our lovely cheesecake, its an all rounder. 
And then to make it even more festive and add a hint of natural colour, some saffron. It was smelling absolutely stunning in the studio at this time and I could not have asked for anything more festive!
Now things to keep in mind when it comes to saffron is that a little goes a long way, and it will need some warmth to extract maximum flavour. This is why I warmed up 1 tbsp of milk and added in a few strands of saffron and let it infuse for a few minutes before adding it to my cheesecake.
Crack free no cream cheese mishti doi cheesecake
I know it can be a little heart breaking when you put so much work into making a dessert and then it cracks in the oven. What a terror! Here are some tips to help you avoid that. 
Mixing your cheesecake batter only until no large lumps are visible and not over mixing will help the cheesecake to not crack in the oven. 

Baking the cheesecake in a water bath will also ensure a smooth and evenly cooked top.

It is known that adding a small quantity of corn flour to your cheesecake batter can really help you get a crack-free cheesecake. Corn flour interacts with the ingredients and gives you a stable mix. You can simply apply this trick even in your cookies, mixing one tablespoon of cornflour gives a very chewy texture to cookies.

 
Dress it up
Now that our dessert was all ready, I had to dress it up for the occasion. Some whipped cream topping and chopped pistachios not only gave that festive touch and add a great texture and taste too! Its a win-win. However if this festive cheesecake doesn't float your boat, I have so many other flavours that you can check out, Classic Cheesecake, Blueberry Cheesecake Cups, No Bake Eggless Mango Cheesecake cause in my humble opinion, every occasion needs a cheesecake!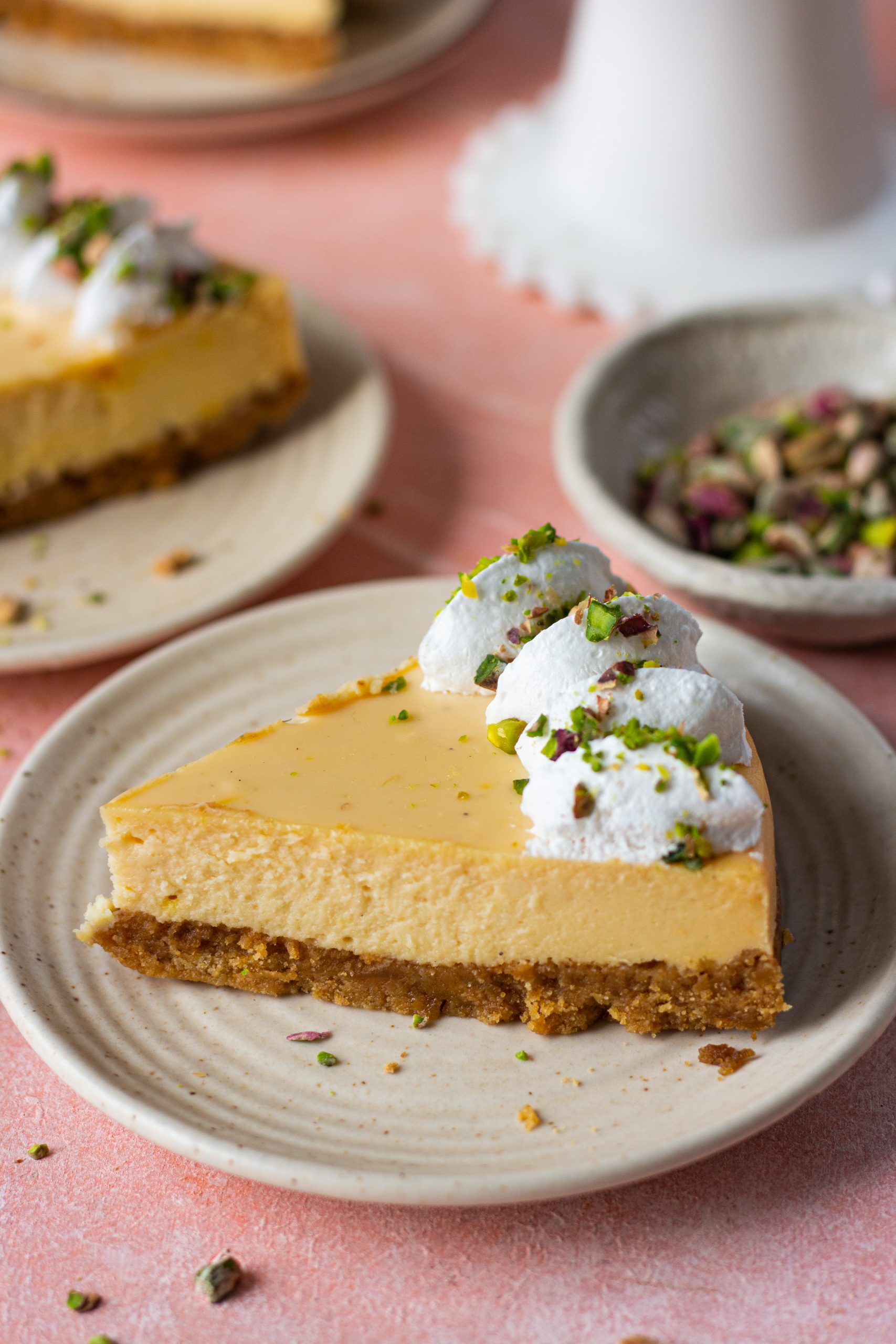 I am so excited for the festivities to begin and for you all to try and relish these beautiful desserts. I would love to see your creations, so when you do recreate tag me @shivesh17 on Instagram!

No cream cheese mishti doi cheesecake
Ingredients
2 cups crushed biscuits
⅔ cup melted salted butter
2 tbsp jaggery powder
1 + ½ cups hung curd
½ cup heavy cream
1 cup condensed milk
2 tbsp cornflour
½ tsp cardamom
10-15 strands kesar + 1tbsp milk
Whipped cream and chopped pistachios, for decoration
Instructions
In a large bowl, add the crushed biscuits, jaggery and melted butter. Using a wooden spoon mix this well until all crumbs are coated.
Transfer the biscuit base to a 6' springform pan. Using the back of a glass jar, press firmly until the base is nice and even. Refrigerate it for 15-20 minutes.
In a bowl, add cornflour and heavy cream and mix until a smooth slurry is formed, set aside.
In another large bowl, add hung curd and smoothen it using a spatula. Add cardamom powder and saffron milk, give this a good mix. Add the condensed milk and the cornflour-heavy cream slurry. Mix only until no large lumps are to be seen. Do not over mix.
Line the sides of the springform pan with parchment paper. Transfer the filling over the chilled biscuit base. Add the springform pan with the cheesecake into a larger baking with hot water to create a water bath for the cheesecake to bake.
Transfer this to a preheated oven and bake at 170 C for 40-45 minutes.
Once baked, set it to refrigerate for overnight or at least 4 hours.
For finishing touches, pipe whipped cream and sprinkle crushed pistachios. Do not wait, devour immediately!!