Ever since I started sharing recipes on the internet, 6-7 years ago, the number one request that I have received from all of you is to share a recipe for eggless macarons. I am so happy to finally be sharing the same on my website!
Macarons are one of those pastry items that the majority of the people are afraid of making. They are definitely a bit tricky to make and it might take you a few trials to get them right but once you do, the satisfaction is so worth it. In this article I'll share some tips and tricks to help you get the perfect eggless macarons. Let us get baking! 
About eggless macarons 
Macarons are meringue based pastries that are made out of almond flour, egg whites and sugar. These pastries are then sandwiched using various fillings. French macarons are one of the most popular confectionery items throughout the world. They are made with patience, precision and technique. Now because macarons are so sensitive to make, people almost always make them with egg whites. Egg whites whip up beautifully and can be used to make a stable meringue which is crucial to the structure of a macaron.

But just because so many of us do not consume eggs doesn't mean we can't enjoy this beloved pastry right? Eggless macarons are also made with patience, precision, and technique. The common replacement for egg whites in eggless macarons is aquafaba. 
Aquafaba is the water in which chickpeas have been cooked. It is a gelatinous liquid which whips up just as nicely as egg whites. If you have aquafaba then you are good to go to make eggless macarons.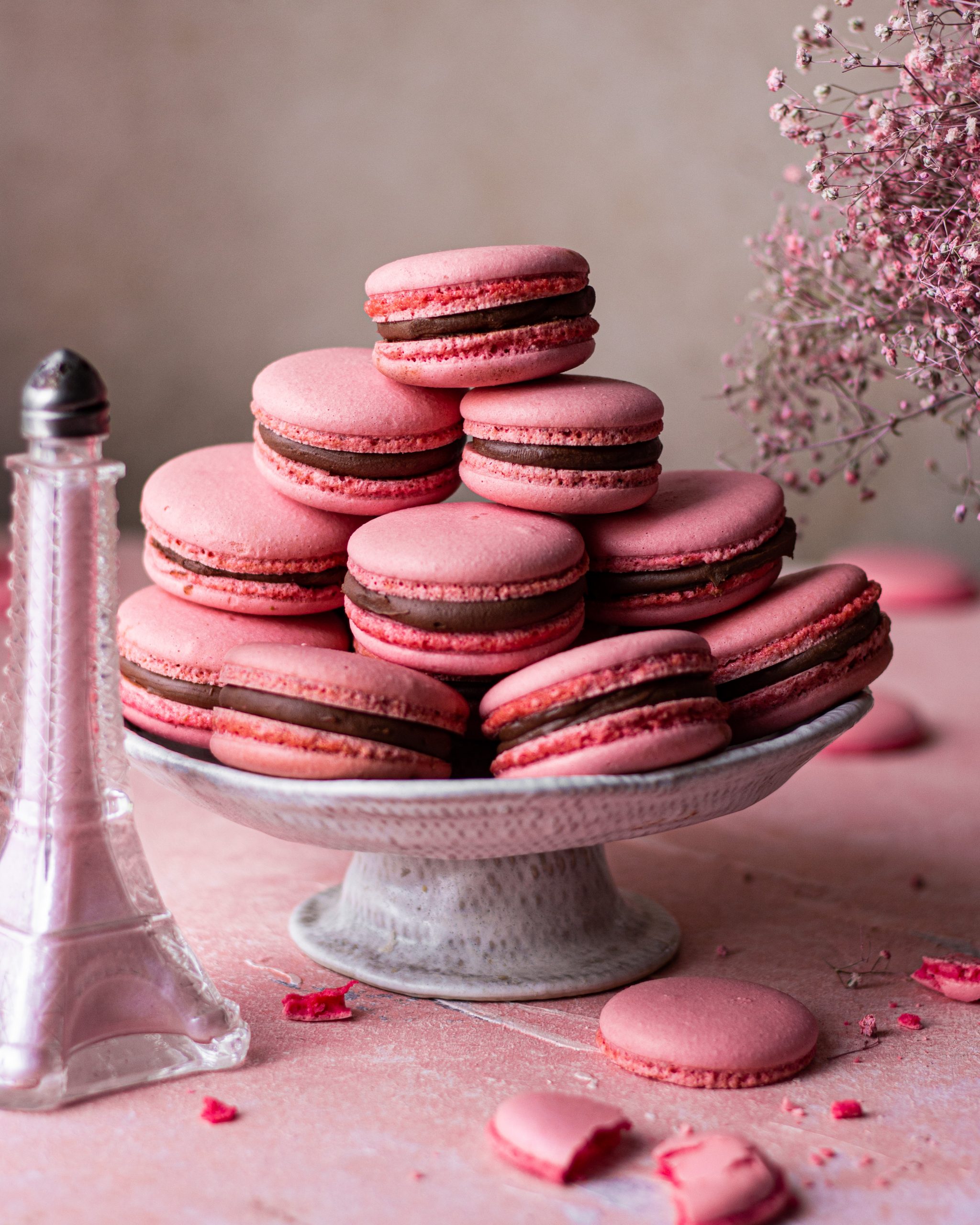 Making aquafaba at home for eggless macarons 
Now you can get your hands on aquafaba in two ways: you can either buy canned chickpeas from your local store and just use the liquid part from the can or you can make aquafaba from scratch. 
To do that, you need to follow this process: 
Soak chickpeas in ample amounts of water. This needs to be done overnight. 

The next morning, strain all the excess water. Put the chickpeas in a pressure cooker, immersed in water and cook them until one whistle pops then lower the heat and cook for another 10-15 minutes. 

Once cooked transfer to a bowl and let it cool in the fridge for 10-12 hours so the aquafaba gets gelatinous. 

Then strain out the aquafaba and store it in an airtight container for 3-4 days.
After aquafaba, another crucial ingredient for macarons is almond flour. 
Almond flour for eggless macarons 
A staple ingredient for macarons is almond flour. It adds a great flavor to your macarons and also gives the macarons their unique texture and makes them nice and chewy. 
I know using almond flour is on the expensive side but trying to replace the flour will affect the consistency of your batter. The amount of moisture in each flour varies from the type of flour and also from brand to brand. Macaron shells are sensitive to the amount of moisture in them. Excess moisture will lead the macaron feet to spread and less moisture will lead your macaron shells to crack. 
But if you do not want to buy almond flour or can't find it in your local stores, you can very easily make it at home! These are the steps that you need to follow:
Soak almonds in water overnight and peel off the skin the next morning. Air dry for 1-2 hours. 

Blend the blanched almonds in a food processor till it reaches a fine powder consistency. 

Keep a close eye while blitzing the almonds. If you blitz too much, it can easily turn into paste.
However, I would recommend store bought almond flour because the moisture content in the packets is more reliable and the powder consistency is extremely fine.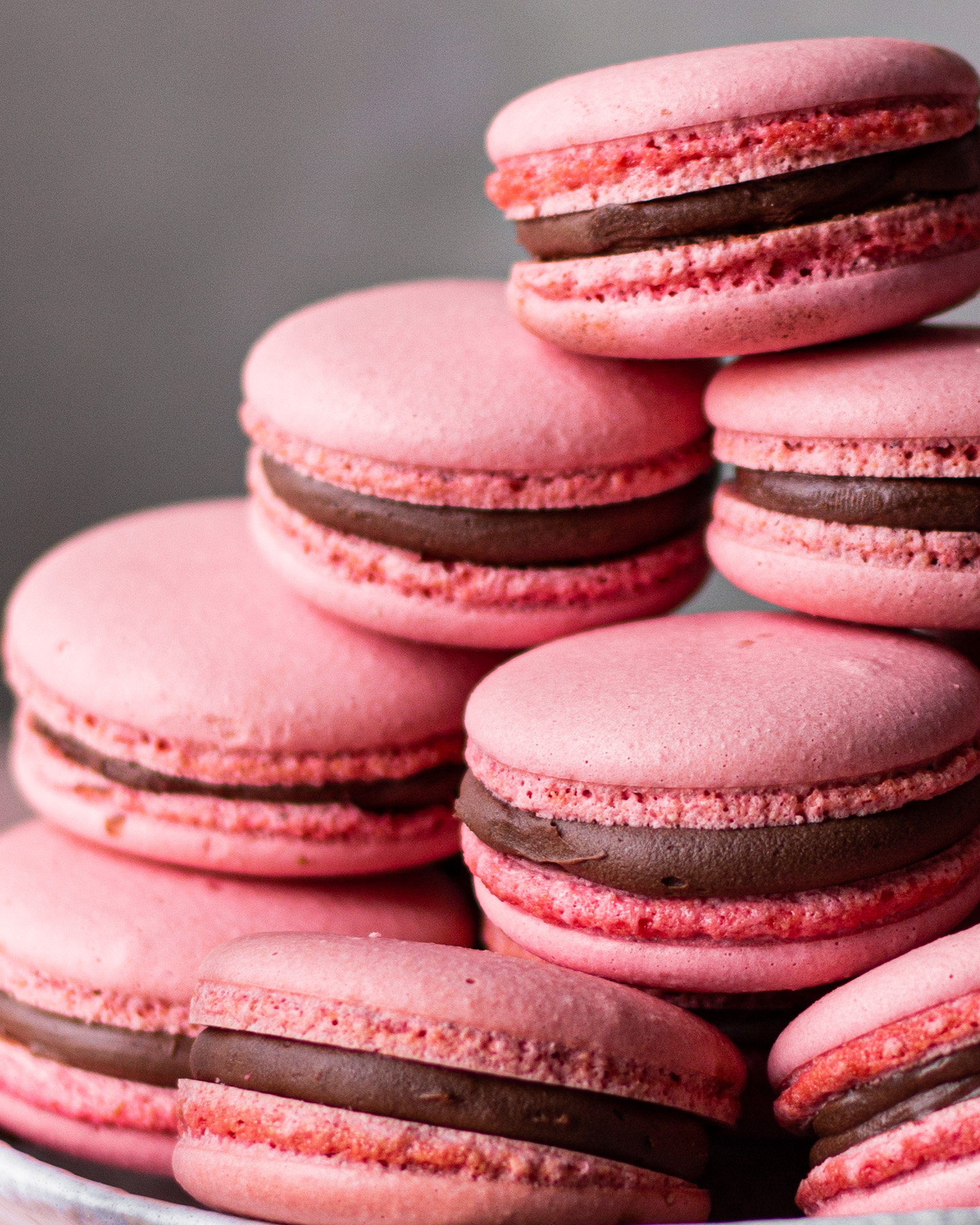 Tips to keep in mind while making eggless macarons 
Do not skip on sifting 
Always sift the icing sugar and almond flour so that there are no lumps in your batter: Ensuring that your macaron batter is as smooth as possible is crucial to having perfect macaron shells. Any lumps whatsoever will only give you a bumpy shell that might crack in the oven. 
Use clean equipment to make meringue 
To make eggless meringue (from aquafaba) ensure the bowl is dry and grease free. Any water or any grease in your bowl, electric whisk, or even the spatula, will get in the way of the aquafaba and will definitely stop it from forming stiff peaks. If you don't reach stiff peaks, the macaron batter will never work. 
Bake on a layer of silicone mat or 2 layers of parchment
You cannot bake macarons by just piping them on your baking sheet. You need a silicon mat or parchment paper to give the shells a non stick surface and to make sure heat is distributed evenly. 
Keep the parchment and silicone mat grease free 
Cut the grease on your silicone mat by rubbing a lemon wedge. This will help your macarons rise perfectly. 
Get rid of all air bubbles 
While transferring the macaron into a piping bag, make sure there are no air bubbles in it. Push down the macaron batter while filling the piping bag and pop out any air bubble you see before piping individual shells.  After piping all macaron shells, tap the baking tray on the table to take out air bubbles. 
Freeze macarons for the perfect texture
After cooling and filling your macarons, ideally you should freeze them overnight to make them chewy.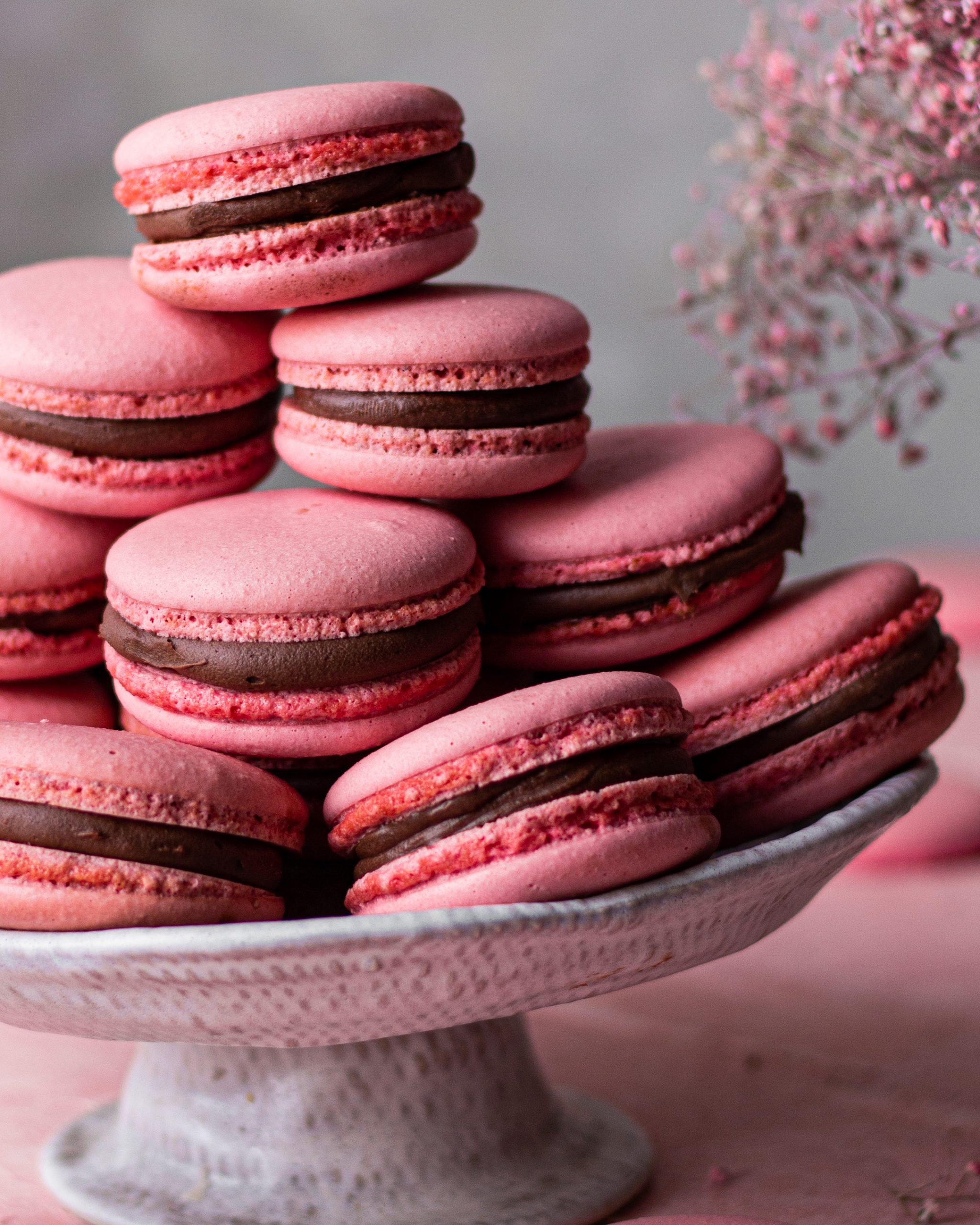 How to fill eggless macarons 
Whenever you are making a filling for your macaron shells, just keep in mind you are using a filling that is pipeable and stable. For my eggless macarons I used a dual filling – chocolate ganache and caramel. Since chocolate ganache is much more stable than caramel, I piped it on the edges on the macaron shell and left some space in the centre in which I later piped in the caramel. 
You can really choose whatever filling you want! Buttercream is a great stable filling to use here. You could also fill your macarons with lemon curd, some whipped frosting, or really whatever floats your boat. 
Now I had too much fun baking these macarons and I hope you will too! I can't wait to see what you all come up with so do not forget to share images with me on my Instagram @shivesh17. Happy baking! 

Eggless macarons
Ingredients
37.5 g aquafaba
55 g icing sugar
55g almond flour
33g caster sugar
Instructions
In a bowl sift in almond flour and icing sugar and set it aside.
In another clean bowl, add in aquafaba and start whipping at medium low speed. Once the aquafaba gets slightly foamy, increase the whipping speed to high and start adding caster sugar in small batches.
Once you reach soft peaks, add in a few drops of gel food color of your choice and continue to whip till you reach stiff peaks. This can take 7-8 minutes.
After reaching stiff peaks, carefully fold in the almond flour and icing sugar that was set aside before.
Use the cut and fold method and check the consistency of your batter after every two-three strokes of mixing.
Once you reach a consistency where your batter freely falls off the spatula, you can transfer the batter into a piping bag and pipe individual shells on your baking tray lined with silicone mat.
After piping, let shells rest for 15 minutes till they form a skin on top. Meanwhile preheat your oven at 140 degree C.
Bake for 30-35 minutes.
Cool down completely and fill with your favorite filling.
Enjoy!