For the longest time when I would think of lemons, only savory things to come to my mind. I think it's common to think of salad recipes and marinades with lemon. But lemons are just so versatile that when I started experimenting with them early on in my career, I got super impressed and started loving lemons in my desserts endlessly. Now I have discovered the land of lemon desserts starting from my simple Lemon Curd, Raspberry Lemon Cupcakes, to Lemon Thumbprint Cookies and so many more.
But I must admit that I have a sweet special spot in my heart for this eggless lemon sponge cake. This cake is the absolute best. It's moist, soft texturally, and heavenly when it comes to taste. I love how citrus adds such a great balance to the overall sweetness of the cake and makes it just about perfect. So if you are a lemon lover or a new wanderer into the baking with the lemon world, this recipe is a must in your repertoire.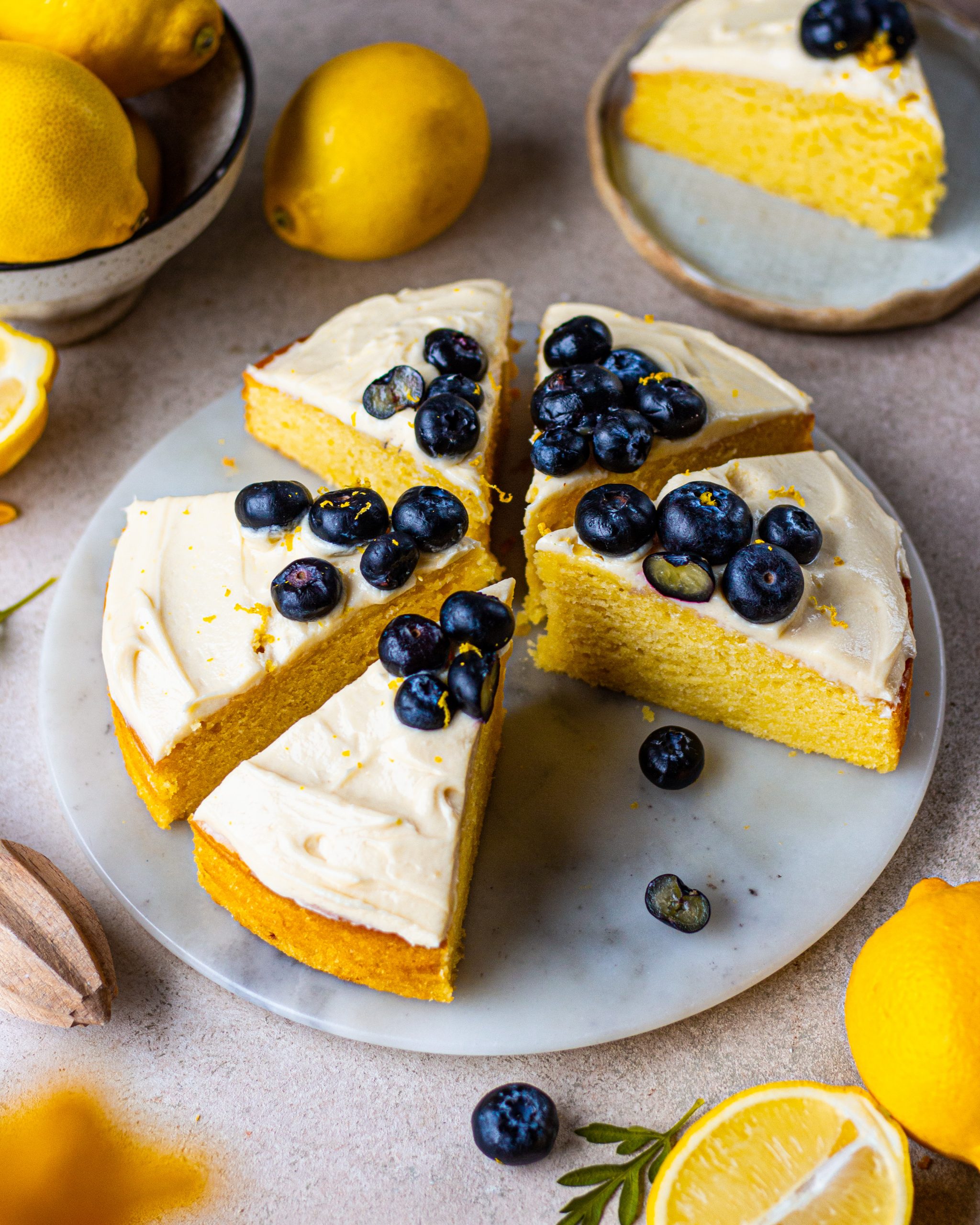 Ingredients for the lemon sponge cake
1. Flour
Flour being the major component of a cake it is very important to choose wisely. Even though I have experimented enough and used whole wheat flour to jowar to oat flour for baking, all-purpose flour remains to be my used flour because of how good of a texture it adds to my baked goods. I always pick and stick to the same brand for consistent results in my baking. I usually purchase all-purpose flour from my local grocery store that sells this brand called Ahaar.
2. Oil
For all my recipes that use oil, I always suggest using a neutral-tasting oil. Sunflower oil stands to be my favorite but any neutral tasting and smelling oil will work great for this lemon sponge cake.
3. Curd
This lemon sponge cake has such a beautiful fluffy texture and if there is one ingredient to particularly thank for is curd. It replicates the fats of an egg and gives our cake that richness and goodness. Now, homemade Dahi works great here. If your homemade Dahi is a little watery you can always hang it for a few hours or even use store-bought yogurt for similar results.
4. Lemon
To give this lemon sponge cake the great lemon flavor, we are not only adding fresh lemon juice but also lemon zest. I love using the big Italian lemons for all my baking recipes, but our desi nimbus also work just the same. You will probably need a few to get the same quantity of juice as from an Italian lemon, but it's all the same in the end. Let's come on to my favorite part of the recipe- lemon zest. I mean, have you ever zested a lemon and had to stand still for all the gorgeous aroma and fruitiness to settle in? I do every single time, it's almost magical. It's fruity, fresh, citrusy, and relaxing all at the same time. Plus it adds heaps of flavor to our cake, and all for it!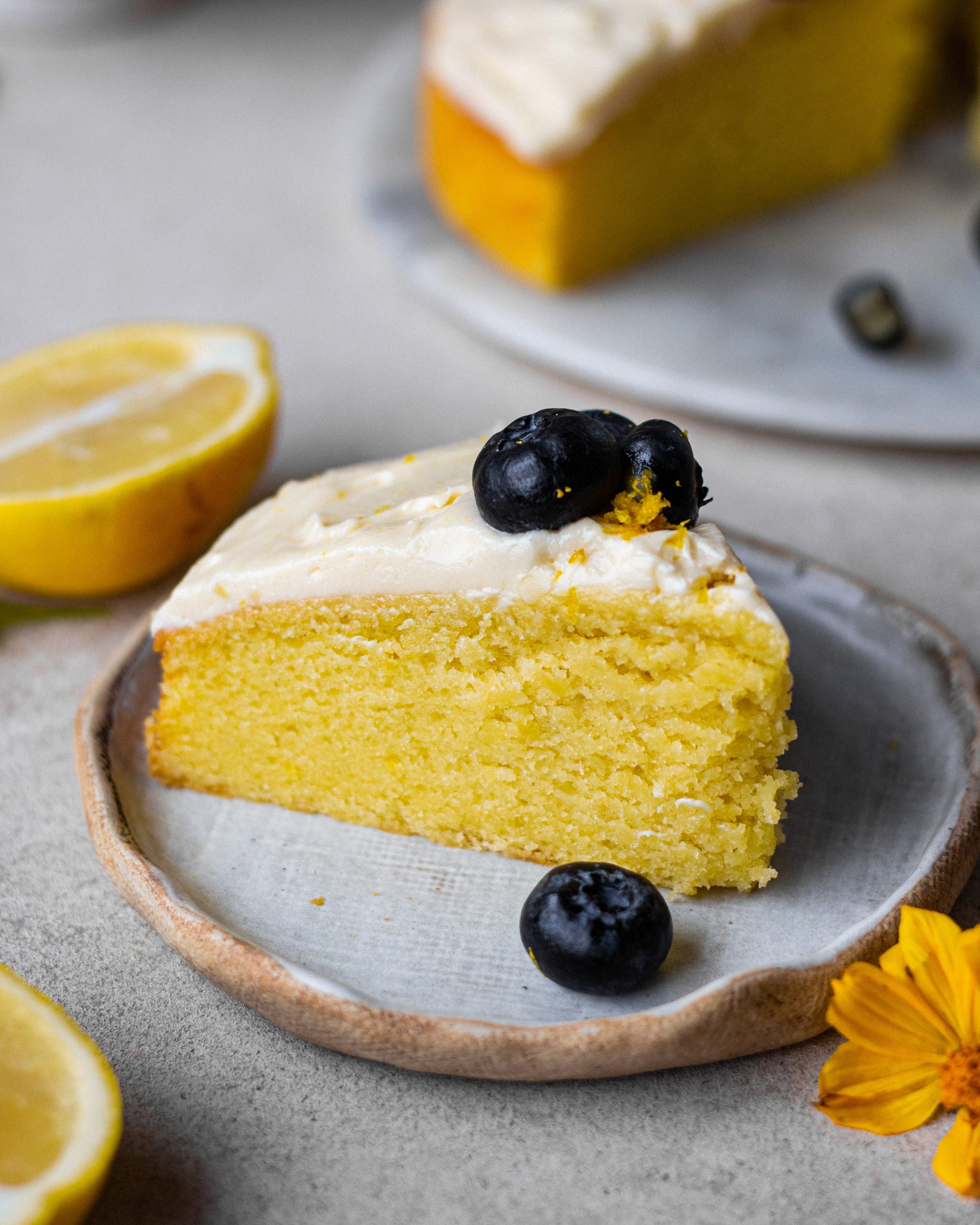 Tips for zesting lemon
Wash the lemons thoroughly before use.
To zest your lemon, use a micro-plane zester or a small grater.
While zesting, make sure you are only getting the yellow skin of the lemon and not the inner white skin, which is bitter.
 Always remember to freshly zest the lemon right before you need it for the cake.
Microwave recipe for the lemon sponge cake
This has to be the most asked question on all my social media platforms. Can we bake the recipe in a microwave? And the answer is YES! I am so glad that I am creating a recipe that can be made both in an oven and a microwave so everyone can bake and rejoice with this beautiful lemon sponge cake!
If your microwave has a convection mode, you can also bake this cake in it!  To bake these cake in the microwave, preheat until 180 degrees celsius. Place the cake pan on your tray, and allow it to bake for 22-25 minutes only. Again, microwaves differ, so keep a sharp eye out for the golden edges.
This cake can also be made in a cooker or kadhai, the options are endless. Basically, I just want you to make this recipe and share the joy it brings to you!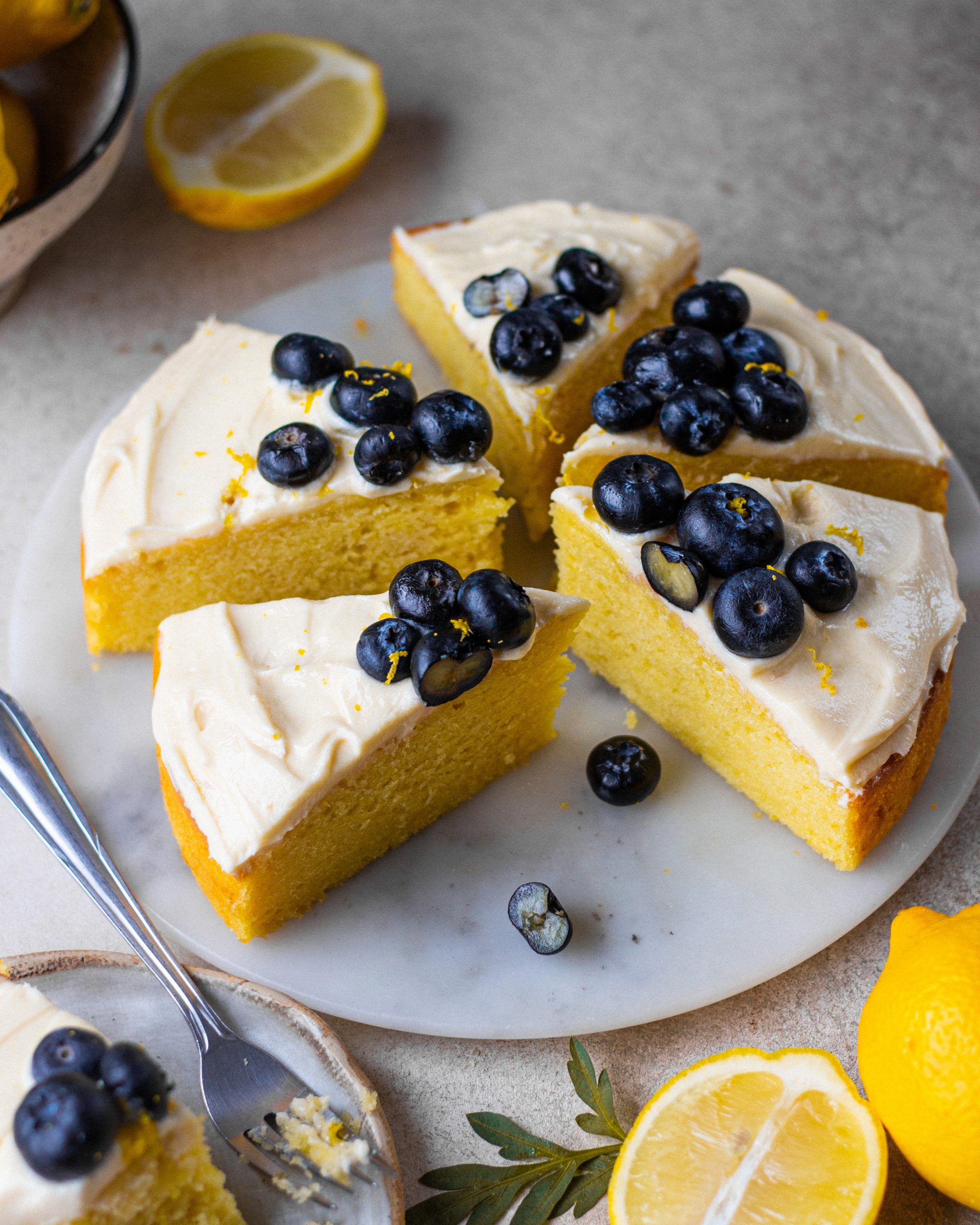 Finishing touches
This recipe is simply beautiful and ready to eat as is, but if you are extra like me and you love cream cheese as much as I do, you have to make this cream cheese frosting recipe asap! It is so creamy and delicious and compliments the lemon sponge so so much.
I love using brands like D'lecta and Britannia for cream cheese. But, if you live in an area that does not have a ready supply of cream cheese, you can easily make cream cheese at home. The recipe of which is right here.
This is an eggless recipe, however, if you wish to add eggs and bake this lemon sponge cake. You can do so by adding 2 eggs in place of the curd.
Eggless Lemon Sponge Cake Recipe
EGGLESS LEMON SPONGE CAKE: BEST LEMON CAKE RECIPE
Ingredients
1 +1/2 cup (180g) all purpose flour (maida)
½ teaspoon (3g) baking soda
1 teaspoon (4g) baking powder
1 teaspoon (2g) lemon zest
¾ cup (180mL) vegetable oil
1 + ½ cup (300g) castor sugar
1 cup (285g) yogurt/ hung curd
½ teaspoon vanilla extract
5 tablespoon (75mL) lemon juice
½ cup (120mL) milk
2-3 drops of yellow food colouring
Instructions
Pre-heat the oven to 180*C and line a 8" cake pan with parchment paper
In a large bowl add flour, baking soda, baking powder and lemon zest. Give this a good mix and set it aside
In a separate bowl, add vegetable oil, sugar and vanilla extract. Use an electric whisk or hand whisk and mix this until the mixture is well combined and slightly fluffy.
Add the lemon juice and curd, mix until well combined.
Add the dry ingredients to the wet ingredients in two batches, alternating with milk. Using a spatula to fold the dry ingredients into the wet ingredients. Add the food colour and mix well too. Do not over mix at this stage.
Transfer the batter into the prepared cake pan. Bake at 180*C for 35-40 minutes or until a skewer inserted comes out clean.
Allow the cake to cool down and frost with the most amazing cream cheese frosting. Top with blueberries and devour!
Always excited to see your pictures on Instagram! Make sure to tag me #Bakewithshivesh so that I can see all your lovely creations. Happy baking!