Eggless chocolate filled cookies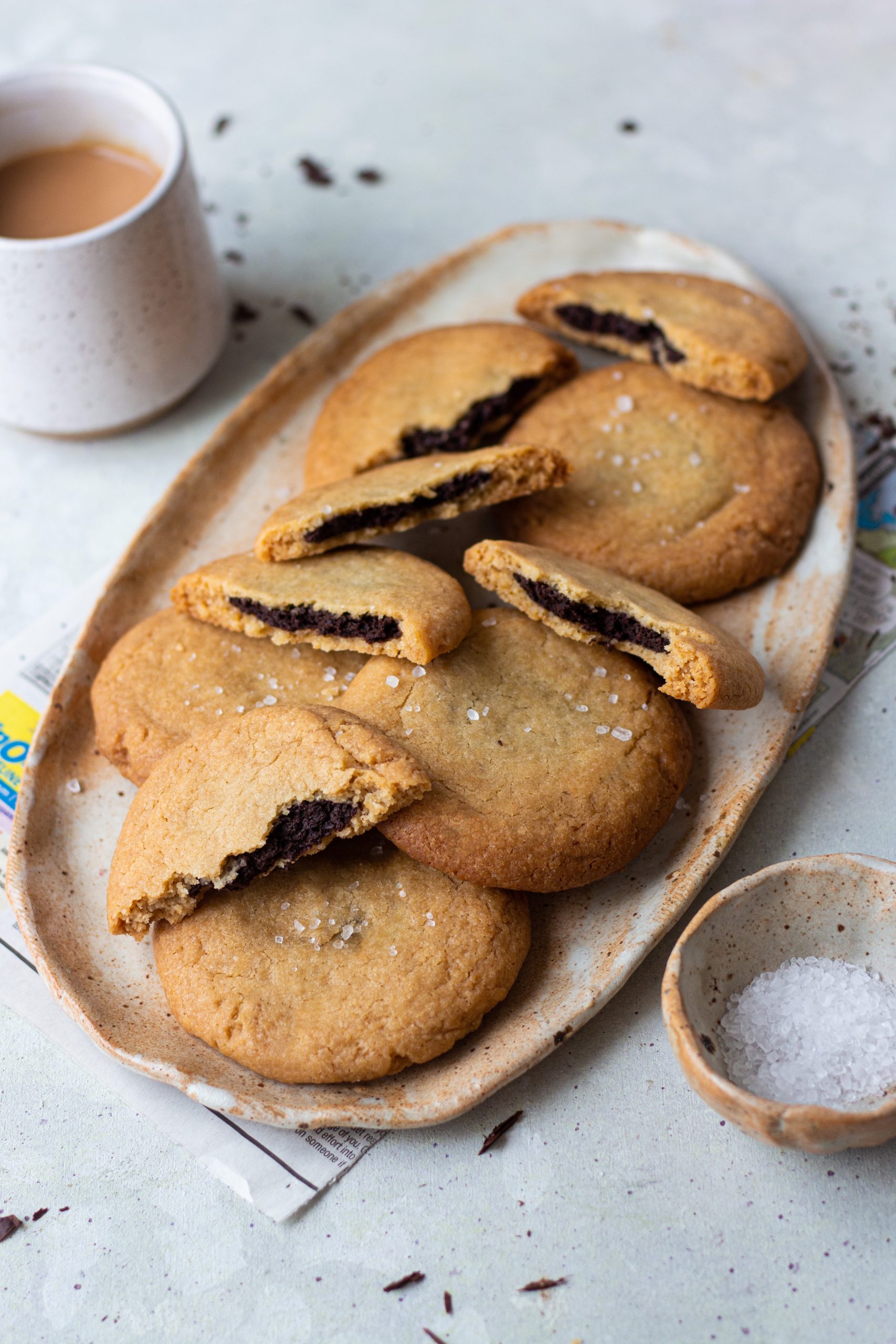 1 + ¼ cup ( 200gms) chopped chocolate
½ cup cream (100gms)
½ cup (113gms) softened butter
½ cup (100gms) caster sugar
¼th cup (50gms) light brown sugar
3 tablespoons (45ml) milk
1tsp (5ml) vanilla
1¼ cup (150gms) all purpose flour
½tsp (3gms) baking soda
1tsp (4gms) cornflour
To make the ganache, in a saucepan heat cream over medium low heat. Once cream starts to simmer, add in chopped chocolate and melt it. Turn the heat off and letyour ganache cool completely in the fridge.
For the cookie dough, beat butter and the sugars until the mixture is light and fluffy
Add in milk and vanilla and mix it in.
In the same bowl, add the flour, baking soda and corn flour and mix until the dough comes together.
Refrigerate this dough for 30-40 minutes or until slightly firm.
Preheat your oven to 180 degrees and line a baking tray with a silicon mat or parchment paper.
Scoop out your dough into balls of equal sizes in the prepared baking tray.
Flatten the balls using your fingers and stuff them with balls of the chilled chocolate ganache and fold up the edges of the cookies, making sure it is properly sealed.
Bake the cookies for 12-15 minutes at 180 degrees.
Once baked let them cool on a wire rack for at least 10 minutes.
Enjoy!
Recipe by
Bake with Shivesh
at https://bakewithshivesh.com/eggless-chocolate-filled-cookies/