Chocolate pudding cake- the best chocolate cake ever!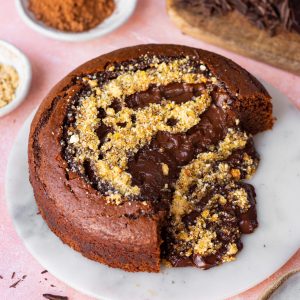 1 + ½ cups (300gms) castor sugar
¾ cup (180ml) vegetable oil
1 cup (285gms) Greek yogurt
½ tsp (2.5ml) vanilla extract
½ cup (120ml) milk
1 + ½ cups (180gms) maida
¾ cup (90gms) cocoa powder
½ tsp (3gms) baking soda
1 tsp (4gms) baking powder
2 cups (480ml) milk
½ cup heavy/ fresh cream
1 cup (176gms) dark chocolate
1 tsp (4gms) instant coffee powder
3 tbsp (36gms) cornflour
6 tbsp (75gms) sugar
2 tbsp (15gms) cocoa powder
2 tbsp (28gms) butter
1 tsp (5ml) vanilla
½ cup (60-70gms) almonds
¾ cup (150gms) granulated sugar
2 tbsp (30ml) water
Pre-heat the oven to 180*C. Line a 8" baking pan with parchment paper.
In a large bowl, beat together oil and sugar until the mixture is pale and light. Beat in vanilla.
Add yogurt and milk and mix well.
In the same bowl, sift in maida, cocoa powder, baking soda and baking powder.
Mix only until well combined. Don't over mix.
Pour the batter into the pan and bake at 180*C for 30 minutes or until a toothpick inserted in the center comes out clean.
In a saucepan, combine milk, cream, chocolate and coffee bring it to a simmer over medium heat.
In a separate bowl, stir together sugar, cornflour and cocoa.
Once the cream mixture comes to a simmer, gradually add this to the dry ingredients and whisk well.
Transfer the entire mixture back into the saucepan and bring it to a boil, whisking continuously.
Once the mixture comes to a boil, bring it off the heat and add butter and vanilla. Whisk well.
Cover the surface with a cling wrap and let it cool down.
In a saucepan add in sugar and spread it evenly on the surface.
Add in water and let the sugar caramelize
Once it reaches golden amber color, add in almonds and using a wooden spoon, coat them in the sugar.
Transfer the hot praline mix onto a silicone sheet and let it cool down completely and become firm.
Break it into pieces and blitz it to a fine powder in your mixer.
Cut out a hollow circle in your cake, leaving space on the edges.
Fill the hollow space with chocolate pudding. Sprinkle some sea salt on top of the pudding (optional).
Top it off with almond praline.
Enjoy!
Recipe by
Bake with Shivesh
at https://bakewithshivesh.com/chocolate-pudding-cake-the-best-chocolate-cake-ever/