Ask me any time of any day to whip up something Oreo related and I would jump at the offer! Today's recipe is all about Eggless Oreo Cupcakes which are super easy and so yum. I honestly love oreos and I keep on playing around this flawless biscuit cookie. If you search for oreo recipes on my blog (which you can find here), you will be able to see so many different recipes too! There's oreo cheesecake, oreo cake, oreo brownies- basically oreo heaven! These Eggless Oreo Cupcakes are truly the most unmatchable oreo recipe on the blog. We all love oreos and we all love cupcakes. So, I got them together and created these legendary cupcakes!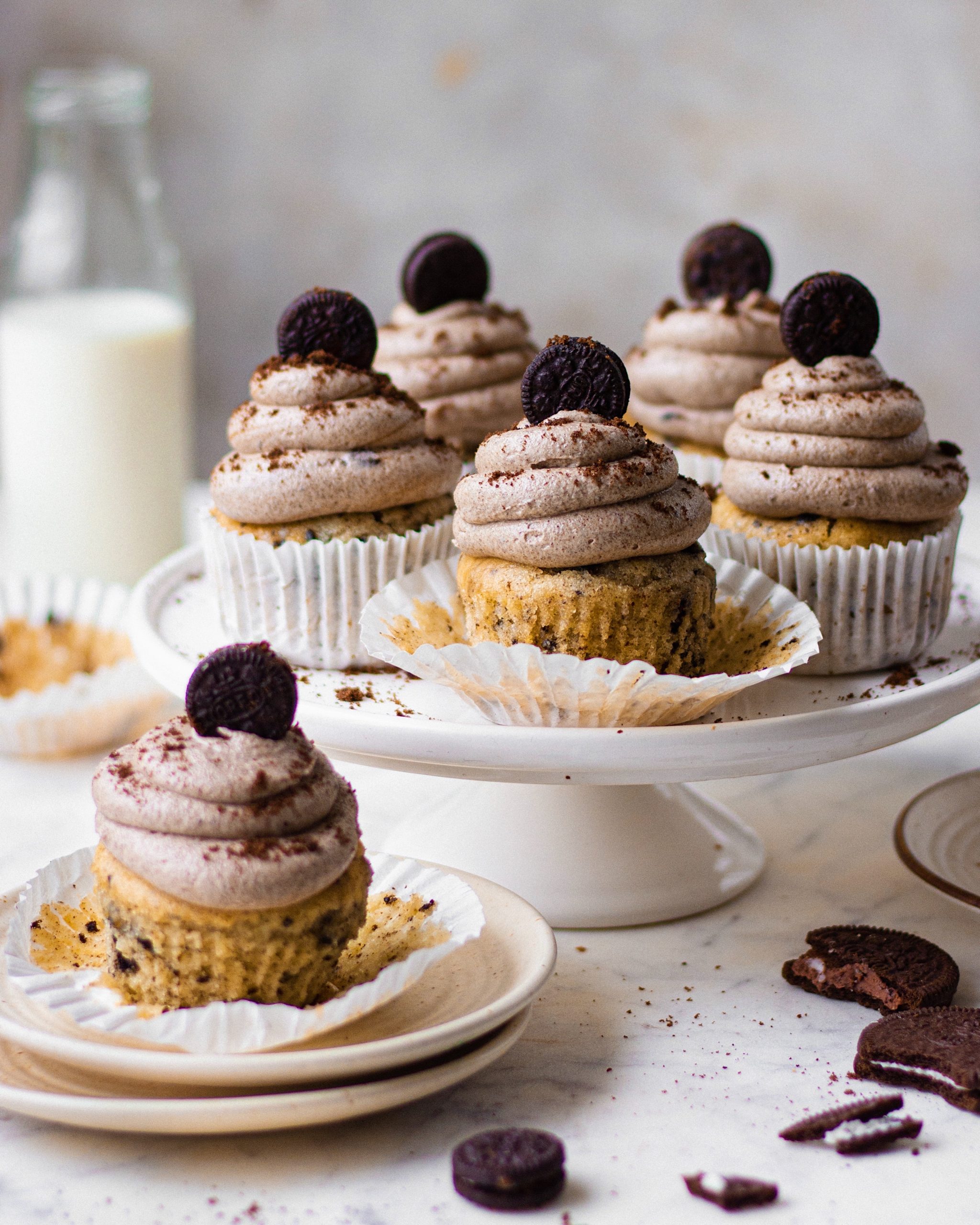 These Eggless Oreo Cupcakes literally melt in the mouth. And what truly sets them apart is the oreo buttercream frosting. Endless recipes will give you oreo cupcakes but who gives a double oreo bonanza with an oreo buttercream frosting? I do! Trust me when I say this, I have never seen easier cupcakes than these oreo cupcakes. I frankly think that a lot of people have inhibitions related to cupcakes because they seem to be an intricate dessert. But honestly, this is all such a HUGE myth. Cupcakes are just an airier form of cakes and if you are good with them- then there is hardly anything to worry about!
Ingredients for these eggless oreo cupcakes
The fat
I am using vegetable oil instead of butter. Oil based desserts are much lighter and have a fluffier sponge. They also have a longer shelf life than desserts made from butter.
The sugar
Superfine sugar is the same as caster sugar and that is what I have used in this recipe. I would advise you to not use granulated sugar in dessert recipes. It has big sugar chunks which never fully dissolve into your dessert and you end up with sugar chunks in the end. You can read more about sugars here.
Yogurt
Yogurt is a very important ingredient in this recipe because it is responsible for adding structure and texture to the eggless oreo cupcakes. In a normal recipe, this would be done by eggs. Now I know a lot of you are always wondering whether to use Greek yogurt or not. I always use normal homemade yogurt/dahi for these cupcakes. Sometimes homemade yogurt can be too watery. If that is the case you should separate the thick yogurt portions and use that. In times when homemade yogurt is just slightly watery, you can use it just as is. There is no need to strain it. Hope you don't rush to the market to buy Greek yogurt the next time you need to use yogurt in a recipe, haha!
The dry ingredients
For my dry ingredients I used all purpose flour, cocoa powder, salt, baking soda, and baking soda. Whenever I am making an eggless dessert, I make sure to sift in my dry ingredients. What this does is, make the dry ingredients that you are adding slightly lighter and therefore incorporates more air into your batter. A decent amount of air is needed in eggless desserts to help them get a better rise.
Tips for the perfect eggless oreo cupcakes
To get your cupcakes perfect (more perfect, haha), I would also like to suggest some tips. I assure you, you will fall in love with baking cupcakes once you realize how easy they are!
Use an ice cream scooper to get the perfect quantity of the batter in the cupcake liners.
Do not push two cupcake trays into your oven. Put one batch of your cupcakes in the center of the oven for even and uniform baking.
Never forget to pre-heat your oven.
To test whether your cupcakes are done or not, you can always use a toothpick. However, when you think your cupcakes are evenly baked, you can push the center with your finger. If it bounces back, they're completely baked. (Only try this with cupcakes that have cooled down a bit).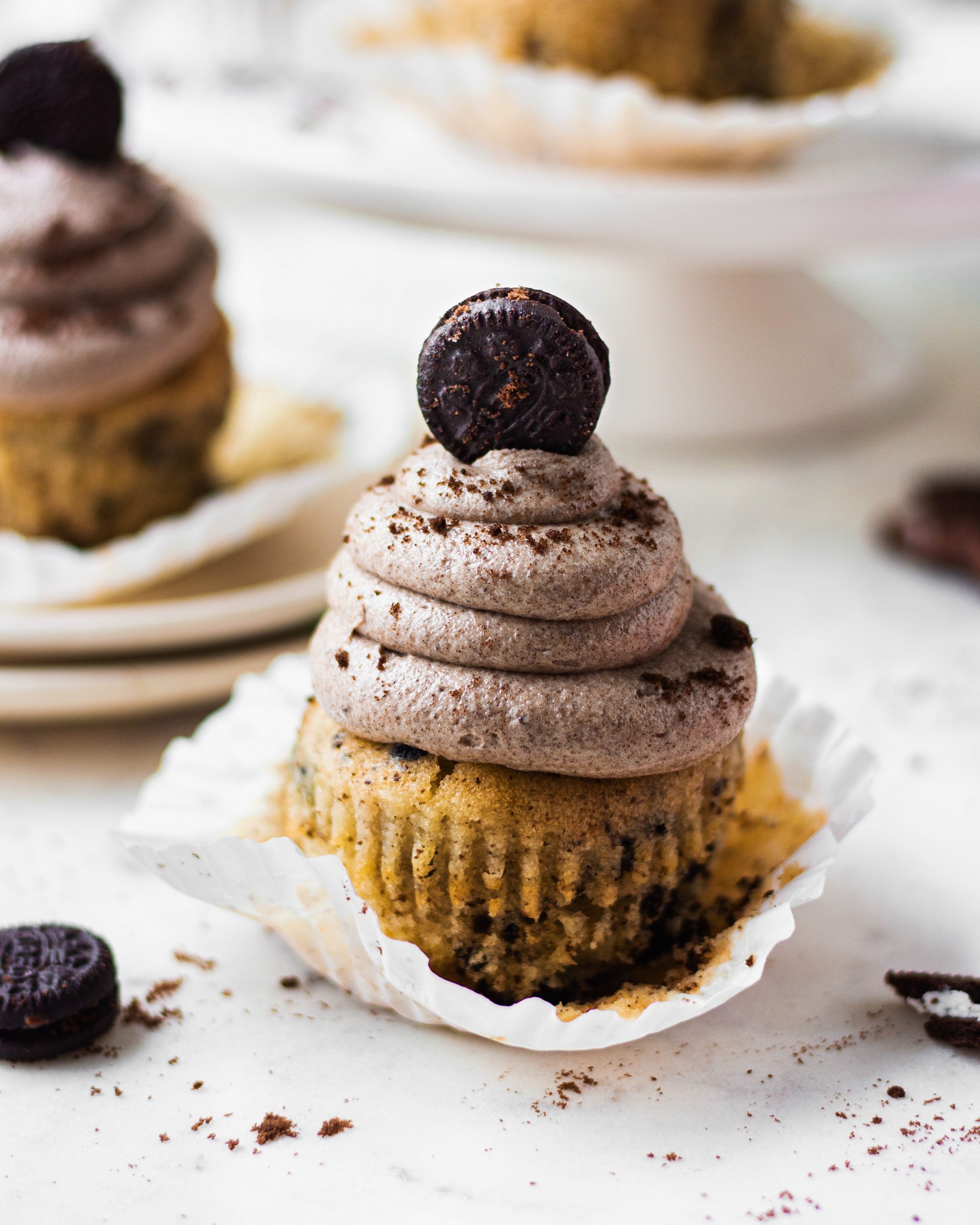 Eggless oreo cupcakes recipe
Eggless Oreo Cupcakes with Oreo buttercream frosting
Ingredients
1 + ½ cups (180g) all purpose flour (maida)
1 teaspoon (4g) baking powder
1 cup (285g) yogurt
½ teaspoon (3g) baking soda
¾ cup (150g) castor sugar
½ cup (120mL) vegetable 0il
1 teaspoon (5mL) Vanilla Extract or Vanilla beans
16 crushed oreo cookies, without cream
frosting-
1 cup softened butter (226 g)
1 tsp vanilla extract
2 cups icing sugar (340g)
16 oreo cookies, powdered
Instructions
Preheat your oven to 180 degrees.
In a bowl, add yogurt and add baking soda. Let it sit for 5-10 minutes after mixing and let it foam up.
Combine oil and sugar and mix well.
Add in the yogurt mixture and then add the vanilla. Mix well to incorporate air.
Sift in maida and baking powder. Do not skip sieving here and do not over-mix. Mix only until no flour pockets remain.
Break 16 cookies into desirable size and mix into the batter.
Using an ice-cream scooper, pour into muffin liners.
Bake at 180 for 25-30 minutes.
For the buttercream, take oreo cookies and grind them very well.
Beat one cup of butter at high speed and also add in the vanilla. Mix in the cream of the oreo cookies.
Once well combined, add in the sugar and mix well. Add in the ground oreo cookies. Mix until the frosting has come together and is fluffy.
Pipe over cooled cupcakes in any desirable manner!
If you do end up baking these eggless oreo cupcakes, please do tag me on
Instagram
as well!