With the lockdown hitting us hard, we all know we can use some dessert to help battle whimsical days. So, the most major issue that I receive when it comes to cakes is the fact that so many of you don't have Ovens or convection microwave. And I would definitely hate it if you guys can't try out such basic recipes! Because the fun fact and the best fact about this red velvet cake is it's a no-oven recipe! You can very simply whip this recipe up in a kadhai or a saucepan. This is a no-oven red velvet cake and I am not even kidding!
Lockdown is hard for all of us. I am really stressing on the fact that not only is baking super therapeutic, you actually enjoy what comes out of it. And who does not enjoy a decadent, soft, melt-in-the-mouth red velvet cake? Be it buttercream frosting, cream cheese frosting, or just whipped cream- a no-oven red velvet cake never lets you down. Even if you are someone who really prefers baking in an oven or an OTG, this no-oven red velvet cake is so convenient to bake- you'd be surprised. The setup is also super basic so no body frets over anything while preparing this no-oven red velvet cake! Out of the endless red velvet cake recipes, this recipe is one that will never let you down.
If you do try this recipe out, please tag me on Instagram too!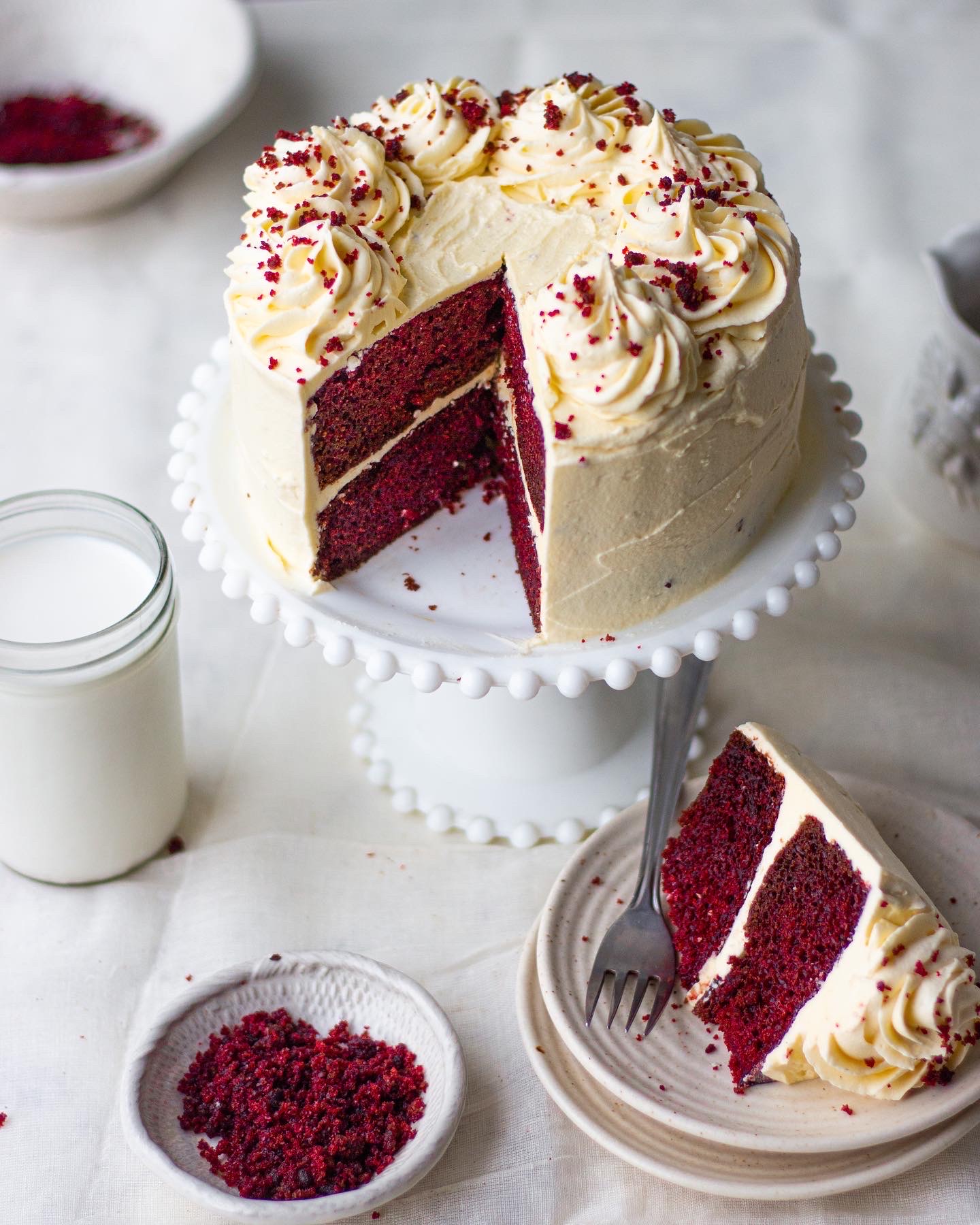 General Tips for baking this no-oven red velvet cake flawlessly
1) Vinegar and lemon juice make the cake soft and velvety, so I would recommend you use both for this No-oven Red Velvet Cake.
2) Use a good quality red colour. The one I used was not a great brand so my colour faded after baking.
3) 4-5 tsp of liquid colour OR 3-4 drops of gel colour are enough to give this No-oven Red Velvet Cake cake a nice bright red colour!
4) My preferred brand for food colours is Wilton. I love their gel colours because they are not harmful for your health and super pigmented!
5) I cooked my cake on induction (200C) and it took 40+ min. It might take lesser on medium flame on a regular stove. So keep an eye on your cake- this is super crucial.
6) You can use the same recipe to bake a cake at 180C in the oven or a convection microwave. Bake for about 35 min!
7) I made two small 4″ cakes. You can also use one 8″ pan.
8) If you don't have parchment paper, dust your pan with flour and tap out the excess.
9) You can also decorated the cake with cream cheese frosting/chocolate ganache. You can easily pick your desired red velvet cake frosting. Everything will go well with this cake.
Ingredients for this No-oven Red Velvet Cake
There are the most basic ingredients being used in this No-oven Red Velvet Cake! Absolutely nothing is complicated and this recipe for red velvet cake will not let you down. Just take care of some tips about the ingredients and you are good to go!
Besides the basic flour, coca powder and sugar that you need, you also need sugar, lemon juice and white vinegar to make this easy eggless red velvet cake. I use vinegar and lemon juice because they are acidic in nature and react with the baking soda to make this cake truly soft and velvety. So please don't skip either of these ingredients for this no-oven red velvet cake. For the colour, I use edible artificial gel red color. You can use liquid color as well.
The cocoa powder
Cocoa powder is a very important ingredient in this No-oven Red Velvet Cake. A lot of professional bakeries use dark, rich cocoa powder and that does not work here. The red color- if it's not of an extremely good company, your dark cocoa powder will turn this No-oven Red Velvet Cake into a chocolate velvet cake. Hehe.
The gel color
Gel color is super-duper important for this No-oven red velvet cake. Take care that you are using a good quality gel color or liquid color. The thing about gel color is that if it is of a good brand, it is highly pigmented and very less quantity has to be used. There are endless low quality colors available in the market. Make sure you don't get them because not only are they practically useless in dispensing colors, they are also harmful to the health. With some cheap brands, you might use the entire bottle to get a low red color. This is not advisable.
The buttermilk
While you can use store-bought buttermilk as a substitute for eggs in this no-oven red velvet cake recipe, I have seen how cakes come out better with home-made buttermilk. The basic ratio is 1:1- 1 cup milk and 1 tbsp vinegar. Buttermilk is something that makes or breaks your red velvet cake!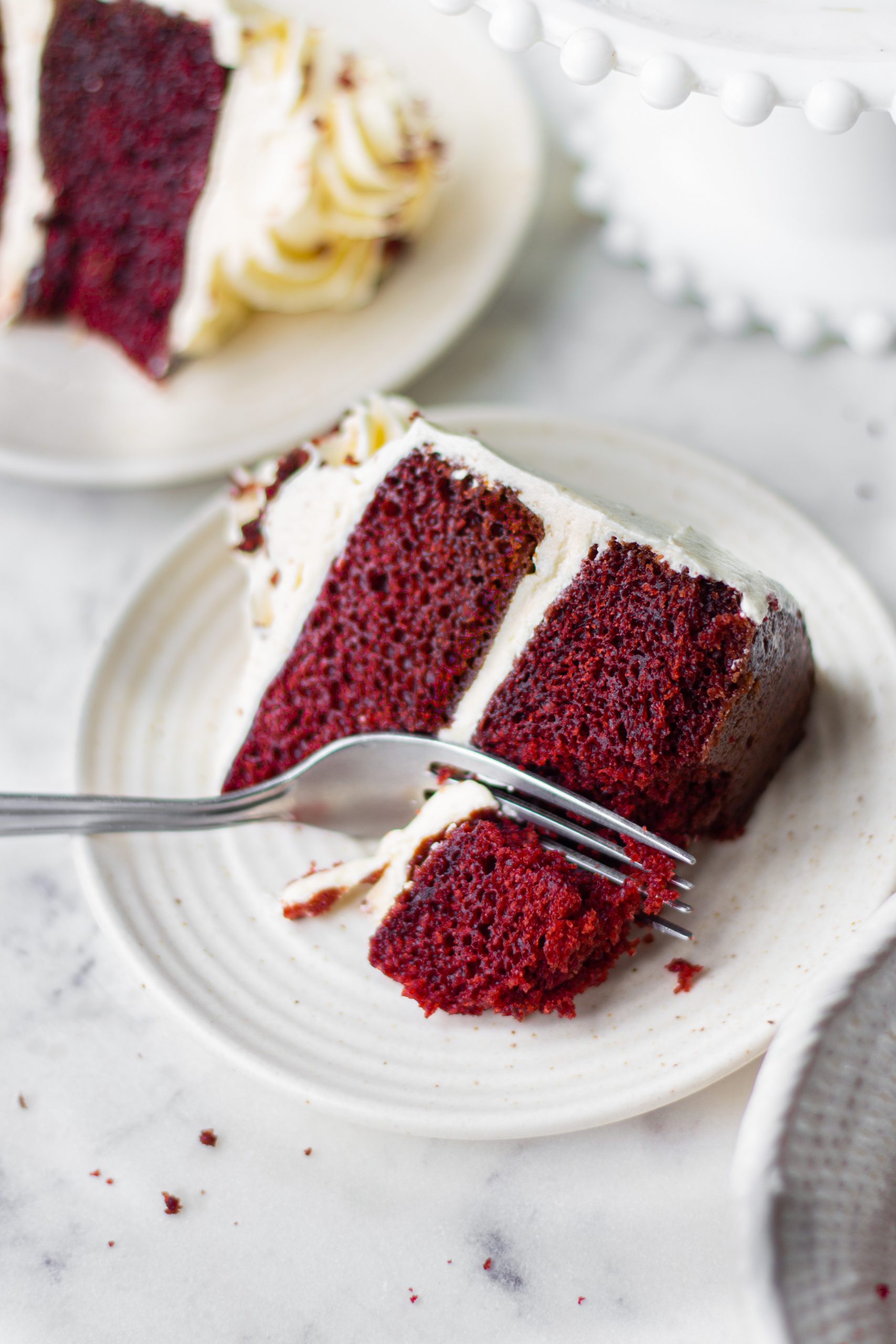 TIPS FOR GETTING MOIST RED VELVET CAKE
For this cake, it is very important that you're beating your sugar and butter up until a level when it is creamy and fluffy. This step is what gives the cake it's gorgeous moistness.
Do not add all the four eggs together. The recipe already asks you to add one at a time and this is important because eggs and butter do not mix as well and as fast. If you end up adding all the eggs together, it will take you longer to mix the eggs into the butter-sugar mixture.
If you wish to preserve the cake for longer, make sure you're packing it in an airtight container.
RED VELVET CAKE FROSTING
I usually love my cakes without frosting but I recommend topping this no-oven red velvet cake with frosting. My choice of frosting with red velvet cake is cream cheese frosting. If you don't have cream cheese, go ahead and smother the cake with me vanilla bean buttercream frosting. Don't forget to let the cake cool completely before you cover it with frosting.
Saucepan/Kadhai set up for this no-oven red velvet cake
While you can easily understand the setup from the video above, you can also find the method here:
1. Take a big enough kadhai or saucepan and ensure you are measuring that the tin fits well inside.
2. Pour in 2 cups of salt, place a stand or an inverted bowl, or even an inverted plate with some height.
3. Preheat at medium flame for 10 minutes with lid on.
4. Place the tin inside after pre-heating. And then, on medium flame, allow it to cook for 30 minutes. (Do keep an eye on the cake and lower heat if necessary).
No oven red velvet cake recipe
No-oven Red Velvet Cake- eggless recipe!
Ingredients
1 + ½ cup (180g) all purpose flour/ maida, sifted
2 tablespoons (15g) cocoa powder
1 teaspoon (6g) baking soda
1 cup (200g) castor sugar
½ cup (120mL) vegetable oil
¼ cup (72g) yogurt
2 teaspoons (10mL) lemon juice
2 teaspoons (10mL) vanilla extract
4-5 teaspoons (20-25mL) red food colour
1 cup (237mL) milk + 1 tbsp vinegar
2 cups salt for baking
Instructions
In a bowl, mix together your milk and vinegar and allow to rest for 5 minutes.
Sieve maida, baking soda, and cocoa powder very well.
In another bowl, take sugar and oil and blend together. Add in the lemon juice and curd.
Add in the red food color.
Incorporate dry ingredients and buttermilk alternatively.
Mix only until combined and do not over beat at this stage.
Prepare your tin with parchment paper or with a coating of maida.
In a kadhai/saucepan, pour in the salt, place your stand and allow to heat for 10 minutes. After pre-heating, place your tin inside and allow to bake at medium flame for 30-40 minutes.
Alternatively, you can bake in preheated oven at 180 degrees for 30-35 minutes.