thandai custard cups: Holi special!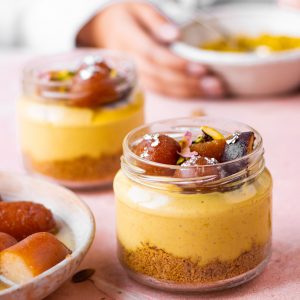 2 cups (240gms) crushed biscuits
6tbsp (90gms) melted butter
4tbsp (60gms) custard powder
¾ cup (180ml) milk
4tbsp (50gms) sugar
1 + ¼ cup (300ml) milk
3tbsp (45gms) thandai powder
In a food processor blitz some digestive biscuits till they crush down into fine crumbs and measure out 2 cups. Add melted butter to the crushed biscuits and combine the two making sure all the crumbs are well coated with butter.
Take your serving jars and put 4-5 tablespoons of the biscuit mixture in each. Pat the mixture down with your spoon and refrigerate the jars for 10-15 minutes.
To make the custard, in a small bowl combine custard powder and ¾ cup milk. Give this a good mix and set it aside.
In a saucepan over medium heat add in 1 and ¼ cup milk, thandai powder and sugar. Bring this to a slight boil and then pour in the custard and milk mixture into the saucepan. Keep whisking till the mixture comes to a boil and becomes thick.
Cover the top with cling wrap and let the custard cool down at room temperature.
Once cooled, pour it into the prepared jars and garnish with gulab jamun slices or as you wish.
Enjoy!
Recipe by
Bake with Shivesh
at https://bakewithshivesh.com/thandai-custard-cups-holi-special/