I hope you all are doing well and staying safe. With the lockdown being extended to another week, we could all use a nice pick me up! For me, I think food and desserts bring my family together like nothing else. Tough times feel slightly better when you're surrounded by good food and your most favorite people in the world. And a little joy is something we all desperately need right now.
Last year, during the lockdown, I started creating a bunch of recipes that y'all can make with simple pantry ingredients, that didn't need you to step out from the comfort of your homes. This year too, I published some incredible recipes like my three favorite lemonade flavors and mango ice cream cake which are so easy to put together. Other than that, I wanted to create a space where you can access all such easy lockdown recipes and decide which one to make for yourself and your loved ones! And this article is that space, so let's get into it and do some baking!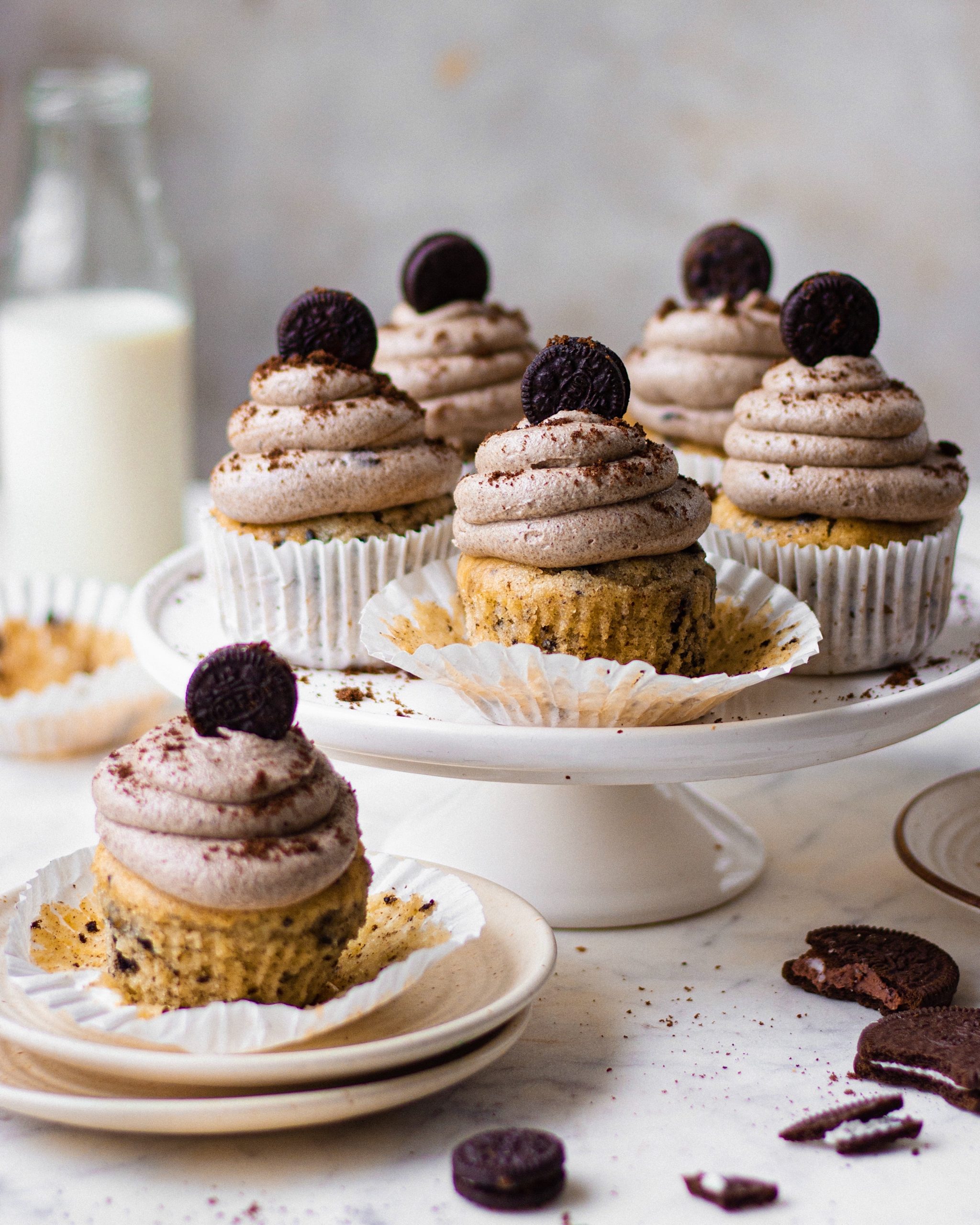 You'll not mess up – 4 important baking tips
Before you step into your kitchens to make my lockdown recipes, let's quickly talk about some baking tips which every baker, beginner or amateur should be aware of when they start baking:
GET TO KNOW YOUR EQUIPMENT – All ovens function differently and this is why we need to keep a close eye on the  time and temperature for every recipe. Your oven's heating could differ on the basis of its size, brand, and model. Different heating means different treatment of desserts.  Similarly, equipments like a simple cake pan may vary in size for everyone. So make sure you know which equipment you have with you as well as their uses.If you're looking for basic cake equipment for baking, you can find them here.
FOLLOW THE RECIPE TO THE T – If you are a recipe rebel, hold on! Recipes are written after a lot of trials. There is a reason why they are in a strict order and need to be followed like so. If the order is not followed your dessert is likely to not turn out that great. Like adding flour into the butter and sugar before adding eggs. Or dumping all ingredients together at once. This wont allow the ingredients to perform what they designed to do in that recipe. So be a rule abider, for desserts sake!
SAY YES TO ROOM TEMPERATURE INGREDIENTS – Make sure all the ingredients that you are using are at room temperature, especially the ones stored in the fridge like eggs, butter, and milk. Unless the recipe asks for cold ingredients, your ingredients should always be at room temperature and I cannot stress this point enough!
DON'T OVERMIX OR UNDERMIX – This is the most important tip to keep in mind when you're baking. Never undermix or over mix when you're combining your dry and wet ingredients. This is one mistake that I made for the longest time when I started baking because I thought that the more I mix the batter, the better the cake will be. So ditch your electric mixer and switch to a spatula! The best way to mix your dry and wet ingredients is to cut and fold.
This is your guide to stick by now that we're baking a bunch of lockdown recipes together. But if you're just starting out or don't know where you've been going wrong lately, I have three detailed articles on baking tips that you can check here – baking tips for beginners, baking tips 2.0 and baking 3.0. I'm sure this will help you incredibly in baking the best desserts!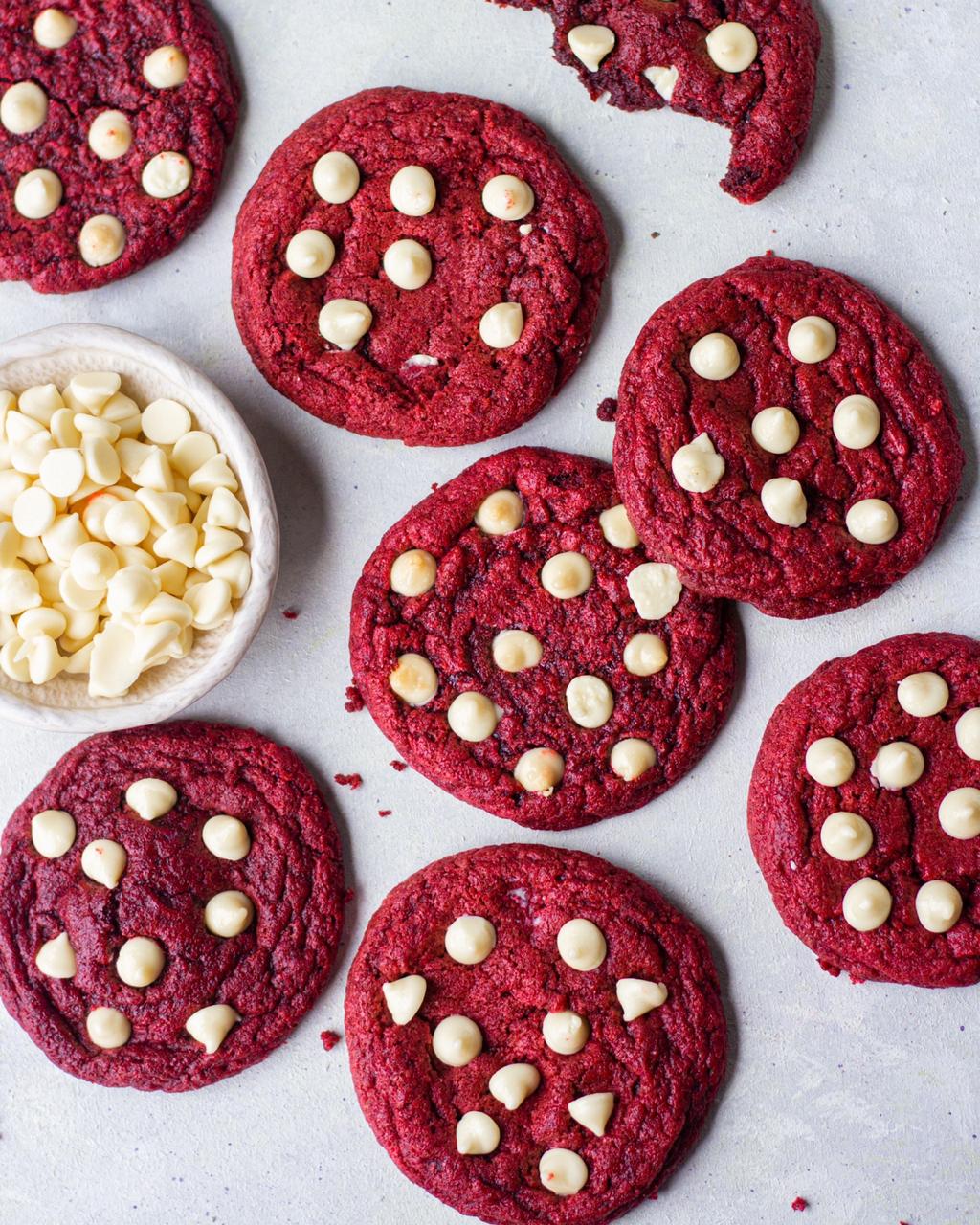 1) 40-second microwave cupcakes
Especially when the late night cravings hit me, the last thing I want to do then is to stand in front of my oven and wait for my desserts to be done already. Which is when my 40 seconds microwave cupcakes come to the rescue.
Yes you have read it right, these beautiful and ultra fluffy chocolate cupcakes come together in just under a minute. These are perfect for your midnight snack marathon or just as a quick dessert for when you are running out of time. These microwave cupcakes are simple, super low effort and sooo delicious- the perfect lockdown recipe. It's amazing how light and fluffy they are without even using an oven.
Find the recipe for these 40-second microwave cupcakes here.
2) No-Bake easy Banoffee Pudding
Everyone needs this banoffee pudding in their lives here and there! If you are an ardent fan of bananas and toffee- a match made in heaven- then you are absolutely going to love this Banoffee Pudding! This easier version of a banoffee pie is absolutely mind-blowing. Not only is the pudding easy to assemble, it also has all the essential components of a banoffee pie. I absolutely love creating such recipes which are easy to compile because not everyone has a thing for baking. Throughout this quarantine, I have vowed to create and post the simplest of desserts. Since we all are at home- trying to cope up with all kinds of stresses, a sweet treat really does help. Having a bite of anything sweet is really potent when it comes to uplifting moods. And this banoffee pudding, which is the most convenient of recipes is what we exactly need right now – making it the best lockdown recipe you'll make.
Find the recipe for this banoffee pudding here.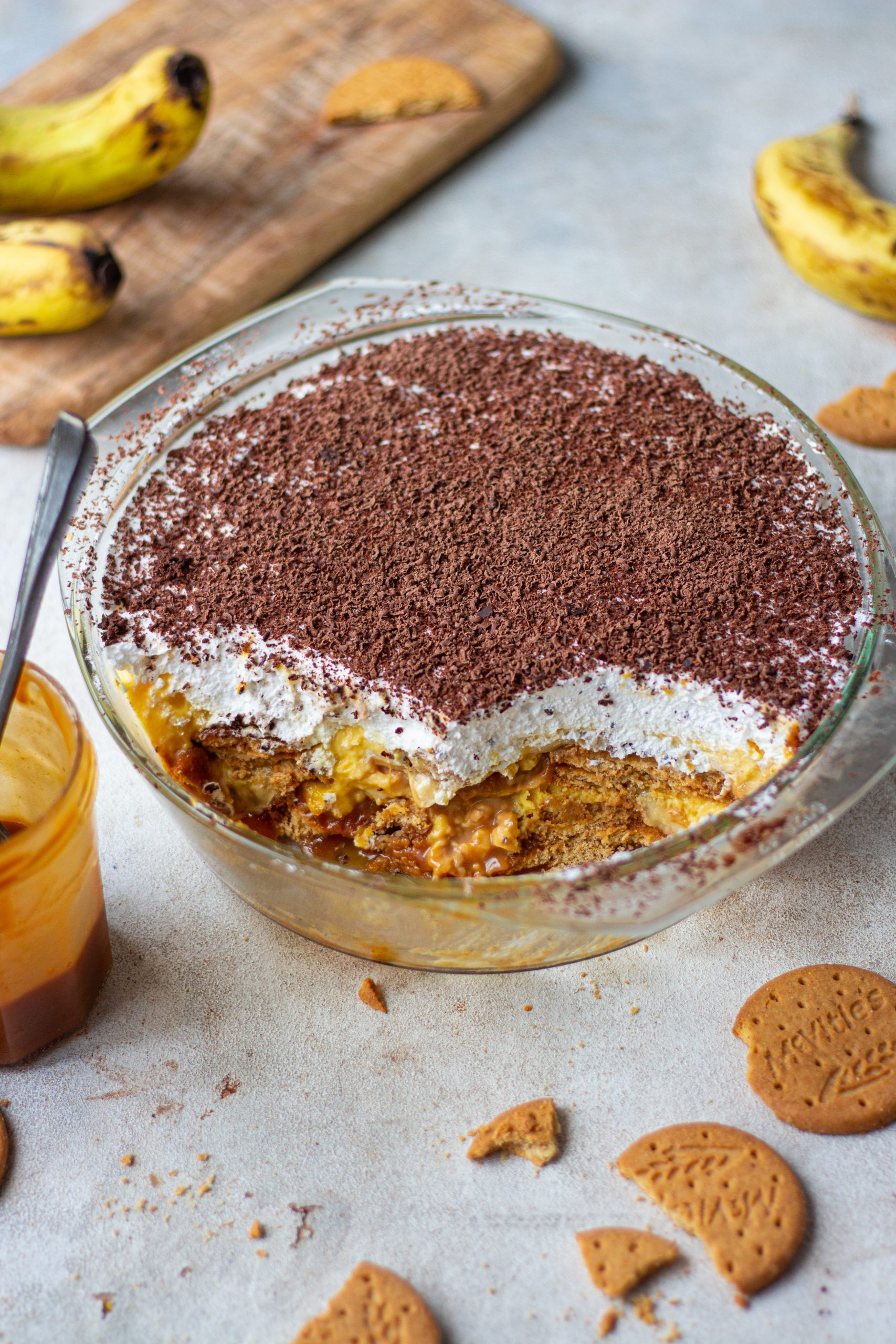 3) Home-made Bounty Bars
I work with chocolate all the time in my kitchen and most often, it's a messy and unforgiving ingredient but it's also one that no baker can live without. One of my favorite chocolate bars has to be a classic bounty bar. I absolutely love pairing chocolate with coconut and the result of one such recent recipe were these easy homemade bounty bars. Made with only three simple ingredients, I know that you'll be whipping up these delicious bounty bars every other day!
Let me tell you that these easy homemade bounty bars taste exactly like the real ones and considering that they need only three ingredients, they're an absolute steal! You'll need some shredded coconut, a good quality sweetened condensed milk and lastly, chocolate! Bounty bars as a lockdown recipe? We say yes!
Find the recipe for these bounty bars here.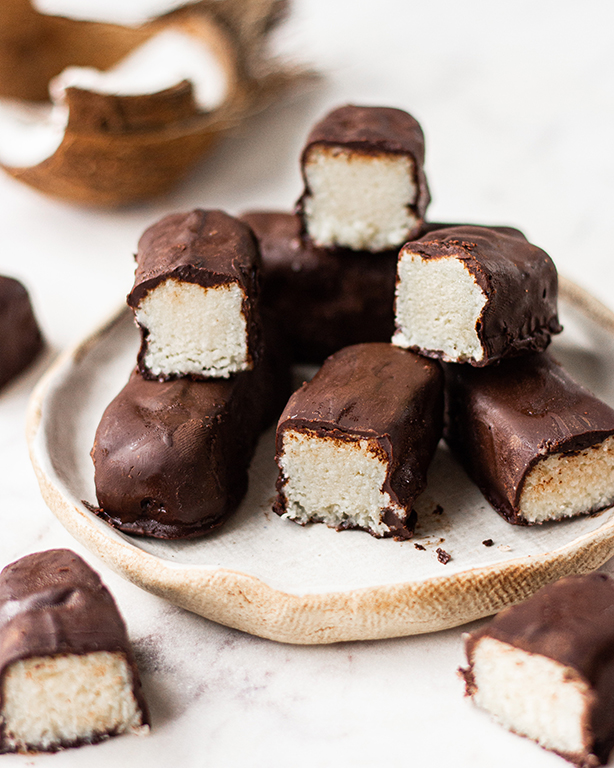 4) Mango Custard Tart
If mangoes are not the best thing about summer then I don't know what is! It is mango season and you know I am going to be making the best of it. Just like during strawberry season, I go gaga during the mango season as well. I mean it's called the king of fruits for a reason, right? What's better than a mango dessert? A no-bake mango dessert! So here is a very simple recipe for a no bake mango custard tart that you all can easily make at home.
I know tarts can be intimidating for some of us but trust me when I say that tarts only look complicated. They are actually really easy to bake and super fun to eat. Tarts with a biscuit base are one of my favorites simply because the ingredients involved are so basic and the process of making a biscuit base tart is so much faster.
Find the recipe for this mango custard tart here.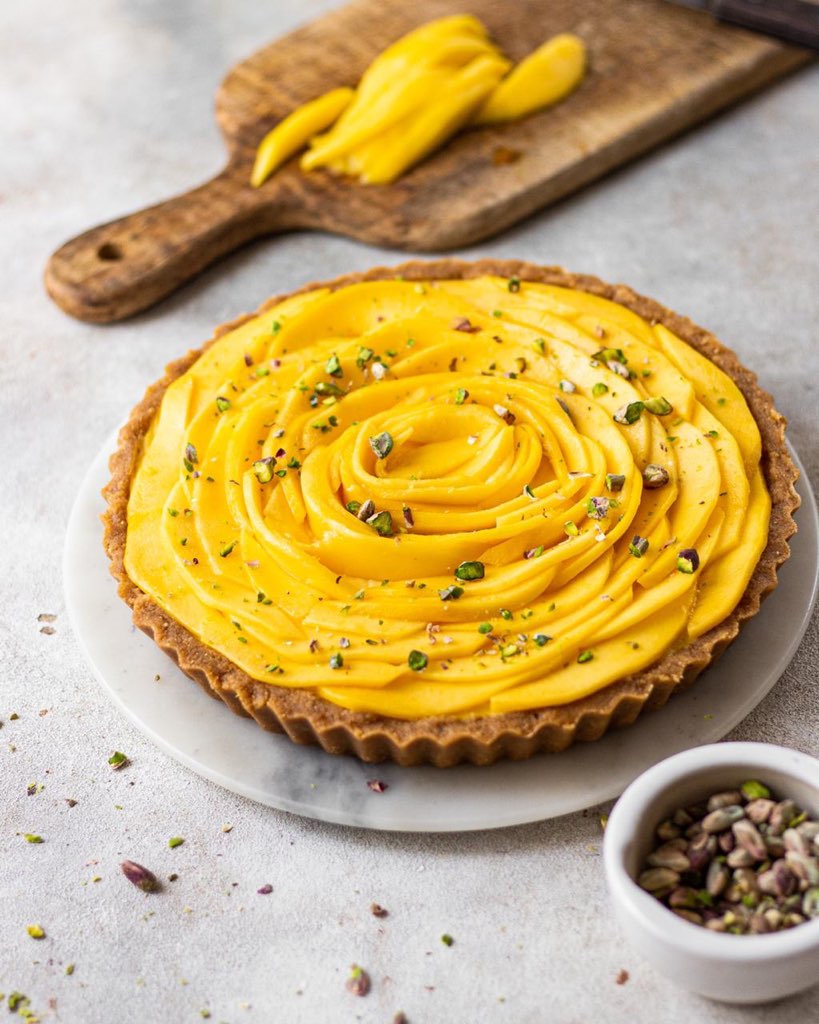 5) Home-made cream cheese
Last year was DIY season and I think we all loved it! One thing that all my followers and readers know about me is that I absolutely love using cream cheese in my desserts. I'm in love with cheesecakes and cream cheese frosting is one of my absolute favorites among frostings. But every time I share a new recipe that has cream cheese in it, I always get the same questions and comments in which you guys ask me what to do if you do not have cream cheese at home or in nearby stores. After many many many videos and comments, I decided to crack the code for all of you and come up with a recipe for making cream cheese at home! You should have this recipe in your repertoire because there are so many cream cheese recipes on the blog that you can play with. Let's say that this is one thing we're all making this year as well!
Find the recipe for this home-made cream cheese here.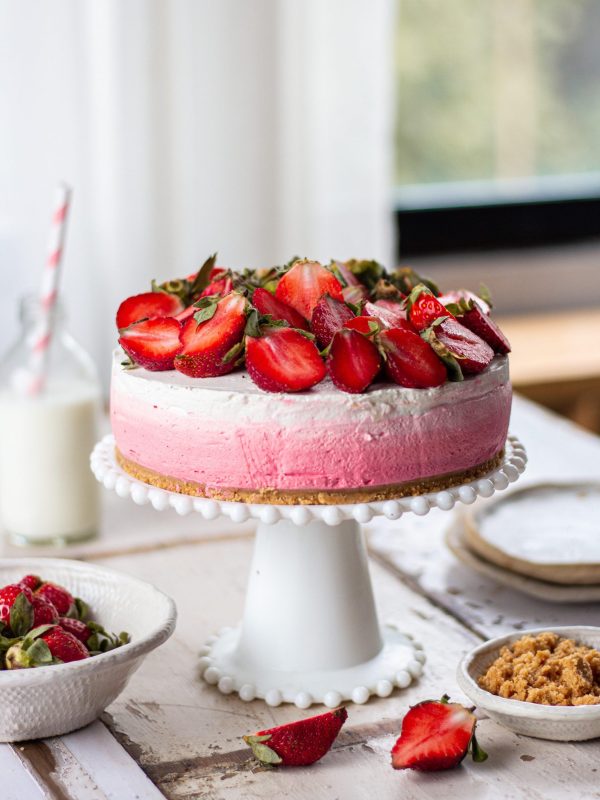 6) Eggless Cinnamon Rolls from scratch
My mother loves anything cinnamon, from using it in her savoury dishes to flavouring her desserts with it. Cinnamon rolls rose the family consensus. This cinnamon-y sugary goodness was perfect for the occasion and I covered it with my all time favourite cream cheese frosting. I can use this frosting with literally anything, I think it's a problem, haha! And cinnamon rolls from scratch only sound scary, but trust me, these are super easy to make and will be a definite hit in the house!
Cinnamon rolls are so popular all over the world. I know so many of us go gaga over cinnabon cinnamon rolls and rightly so. But my recipe of cinnamon rolls from scratch is definitely a must try. Let's add a nice, comforting bread to our lockdown recipe list, shall we?
Find the recipe for my eggless cinnamon rolls here.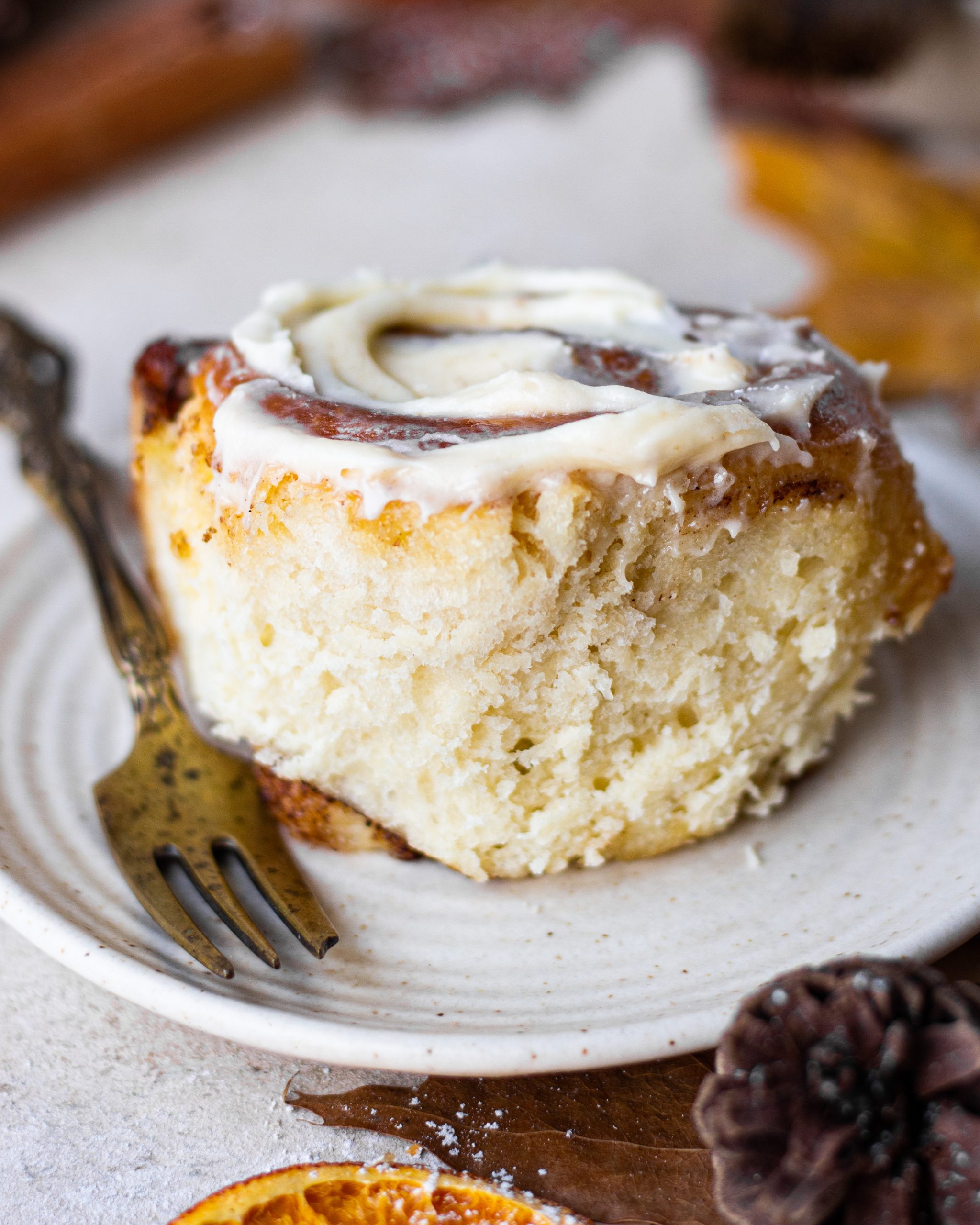 7) 3-Ingredient Oreo Truffles
Truffles are an absolutely perfect treat when it comes to any occasion or simply for some self-indulgence on a bad day. I know I always go to chocolate when I am feeling a little blue because it always cheers up and brings my spirits up so quickly! And what goes perfectly well with chocolate- Oreos!
With the times being a little tough for everyone, we all need something to make us feel better. Come this list of my lockdown recipes and for me, it has been working on creating recipes for you all to help make your day a little better and brighter. I hope this 3-ingredient oreo truffle is one such recipe that brings you and your loved ones some joy. It's so easy to make, it's truly delicious, and comes together in less than 10 minutes.
Find the recipe for 3-ingredients Oreo Truffles here.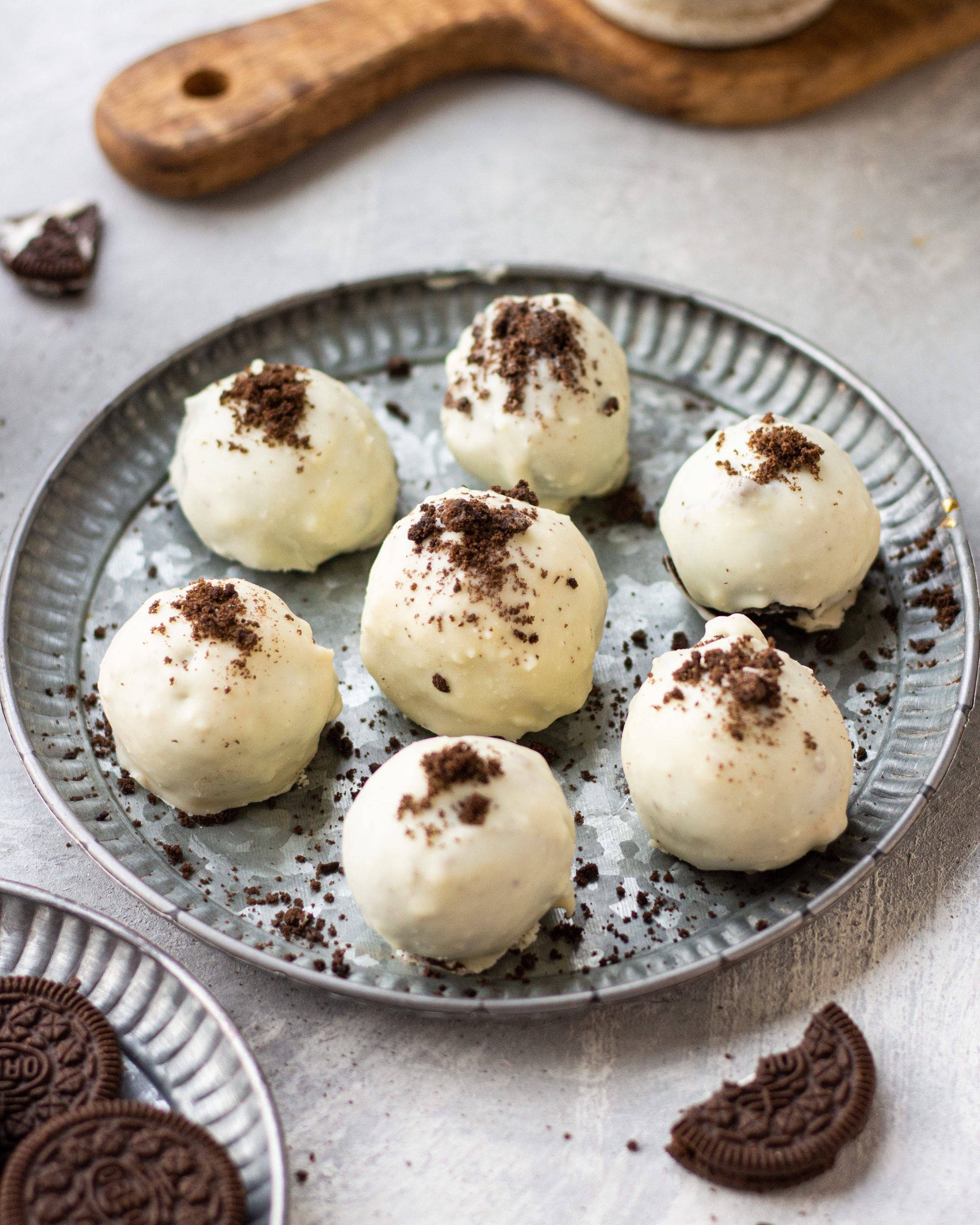 8) Three Lemonade Flavors
No matter what the season, I always start my morning with a jar of freshly squeezed orange juice. That's how it has always been, it is a part of my routine that I won't give up for anything. However, one thing that I'm really fond of in summers is a good, old fashioned lemonade. Did you know that there's actual science that backs up how a lemonade keeps us hydrated? A sweet, tart and acidic lemonade replenishes the fluids in your body and keeps you from feeling dehydrated. As they say, when life gives you lemons, make lemonade. And if you're here, might as well take it up a notch with three awesome lemonade  flavors!
With summer coming to its peak, we all need something that will keep us cool, refreshed and sane. Come my three Lemonade flavors to the rescue – these drinks will be your ultimate go-to on a hot summer afternoon. And not to forget, these are made with the freshest of fruits and no refined sugar!
9) Mango Ice Cream Cake
Last year on my birthday, I baked an incredible carrot cake for me and my sister as we are twins! We went into our first lockdown during that time and I ended up baking and spending so much time with my family.
This year, we're still in the same situation as last year, staying home during the lockdown. But I'm honestly so grateful for everything I have in my life – my family (including my dog Yoda), my friends and an incredible baking family that keeps me constantly motivated, aka you guys! To celebrate my birthday this year, I decided to combine two of my (and I know yours) favorite things in the world – Mangoes and ice cream! Yes, we're making a No-Bake Mango Ice Cream Cake which is absolutely delicious, perfect for summer, hits all the right spots and is one of the most perfect lockdown recipes.
Find the recipe for my Mango Ice-Cream Cake here.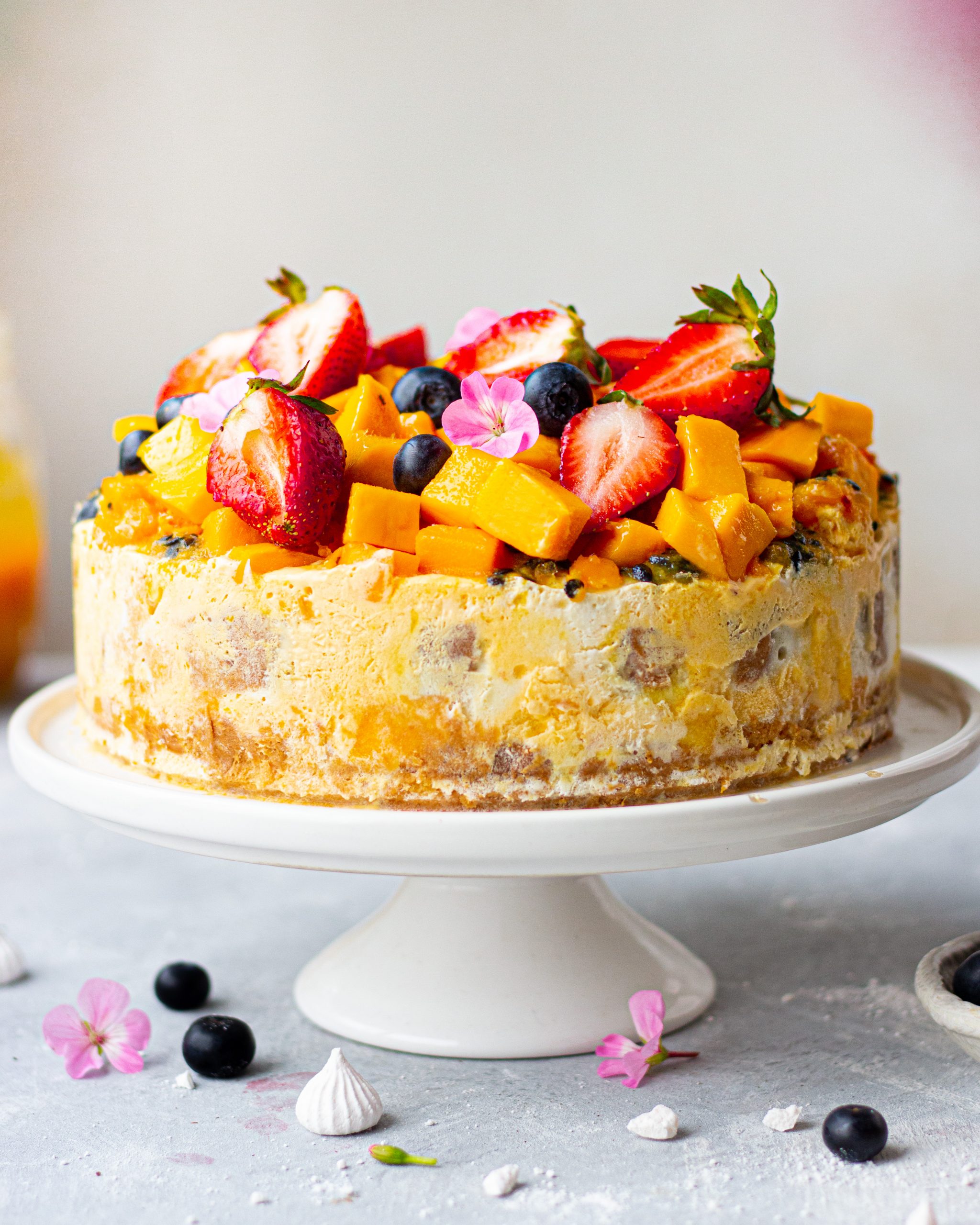 10) Cafe-style Coffee
Coffee has always been a taboo for many to make at home. It's always either a mess with the froth, or the coffee is too strong or too light, can never get the right amount of ice and etc etc. Now all these recipes that I've shared are actually frappuccinos. What does that mean? It means that any drink with either a coffee base or a creme base that is made by blending ice and other flavorings together is called a frappuccino. It's actually a trademark of Starbucks.
You are going to love the recipes for my cafe style coffee at home. They are so simple to put together and taste just like the real deal. This has to be a part of your lockdown recipes list.
Find the recipe for my cafe-style coffees here.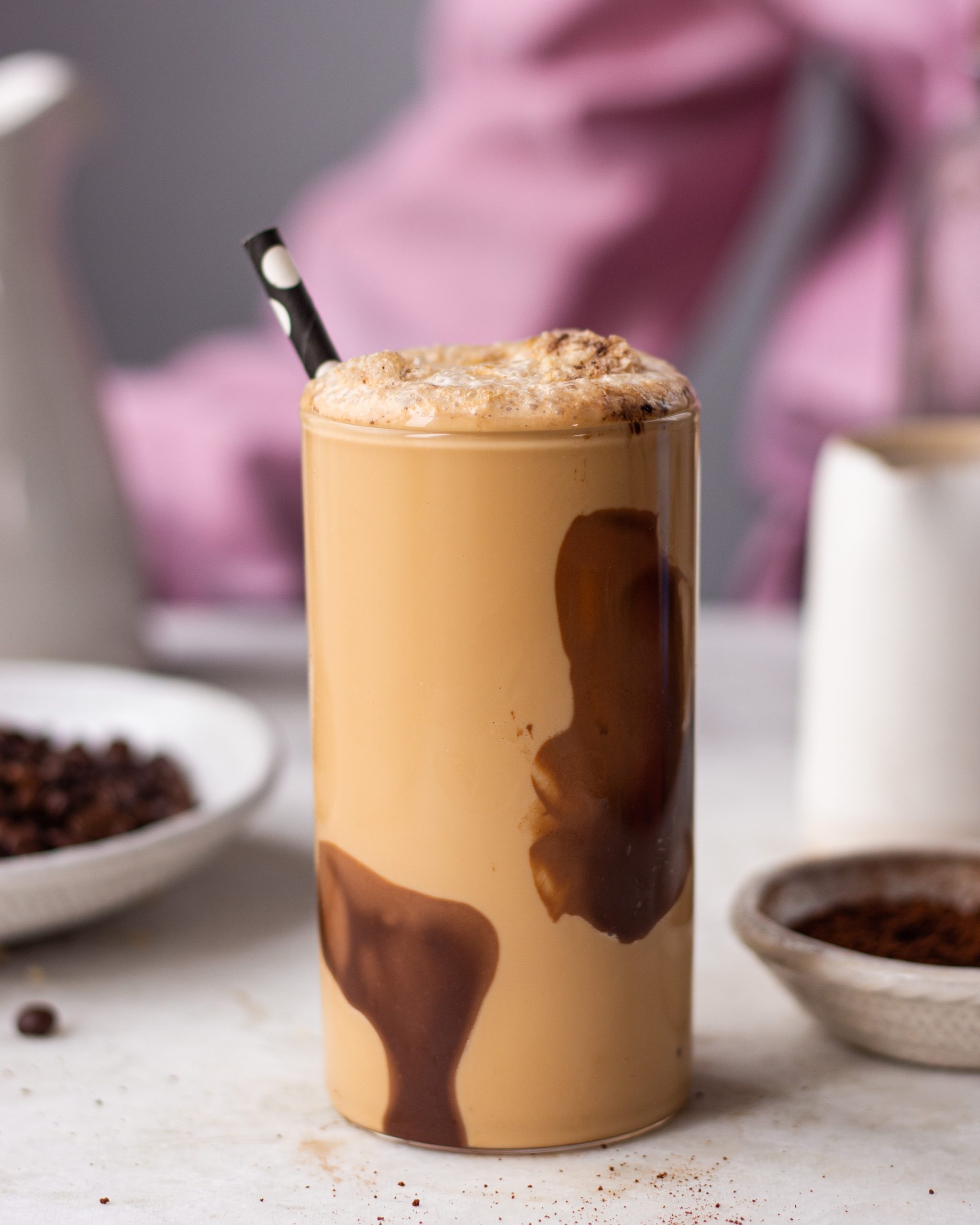 That's all folks! I hope these recipes make your lockdown a little more brighter and better! If you happen to make these recipes, do tag me on Instagram / Facebook using #Bakewithshivesh.