No matter what the season, I always start my morning with a jar of freshly squeezed orange juice. That's how it has always been, it is a part of my routine that I won't give up for anything. However, one thing that I'm really fond of in summers is a good, old fashioned lemonade. Did you know that there's actual science that backs up how a lemonade keeps us hydrated? A sweet, tart and acidic lemonade replenishes the fluids in your body and keeps you from feeling dehydrated. As they say, when life gives you lemons, make lemonade. And if you're here, might as well take it up a notch with three awesome lemonade  flavors!
With summer coming to its peak, we all need something that will keep us cool, refreshed and sane. Come my three Lemonade flavors to the rescue – these drinks will be your ultimate go-to on a hot summer afternoon. And not to forget, these are made with the freshest of fruits and no refined sugar! So let's get into the recipe.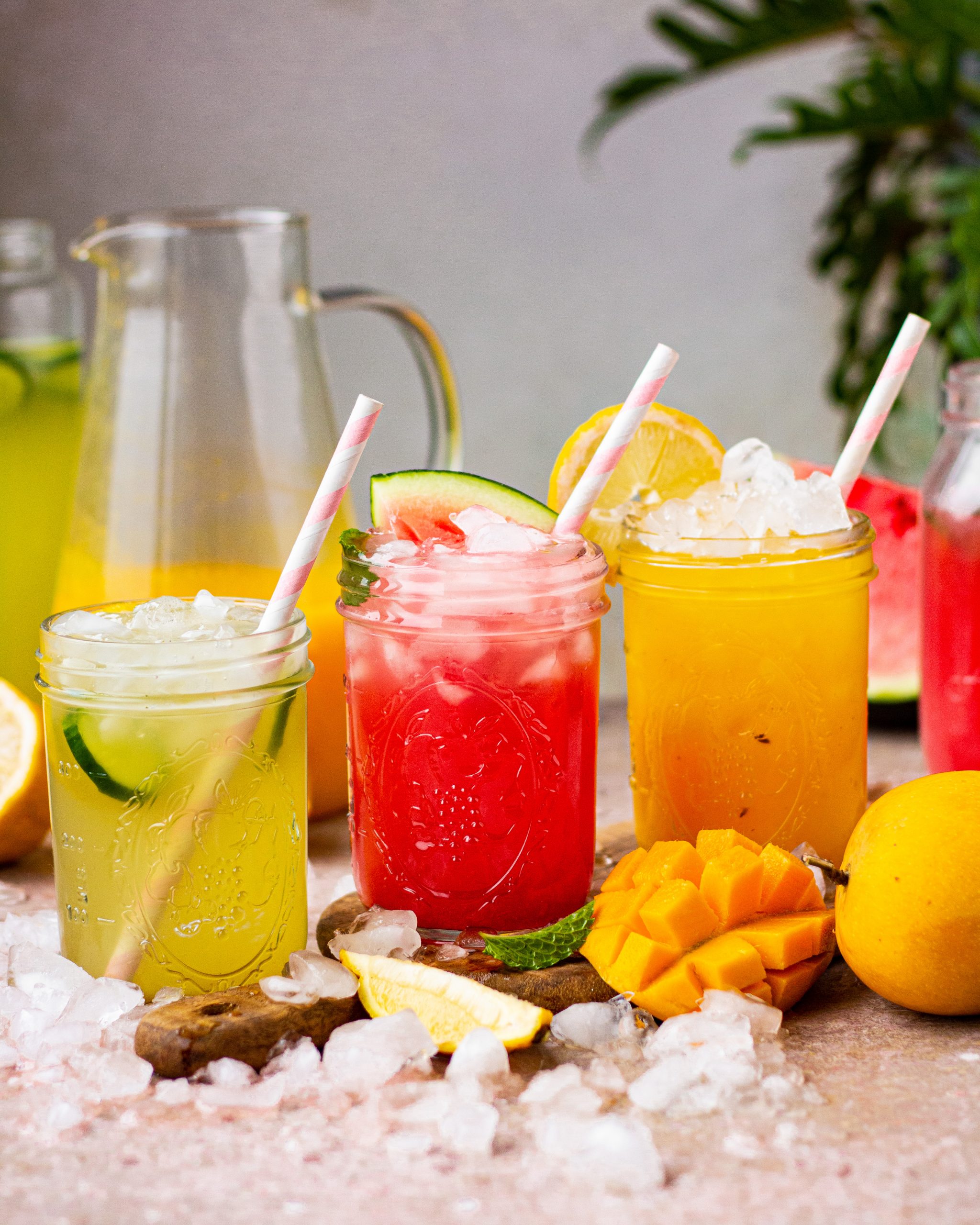 The healthiest drinks to make
A classic lemonade is made with a good amount of lemon juice, water, sometimes mint leaves and sugar and salt for taste. However, refined sugar can be unhealthy for your body if consumed in copious amounts. A healthier alternative is making your lemonade with fresh fruits like I have done in this recipe. These three lemonade flavors contain no refined sugar or unhealthy ingredients. For sweetener, I have used honey which actually enhances the flavor of these lemonades but you can also skip it if you find adequately sweeter fruits.
INGREDIENTS USED FOR MY THREE LEMONADE FLAVORS
The three refreshing flavors I chose are : Watermelon Lemonade, Mango Lemonade and Cucumber Mint Lemonade. The ingredients in these coolers are more or less available in your pantries so don't worry about that!
WATERMELON LEMONADE
For this cooler, all you need is fresh watermelon, lemon juice, honey, chaat masala, water and mint leaves. This is a just a six ingredient drink and it is so fresh and so delicious. If you are a fan of watermelon, you need to make this cooler as soon as possible and be ready to fall in love.
I bought a whole watermelon and cut it at home. Cutting watermelon is not the easiest but I think doing it to make this lemonade is going to be worth it! I also use chaat masala and mint leaves to enhance the flavor of this lemonade. The combination of mint leaves with watermelon is one to die for.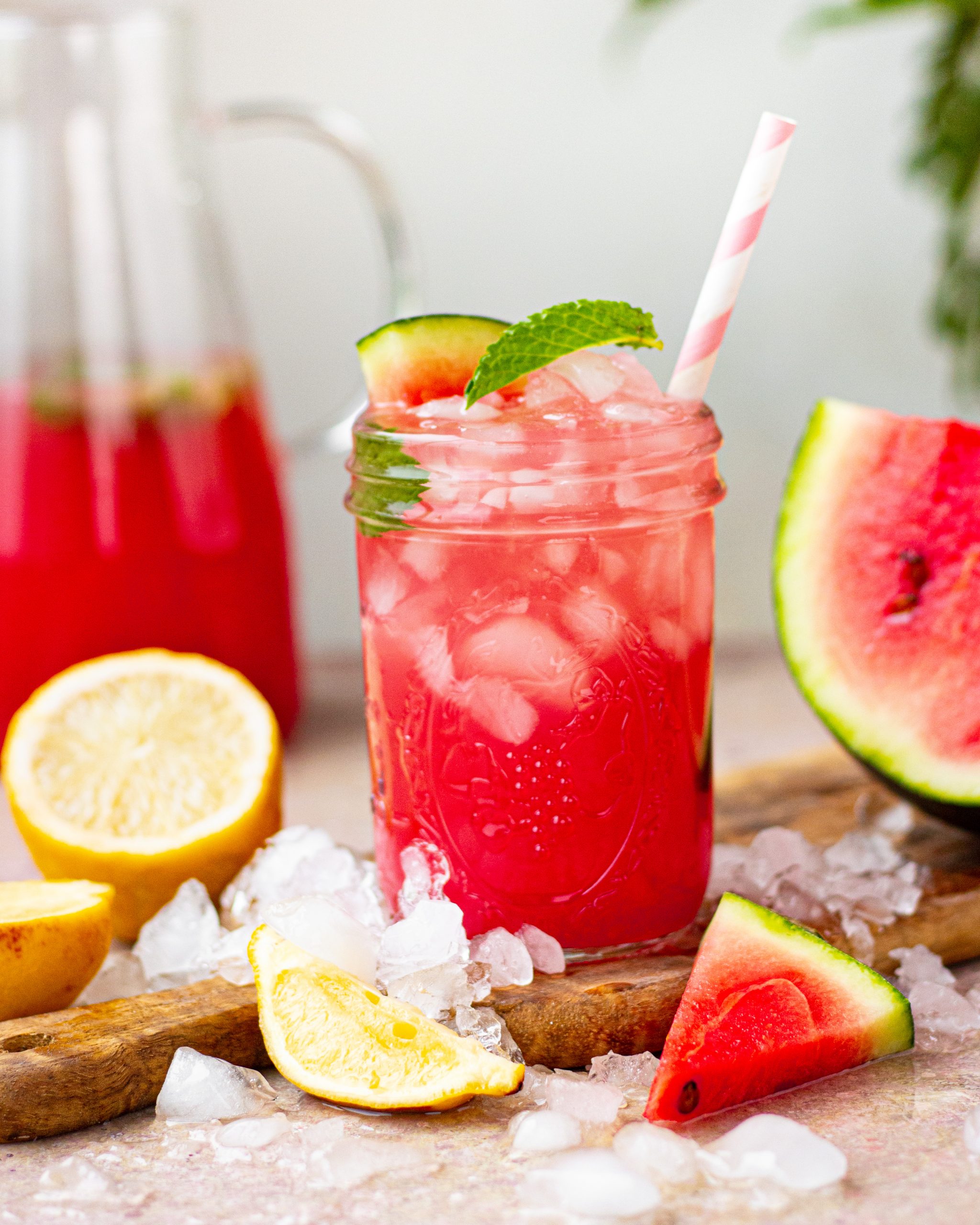 MANGO LEMONADE
Mangoes are in season so obviously, this would the drink I would be making every other day. It has got everything, mangoes, lemon juice and some jeera powder for that spicy kick. If you're from the Aam Panna gang, you'd gotta give this drink a try.
This is my favorite one out of all the three lemonade flavors and it would be yours too, once you try it. Every time mangoes are in season, I make sure that I make the most of them and using mangoes to make this drink is a sure shot way of doing that. Make sure you blend the mangoes with water otherwise you'll only get mango puree from your blender!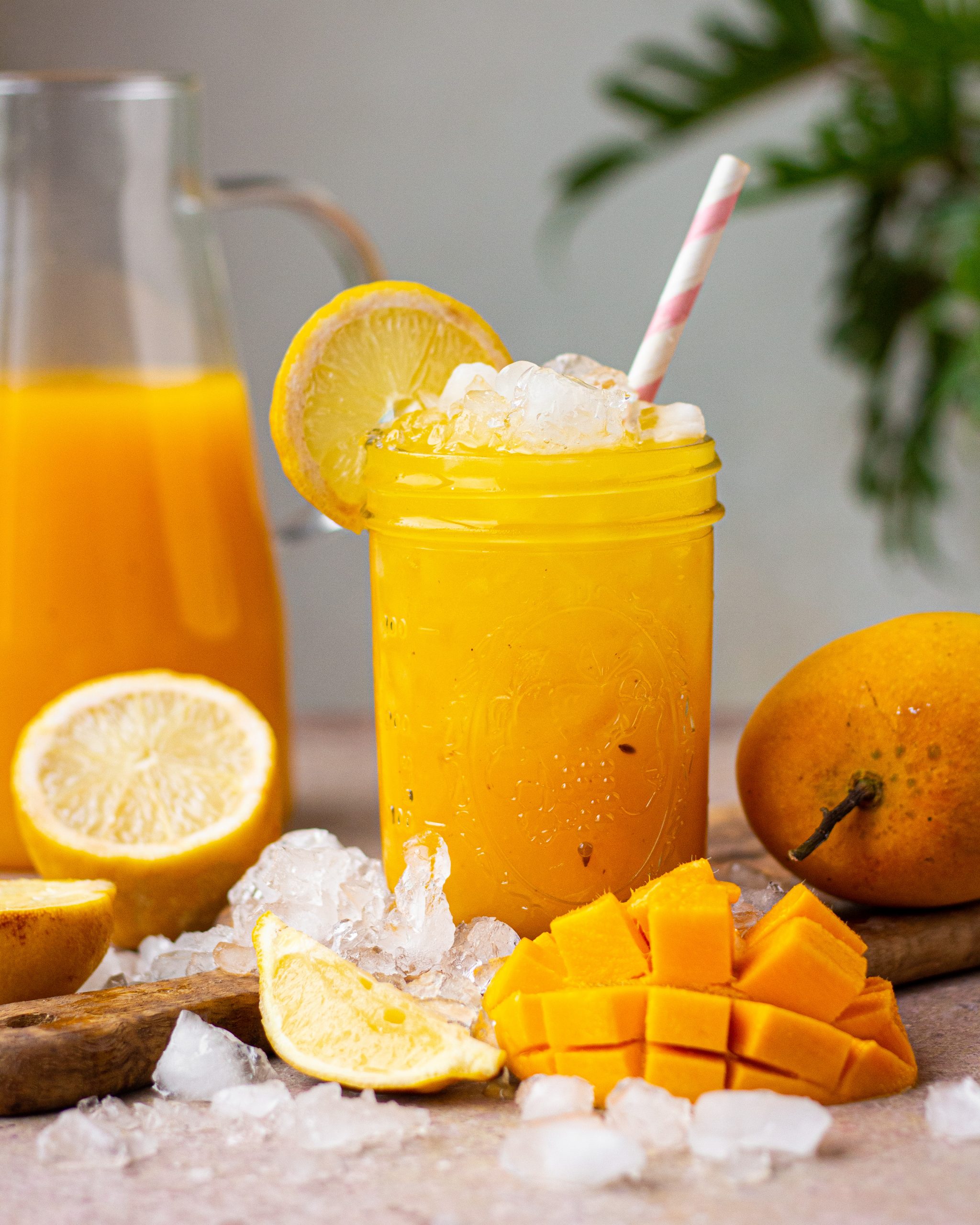 CUCUMBER MINT LEMONADE
I know what you must be thinking- this is quite an underrated flavor. Cucumbers are known to be a summer staple. It doesn't really have a strong flavor of its own, it's mostly full of water. But when combined with lots of mint, it becomes ABSOLUTELY DELICIOUS! And that's how I can best describe this lemonade.
Mix cucumber with mint, lemon juice, water and honey for the most refreshing drink ever. I think our summers are sorted.
I used these cute mason jars for serving my lemonades with some ice. Let's say, my family was pleased with the royal treatment!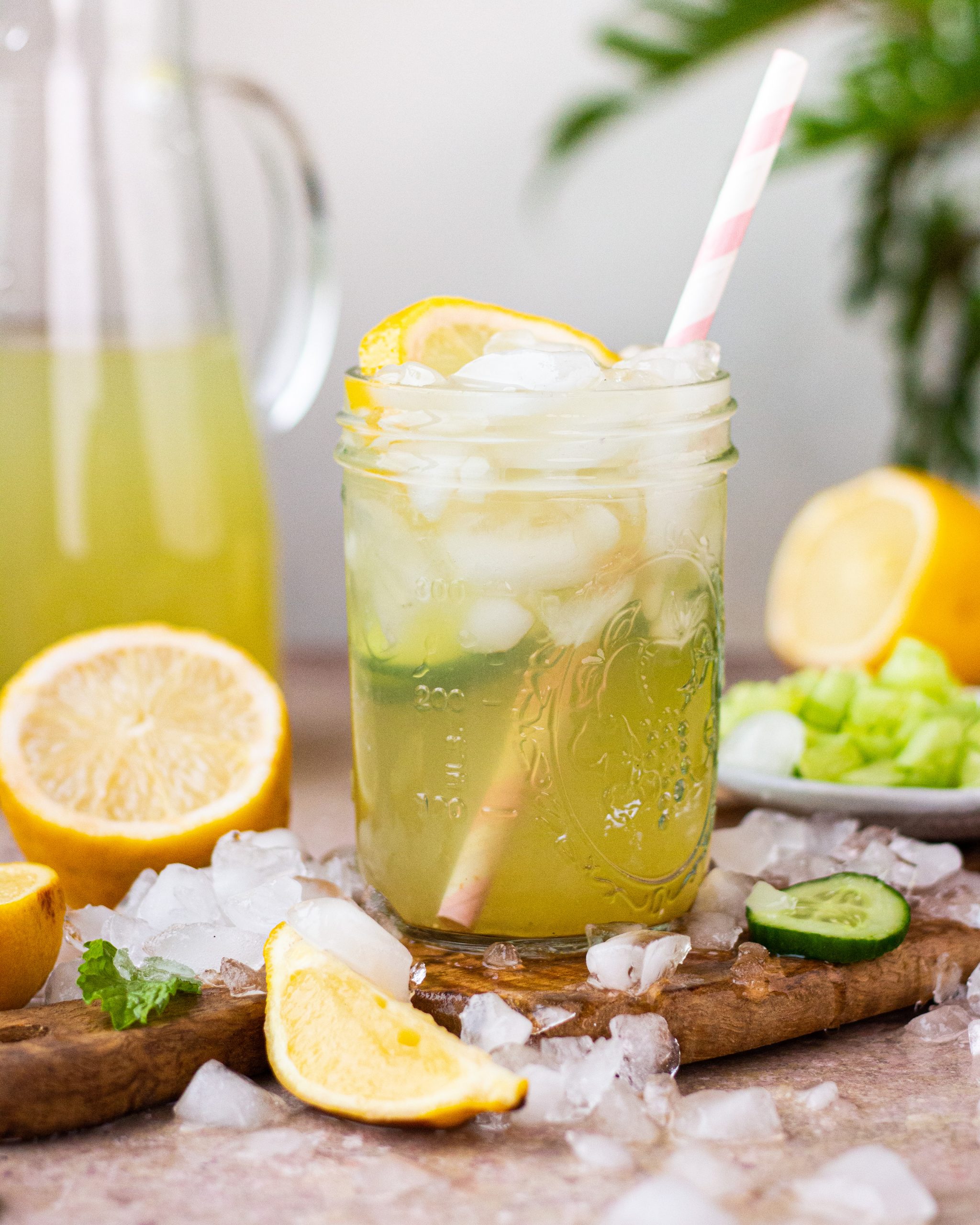 TIPS TO MAKE THE PERFECT SUMMER COOLERS
GOOD QUALITY FRUIT ONLY
Whether you are making a watermelon lemonade or a mango one, always remember to use the best and the freshest fruit possible. Since the fruit is the star ingredient in most summer coolers, you have to ensure you're buying sweet ones. If your fruit is not ripe enough or is tasteless, the final taste of your drink will also be effected.
IT IS OKAY TO PLAY AROUND WITH THE INGREDIENTS 
In simple recipes like summer coolers, it's completely okay to play around with a few ingredients and swap out a few. We all have our flavor preferences and we all will enjoy drinking something if it tickles our taste buds the way we like it.
SERVE THEM AS FRESH AS POSSIBLE
Some coolers require a certain number of hours as a rest period to ensure that all the flavors merge well together. After those few hours, it is best to serve the coolers as soon as possible because you do not want all the fresh fruits you used to lose their fresh factor.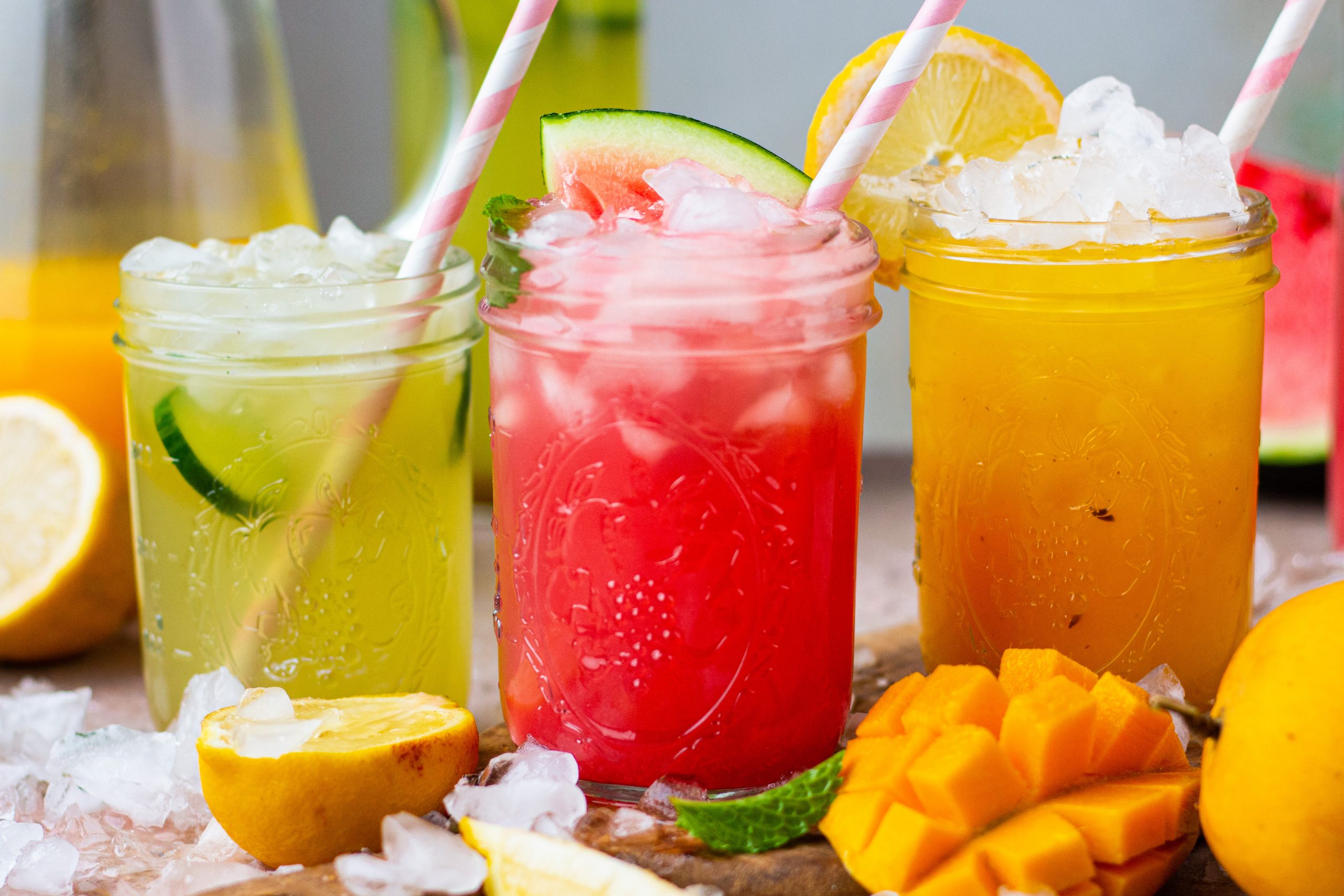 Flavor options for more lemonades
I made these three lemonade flavors with fresh fruits that are in season. But the world is your oyster when it comes to experimenting with flavor options for a drink as versatile as a lemonade. If I am to tell you my preferences, I would absolutely love any lemonade which fresh berries like blueberry, raspberry or strawberry! YUM.
If you're looking to make these lemonades for a celebration, you can ever make a cocktail version of them by adding your alcohol of choice. That would honestly taste so good! These lemonades can also be converted into iced tea lemonades, you just need to add some strained brewed tea into your lemonade. Yes, these  lemonade flavors are super versatile and you can get as creative as you want!
Other summer drink recipes on the blog
I think this is what I'll be drinking this summer, oh, except my three awesome summer milkshakes. But in case you're looking for more options on summer coolers, you can find them here –
Three Lemonade Flavors Recipes
Three Lemonade Flavors
Ingredients
For Watermelon Lemonade
2 cups watermelon
4 cups water
4 tbsp honey
¼ cup lemon juice
¼ tsp chaat masala
Mint leaves
For Mango Lemonade
2 cups mango cubes
4 cups water
¼ cup lemon juice
4 tbsp honey
¼ tsp jeera powder
For Cucumber Mint Lemonade
½ cups cucumber
¼ cup mint
4 cups water
4 tbsp honey
¼ cup lemon juice
Instructions
To make the watermelon lemonade, you need to cut watermelon in medium sized chunks and blitz them in a food processor.
To that, add in water, lemon juice, honey, chaat masala and mint leaves. Combine this well.
Serve this with some ice and fresh mint leaves. Enjoy!
To make the mango lemonade, you need to cut mango in small cubes and blitz them in a food processor with 2 cups of water.
To that, add in the rest of the water, lemon juice, honey and jeera powder. Combine this well.
Serve this with some ice. Enjoy!
To make the cucumber mint lemonade, you need to cut cucumber in small sized chunks and blitz it in a food processor with mint leaves and 2 cups water.
Sieve this to remove any chunky parts.
To that, add in the rest of water, lemon juice and honey. Combine this well.
Serve this with some ice, lemon and mint leaves. Enjoy!
If you like this recipe and happen to make it, don't forget to tag me on
Instagram
/
Facebook
using #Bakewithshivesh. Happy Summers!