Nothing can beat reading a good book as it takes us to places and adventures where we have never been. This has truly been the case for me because I have seen myself being transported to a different world every time I read a cookbook.  I started baking when I was 16 and I didn't know life had so much in store for me. Apart from being a baker and blogger, writing and sharing recipes with you guys through my books has been something that has brought me the most amount of joy.
It's World Book Day you guys, and being an author, this day holds a very special place in my heart. Books can help start interesting conversations across different generations and I have personally seen that books bring people together. Whether it's to discuss a topic or to spend an afternoon baking from that cookbook on your book shelf, books have the capability of making a dull day seem brighter. On this World Book Day, I want to talk to you about my two books, what's next in store as well as share a beautiful recipe from my book, Desserts for Every Mood.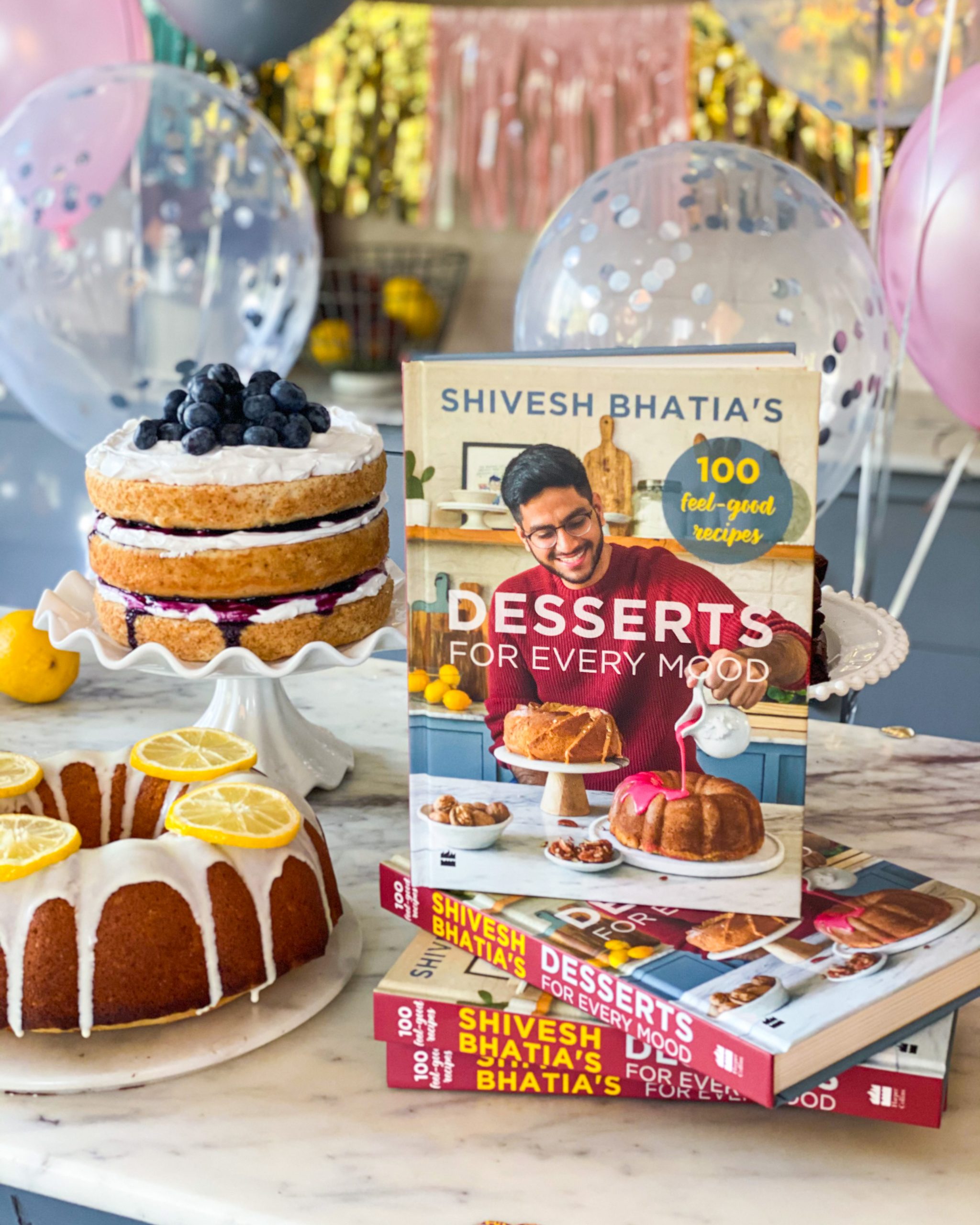 My two very special books
When I started blogging full time in 2017, baking became a part of my job. In time, as my professional journey continued, I came to have a stunning studio kitchen, where I now bake everyday with my team. Together, we create content that has allowed me to connect with people across the world and I wouldn't trade this for anything in the world!
I sent in recipes for my first book in 2018, and since then there's been no turning back. I wrote Bake with Shivesh with the idea of sharing very simple recipes with as many people as I could. I wanted my readers to retreat these recipes in their own kitchens and not be intimidated by complicated methods and fancy baking techniques. Most of all, the urge to write this book came from a feeling – If I can bake, anyone can!
Through my second book Desserts for Every Mood, I came to understand myself even better and wanted this book to be a one-stop solution for any type of baking. A 100 recipes and a lot of hardwork later, we had this beautiful book in hand which has all kinds of recipes – from simple too complex. I hope my two books become your savior on a bad day and that you let baking soothe all your stresses. Because honestly, we all need that right now!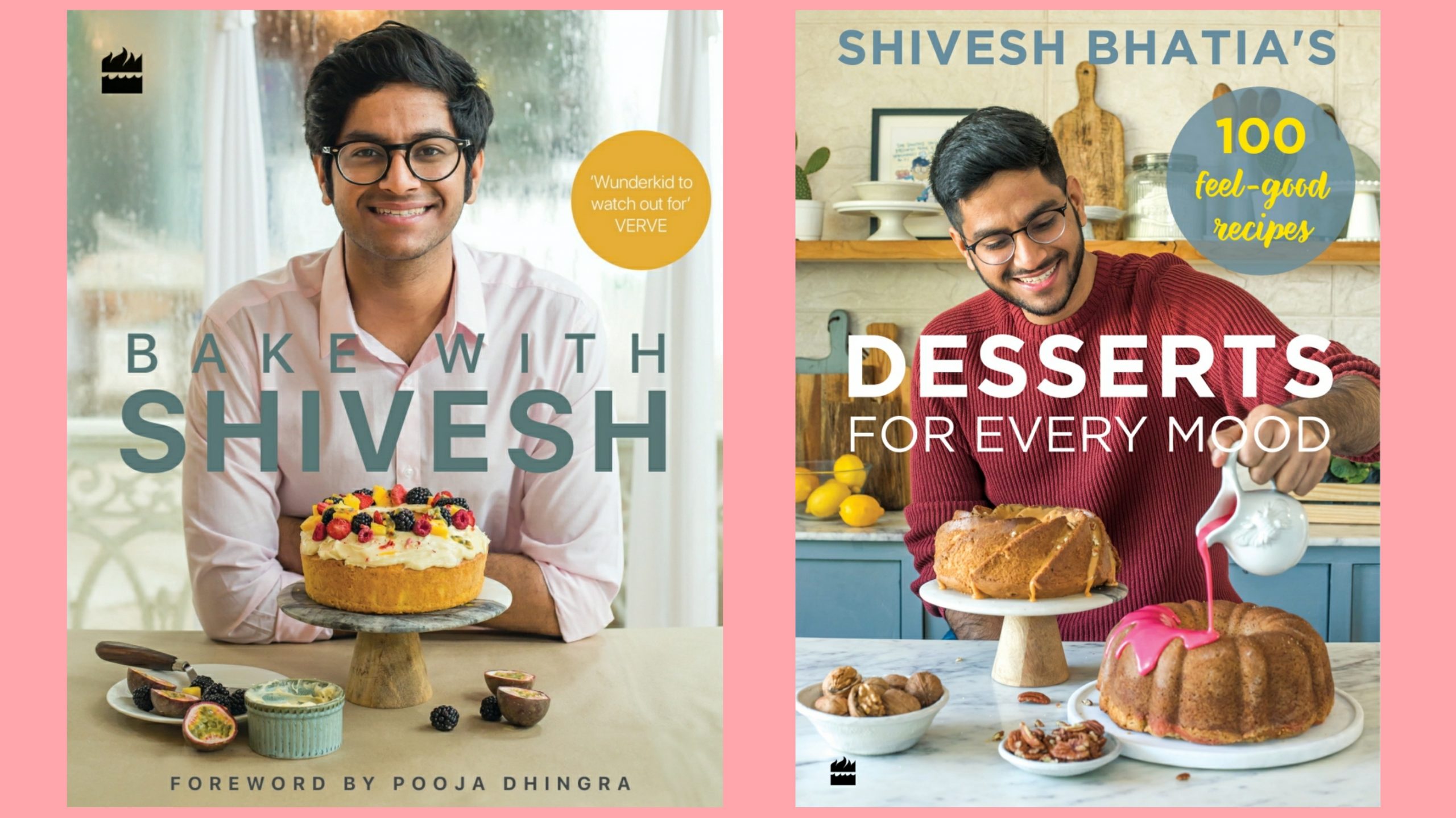 What's coming next
I also wanted to take this opportunity to tell you guys that I am working on not one, but TWO new books! Besides the recipe book that you guys already know about, I am also working on a baking book for children. While I cannot share all the info about this book yet, I am incredibly excited to work on something for kids. This book is an encouragement for kids- girls or boys, to get in the kitchen and bake! When I started baking, not a lot of people looked at baking as a viable career option and this stereotype was mostly prevalent for boys. Now when I see young kids showing so much interest being in the kitchen and baking, it makes me feel so happy because this is the kind of changes that this world needs! I hope with this book, I'll be able to encourage more kids to explore their interest in baking and also get more parents to be supportive if their child wants to peruse baking as a hobby or career.
Elements of Chocolate Mango Cake
On this World Book Day, I want to share a very special recipe with you. It's the Chocolate Mango Cake from my book, Desserts for Every Mood. Apart from this book, there's one more recipe on the blog from this book, which are my delicious Brookies. It's officially the season of mangoes and this pairing of chocolate with mango is a marriage made in heaven. Dark notes of chocolate with the sweet, citrus flavors of mango take this dessert to a whole new level. This cake is special for any celebration, or for a simple night-in with family. The Chocolate Mango Cake is made up of the following elements
Chocolate sponge – This is by far the easiest and the best chocolate sponges I have ever made in my life. It's chocolatey, dark and most importantly, EGGLESS! I know that so many of you ask me for eggless recipes and this is just one of those cakes that you have to make in your kitchens. Since this is an eggless cake, I use yogurt as a substitute for eggs. Yogurt is a great alternative and one of the most common ingredients used as a substitute for eggs. It gives the cake a very similar texture and makes it fluffy and light.
Wondering about more egg substitutes? There is an entire blog post dedicated to that and I know it will give you a better understanding of the entire thing!
Chocolate Cream Cheese Frosting – I know you must be thinking, Chocolate- Cream Cheese? Frosting? Is that even a thing? I saw yes! Now since most of the traditional chocolate cakes use a chocolate ganache, I wanted to break free from that stereotype and pair the cake with a tangy, chocolatey cream cheese frosting. The texture this frosting gave to this cake is out of the world! I recommend you definitely make this frosting for the chocolate mango cake and don't skip it.
Fresh mangoes – Since it is a chocolate mango cake, mangoes are essential for bringing this cake together. I slice some mangoes into fine, beautiful pieces and arrange them in a floral pattern on top. This is also called a mango rosette and this decoration makes the cake apt for any occasion! Be it a birthday or a wedding celebration, this cake is absolutely a stunner show stopper dessert.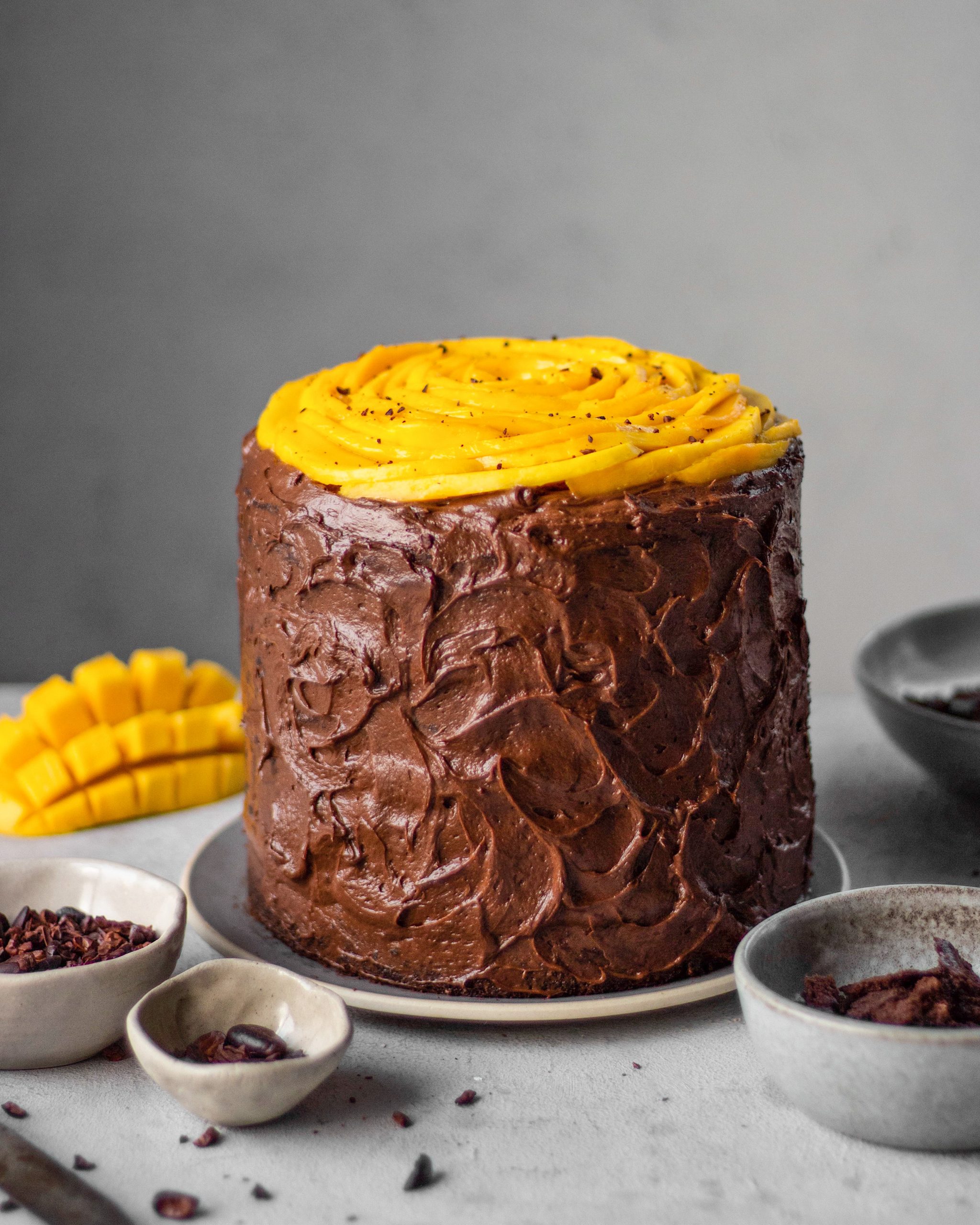 Chocolate Mango Cake Recipe
Chocolate Mango Cake - World Book Day
Ingredients
For the cake
3 cups all-purpose flour
1+ ½ cups cocoa powder
2 tsp baking powder
1 tsp baking soda
1+ ½ cups vegetable oil
3 cups caster sugar
2 cups Greek Yogurt / hung curd / 4 eggs
1 cup milk
For the frosting
2 cups icing sugar
½ cup cocoa powder
1 cup cream cheese, softened
½ cup butter, softened
For garnish
3 mangoes, peeled and sliced
3 mangoes, peeled and sliced
Instructions
Preheat the oven to 180 degrees Celsius. Line four 6-inch baking pans with parchment paper.
Sift together the flour, cocoa powder, baking powder and baking soda into a bowl.
In a large bowl, beat the oil and sugar with an electric mixer until the mixture is pale. Add the yogurt into the oil mixture and mix well. Add the milk.
Carefully fold the dry ingredients into the wet ingredients until no large flour pockets are visible. Do not over-mix.
Distribute the batter equally into the four cake pans. Bake for 30 minutes, or until a skewer inserted in the centre of the cake comes out clean.
Allow the cakes to cool on a wire rack completely before frosting.
In a bowl, sift the icing sugar and cocoa powder together. Set aside.
In a large bowl, beat the cream cheese and butter until the mixture is light and fluffy. With the mixer still running, add the icing sugar and cocoa mixture in batches. Whisk until the frosting is smooth and fluffy.
Generously top one layer of chocolate cake with the chocolate cream cheese frosting. Place another cake layer on top of it and repeat the process until all the layers are done. Remember to frost the outside of the cake as well.
Carefully place the slices of mango on top of the cake outside-in to form a flower-like arrangement.
If you happen to make this recipe, do tag me on
Instagram
/
Facebook
and use #Bakewithshivesh. Happy Baking!