Chocolate Mango Cake - World Book Day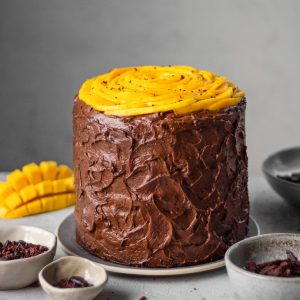 3 cups all-purpose flour
1+ ½ cups cocoa powder
2 tsp baking powder
1 tsp baking soda
1+ ½ cups vegetable oil
3 cups caster sugar
2 cups Greek Yogurt / hung curd / 4 eggs
1 cup milk
2 cups icing sugar
½ cup cocoa powder
1 cup cream cheese, softened
½ cup butter, softened
3 mangoes, peeled and sliced
3 mangoes, peeled and sliced
Preheat the oven to 180 degrees Celsius. Line four 6-inch baking pans with parchment paper.
Sift together the flour, cocoa powder, baking powder and baking soda into a bowl.
In a large bowl, beat the oil and sugar with an electric mixer until the mixture is pale. Add the yogurt into the oil mixture and mix well. Add the milk.
Carefully fold the dry ingredients into the wet ingredients until no large flour pockets are visible. Do not over-mix.
Distribute the batter equally into the four cake pans. Bake for 30 minutes, or until a skewer inserted in the centre of the cake comes out clean.
Allow the cakes to cool on a wire rack completely before frosting.
In a bowl, sift the icing sugar and cocoa powder together. Set aside.
In a large bowl, beat the cream cheese and butter until the mixture is light and fluffy. With the mixer still running, add the icing sugar and cocoa mixture in batches. Whisk until the frosting is smooth and fluffy.
Generously top one layer of chocolate cake with the chocolate cream cheese frosting. Place another cake layer on top of it and repeat the process until all the layers are done. Remember to frost the outside of the cake as well.
Carefully place the slices of mango on top of the cake outside-in to form a flower-like arrangement.
Recipe by
Bake with Shivesh
at https://bakewithshivesh.com/chocolate-mango-cake-world-book-day/