It's the month of June and we all know what happens in June. Summers. And while I hate how sweltering it might get in our national capital where I reside, I absolutely love the variety of fruits! Summer fruits are so beautiful! As soon as we enter March, we already start seeing a variety of colorful fruits and vegetables. And this for me means more experimenting, more recipes, and more yumminess! Mangoes and cherries are winning our hearts with their lush taste and obviously, I could not help but create some deliciousness using these two favourite summer fruits! Today, I am getting to you the recipe of Cherry Chocolate Ice-cream and trust me, it's heavenly.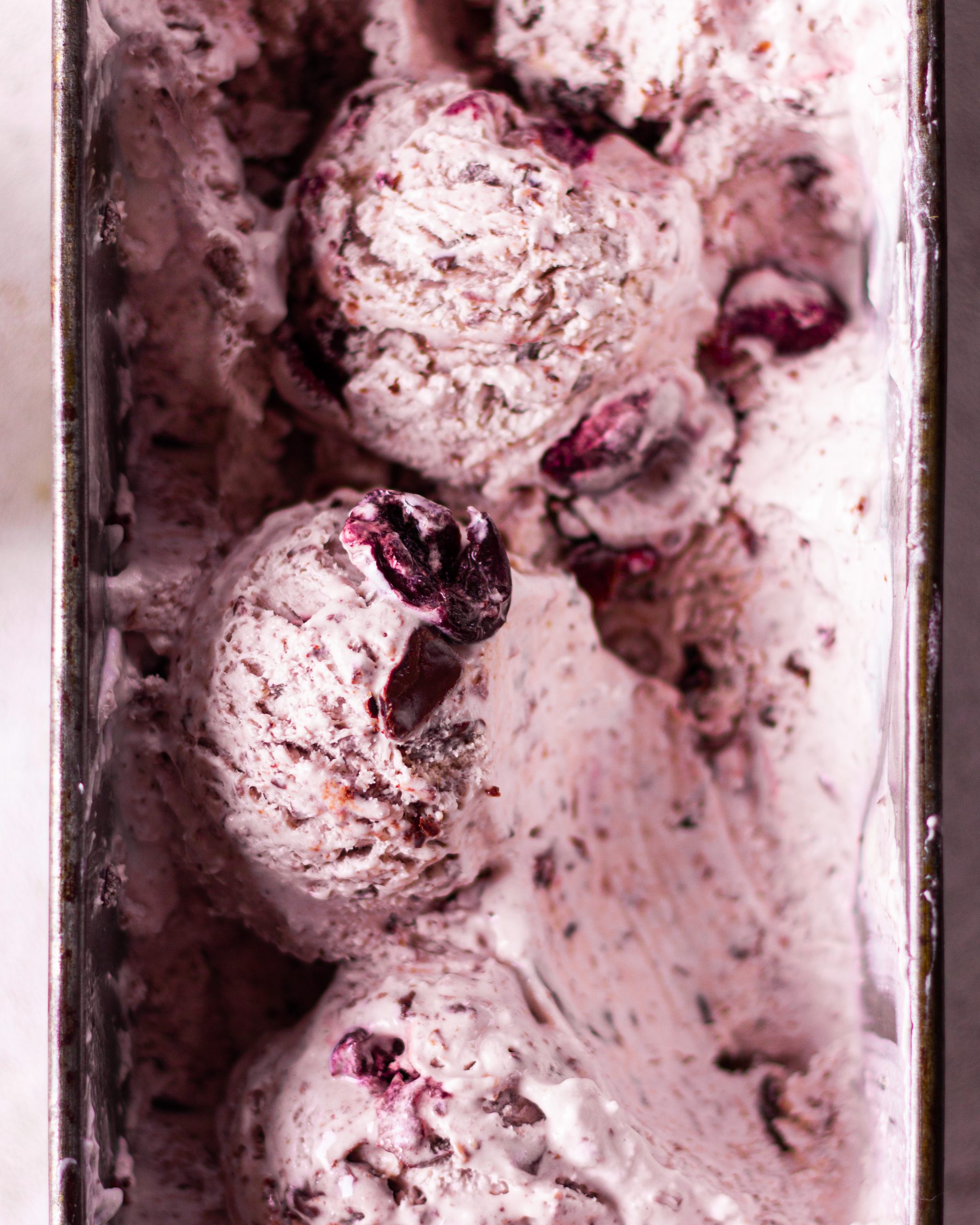 I know people are SUPER obsessed with the combination of strawberry and chocolate. But, why leave something as beautiful as cherry out of the imagination? Cherries and chocolate also make a wonderful combination. Thus, this Cherry Chocolate Ice-cream is now here to steal your hearts and your sweat away! Plus, in summers, no body likes to stand in the kitchen heat and whip something sweet for themselves. In comes this Cherry Chocolate Ice-cream recipe to steal your tension, stress, sweet pangs, and hearts away! Haha.
How are we making this no-churn Cherry Chocolate Ice-cream?
Traditionally, ice-cream is made using humongous churners. But, this is obviously what happens commercially. Oh, by the way, you can get your own mini ice-cream churners too. It just ensures a better homogenous and smoother mixture. But, honestly, there is nothing a hand-blender can't do in today's world. So, just bother yourself with an easy and affordable hand-blender and you are good to go! The main mixing tool we shall be using for this Cherry Chocolate Ice-cream is a stand mixer or a hand blender. Both work equally fine! You can obviously use a whisk too but it will take endless an eternity to make this Cherry Chocolate Ice-cream!

Ingredients for this Cherry Chocolate Ice-cream
The ingredients for this Cherry Chocolate Ice-cream can not get more simplified. Just in case you wish to have additional information on the brands that I have used or the brands you can get, read below to know more! Please remember that while it is advisable to stick to a given recipe, experimenting is what will get you to another level- especially if you are a baker! You can experiment with the given ingredients for this Cherry Chocolate Ice-cream and get your recipe to another level!
The cherries
I have used fresh cherries for this Cherry Chocolate Ice-cream. Obviously fresh cherries taste better but you can use tinned cherries- why not! They are just a tad bit sweeter but there is nothing to fret over. I have also ensured to de-seed my cherries. Because we don't need whole cherries, you can get the seed out in whatever manner. In case you have a de-seeding tool, please use that!
The Sugar
If you have been following me since some time, you will know that I really really prefer caster sugar over any other type of baking sugar! It mixes super well, is easy to dissolve into batter or mixtures, and is adequately sweet. I have used Trust brand's caster sugar. And I stick by it. You can also use powdered sugar.
The Cream
If you are hoping to use fresh cream for this Cherry Chocolate Ice-cream, I have bad news. This Cherry Chocolate Ice-cream recipe requires any cream with 30% minimum fat percentage. It is of extreme importance to have this fat quantity in your cream so it can become beautiful and fluffy. I use Rich brand whipping cream. It really works the best!
The condensed milk
Condensed milk or milkmaid is what makes this Cherry Chocolate Ice-cream sweet. If you may have noticed, the sweetness in this Cherry Chocolate Ice-cream comes only and majorly from condensed milk. It also helps bring about a smoother texture to the chocolate. The brand I have used is Nestle! It is the most commonly available one!
The Dark chocolate
Honestly, a good chocolate takes your dessert to another level. While using a cadbury or a Silk does not make or break this dessert, a good dark chocolate is really the way to go. To be honest, you should always and always keep a dark chocolate bar handy. Your Cadbury dairymilk or Silk is more of a candy than a chocolate. While it does not have any repercussions on this Ice-cream, other desserts like my Fudge Brownies only need dark chocolate. This is because my milk chocolate will break my dessert. Know more about the best baking chocolates.
For this Ice-cream, you can use Bourneville or Amul dark chocolate!
Cherry Chocolate Ice-cream Recipe
Cherry Chocolate Ice-cream- no churn!
Ingredients
2 cups cherries
4 tbsp sugar
½ tsp salt
2 cups whipping cream
1 can (400gm) condensed milk
¼ chopped dark chocolate
Instructions
Start with two cups pitted cherries in a baking sugar. Add sugar over the cherries and then the salt. Toss cherries and bake the cherries at 200 degrees for 25 minutes. Make sure your oven is pre-heated.
Divide your baked cherries into two halves. Blend one half into a nice cherry puree and reserve the rest for later.
Transfer the puree into a separate bowl and add the condensed milk. Combine the two nicely and set aside.
Pour the cream into a stand mixer and beat until you see stiff peaks.
Add the whipped cream into the cherry puree and condensed milk mixture. Mix until combined.
Add the chocolate and the cherries we kept aside earlier. Mix until well combined.
Transfer into a freezer safe container and into the freezer for a minimum of 8 hours.
Serve cold!
If you make this, please tag me on
Instagram
!