If you have never heard of darsaan or have heard but never tried it in your kitchen, this is your cue to do so! Darsaan is a traditional Chinese dessert which has fried noodles coated in a honey syrup and served with vanilla ice cream. My version of darsaan will blow your mind away! Homemade air fried super crisp noodles coated in a beautiful and perfectly sweet honey syrup and served with a big scoop of vanilla is what dreams are made of truly. Now this dessert might seem intimidating but trust me its one of those which is ready in no time and always a crowd pleaser. Surprise your relatives or friends with this unique dessert and I am sure they are going to love it. Let's discuss the recipe in detail.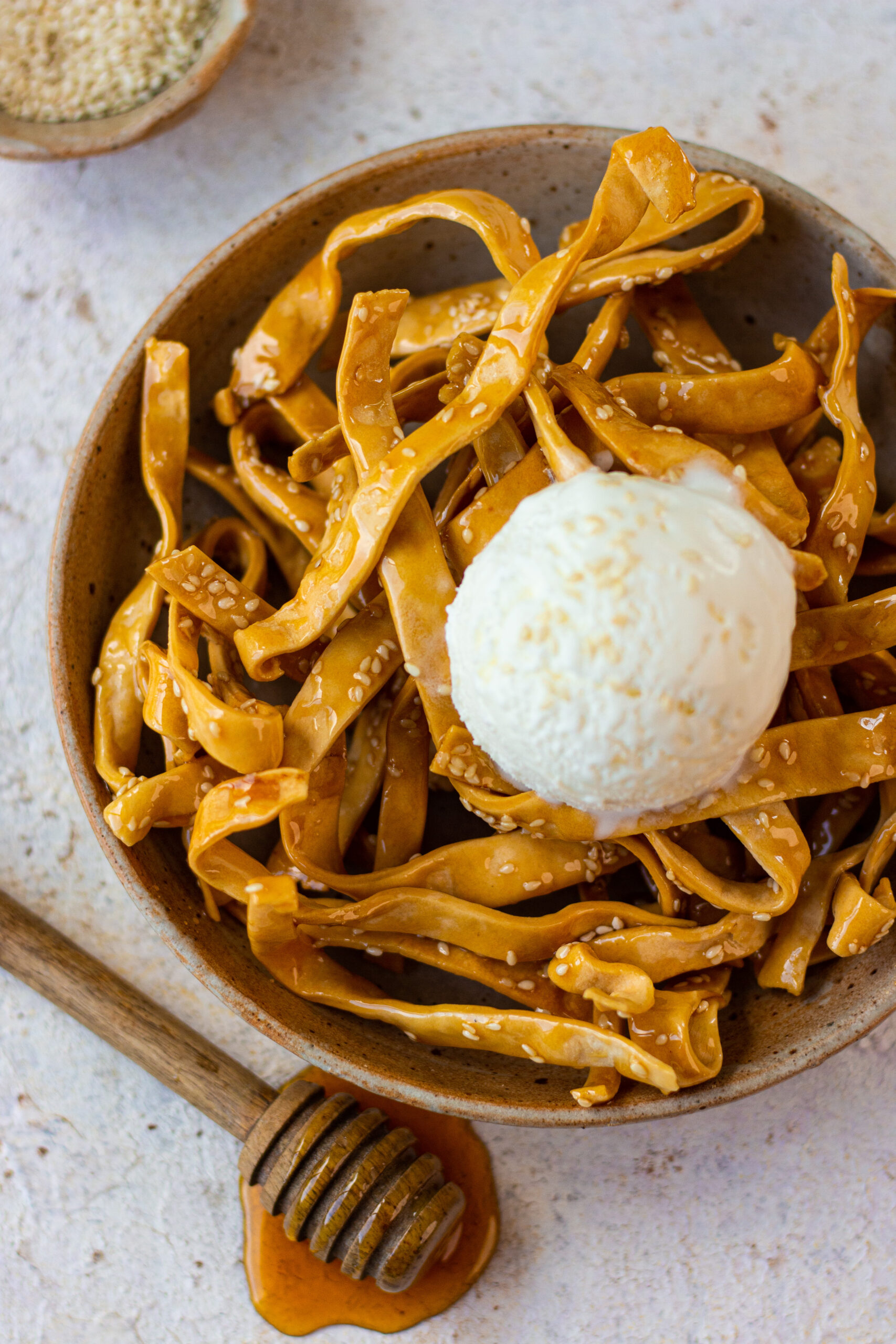 INGREDIENTS USED IN DARSAAN
OIL
A regular flavourless oil is your best bet while baking. Any other oil usually leaves an after taste which you do not want in your darsaan noodles. Please avoid using olive oil, groundnut oil, mustard oil or any other oil with a strong flavour.
ALL PURPOSE FLOUR
I have used regular maida in this dough for my darsaan noodles. Feel free to swap half of it for whole wheat flour or oat flour or completely with whole wheat flour or aata. Make sure you increase the quantity of water in that case as these flours absorb more liquid in a recipe.
BAKING POWDER
I have used baking powder in this dough for my darsaan noodles. Baking powder would react to the liquid that is water and make my noddles a little puffier and lighter. I use this baking powder in my kitchen.
WATER
To bring my dough of darsaan noodles together I have used water. Feel free to adjust the quantity of water since all flours have different water retention capacity. You might want to add a little less or a little more of it. Make sure your dough is not soft, yes that's right. You ideally want a hard dough for these noodles.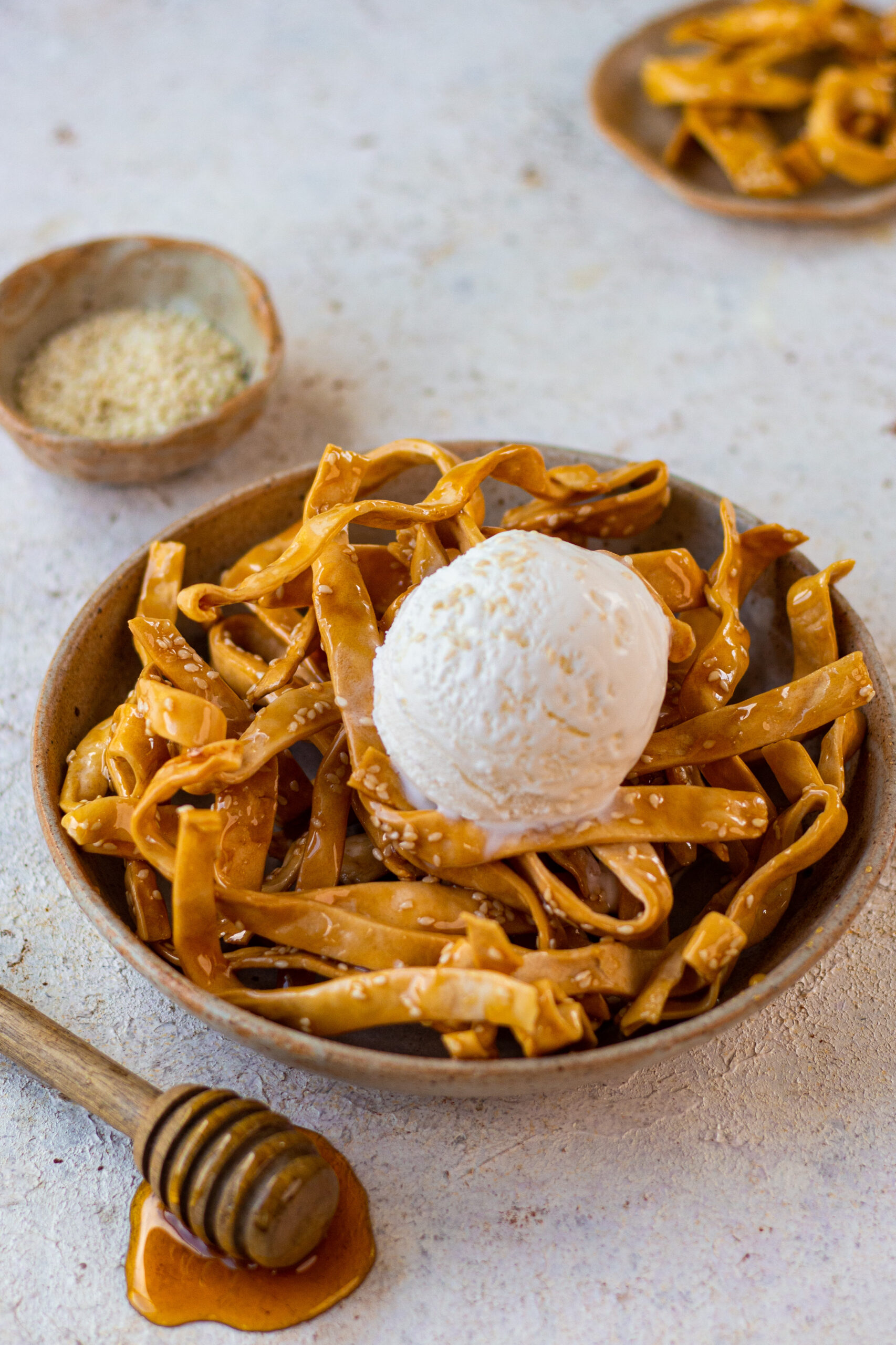 SESAME SEEDS
Traditionally this Chinese Dessert has noodles coated in a honey syrup where sesame plays a huge part. It's flavour brings out a unique flavour and aroma in the honey syrup for our darsaan noodles.
CASTOR SUGAR
I usually prefer castor sugar in all my recipe until mentioned otherwise. Castor sugar melts evenly unlike granulated sugar. If you don't have castor sugar in hand, feel free to use granulated for this recipe of darsaan since we are melting it only.
HONEY
Of course, you need honey in this honey syrup made to coat darsaan noodles. I have added honey after switching off the heat and mixed it really well until all of the syrup comes together.
VANILLA EXTRACT
Using the best kind of vanilla has always made all the difference in any dessert. Please avoid using vanilla essence as it is not real but synthetic and chemically made vanilla flavour. Make sure you use good quality vanilla extract or bean for this syrup for darsaan noodles. I recommend this one. To know more about vanilla and which vanilla to use for your desserts, you can check out my article Vanilla 101.
SALT
I have added a little salt in my honey syrup made to coat the darsaan noodles. Salt always helps cutting the over sweetness in a dessert and brings out the perfect balance of taste you are looking for.
TIPS ON HOW TO MAKE DARSAAN AT HOME
While making the dough, add water little by little and not all at once.
You don't need a very soft dough, adjust water accordingly.
Since your dough is already on the hard side, you don't need to let it rest more than 2 minutes before rolling it out.
Roll the dough very thin and even. Brush oil before air frying the strips.
Roughly add the strips to the basket of air fryer. Don't keep them all straight.
You can also fry these noodles if you don't have an air fryer.
Roast your sesame seeds before adding water.
Let the sugar completely melt before switching off the flame.
Add salt along with sugar.
While making the syrup, switch off the heat before adding honey.
Once the syrup is ready, quickly coat the strips. Or else it will thicken sitting around and would get difficult to coat the noodles.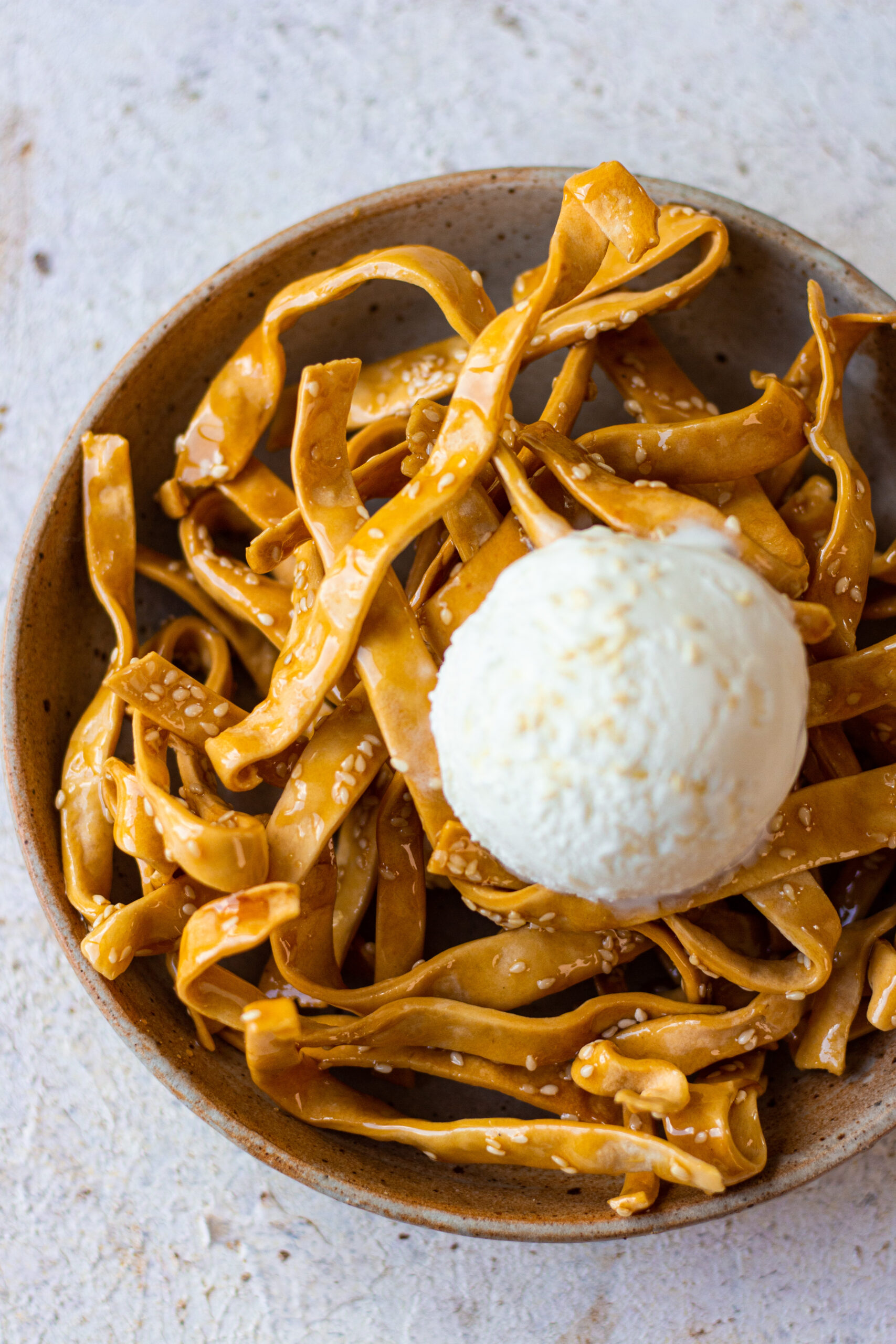 EQUIPMENTS USED TO MAKE DARSAAN
The kind of equipment you use when you're baking makes a huge difference to the end result! I would recommend you to use good quality mixing bowls and other equipment so that your darsaan comes out delicious!
To mix all my ingredients together in, I'm using Borosil's 100% Borosilicate Glass Bowl which is microwave and oven safe, plus the bowls are super easy to clean and handle, which makes my baking process totally hassle free!
To air fry my noodles, I have used my kitchen companion Borosil Air Fryer. It's been a part of my kitchen for some time now and I absolutely recommend it.
If you try my darsaan recipe and like it, do try other recipes from the blog. I am sure you are going to love them too!
OTHER SIMILAR CAKES FROM THE BLOG
Darsaan
Ingredients
flat noodles:
1 tbsp oil
1 cup maida
¼ tsp baking powder
¼ cup water
honey syrup:
1 tbsp sesame seed, roasted
1 tbsp water
1 tbsp sugar
¼ tsp salt
1 tbsp honey
¼ tsp vanilla
serve with vanilla ice cream
Instructions
Start by making your dough for the darsaan noodles.
Add all the ingredients in a bowl and make a dough not too soft not too hard.
Let it sit for 2 minutes, covered with a damp cloth.
Roll it out thin and even.
Cut strips and brush oil.
Air fry them at 180C for 8-12 minutes or until golden brown.
For the syrup, start by roasting sesame seeds.
Add water, sugar and salt and let it thicken a bit.
Switch off the heat and add honey and vanilla.
Mix in your noodles and coat them evenly.
Plate them on a dish.
Serve with vanilla ice cream on top.
If you like my darsaan recipe and happen to make it in your kitchen, do tag me on Instagram and share pictures with me using #Bakewithshivesh. Happy Baking!