When it comes to desserts churros are always one of the top picks for me. With a rich indulgent chocolate sauce they taste heavenly. I was craving churros from the longest time and decided to an experiment with them a little in my kitchen. And guess what I Made them EGGLESS! This is the only recipe you need to make the best eggless churros ever. Typically, churros, also known as Mexican fritters, are thought of to be an easy recipe and it definitely is- once you get the hang of it. Mixing the flour into the warm mixture can be a little overwhelming. Please ensure that you are doing so with the utmost patience and love- the best ingredients for desserts. Ensure that your mixture is not runny once you mix the flour. Follow the recipe and you're all set.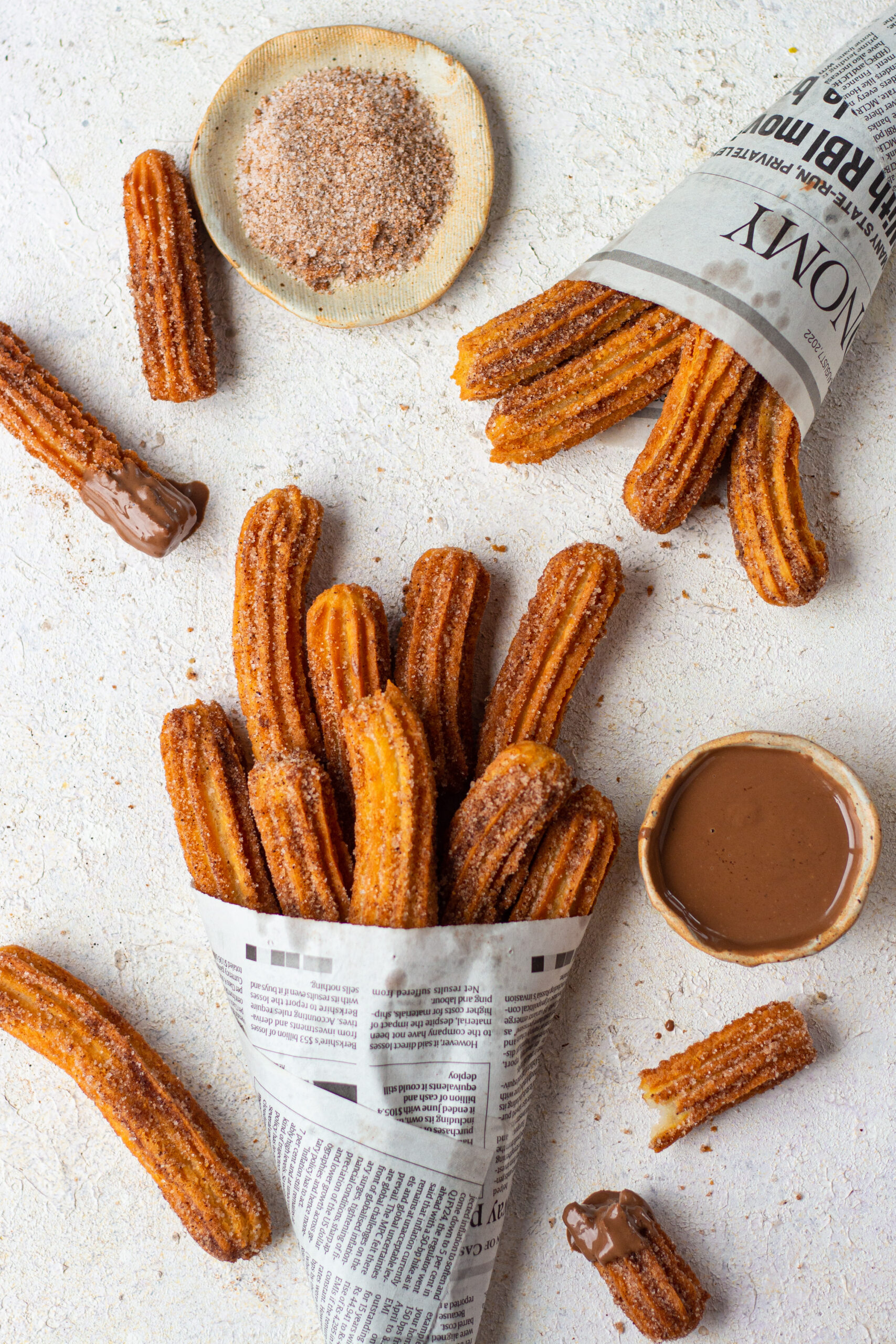 INGREDEINTS USED IN EGGLESS CHURROS
BUTTER
Butter is mixed in water and sugar mixure while making churros. It gives the best ever texture to the churros making them super soft from the inside. I have used salted butter in my eggless churros recipe. You can use unsalted butter also and add a little more of salt to balance the flavours. There's no replacement of butter in these eggless churros.
SUGAR
Castor sugar is used in the churros dough to make them flavourful. Additionally they are coated in sugar with cinnamon in it which is known as cinnamon sugar. This coating adds to the crispness as the sugar hits the hot churros, it crystallizes giving the exterior a bit of a crunch.
FLOUR
Flour is the main component of choux pastry. It gives that structure to it. While mixing flour one has to very careful with the mixing because in choux pastry gluten development is not desirable. So without overmixing the batter and following each every step of this recipe even you can make these super delicious eggless churros at home very easily.
TIP FOR MAKING THESE  BEST EVER EGGLESS CHURROS
MEASURING THE INGREDIENTS
Measuring ingredients for this recipe of churros is essential. A tip off here or there will really make the consistency and texture of the churros go haywire.
WHEN TO ADD THE FLOUR
The water and butter mixture will come to a boil and that is when you take it off the heat. Post this, proceed to adding the flour and remember to add all in one go. If you don't add the flour altogether, the mixture will turn out to be rather lumpy. Though some lumps are okay, the mixture can not be entirely lumpy.
THE PERFECT SHAPE OF CHURROS
Now, one thing that might really irritate you is the whole putting the mix into a piping bag and then frying it. But, here are some quick tips for you to get those churros right. Please use a sturdy bag but moreover, use a large tip. If you use a narrow tip, the dough will exert unnecessary pressure on the bag and it will tear. Just in case you don't have a tip or a bag, you can easily use a simple plastic bag (not a flimsy one). Make a small hole and get those churros out!
FRYING THESE CHURROS
Please avoid using any flavored oils for frying these. They will impart their own flavor which becomes undesirable in the end product. Warm some oil- about 1 to 1.5 cups- in a rather deep saucepan/kadhai. Don't throw in the dough in a haste. First, start with a small amount. As soon as it bubble and comes up, then proceed to add the churros to the oil.
STORING/FREEZING CHURROS
Trust me when I say this, there is nothing like fresh, warm churros. They literally touch your deepest strings.
However, many of you would like to store them for later and there are methods which can help you store them maximum for like a day or two. For example, you can line them on a parchment paper lined tray, freeze them, and fry them later on. You can transfer these into an airtight container eventually and they just might last longer. But, there are issues of them going stale or breaking as soon as they hit the warm oil. If you are planning to do either of these, I wish you all the best!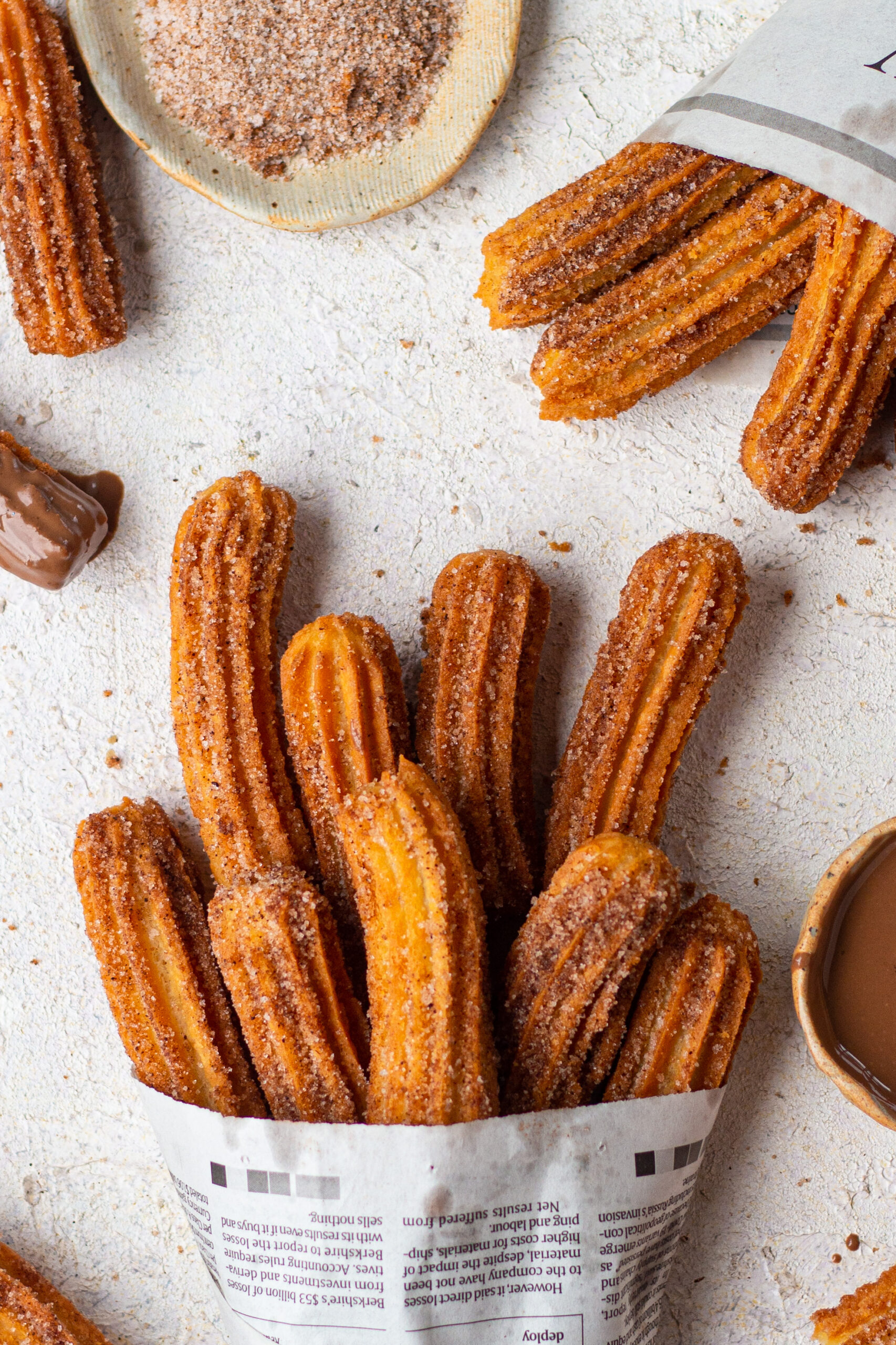 EQUIPMENTS USED IN MAKING THESE BEST EVER EGGLESS CHURROS
The kind of equipment you use when you're baking makes a huge difference to the end result! I would recommend you to use good quality mixing bowls and other equipment so that your eggless churros comes out delicious!
Not a single day goes in my kitchen when I don't use a Silicon Spatula, this is the one I recommend. Same goes for my set of Measuring Cups and Measuring Spoons.
I have used this stahl saucepan for frying these eggless churros. It's so stylish, easy to use and clean and makes the work hassle free.
SIMILAR EGGLESS RECIPES ON BLOG
Chocolate Oreo Truffles
Eggless Pizookie
Fudgy Chocolate Brownies
EGGLESS CHURROS
Ingredients
2 cups water
3 tbsp butter
2 tbsp sugar
⅛ tsp salt
2 cups flour
Oil for frying
Instructions
Add water in a pan along with butter, sugar and salt
Once it comes to a boil, take it off heat and add in the flour while mixing continuously
Cook it again for 2-3 mins until the dough comes together and forms a film on the bottom of the pan
Transfer it to a piping bag with a large nozzle once cooled down and no steam is coming out
Pipe diretly in the pan and fry for 3-4 mins or until golden brown
Roll in the cinnamon sugar when the curros are still hot.
Serve with a rich chocolate sauce and enjoy!
If you like my eggless churros recipe and happen to make it in your kitchen, do tag me on
Instagram
 and share pictures with me using #Bakewithshivesh. Happy Baking!