A soft, moist and delicious eggless nutella cake cooked in a pan and not an oven is all that you need this weekend (or weekday). Nutella is always a good idea. I have been fairly obsessed with how delicious and creamy Nutella is and so versatile. I use it in my cakes, to sandwich cookies, fold it in my frostings or simply eat it straight out of the jar. It's truly addictive. And as addictive as Nutella is, here's one of my most addictive and favourite eggless nutella cake which is always loved by all. It's a one bowl recipe, super easy to put together and tastes so comforting. Let's get to the ingredients needed for this eggless nutella cake.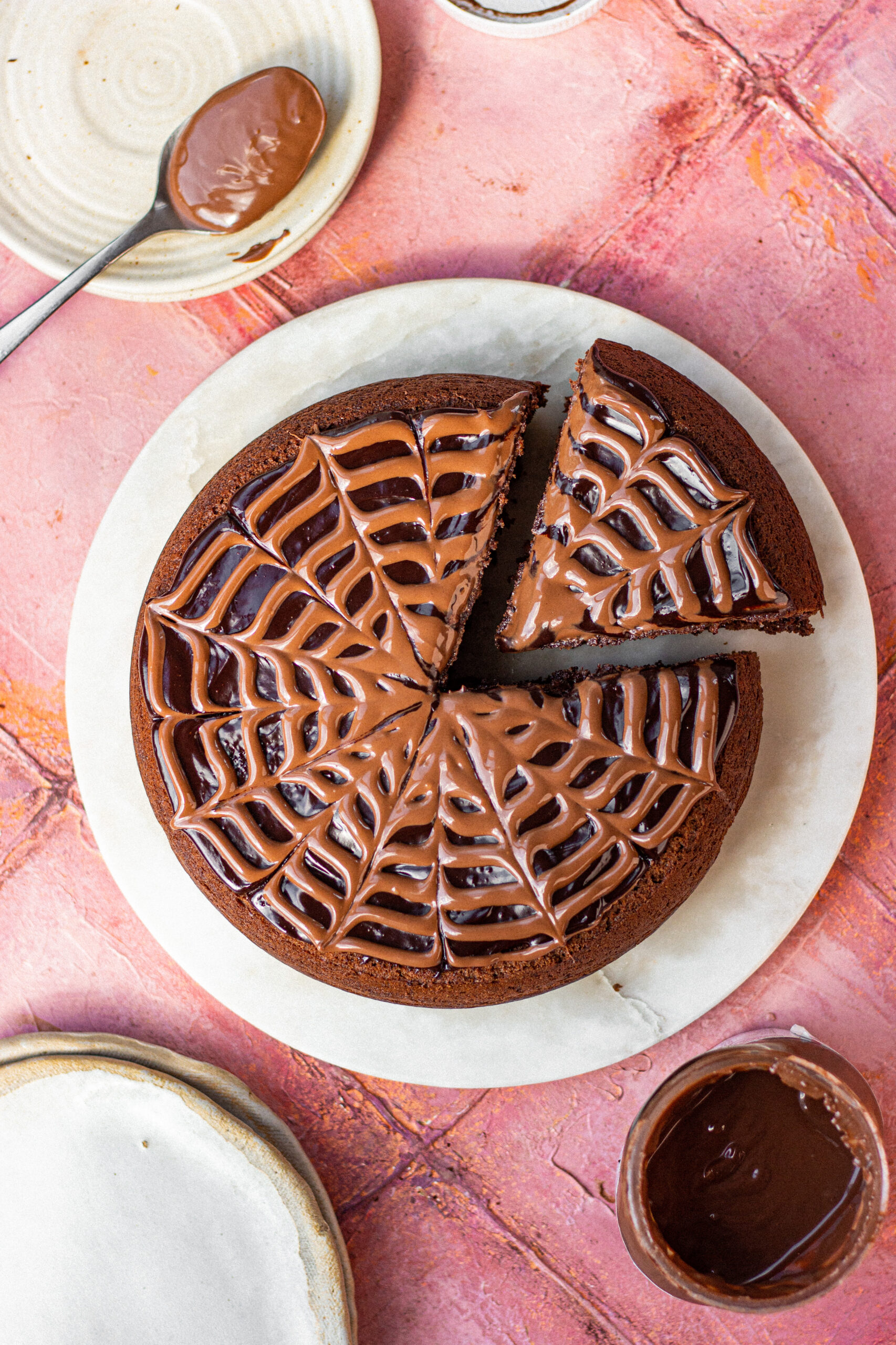 INGREDIENTS NEEDED TO MAKE EGGLESS NUTELLA CAKE
OIL
A regular flavourless oil is your best bet while baking. Any other oil usually leaves an after taste which you do not want in your dessert. I have used olive oil with chocolate in a chocolate cake recipe and it didn't leave any after taste so if you would want to give it try, you sure can in this recipe of eggless nutella cake.
CASTOR SUGAR
I usually prefer castor sugar in all my recipe until mentioned otherwise. Castor sugar melts evenly unlike granulated sugar. If you don't have castor sugar in hand, feel free to substitute it with powdered sugar in this eggless nutella cake.
YOGURT
To replace eggs in this recipe, the best substitute is yogurt or homemade dahi. When eggs are replaced with dahi, you get the perfect tender moist crumb which is achieved with eggs. In this eggless nutella cake, you can either use regular homemade dahi (do not hang and remove water from it) or store brought yogurt. Both of them works well.
MILK
To make my eggless nutella cake moist, soft and light, I have regular milk in this recipe. Make sure it is a little warm and not cold straight from the fridge. Since every flour is different, you might need a tablespoon less or a tablespoon more of milk to adjust the consistency of the batter.
NUTELLA
Well of course you need Nutella to make this soft and delicious eggless nutella cake. Make sure you don't use one straight out of the fridge. Let it either sit on the counter for a while or microwave it so it's soft and smooth and easily mixes with the other wet ingredients.
COCOA POWDER
Using a good quality cocoa powder is very important. I personally really like using Hershey's but you can use any good dark cocoa powder. Cocoa powder is actually one of the significant ingredients in this eggless nutella cake, so make sure you use a good one.
ALL PURPOSE FLOUR
I have used regular maida in this eggless nutella cake. Feel free to swap half of it for whole wheat flour or oat flour. Make sure you increase the quantity of milk in that case as these flours absorb more liquid in a recipe.
BAKING POWDER AND BAKING SODA
I have used both baking powder and soda in this eggless nutella cake. Baking soda will react with the yogurt or homemade dahi and baking powder would react to the rest of the liquid in this recipe of eggless marble cake. I use this baking powder and this baking soda.
HOW I DECORATED MY EGGLESS NUTELLA CAKE
If you aren't familiar with this design, it's called spider web design. I used dark chocolate ganache and slightly melted nutella to make it. For dark chocolate ganache I have used chocolate and cream in the ratio 2:1 i.e. 2 parts of chocolate and 1 part of cream. Just pour hot cream over chopped dark chocolate and mix until smooth to make the ganache. Let it cool down a but before using it to make this design.
Spread the dark chocolate ganache all over cake evenly. Transfer the slightly melted nutella in a piping bag without any nozzle. Now cut the tip not very thick and start going in rounds starting from the centre. Once done, using a skewer make 8 strokes at equal distance towards the edge of the cake and 8 strokes towards the centre of the cake. Make sure you wipe your skewer after every stroke. And voila! Look at that, so easy and quick and what a stunner.
EQUIPMENTS USED TO MAKE EGGLESS NUTELLA CAKE
The kind of equipment you use when you're baking makes a huge difference to the end result! I would recommend you to use good quality mixing bowls and other equipment so that your eggless nutella cake comes out delicious!
To mix all my ingredients together in, I'm using Borosil's 100% Borosilicate Glass Bowl which is microwave and oven safe, plus the bowls are super easy to clean and handle, which makes my baking process totally hassle free!
Not a single day goes in my kitchen when I don't use a Silicon Spatula, this is the one I recommend. Same goes for my set of Measuring Cups and Measuring Spoons.
The induction which has been a part of my kitchen for a really long time is this one, I absolutely love it. It makes my cooking so much easier and hassle free.
The pan that I have used to make my eggless marble cake is this one. The cake comes out evenly cooked and it doesn't burn the bottom of my cake which makes it perfect for no oven cakes.
If you try this recipe and like it, do try other cake recipes from the blog. I am sure you are going to love them too!
OTHER SIMILAR RECIPES FROM THE BLOG
Nutella cake in a pan
Ingredients
½ cup vegetable oil
½ cup castor sugar
1 cup yogurt
¼ cup milk
2 tbsp nutella
1+1/2 cup all purpose flour
2 tbsp cocoa powder
1+1/2 tsp baking powder
1 tsp baking soda
Instructions
In a large mixing bowl, start by mixing oil and caster sugar really well.
Once the sugar melts a bit, add yogurt, milk and smooth softened Nutella.
Mix really well so that there are no lumps of Nutella.
Sift in the flour, cocoa powder, baking powder and baking soda.
Give it one final mix before transferring in the lined and greased pan.
Cook the cake on the lowest possible heat setting on the induction, covered with the lid. Make sure you cover the hole on the lid with a tissue paper.
Cook the cake for 50-55 minutes or until done.
Decorate the cake with ganache and nutella like I did or enjoy as it is.
If you like my eggless nutella cake recipe and happen to make it in your kitchen, do tag me on Instagram and share pictures with me using #Bakewithshivesh. Happy Baking!