A one bowl eggless chocolate chip cake made in the microwave is all that you need to fix that quick cake craving. This cake comes together in just 20 minutes including the bake time. Yes! You read that right. It's perfectly moist, super soft and the best eggless chocolate chip cake you will ever make. This one bowl cake is just unbelievable. It's fluffy and tender and one of the most fluffiest cake I have ever made. Let's get to the ingredients!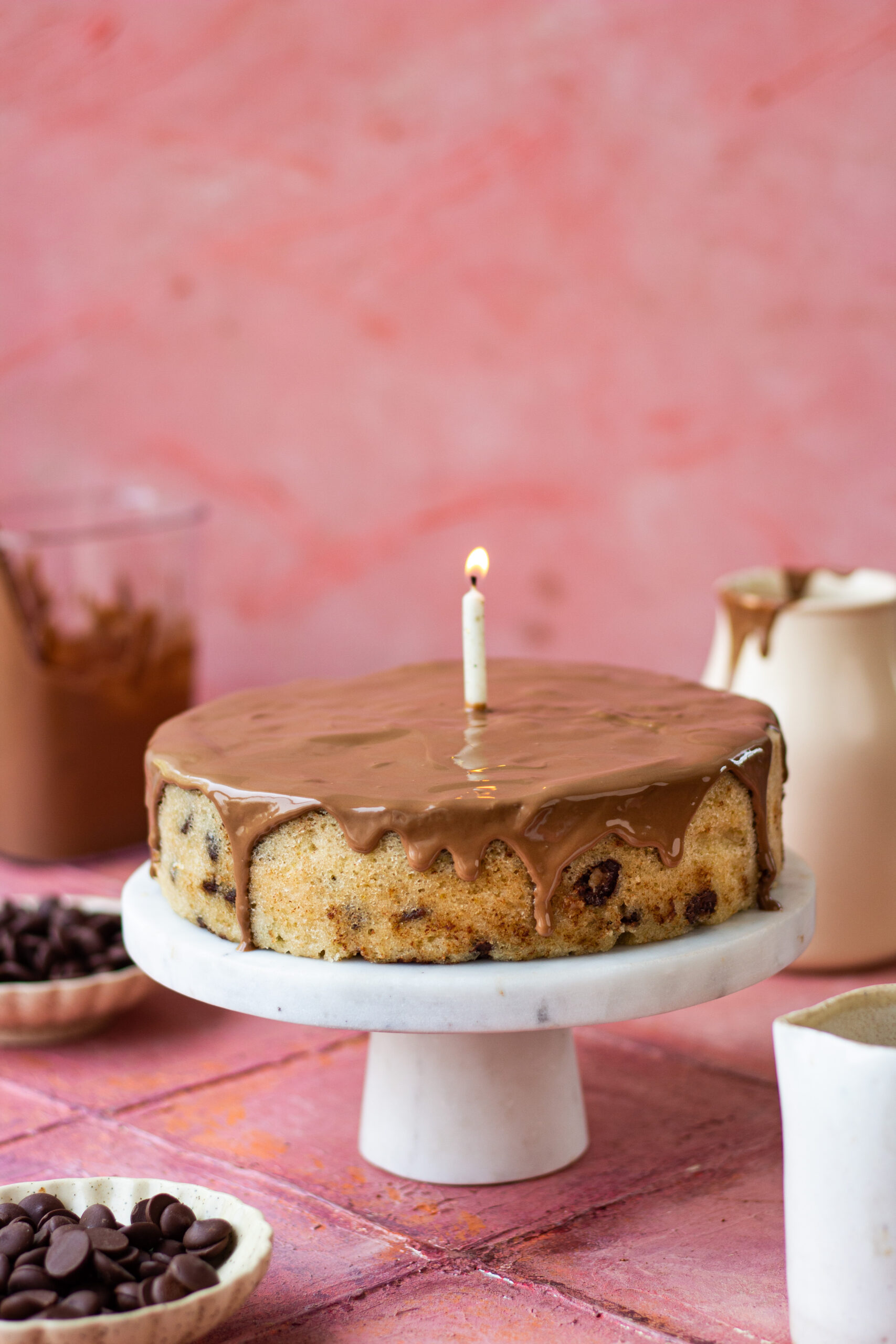 INGREDIENTS NEEDED FOR EGGLESS CHOCOLATE CHIP CAKE
YOGURT
To replace eggs in this eggless chocolate chip cake recipe, the best substitute is yogurt or homemade dahi. When egg is replaced with dahi, you get the perfect tender moist crumb which is achieved with eggs. You can either use regular homemade dahi (do not hang and remove water from it) or store brought yogurt. Both of them works well.
CASTOR SUGAR
I have used castor sugar for this eggless chocolate chip cake. I recommend using castor sugar instead of granulated sugar because granulated sugar does not melt completely in the when baking the sponge in the microwave. I always use superfine sugar in all my desserts, until mentioned otherwise.
VEGETABLE OIL
For this eggless chocolate chip cake, you also need vegetable oil. You can also use olive oil. Do not use any strong tasting and smelling oil like mustard oil. If you want to make this cake with butter, you can replace oil with equal quantity of softened butter. As simple as that! This is truly a very easy to bake chocolate chip cake.
VANILLA EXTRACT
Using the best kind of vanilla has always made all the difference in any dessert. Please avoid using vanilla essence as it is not real but synthetic and chemically made vanilla flavour. Make sure you use good quality vanilla extract or bean for this eggless chocolate chip cake. I recommend this one. To know more about vanilla and which vanilla to use for your desserts, you can check out my article Vanilla 101.
DRY INGREDIENTS
A few other dry ingredients you will need for this eggless chocolate chip cake are all purpose flour, baking powder and baking soda. You can replace half of the maida with whole wheat flour if you want to make a little healthier version. If you wish to replace it completely, you will need to add a bit of milk as whole wheat flour absorbs more liquid.
CHOCOLATE CHIPS
Lastly, for that chocolatey goodness I have used dark chocolate chips. Feel free to use milk chocolate chips in place of dark if that's your game. I personally love dark chocolate more than any other chocolate so I have used that.
MILK CHOCOLATE GLAZE (OPTIONAL)
Just to make this eggless chocolate chip cake more indulgent I made a super quick and easy milk chocolate glaze just by melting some good quality milk chocolate and adding some vegetable oil to it. Make sure you give the mixture a really good mix before pouring over your cake.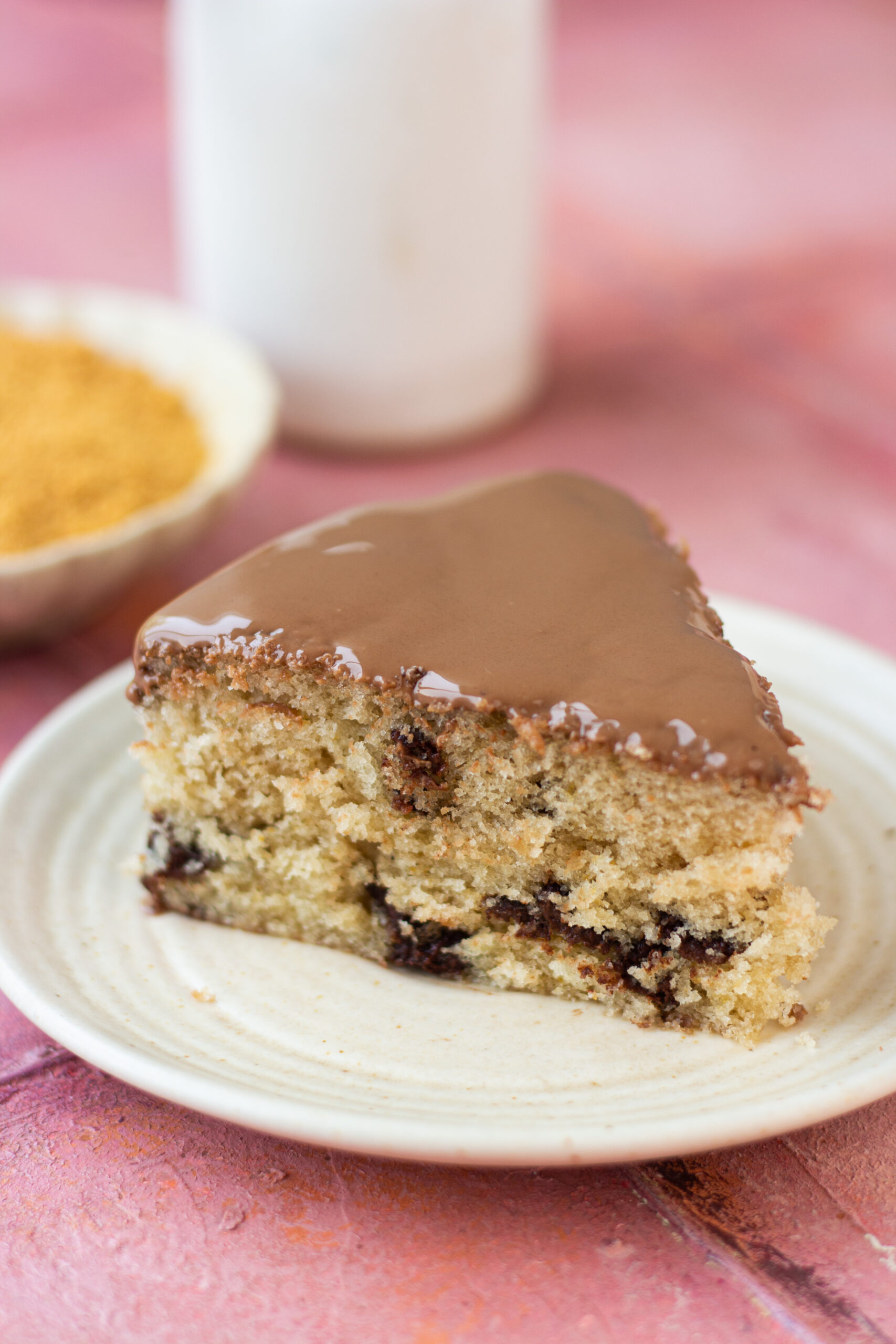 TIPS FOR MAKING THE BEST EVER EGGLESS CHOCOLATE CHIP CAKE
If you are using homemade dahi, use the thick part. Do not remove water just make sure you don't take a lot of it.
Do not use a very old baking soda. Make sure it's fresh and not expired.
Make sure your wet ingredients are well combined before adding the dry ingredients.
Make sure your dry ingredients are either sifted before or doesn't have a lot of lumps.
Mix the batter really well and only then add with chocolate chips.
If you are using a silicon mould, a parchment at the base of it will be helpful. Your cake would come out easily.
Bake at regular heating setting of your microwave. You don't need to change the mode.
Keep a close eye while baking the cake in the microwave. It might take a little less or more time than my microwave did.
Let the cake cool down a bit before demoulding.
If you wish to bake this cake in the oven, feel free to do so. Bake the cake at 180C for 25-30 minutes or until a skewer comes out clean.
And if you try this recipe and like it, do try other microwave cake recipes from the blog. I am sure you are going to love them too!
OTHER CAKE RECIPES ON THE BLOG
Eggless chocolate chip cake in microwave
Ingredients
For cake-
1 cup (285g) yogurt
½ teaspoon (3g) baking soda
¾ cup (150g) castor sugar
½ cup (120mL) vegetable 0il
1 teaspoon (5mL) Vanilla Extract
1 + ½ cups (180g) all-purpose flour (maida)
1 teaspoon (4g) baking powder
¾ cup dark chocolate chips
For glaze-
1 cup milk chocolate chips
1 tbsp vegetable oil
Instructions
In a medium sized bowl add yogurt and sprinkle baking soda over it and set it aside to foam up.
Once it has foamed up, add castor sugar and oil and whisk until pale and well combined.
Add the vanilla extract.
Gently fold in the flour and mix until everything is well combined there are no large flour pockets in the batter. Do not over mix at this stage.
Fold the chocolate chips in the batter and transfer the batter to the microwave safe silicon dish.
Microwave for 7 minutes at regular heating mode or only until a skewer inserted in the center comes out clean.
For the glaze, melt milk chocolate and add vegetable oil to it. Give it a really good mix. Pour over your cake and serve.
If you like my eggless chocolate chip cake recipe and happen to make it in your kitchen, do tag me on Instagram and share pictures with me using #Bakewithshivesh. Happy Baking!