Coffee lovers unite, this coffee cake is all that you need when those craving hits. If you love coffee as much as I do, look no further. This eggless coffee cake recipe is so soft, moist, perfectly flavoured with coffee and balanced with sweetness. When I made this in my kitchen, and I am not kidding when I say this – I digged right in the dish I made this cake in. You have to try this with vanilla ice cream and I swear life won't be the same again! It will remind you of a cup of coffee as soon as you dive right in. Let's discuss the ingredients you will need to bake this coffee cake in microwave.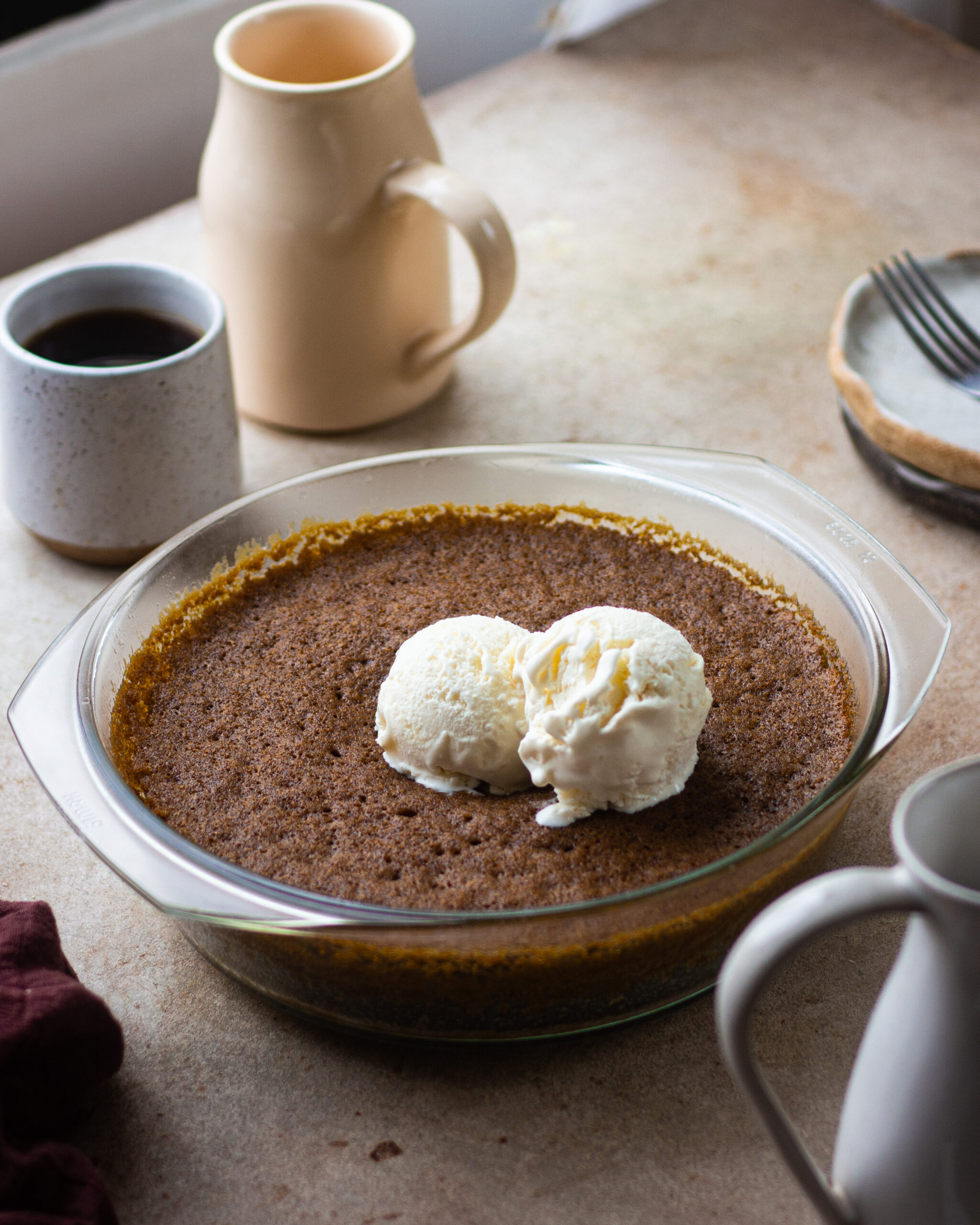 INGREDIENTS NEEDED FOR EGGLESS COFFEE CAKE
MILK
We'll start by combining some hot milk and coffee. This helps coffee dissolve well and release all it's flavour beautifully. You can use any milk of your choice. I used regular milk for this eggless coffee cake. But feel free to use almond, cashew, oat or any other milk you have at hand.
COFFEE
Ofcourse you need coffee to make coffee cake. I have instant coffee in this recipe, it's a staple in my kitchen. Feel free to use whichever coffee is your preference, instant or ground. Now 3 tablespoons of coffee may seem too much but trust me when it comes to coffee. I have tried this cake with 2 tablespoons of coffee also, it was still yum but the flavour of coffee was not coming across as I wanted. But if you don't like your coffee strong, feel free to reduce the amount of coffee you want to put in milk.
CASTOR SUGAR
I usually prefer castor sugar in all my recipe until mentioned otherwise. Castor sugar melts evenly unlike granulated sugar. If you don't have castor sugar in hand, feel free to substitute it with powdered sugar in this coffee cake.
OIL
A regular flavourless oil is your best bet while baking. Any other oil usually leaves an after taste which you do not want in your dessert. I have used olive oil with chocolate in a chocolate cake recipe and it didn't leave any after taste so if you would want to give it try, you sure can in this recipe of coffee cake.
ALL PURPOSE FLOUR
I have used regular maida in this eggless coffee cake. Feel free to swap it for whole wheat flour or oat flour. Make sure you increase the quantity of milk in that case as these flour absorb more liquid in a recipe.
BAKING POWDER AND BAKING SODA
I have used both baking powder and soda in this eggless coffee cake. Baking soda and baking powder would react to the liquid in the recipe and help this cake rise to give a beautifull crumb and softness.
HOW TO MAKE COFFEE CAKE IN MICROWAVE  
Now some of you might have an oven and not use your microwave for making desserts and some of you might have a microwave but are scared to make desserts in it. But don't worry. I'm going to share my knowledge with you on how to make eggless coffee cake in a microwave and then you'll be sorted to make it!
1. WHICH MICROWAVE SETTING TO USE TO MAKE EGGLESS COFFEE CAKE IN A MICROWAVE? 
First things first. You don't need to change or add any settings to your microwave to make these eggless coffee cake in a microwave. This cake is extremely simple to make and you can very much cook these on the normal microwave heating mode. 
2. WHAT EQUIPMENT DO I NEED TO MAKE EGGLESS COFFEE CAKE IN A MICROWAVE? 
All you need to make eggless coffee cake in a microwave is a microwave safe medium sized dish. Please make sure not to use aluminium moulds or other dishes that are not microwave safe. 
3. IS 7 MINUTE ENOUGH COOKING TIME FOR THIS EGGLESS COFFEE CAKE IN A MICROWAVE? 
7 minute is all you need to make this eggless coffee cake in a microwave. That's the best part about cooking in a microwave. Things come together in just 7 minutes!
TIPS ON MAKING EGGLESS COFFEE CAKE IN A MICROWAVE: 
TIP 1: SUITABLE DISH SIZE 
The science of baking says, the larger the surface area of your pan, the more you ensure even and uniform baking. Your coffee cake batter might become too much for tall and lean dishes. The heat of the microwave is not really able to penetrate that depth. This results in the cake being extremely under-cooked. And if you wanted to eat the batter, why throw it in the microwave in the first place? Thus, please use glass dish with a wide mouth to get evenly baked eggless coffee cake. 
TIP 2: BE CAUTIOUS OF THE TIMING 
All microwaves, unlike ovens, are extremely different from each other. Stick to the time the recipe asks you to stick to. However, if a toothpick inserted in the middle comes out extremely wet, bake for more short intervals until you get a fully baked eggless coffee cake and your toothpick comes out clean or almost clean. 
TIP 3: PUT APPROPRIATE AMOUNT OF FILLING 
Please give your eggless coffee cake in a microwave some space to rise. Ideally, filling only half a dish or just slightly more is the perfect amount of batter. This truly does make the best eggless coffee cake and ensures that everything is in shape. 
And if you try this recipe and like it, do try other microwave recipes from the blog. I am sure you are going to love them too!
OTHER MICROWAVE RECIPES ON THE BLOG
7 minute eggless coffee cake in microwave
Ingredients
1 cup milk
3 tbsp coffee powder
¾ cup sugar
½ cup oil
1+½ cup all purpose flour
1 tsp baking powder
½ tsp baking soda
Instructions
Start by combining hot milk with coffee in a large mixing bowl. Make sure you coffee is completely dissolved.
To this add sugar and oil and give it a very good mix.
Once the wet ingredients are ready, sift in the dry ingredients that is maida, baking powder and baking soda.
Transfer this batter in a greased glass dish to bake in microwave.
Microwave it for 7 minutes on regular heating mode.
Serve hot with vanilla ice cream!
You can bake this cake in the oven at 180 C for 25-30 minutes.
If you like my eggless coffee cake recipe and happen to make it in your kitchen, do tag me on Instagram and share pictures with me using #Bakewithshivesh. Happy Baking!