My love for brownies is incomparable! I can eat them any time of the day. But there are days when I am on the go and I don't have enough time to make a big batch of brownies in the oven. On those days, I want to quickly make a single serve batch and enjoy it with a big scoop of vanilla ice-cream alone! This 90 second eggless microwave brownie is the perfect recipe to whip up in 10 minutes from start to first bite. Enjoy it with your favourite ice-cream or toppings of your choice! Let's discuss the ingredients you will need for this microwave brownie.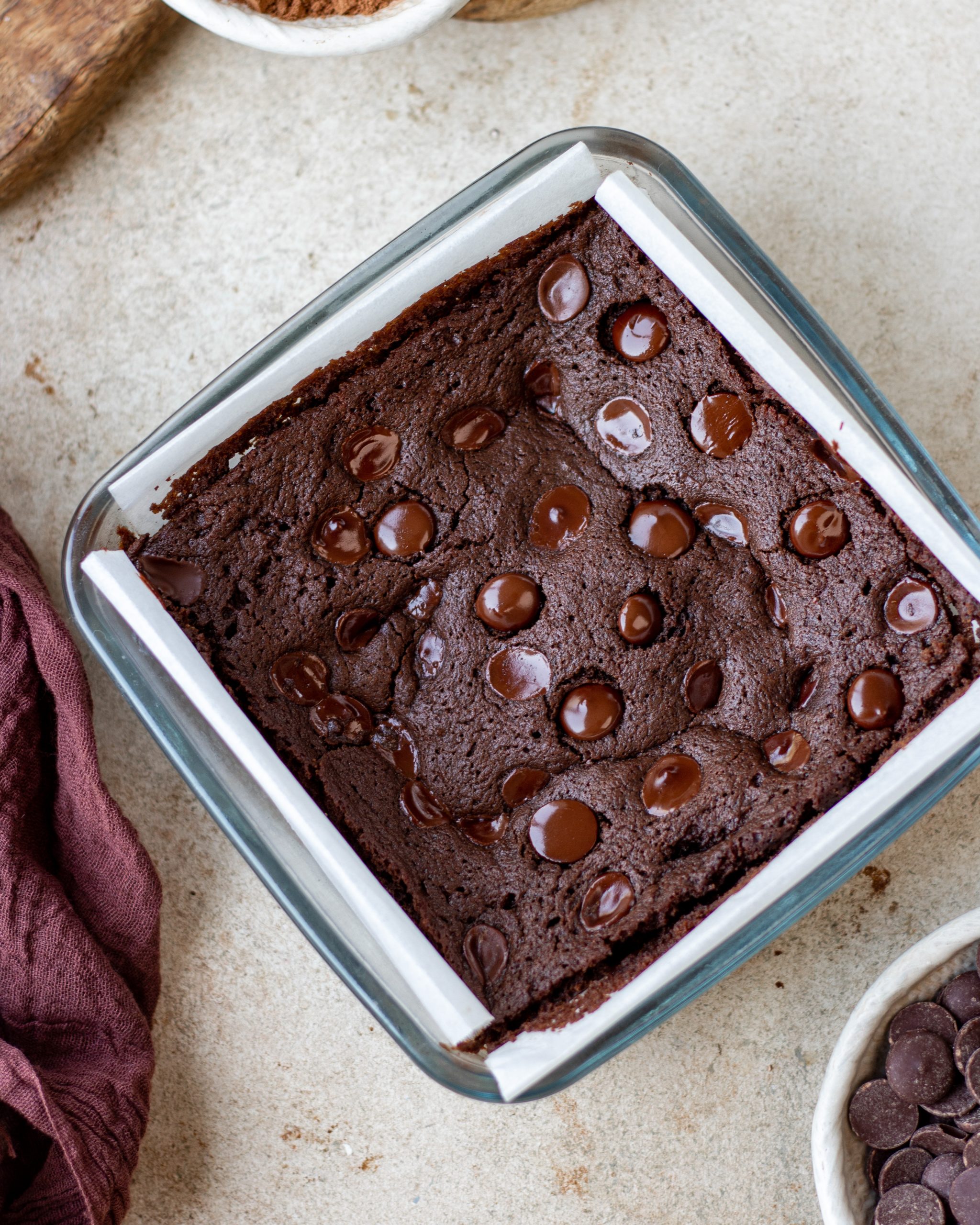 INGREDIENTS USED TO MAKE MICROWAVE BROWNIE
BUTTER
I always prefer salted butter over unsalted because of that pinch of salt that comes with the former. The saltiness of the butter cuts the sweetness of the dessert. It enhances the flavour and balances our rich and sweet microwave brownie. If you do not have salted butter with you, you can use unsalted with a pinch of salt.
DARK CHOCOLATE
I have used dark chocolate in this recipe. If you prefer milk, you can absolutely replace with it. Make sure that you use good quality chocolate in this recipe of microwave brownie as it will define the overall taste and texture of the brownie.
ALL PURPOSE FLOUR, BAKING POWDER AND COCOA
These are the dry ingredients I have used in microwave brownies. If you want, you can replace the maida with whole wheat flour or oat flour for a healthier version of these microwave brownies. Please make sure you use good quality unsweetened cocoa powder.
SUGAR
I used castor sugar as it mixes and melts evenly while baking in both microwave and oven. If you do not have castor sugar, need not worry. You can replace it with powdered sugar.
YOGURT OR DAHI
I have used homemade dahi as a replacement of eggs in these eggless microwave brownies. Feel free to use store bought yogurt if you don't have homemade dahi. You can also replace it with one whole egg if you want to make an egg version of these microwave brownies.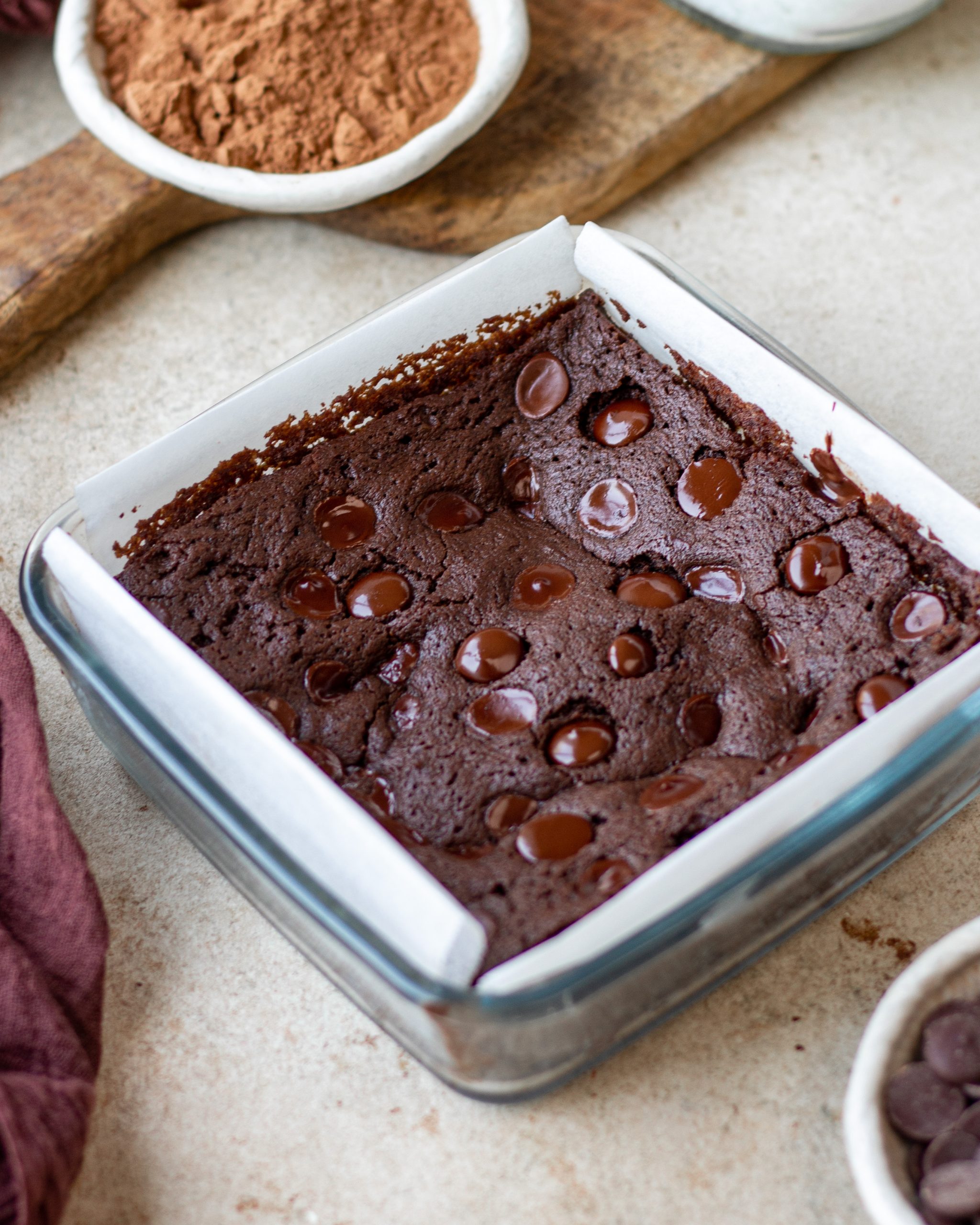 HOW TO MAKE EGGLESS BROWNIES IN A MICROWAVE 
Now some of you might have an oven and not use your microwave for making desserts and some of you might have a microwave but are scared to make desserts in it. But don't worry. I'm going to share my knowledge with you on how to make eggless brownies in a microwave and then you'll be sorted to make these brownies! 
1. WHICH MICROWAVE SETTING TO USE TO MAKE EGGLESS BROWNIES IN A MICROWAVE?
First things first. You don't need to change or add any settings to your microwave to make these eggless brownies in a microwave. These brownies are extremely simple to make and you can very much cook these on the normal microwave heating mode. 
2. WHAT EQUIPMENT DO I NEED TO MAKE EGGLESS BROWNIES IN A MICROWAVE?
All you need to make eggless brownies in a microwave is a microwave safe medium sized dish or a microwave safe mug. Please make sure not to use aluminium moulds or other dishes that are not microwave safe. 
3. IS 90 SECOND ENOUGH COOKING TIME FOR THESE EGGLESS BROWNIES IN A MICROWAVE?
90 second is all you need to make these eggless brownies in a microwave. That's the best part about cooking in a microwave. Things come together in minutes or 90 seconds in this case! 
TIPS ON MAKING EGGLESS BROWNIES IN A MICROWAVE:
TIP 1: SUITABLE MUG/BOWL SIZE
The science of baking says, the larger the surface area of your pan, the more you ensure even and uniform baking. Your eggless brownie batter might become too much for tall and lean dishes. The heat of the microwave is not really able to penetrate that depth. This results in the brownie being extremely under-cooked. And if you wanted to eat the batter, why throw it in the microwave in the first place? Thus, please use glass dish with a wide mouth, and which are shorter to get evenly baked eggless brownies. 
TIP 2: BE CAUTIOUS OF THE TIMING
All microwaves, unlike ovens, are extremely different from each other. Stick to the time the recipe asks you to stick to. However, if a toothpick inserted in the middle comes out extremely wet, bake for more short intervals until you get a fully baked eggless brownie and your toothpick comes out clean or almost clean. 
TIP 3: PUT APPROPRIATE AMOUNT OF FILLING
Please give your eggless brownies in a microwave some space to rise. Ideally, filling only half a dish or just slightly more is the perfect amount of batter. This truly does make the best eggless brownies and ensures that everything is in shape. 
And if you try this recipe and like it, do try other microwave recipes from the blog. I am sure you are going to love them too!
OTHER MICROWAVE RECIPES FROM THE BLOG
90 second microwave brownie
Ingredients
¼ cup butter
¼ cup dark chocolate
¼ cup maida
1 tsp baking powder
2 tbsp cocoa powder
1 tbsp sugar
¼ cup yogurt
Chocolate chips to top
Instructions
Start by melting butter and chocolate in a microwave safe bowl.
To this add maida, baking powder, cocoa powder, sugar and yogurt.
Give this all a good mix.
Transfer to a greased and lined microwave safe glass dish.
Top with some chocolate chips.
Cook this in the microwave at regular heating mode for 90 seconds.
If you like my eggless microwave brownie recipe and happen to make it in your kitchen, do tag me on Instagram and share pictures with me using #Bakewithshivesh. Happy Baking!