If someone tells me someday to choose between an ice-cream and a birthday cake, I don't think I will ever be able to make that decision! I love ice-cream as much as I love a good birthday cake. That is when I came up with this idea to create a no-churn birthday cake ice-cream. It has the creaminess of a good ice-cream and the colorful cake and confetti sprinkles added to it, give it a birthday cake vibe. This no churn ice-cream is for people who do not own an ice-cream maker and simply wants to make ice-cream at home with no fuss and no time actually. It is a compilation of simple ingredients which you can find in your home or can get from any grocery store near you! This birthday cake ice-cream is perfect for a birthday celebration or just to have it for your mid-night cravings!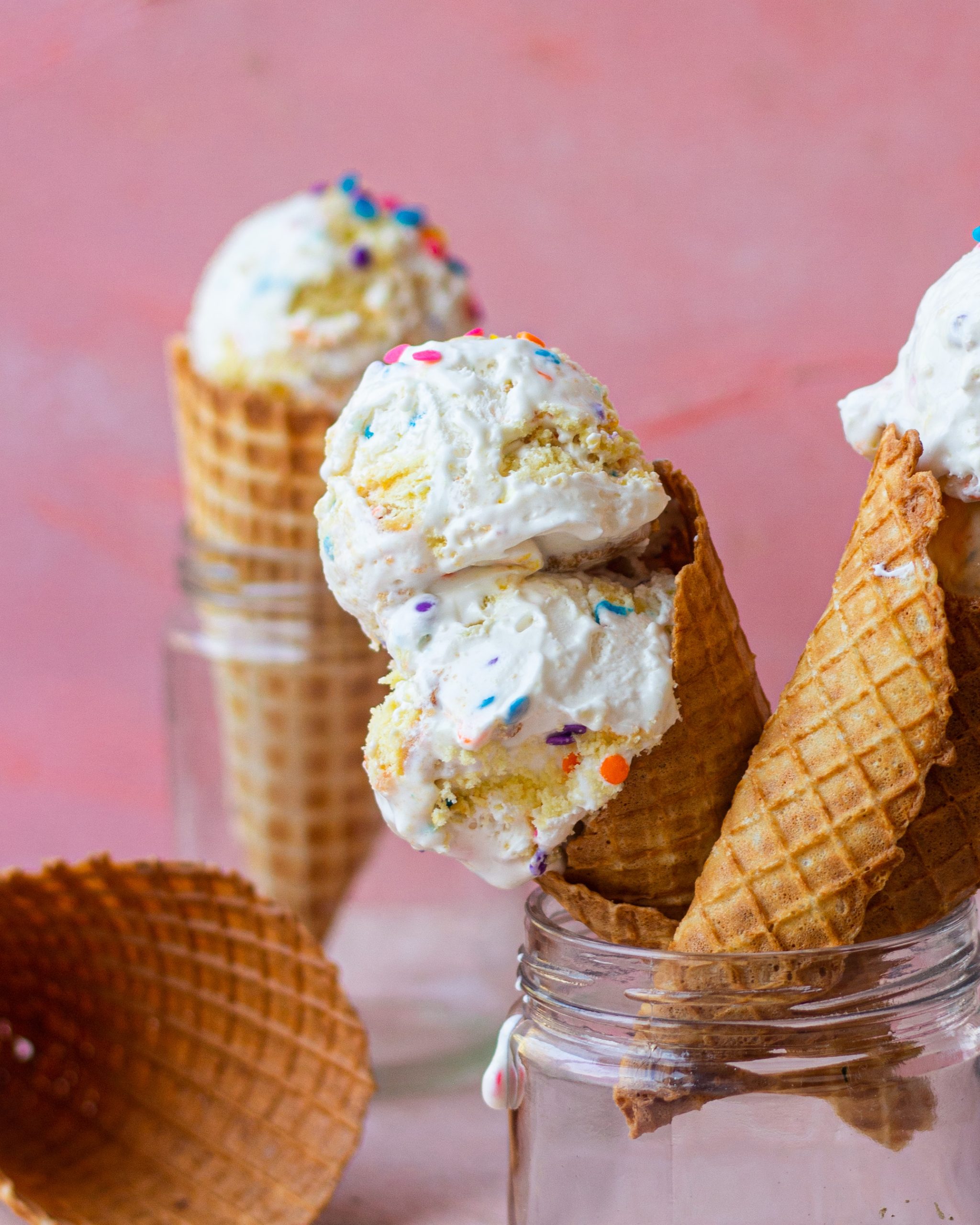 WHAT MAKES THIS NO CHURN BIRTHDAY CAKE ICE-CREAM TASTES LIKE A YUMMY BIRTHDAY CAKE BATTER?
Whipping cream and sweetened condensed milk is basis of any no churn ice-cream, whether it is something as simple as chocolate cake ice-cream or as fancy as cherry chocolate ice-cream . Whipping cream is whipped to stiff peaks and sweetened condensed milk is folded in to give you an ice-cream base that doesn't require any cooking or churning in an ice-cream maker. But it's those extra ingredients that make it taste like a funfetti cake batter without a cake mix – britannia cake and confetti sprinkles.
INGREDIENTS NEEDED FOR NO CHURN BIRTHDAY CAKE ICE-CREAM
The ingredients for this no churn birthday cake ice-cream cannot be more simplified.
WHIPPING CREAM
For my no churn, you need to use heavy cream/whipping cream. This means that the cream should have 30% fat content in it. Non-dairy whipping cream is what is easily available in India and that's why I am using rich's whipping cream.
CONDENSED MILK
Condensed milk or milkmaid is what makes this birthday cake ice-cream sweet. It also helps give this no churn birthday cake ice-cream a smooth texture. The brand I have used is Nestle. It is easily available anywhere and everywhere.
TUTTI FRUTTI CAKE CUBES
For the cake part for this no churn birthday cake ice-cream, I have used britannia's ready-made tutti frutti cake which I used to love as a kid! I have taken 3 small packets and cubed them and spread it across my ice-cream.
CONFETTI SPRINKLES
To give this birthday cake ice-cream, more birthday vibe, I have added confetti sprinkles for that colorful rainbow color and also they add a little crunch to this ice-cream. You can also use any other colorful sprinkles if you like!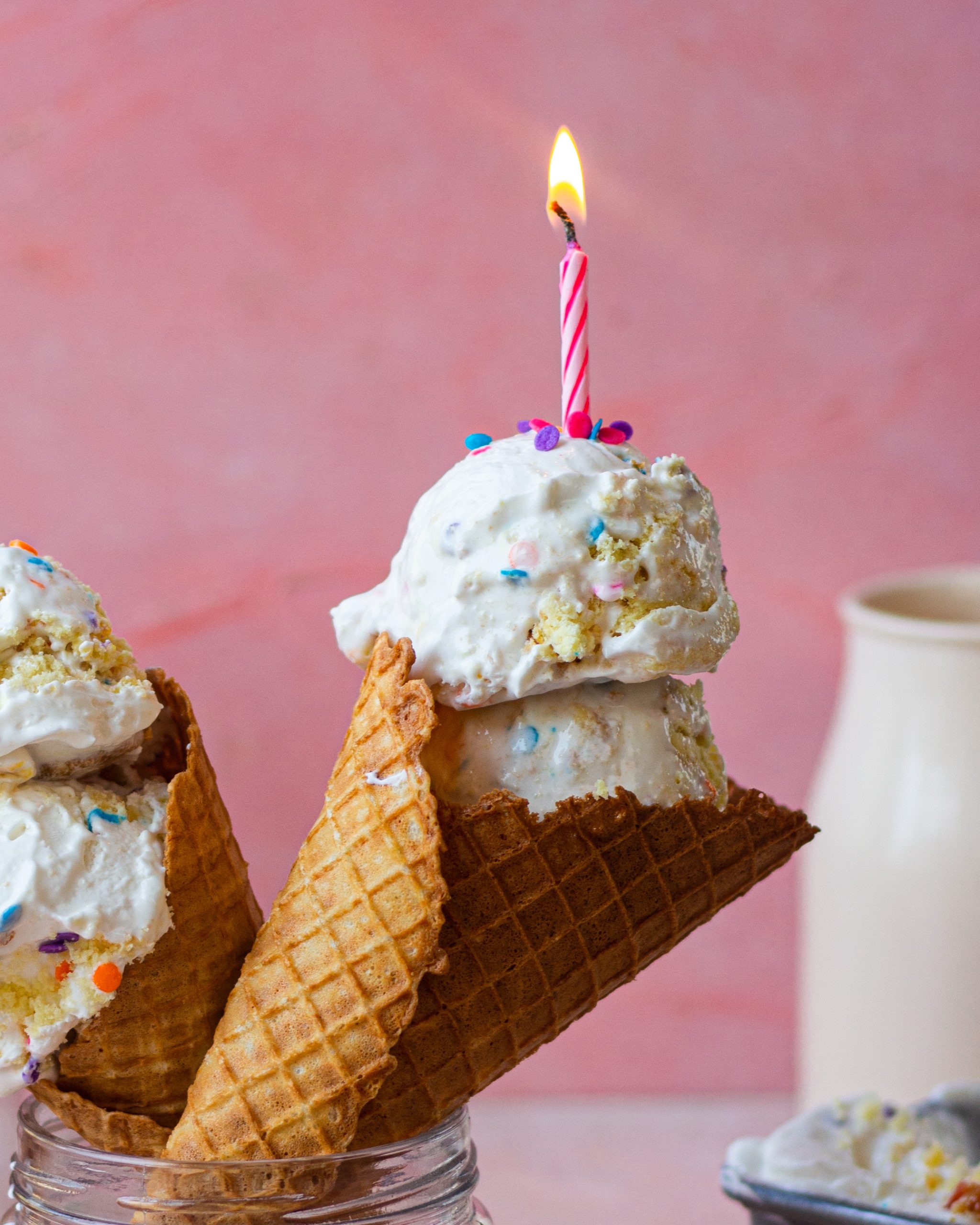 HOW TO STORE THIS NO CHURN BIRTHDAY CAKE ICE-CREAM
This no churn ice-cream is perfect to make before time, as it can stay in the freezer for 4-5 days. It just needs to be cling film wrapped properly to avoid crystallization. Whenever you need to consume it, make sure to take out from the freezer 5 minutes before, for it to settle in the temperature and to give you a nice and pretty scoop of ice-cream.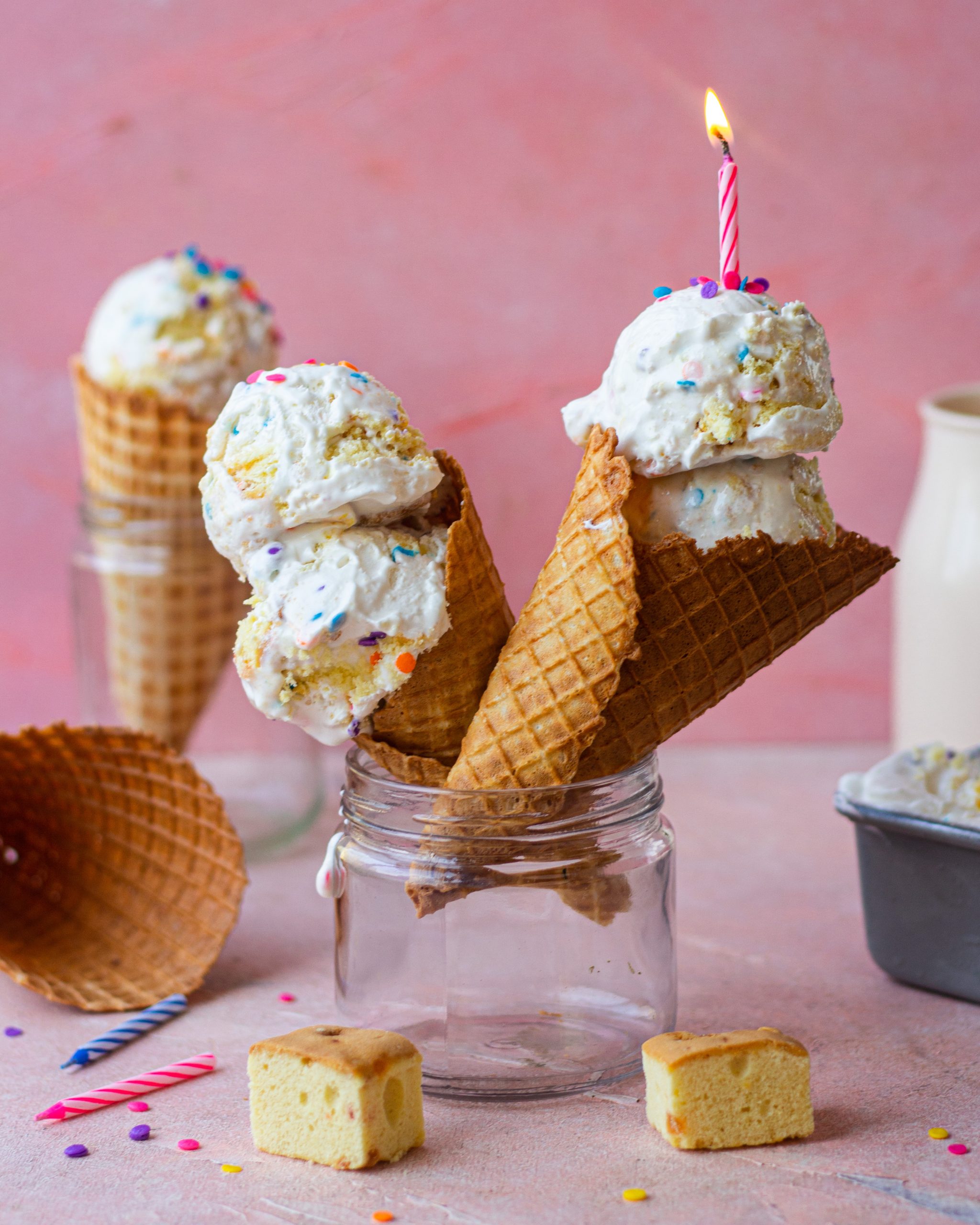 MORE ICE-CREAM RECIPES ON THE BLOG:
no churn birthday cake ice-cream
Ingredients
1 + ½ cup whipping cream
200g condensed milk
1 cup tutti frutti cake cubes
2 tablespoon confetti sprinkles
Instructions
In a bowl, take whipping cream and using an electric mixer, whip it till you get stiff peaks, not too stiff just nearly stiff peaks.
Add condensed milk and keep beating till it gets well combined.
To this, add cake cubes and fold it with the spatula.
Also add the confetti sprinkles and fold them too.
Pour the ice-cream mixture into an airtight container or a square pan which you will have to cover with cling wrap tightly.
On top put some confetti sprinkles and cake crumbs to finish and place it in the freezer for 6-8 hours or overnight.
Serve scoops and enjoy!
If you liked this recipe and make it in your kitchen, do share pictures with me by tagging me on instagram using #bakewithshivesh