Are there days, where you just want to satisfy your sweet chocolate cravings without much work? Well, this triple chocolate 60 microwave cookie is perfect for such occasions, which I am sure comes in your life, just like mine!
This 60 second microwave cookie is perfect for one; without a share and hassle free! The entire process, inclusive the baking takes about 3-5 minutes approximately. It is so yummy and can be made with the ingredients which you can find in your pantry at home.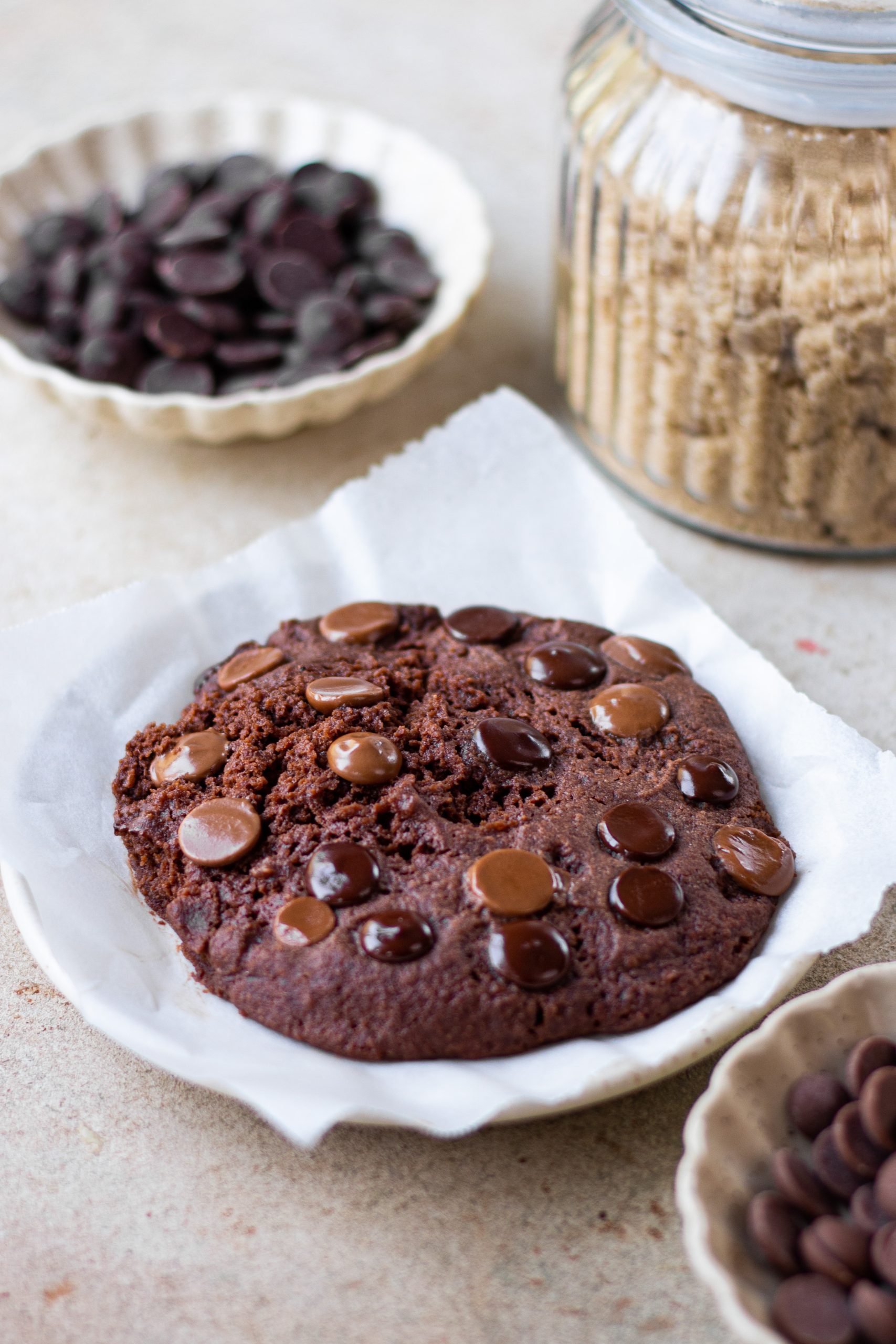 WHY MAKE THIS 60 SECOND MICROWAVE COOKIE?
This recipe is so quick and easy to make without any waiting time for the final cookie to consume! Also, this 60 second microwave cookie is loaded with chocolate and perfect for a chocolate lover. This recipe just yields one big cookie, which means no temptation to eat the leftovers or snack on spoonful of unbaked cookie dough. Even on days, when you want to make something for a special someone and you are out of time or fancy ingredients; this recipe will save you right away.
HOW TO MAKE THIS 60 SECOND MICROWAVE COOKIE?
This recipe is perfect for you, if you do not have an oven or you just hate the pre-heating time that an oven takes. All you have to do is, as the dough is ready; form a round ball and flatten it a bit, stick the milk and dark chocolate chips on it and place it over a piece of square parchment paper which is long enough to 2 inches from all the four sides, for the 60 second microwave cookie to spread properly, as it spreads A LOT. Before cooking it in the microwave, make sure to freeze it in the freezer for 15 minutes. Then set the timer on your microwave to 1 minute AKA 60 seconds, place the dough ball with the parchment paper and keep it in and let the microwave do its magic!
You can eat it as it gets out from the microwave for a very soft and chewy cookie or wait for it to cool down and then consume it as a hard, crunchy and crumbly cookie. I personally prefer to eat it after it cools down, as then the chocolate chips are still melted but the cookie is crumbly and nice.
60 SECOND MICROWAVE COOKIE INGREDIENTS
The recipe calls for the following 60 second microwave cookie ingredients: butter, caster sugar, vanilla extract, all-purpose flour, cocoa powder, baking soda and milk and dark chocolate chips to top it up.
Mini or regular chocolate chips can be used, it is a triple chocolate eggless 60 second microwave cookie that's why I have used milk and dark chocolate chips, if you have just one type; you can use that. You can even chop some chocolate into chocolate chunks, if you have no chocolate chops available! As it's all about chocolate and shape doesn't actually matter!
I have used all-purpose flour as it is perfect for this cookie. Also, instead of brown sugar I have preferred using caster sugar here because as I am cooking it in the microwave, it will already be chewy and soft and I don't want the added moisture from the brown sugar. That is why I have used caster sugar here! Baking soda is also used in this recipe as it helps the cookie t spread as evenly as possible and gives it volume.
Using a good quality vanilla extract is needed to be used as I always suggest. But if you do not have any, you can also skip it in this recipe. It is a triple chocolate 60 second microwave cookie after all, so I have used unsweetened cocoa powder in it.
COOKING TIPS AND TRICKS
Be sure to refrigerate the cookie dough ball before cooking it in the microwave, long enough so it hardens and retains its shape properly.
Do not forget to put it over a parchment paper as this is very important.
As the cookie can be hot after it's cooked, leave it for 2 minutes and then transfer it to a plate with the parchment paper itself on which it was cooked in the first place.
OTHER SIMILAR RECIPES ON THE BLOG:
60 Second Microwave Cookie
Ingredients
2 tablespoon butter
1 tablespoon caster sugar
½ teaspoon vanilla extract
¼ cup all-purpose flour
1 tablespoon cocoa powder
⅛ teaspoon baking soda
milk and dark chocolate chips to top
Instructions
In a bowl, take the softened butter and add caster sugar in it and mix properly.
Add vanilla extract into this and give it a good mix.
Into this, add all-purpose flour, cocoa powder and baking soda.
Mix this all together, till everything is properly combined and no flour specs are visible.
Making a round ball with this and place it over a parchment paper square and stick the milk and dark chocolate chips on it and freeze it for 15 minutes.
Once it hardens, place this into the microwave and set the timer to 60 seconds.
Once it is done, cool it for some time and enjoy your 60 second microwave cookie!
If you liked this recipe and make it in your kitchen, do share pictures with me by tagging me on
instagram
using #bakewithshivesh