Mango season is here in the national capital of India and I can't keep calm. Mango is one of my most favourite fruits and I love experimenting in the kitchen with it. This eggless and gelatin free mango mousse is super simple to make, light, airy and perfect dessert for the summer. It's decadently creamy and when paired with some fresh fruits in a fancy glass, it makes for a stunning party dessert. Let's discuss the components of mango mousse in detail.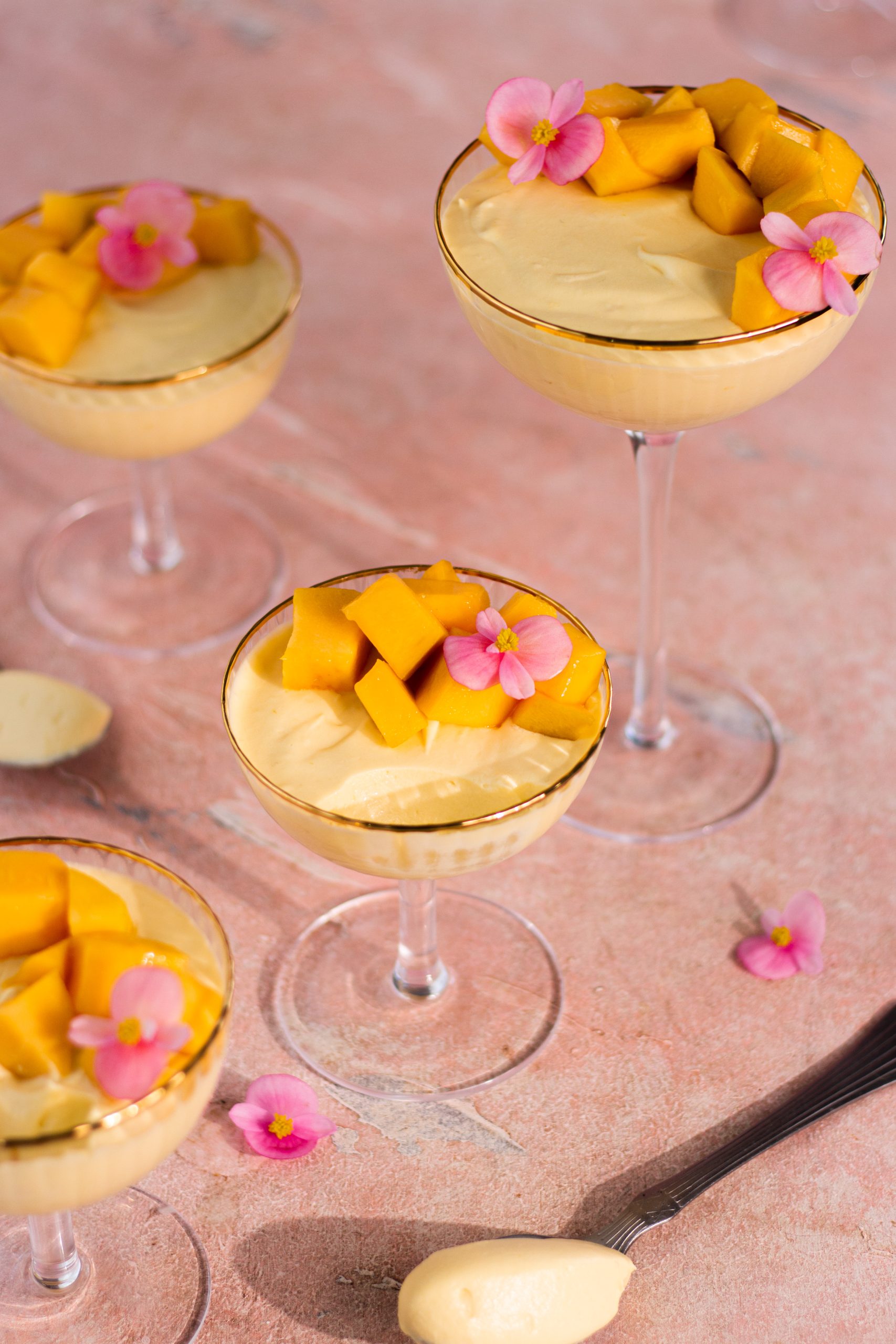 COMPONENTS OF MANGO MOUSSE
This mango mousse, like I mentioned before, is super simple to put together. All you need is some whipping cream, a sweet ripened mango, white chocolate and some fresh cream. Let's go through the process.
WHITE CHOCOLATE GANACHE
With some quality white chocolate and  fresh cream , I made a white chocolate ganache. I used Callebaut White Chocolate Chips but you can also get your hands on this if that's not accessible to you. If you do not have fresh cream, feel free to replace it with heavy cream in this mango mousse. You might want to hold back the chocolate a little otherwise it would result in a super sweet ganache.
WHIPPED CREAM
For the base of the mousse, I whipped some sweetened heavy cream to stiff peaks. Make sure you whip the cream well. If it is under whipped, the mousse will not hold its structure nicely. And if over whipped, the whipped cream will split and that's not we are looking for. The brands that I trust for heavy cream for this mango mousse are Tropolite and Rich. These are soy based, non-dairy heavy cream and are a permanent part of my kitchen.
MANGO PUREE
To get that beautiful fresh sweet-tangy mango flavour, I pureed a fresh mango. If you do not have mangoes for this mango mousse, no worries! I got you! You can either replace it with any fresh berry of your choice and make a berry mousse. And if you are using frozen berries to make this mousse, just make sure you get that puree consistency by fixing the frozen berry puree with some water. I would also suggest you to use your favourite type of a good ripe mango since it'll make all the flavour difference in this mango mousse.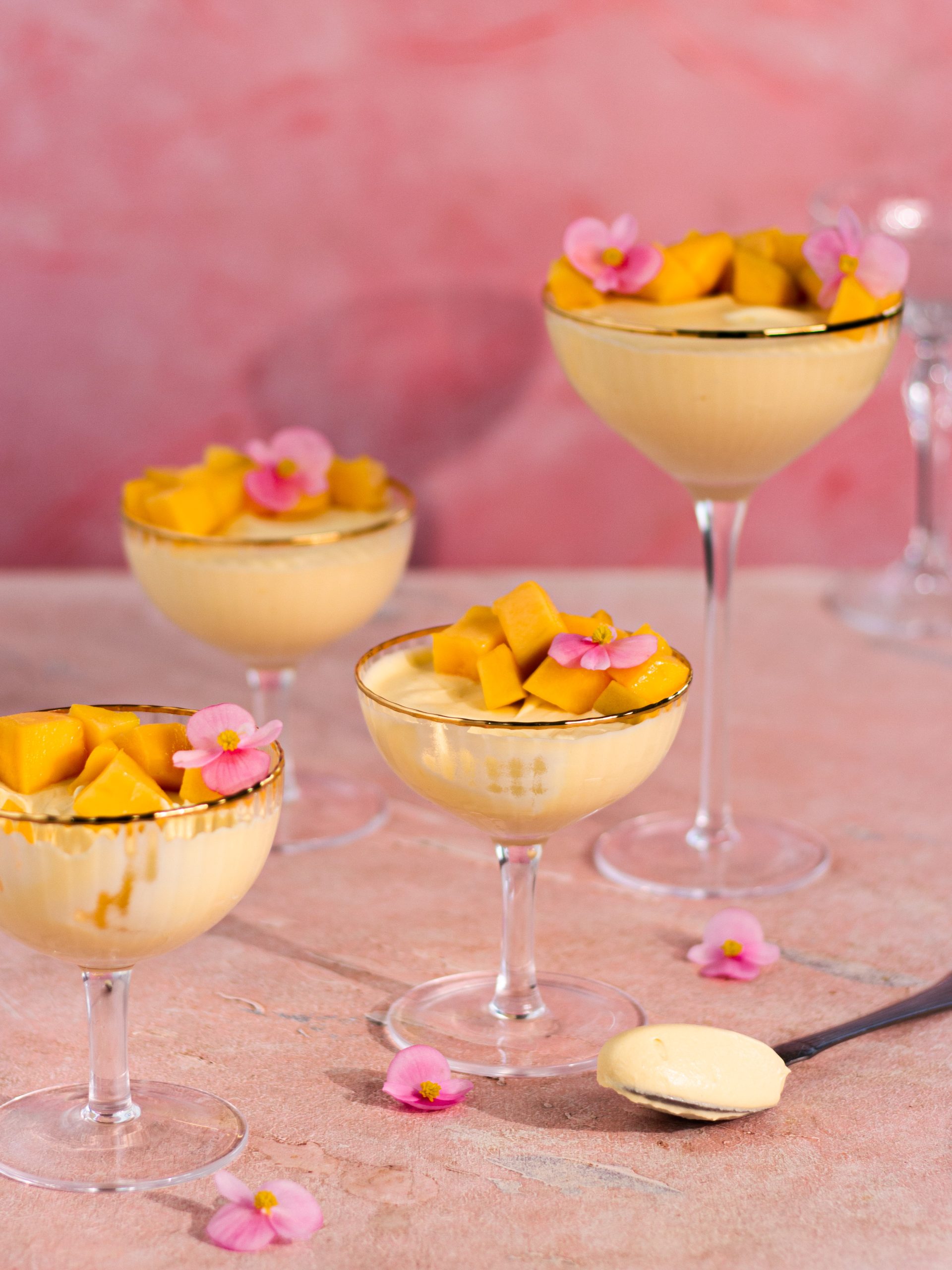 EQUIPMENTS USED TO MAKE MANGO MOUSSE
The kind of equipment you use when you're baking makes a huge difference to the end result! I would recommend you to use good quality mixing bowls and other equipment so that your mango mousse comes out delicious.
To make this mousse I have used Borosil Smartmix Hand Mixer 300W. It's been a part of my kitchen for quite some time now and it makes work hassle free.
OTHER THINGS TO MAKE WITH MANGO MOUSSE
There are so many things you can make with this versatile mango mousse. You can make a cake, frost a cake, fill in mini tartlets or even a large tart shell and top with fresh berries and other fruits you have and make a show stopper fruit tart. The options are endless!
I love baking with mangoes every year and there are so many related recipes on the blog. Don't forget to check them out-
MANGO MOUSSE
Ingredients
1 cup (160g) white chocolate
½ cup (60g) fresh cream
1 cup (240g) whipped cream
¾ cup (174g) mango puree
fresh mango cubes
Instructions
For the white chocolate ganache, in a saucepan over medium heat, bring the fresh cream to a simmer.
Pour the hot cream over chopped white chocolate and let it rest for a minute.
Whisk the chocolate cream mixture until everything is well combined.
Let the ganache cool in the fridge for a while before using.
For mango puree, I just blitzed one big mango.
To bring the mousse together, in a medium size bowl whip heavy cream to stiff peaks. Add mango puree and white chocolate ganache into this bowl. Give it a good mix until everything is well combined.
Transfer the mousse to a piping bag and then neatly to your serving cups.
Top the mango mousse with some fresh cubed mangoes and edible flower or a fresh mint leaf.
If you liked this recipe and make it in your kitchen, then do share pictures with me by tagging me on Instagram using #bakewithshivesh. Happy Baking!