I have been making so many holi recipes in my kitchen this festive season and I had to make this holi special, thandai tres leches! Previously, I made rasmalai tres leches and it was so so good that I was forced to make this thandai tres leches! This thandai tres leches is perfect for holi as it can be made in a big dish and can serve a group of people without much effort.
This thandai tres leches is full of flavor and color which make this festival of colors even more wholesome! I have prepared my very own thandai powder for this thandai tres leches which uplifts this recipe greatly!

WHAT IS A TRES LECHES?
Tres leches is a vanilla sponge cake soaked in three different types of milk – condensed milk, evaporated milk and heavy cream. "Tres leches" itself means three kinds of milk. A tres leches is a light and airy sponge which doesn't get soggy even after it is soaked in the milk mixture but holds structure and the sponge becomes more flavorful!
WHAT IS THANDAI?
Thandai is a refreshing Indian drink made with milk, peppercorn, almonds, cashews, fennel seeds, poppy seeds, saffron strands, cardamom; sometimes rose petals are also added to it. It is generally consumed during the holi festival but can also be consumed any other time of the year. It has antioxidant properties which gives cooling effect to the body. It is advised to consume it during summer season in India.
COMPONENTS OF THANDAI TRES LECHES
1.     THE SPONGE
My take on thandai tres leches has an eggless vanilla sponge though; the traditional recipe has an airy and fluffy sponge which is made with eggs! But I know you all love eggless recipes and we know they are equally good as egg ones. This eggless vanilla sponge is my favorite recipe and is so versatile that I had to use it for thandai tres leches! It is soft, airy and even after getting soaked in the milk mixture, holds structure and doesn't get soggy at all. I have also added my home-made thandai powder in this vanilla sponge to have an intense thandai flavor.
2.     THANDAI POWDER
I have made my own thandai powder for this thandai tres leches. The reason being, it is so easy to make and can be made with the ingredients you will have in your kitchen! You wouldn't have to look for the store-bought one as this recipe can made in just 5-10 minutes. It is fresh and adds a great aroma to this thandai tres leches. This thandai tres leches just needs 2 tablespoon of this thandai powder but the rest can be stored in an airtight jar and can be used to make thandai this holi season!
3.     THE MILK MIXTURE
This milk mixture is the essence for this thandai tres leches as it is full of flavor and texture. We infuse our vanilla sponge with this mixture, which has whipping cream, condensed milk, milk, thandai syrup and saffron strands.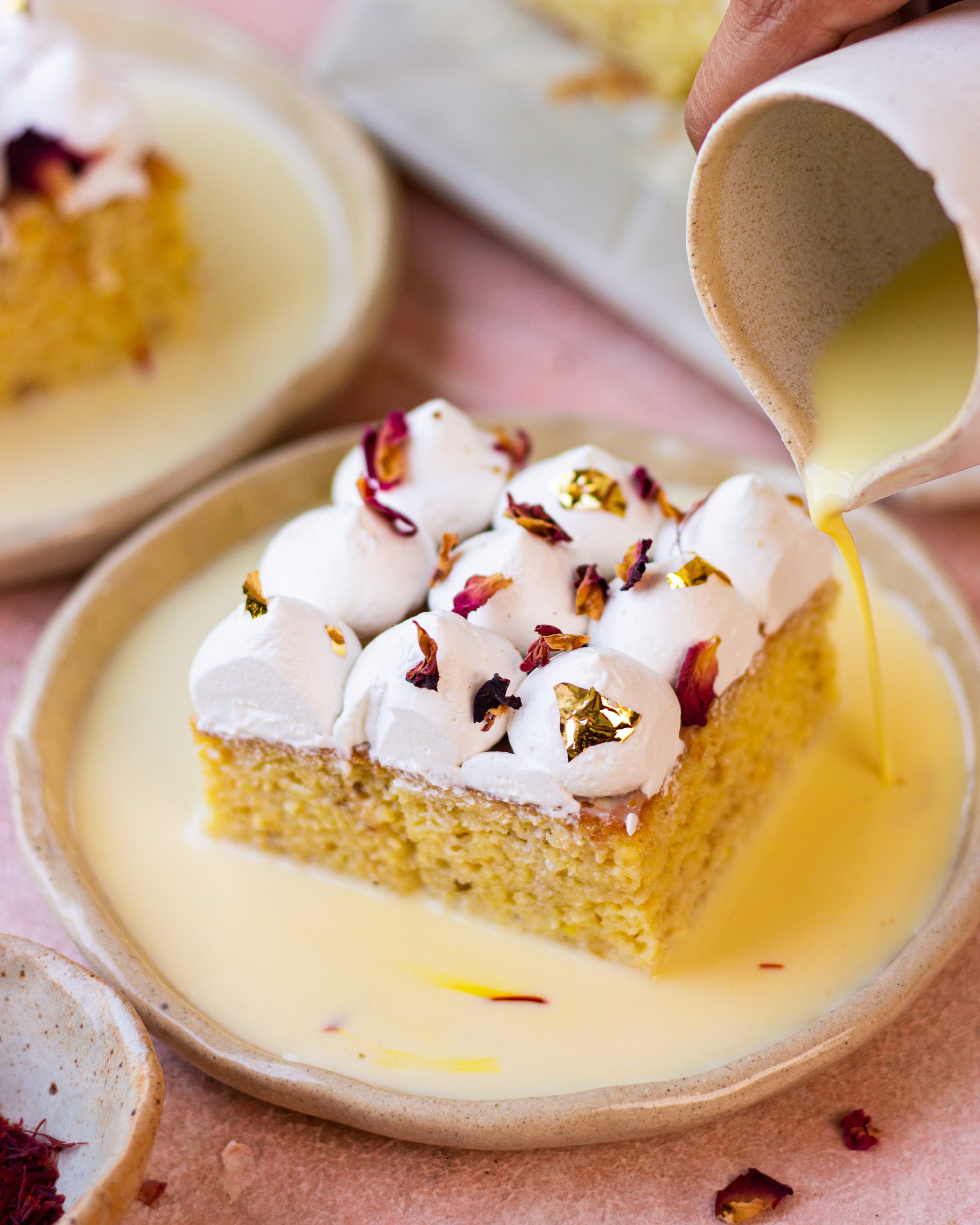 TIPS FOR MAKING THIS THANDAI TRES LECHES
You need to make the thandai powder first in this recipe as it is added in our vanilla sponge. Make sure it is ready before you start making other components.
Before making the sponge, do not forget to line your square baking pan generously with oil and parchment paper; as we will soak the sponge so lining with parchment paper from both the sides is very important.
The milk mixture needs to be added in the cake while it is still hot, then only all of it will be absorbed in. do not forget to prick the sponge properly, from all the sides.
Do not pour the milk mixture over the vanilla sponge in one go, pour it in 3 intervals as to let the milk mixture soak in completely. Tilt the pan if the milk mixture is taking time to seep in.
Do not soak the entire milk mixture but leave some for afterwards, while serving the final slice.
The thandai tres leches needs to be refrigerated overnight or for 8 hours. I know it might be difficult to wait that long but it will enhance the flavor of your thandai tres leches.
I am using thandai syrup in the milk mixture as it dissolves properly but if you want, you can even cook the milk mixture with the thandai powder we have made for the vanilla sponge.
OTHER FESTIVE RECIPES ON THE BLOG

Thandai Tres Leches Recipe
Thandai Tres Leches
Ingredients
FOR THANDAI POWDER
2 tablespoon almonds
1 tablespoon cashews
¼ teaspoon black peppercorns
½ tablespoon fennel seeds
½ tablespoon poppy seeds
½ tablespoon melon seeds
8-10 cardamom pods
½ tablespoon dried rose petals
8-10 saffron strands
FOR THE SPONGE
1 + ½ cups all-purpose flour
1 teaspoon baking powder
1 cup yogurt
½ teaspoon baking soda
¾ cup caster sugar
½ cup vegetable oil
1 teaspoon vanilla extract
2 tablespoon thandai powder
FOR MILK MIXTURE
1 + ½ cups milk
½ cup condensed milk
¾ cup whipping cream
7-8 saffron strands
2 tablespoon thandai syrup
FOR GARNISH
Whipped cream
Saffron strands
Gold leaf
Dried rose petals
Instructions
To make the thandai powder, in a food processor add almonds, cashews, black peppercorns, fennel seeds, poppy seeds, melon seeds, green cardamom pods, dried rose petals and saffron strands and blitz them into a fine powder. Set this aside.
Pre-heat the oven to 180*C and line a 9 inch square pan with parchment paper on both the sides.
For the sponge, in a bowl add yogurt and sprinkle baking soda over it and let it foam up.
Add yogurt and caster sugar to the same bowl and give it a good mix.
Place a sieve over the same bowl and add all-purpose flour and baking powder and give everything a good mix.
Add vanilla extract and mix well.
Add thandai powder that we prepared earlier and give the batter one final mix.
Pour this batter into the prepared pan and bake it at 180*C for 20-25 minutes or until a skewer inserted comes out clean.
Till the cake is getting baked, to prepare the milk mixture; take a measuring jug or a beaker and pour warm milk into it.
Add saffron strands, whipping cream, condensed milk and thandai syrup into it and mix it all properly.
As soon as the cake is baked, prick it all over with the help of a fork on its surface.
Pour the milk mixture in three installments and let the milk soak properly in between intervals. Tilt the pan to make it seep in. save some milk mixture for serving.
Set this into the fridge for 8 hours or overnight.
Before serving, pipe the whipped cream on the surface and garnish with whipped cream, dried rose petals, saffron strands and gold leaf.
Slice them up in squares and place it over the plate. Also, pour the leftover milk mixture in the plate while serving. Enjoy!
If you like this recipe and happen to make it for your holiday celebrations, then share pictures with me by tagging me on
Instagram
using #bakewithshivesh.