The festive seasons here and I am so excited to bake renditions of Indian classics which I absolutely love. Kicking off the season with a fusion that's as delicious as it looks, trust me!
Tell me what's your favourite laddu out of all the laddus out there? Mine has always been a Motichoor Laddu. There hasn't been a single Diwali when I have not over eaten these soft, tender and melt in mouth laddus. You guys also know how much I love cheesecakes. So, a fusion of two of my all-time favourites had to happen– a Motichoor Cheesecake. It's eggless, it's delicious and it's the perfect dessert if you're looking to make something special for your loved ones this Diwali.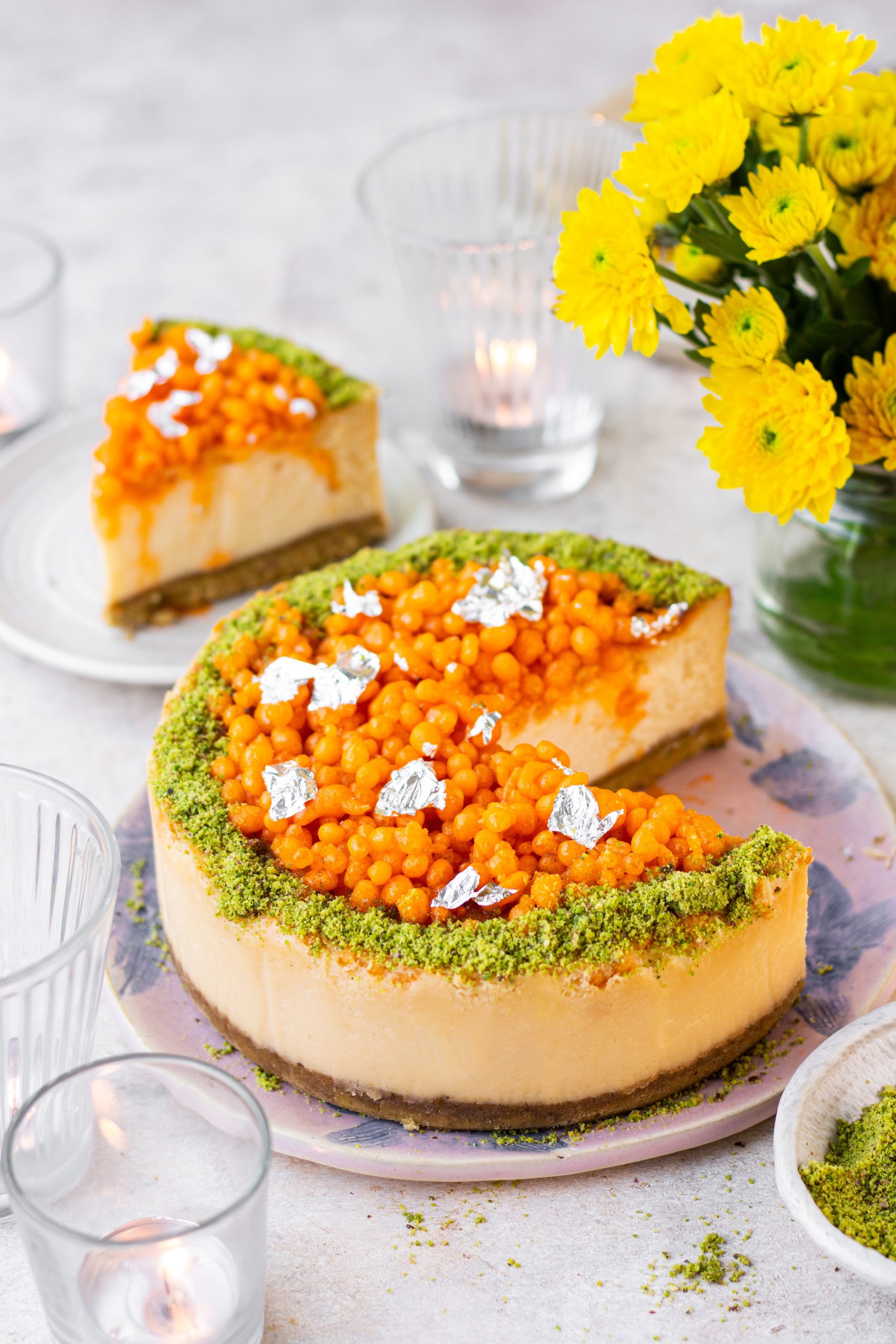 MOTICHOOR CHEESECAKE- A BEAUTIFUL FESTIVE RENDITION OF INDIAN CLASSIC
For the motichoor cheesecake we'll be making the boondis from scratch. You won't need any fancy ingredients for the same, just some besan and water. We'll be frying them in pure ghee to get that rich flavour and once our boondis are fried and ready, we'll dunk them in a sugar syrup infused with rose water. It'll be perfect and delicious!
Just like any typical cheesecake, this cheesecake also has cream cheese and whipping cream. This is what will add the delicious, and extremely subtle tang to our cheesecake. But to add all the motichoorflavours, this cheesecake also has some homemade motichoor boondis in the filling and some powdered pistachios in the biscuit base.
To give this cheesecake the beautiful Indian touch, I decided to add some cardamom with saffron in the filling and some ghee in the biscuit base. Cardamom is such a fantastic spice to use. It is so aromatic and adds a lovely flavour to anything you make. That being said, it does have a strong flavour so be careful not to add too much of it or else the cardamom flavour will become too overpowering and might disturb the balance of flavours of this recipe.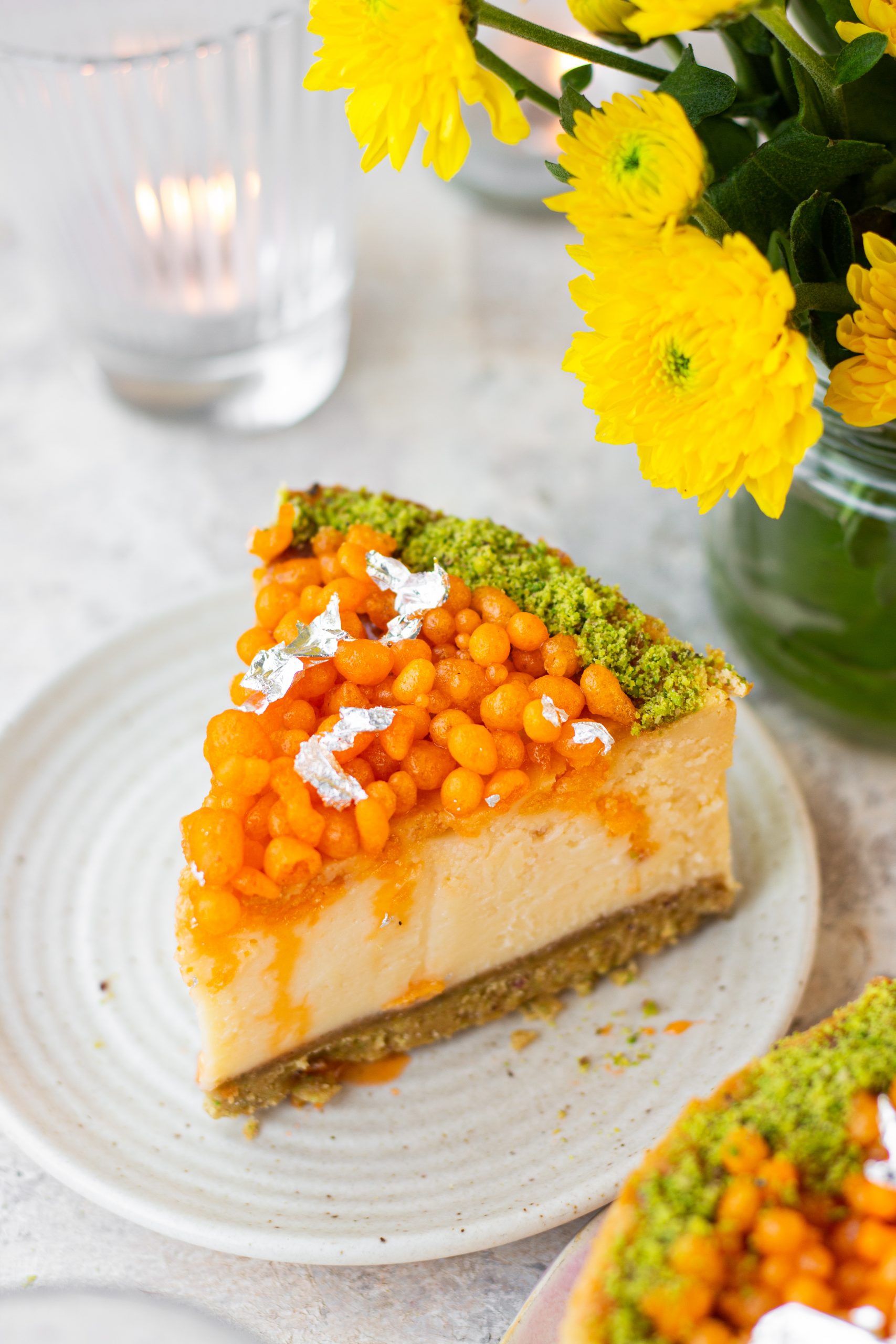 THE MOTICHOOR IN MOTICHOOR CHEESECAKE
By now, you may be thinking- how are we going to make the boondis at home? Is it not something which is super tricky and intimidating to get it right? The answer is NO. In fact, making boondi at home might just be the simplest of all things. All you need is besan, water and orange food colour to give it that beautiful orange look. But don't worry if you don't have the colour, you can still make them. It'll be yellow just how motichoor laddu's were back in the days. We'll also need ghee or vegetable oil to fry them and then a sugar syrup to dunk them in. Easy-peasy, isn't it? And to take the motichoor cheesecake up a notch, we'll top it with some sweet boondis, powdered pistachios and silver leaf on top!!
For the powdered pistachios, you just need to blitz your pistachios in a food processor until they reach a fine powder consistency. Keep a close eye while blitzing. Powdered pistachios can turn into paste any second and we do not want that. The powdered pistachios are added in the base of the cheesecake along with crushed biscuits and ghee.
And that's it! The homemade boondis take this motichoor cheesecake to absolutely next level. You guys have to try it at home!!!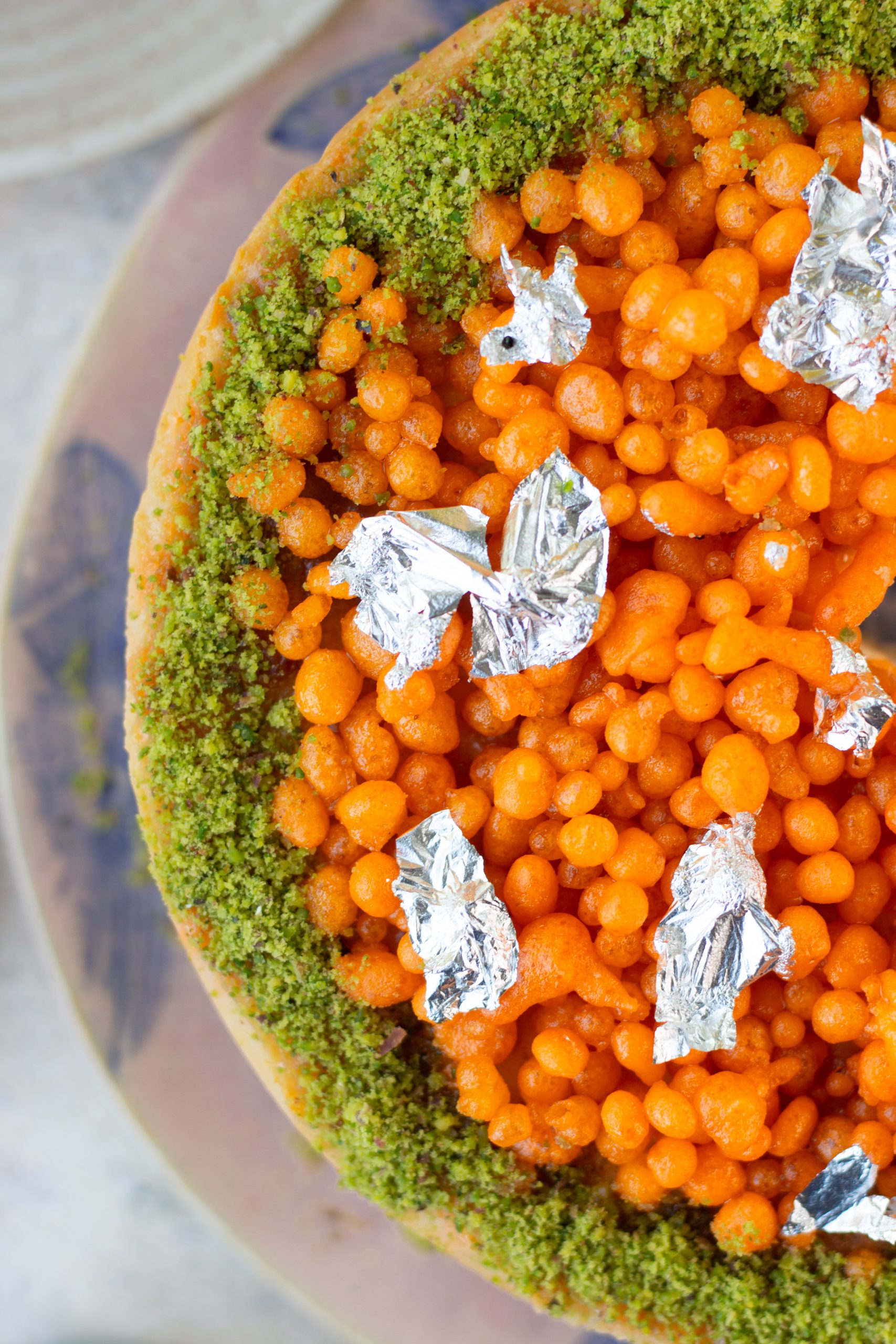 TIPS TO KEEP IN MIND FOR
MOTICHOOR
CHEESECAKE
YOUR CREAM CHEESE SHOULD ALWAYS BE SOFTENED
This is a very very important tip. It is imperative that you use softened cream cheese only. This will make sure that you can beat your cream cheese very easily and thoroughly. This is important because this is what gives the cheesecake its smooth and silky texture. If you beat cold and unsoftened cream cheese, you will have lots of lumps in your mixture and you will never reach a smooth consistency.
USE A PADDLE ATTACHMENT INSTEAD OF A WHISK IF USING A STAND MIXER
A dessert like cheesecake doesn't require as much air as it does silkiness and proper incorporation of all different elements. This is why I would advise you to use a paddle attachment rather and incorporate everything rather than using a whisk and trying to add air to the batter.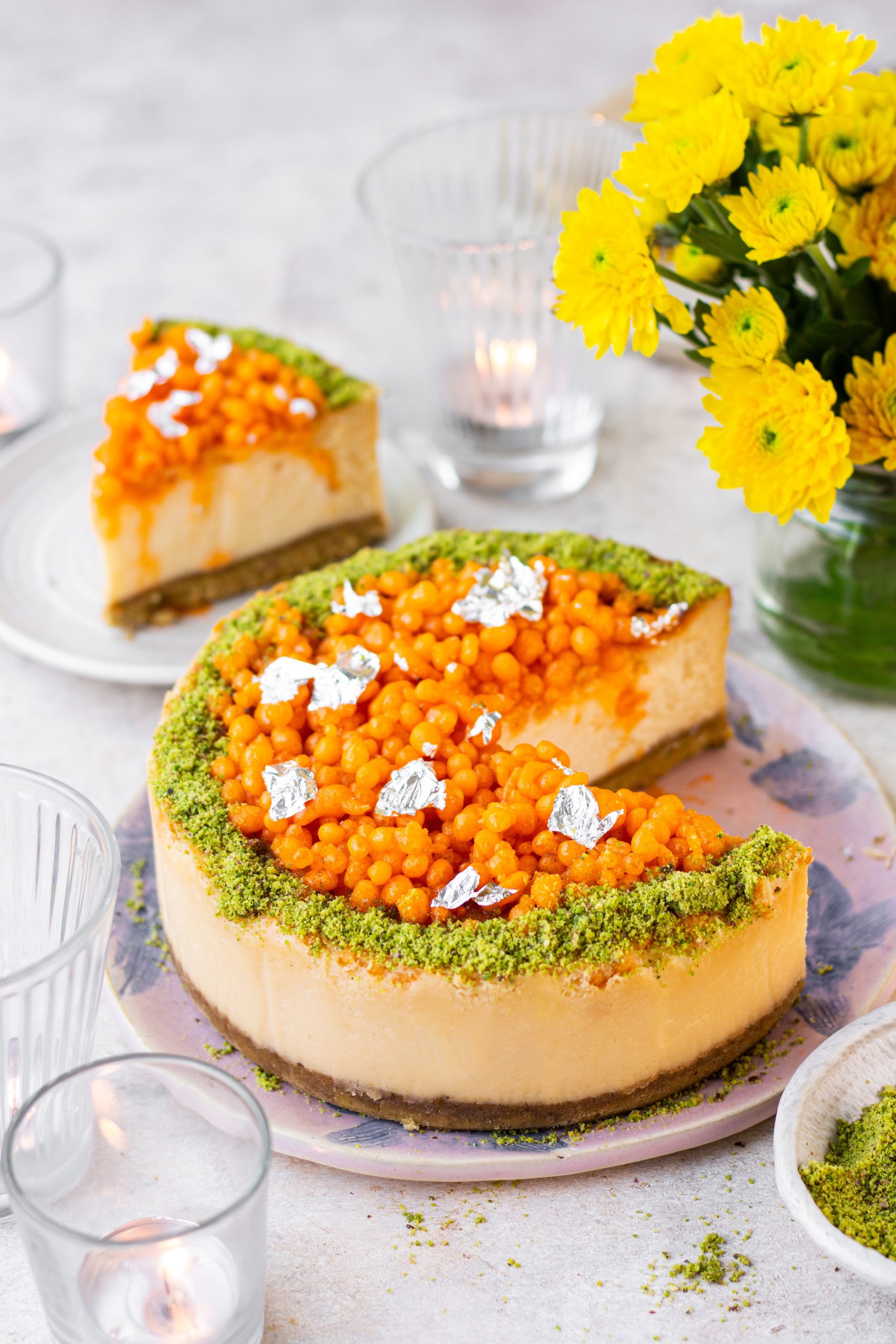 PREPARE YOUR PAN CORRECTLY
When making cheesecakes, a water bath is a must (read next point). And because we're baking the cheesecake in a water bath, you need to make sure you're baking your cheesecake in a mould with a closed base. If you're using a spring form, make sure you are using one which locks perfectly at the base. 
ALWAYS PREPARE A WATER BATH
A crucial part of baking cream cheese is baking it slowly and evenly. A water bath always helps with this. The correct way to prepare a water bath is to heat water on the stove and then pour it over the oven tray. If you add cold water to the oven tray and then put that tray in the oven, it will not do an effective job.
LET THE OVEN DO ITS JOB 
My last tip to you is to be patient and let the oven do its job. Cheesecake batters are mostly liquid and this is why they take longer to bake. Don't be tempted to open the oven door again and again and sip on some coffee while you wait for the best cheesecake to get baked.
WHERE TO BUY CREAM CHEESE FROM
Cream cheese is available in many local stores all over Gurgaon and Delhi. Online sites like Amazon and big basket also have different brands available. I personally love using D'lecta. Other brands available include Moos, President, and Britannia. 
I know that a lot of you struggle to find cream cheese in your localities but don't worry because I got you covered! I have an entire video showing you how to make cream cheese at home! It uses such basic ingredients which I am absolutely sure you all will already have at home. 
However, if you are in no mood to make your own cream cheese but are still craving a cheesecake, you have got to try my No Cream Cheese Mishti Doi Cheesecake. You guys, it is so decadent and delicious, no one can guess it does not have cream cheese in it. 
I love making and eating cheesecake and I hope these recipes will bring you and your family lots of joy during the festive season. I always love to see what you all have been baking. So, make sure to share your pictures and tag my Instagram handle on them @shivesh17.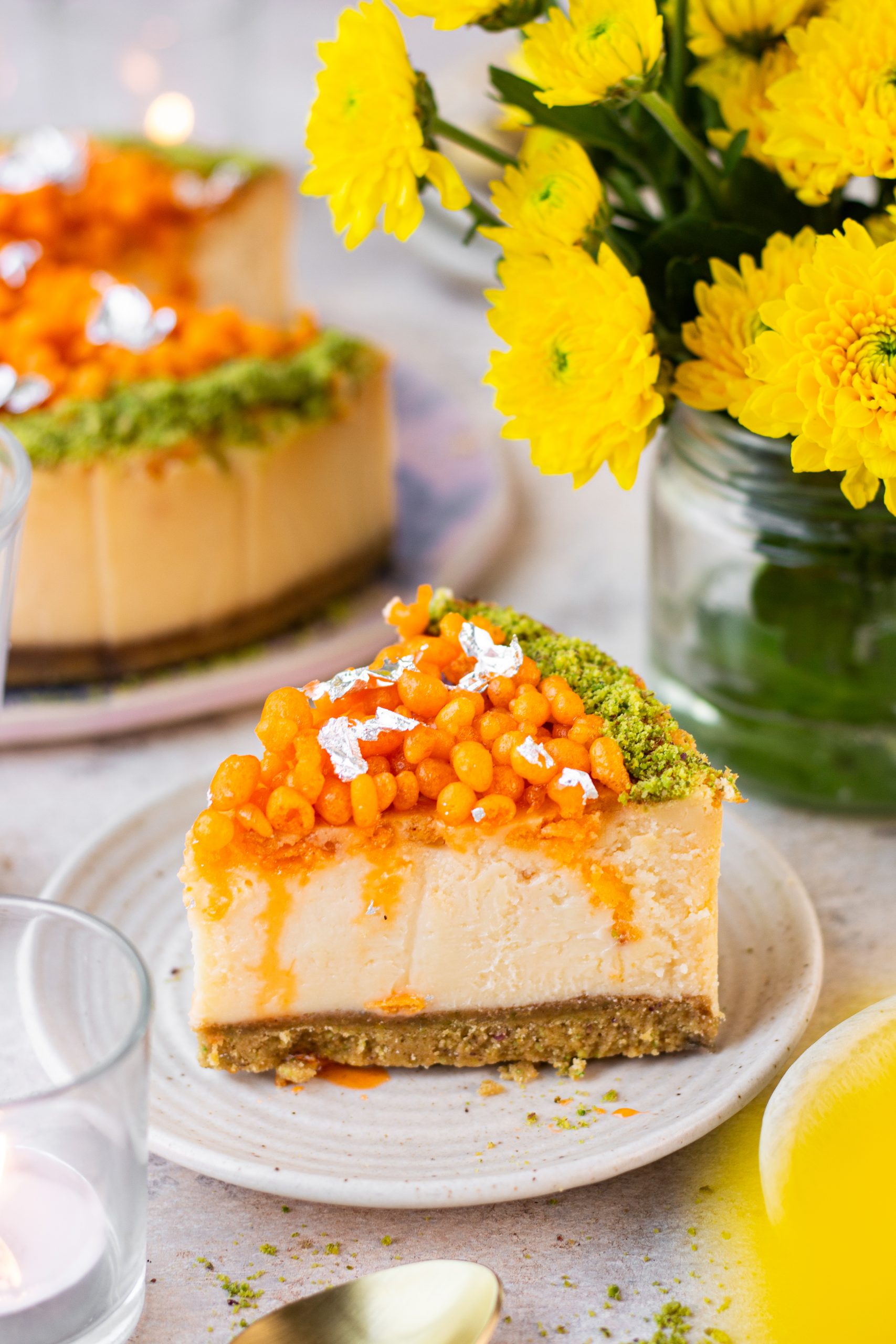 OTHER CHEESECAKE RECIPES
NO BAKE NUTELLA CHEESECAKE: WITHOUT GELATINE
Happy baking and happy festive season!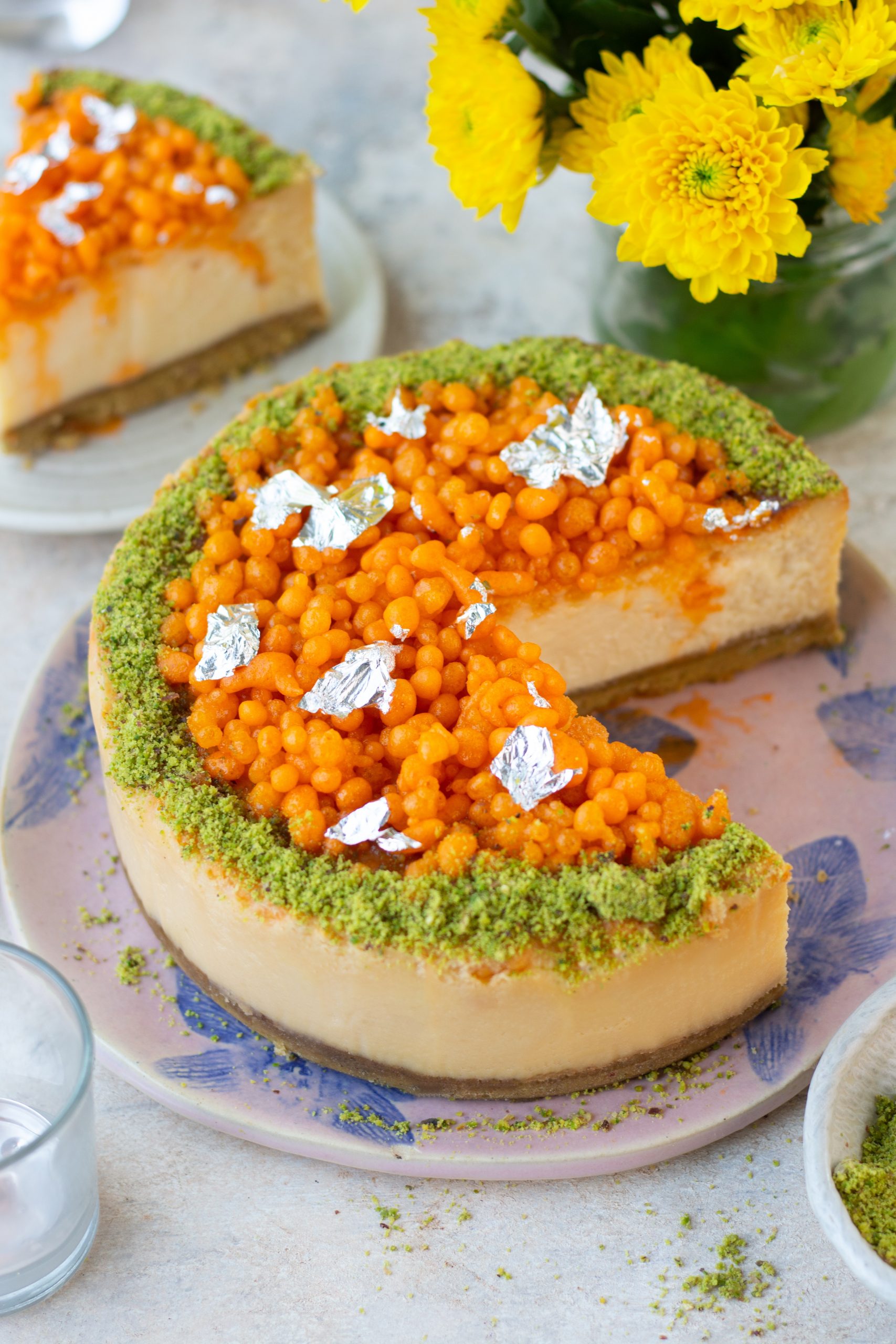 Motichoor cheesecake recipe
Motichoor Cheesecake
Motichoor Cheesecake
Ingredients
For the base
1+1/2 cups (150gms) crushed biscuit
¼ cup (25gms) pistachios
½ cup (95gms) ghee
For the boondi
½ cup (50gms) besan
⅓ cup (80ml) water
1 tsp (2.5ml) Orange food colouring
For the sugar syrup
⅓ cup (80gms) water
½ cup (100gms) sugar
1 tsp rose water
Orange food colouring
For the filling
2 cups (360gms) cream cheese
¼ tsp (1gm) cardamom
a few strands of saffron
¾ cup (180gms) whipping cream
1+1/2 tbsp (18gms) cornflour
1+1/2 cup (484gms) condensed milk
Instructions
In a bowl add in crushed biscuits, powdered pistachios, and melted ghee. Mix all of these till everything is coated in ghee evenly.
Transfer the biscuit mixture to your spring form pan. Use the back of a glass to push down and cover the base of the pan with the biscuit mixture. Set it aside in the refrigerator.
For the boondi, in a mixing bowl take besan and gradually add water while whisking continuously. Make sure there are no lumps. Lastly, add a few drops of orange food colour and mix well.
In a kadhai set over medium heat, add ghee and wait for it to reach the temperature. Gradually pour the batter over a spider spoon very carefully.
Let the boondis fry for a while before taking them out.
For the sugar syrup, take a pan and add water, sugar, rose water and orange food colour. Let the sugar dissolve.
Immediately dunk your boondis in to the syrup while it's still hot. Let it sit for a while.
For the cheesecake filling, in a small bowl add whipping cream and cornflour and mix this till its lump free. Set it aside.
In a large bowl add softened cream cheese. Use a spatula to smooth it out. Add in cardamom with saffron and mix well.
Now add in the cornflour slurry that was kept aside, along with condensed milk. Bring everything together till there are no large lumps.
Bring out the spring form pan from the refrigerator and transfer the filling over your biscuit base.
Lastly, top the filling with homemade sweet boondis.
Prepare a hot water bath and put the cheesecake in a preheated oven at 170 degree C for 40-45 minutes.
Let it cool down completely.
Top it with some more boondis, powdered pistachios and gold leaf for decoration and enjoy!!!