Who doesn't love a dessert that requires barely any effort and ends up looking and tasting amazingly delicious, right? This no-bake nutella cheesecake is just that dessert. It is creamy, airy, super silky, and a treat for both your taste buds and your eyes! 
If you are ever looking for a great dessert that keeps you away from the heat and the mess, this no bake nutella cheesecake is the way to go!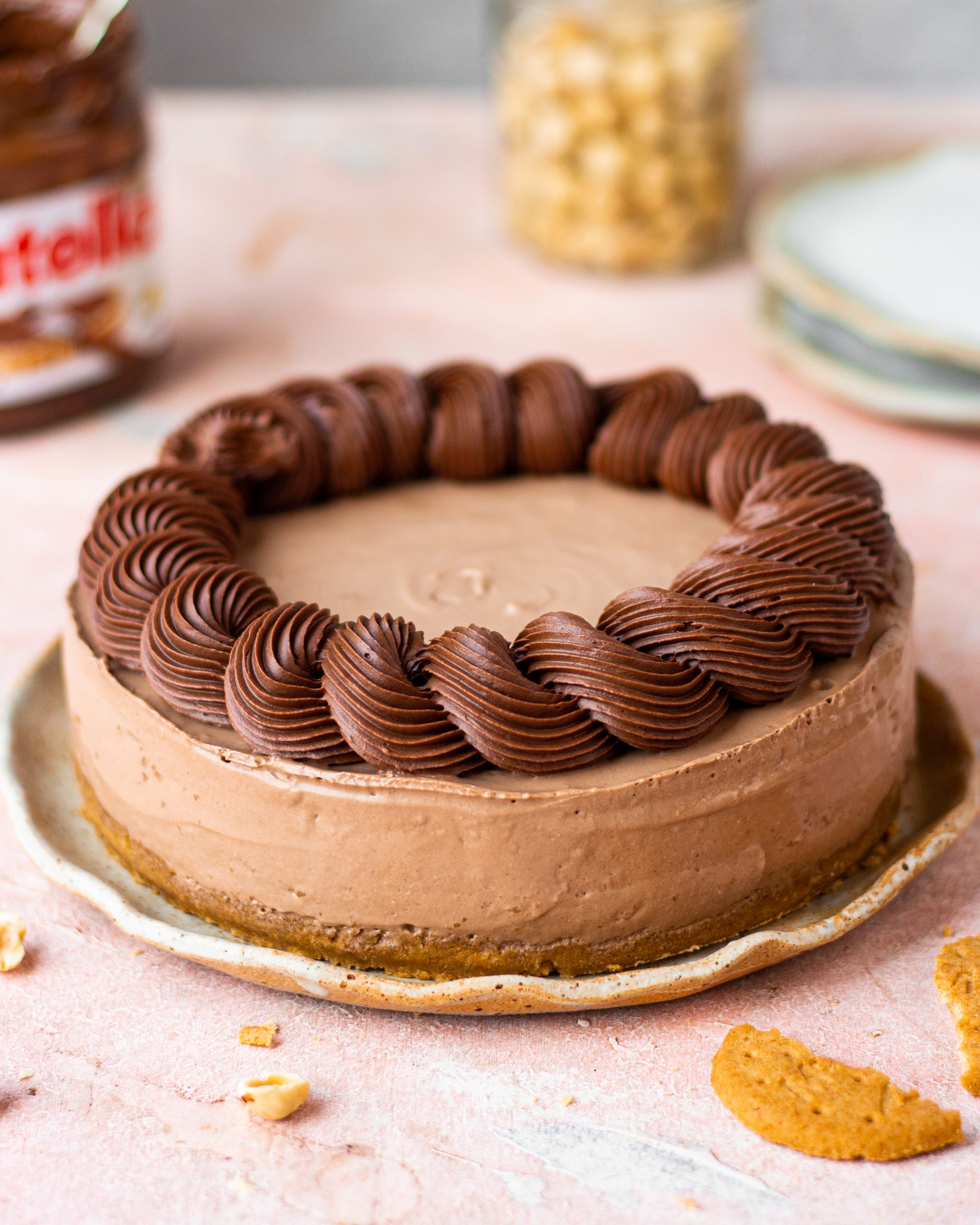 What are no-bake desserts?
As the name suggests, no-bake desserts are desserts that are made without any actual baking. These are cold set desserts that require either some setting agents like gelatine or agar agar or you need to play around with ingredients that can hold well themselves. These can be simple ingredients like heavy cream, cream cheese, egg whites, and so on. 
No bake desserts do not require any baking process but they do require a relevant amount of setting time. In my experience, no-bake desserts that are layered, like this nutella cheesecake, need at least 8 hours of refrigeration before you can cut into them. 
This is perfect to prep your desserts a day ahead whenever you have a party planned the next day! Trust me, prepping up a dessert a day in advance is always the best decision and keeps all your guests super happy too.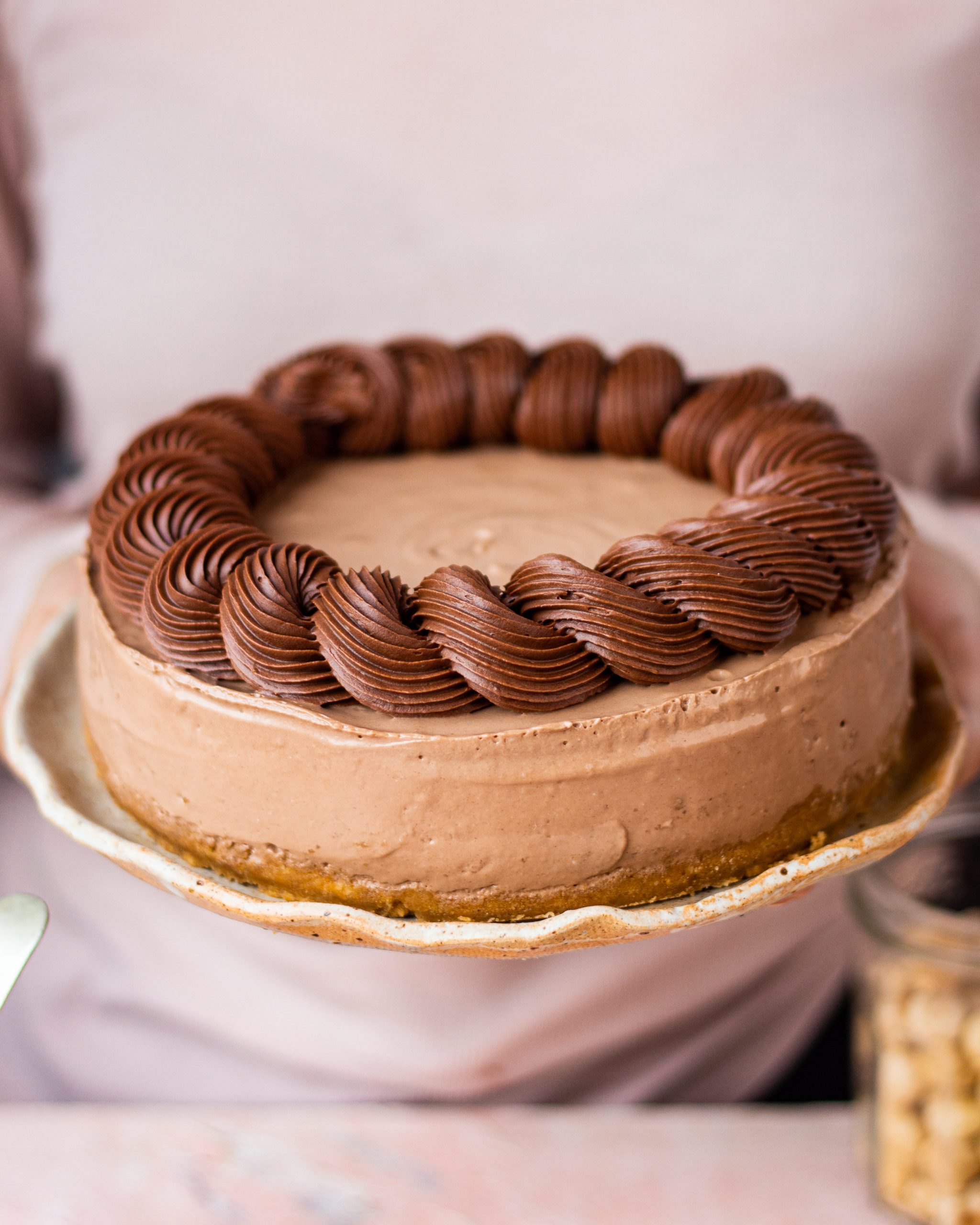 Ingredients needed for the no bake nutella cheesecake
Not only is this cheesecake easy to make, it literally only requires 6 ingredients. Let us take a look at what these ingredients are: 
Cream cheese
If you are making a cheesecake, you definitely need some good quality cream cheese. The one I love to use personally is the D'lecta cream cheese or the very famous Philadelphia cream cheese. Philadelphia cream cheese is on the more expensive side but for everyday use, I absolutely love using D'lecta. It is easily available in the local markets and now they also have their own website where you can directly order online! 
Whenever you are making cheesecake, be it baked or no bake, make sure to use softened cream cheese. Your cream  cheese should have no lumps and should be silky smooth before you can add other ingredients into it. 
Icing sugar
Since there is no cooking involved, and very minimal mixing of ingredients, we are using icing sugar for this recipe. The powdered form of icing sugar makes sure it gets mixed in quickly and there are no sugar chunks in the cheesecake filling. 
Nutella
The star ingredient is, of course, Nutella. This cheesecake is definitely a decadent one and that is why we are adding almost one whole medium jar of Nutella. Nutella will also help the cheesecake in setting as it will firm up during the refrigeration process. 
Whipped cream
A lot of whipped cream that will get folded in the cream cheese and nutella mixture to make the cheesecake super airy and voluminous. I love to use Rich heavy cream. You can but it online too. 
Crushed biscuits
This is for the base of our cheesecake. Any crushed biscuits will do. I love using the basic digestive biscuits. You can use any biscuit of your choice. If you want to keep a chocolatey base, you can also use any chocolate biscuits like oreo. 
Butter
You will also need melted butter to combine with the crushed biscuits to make the base of the cheesecake.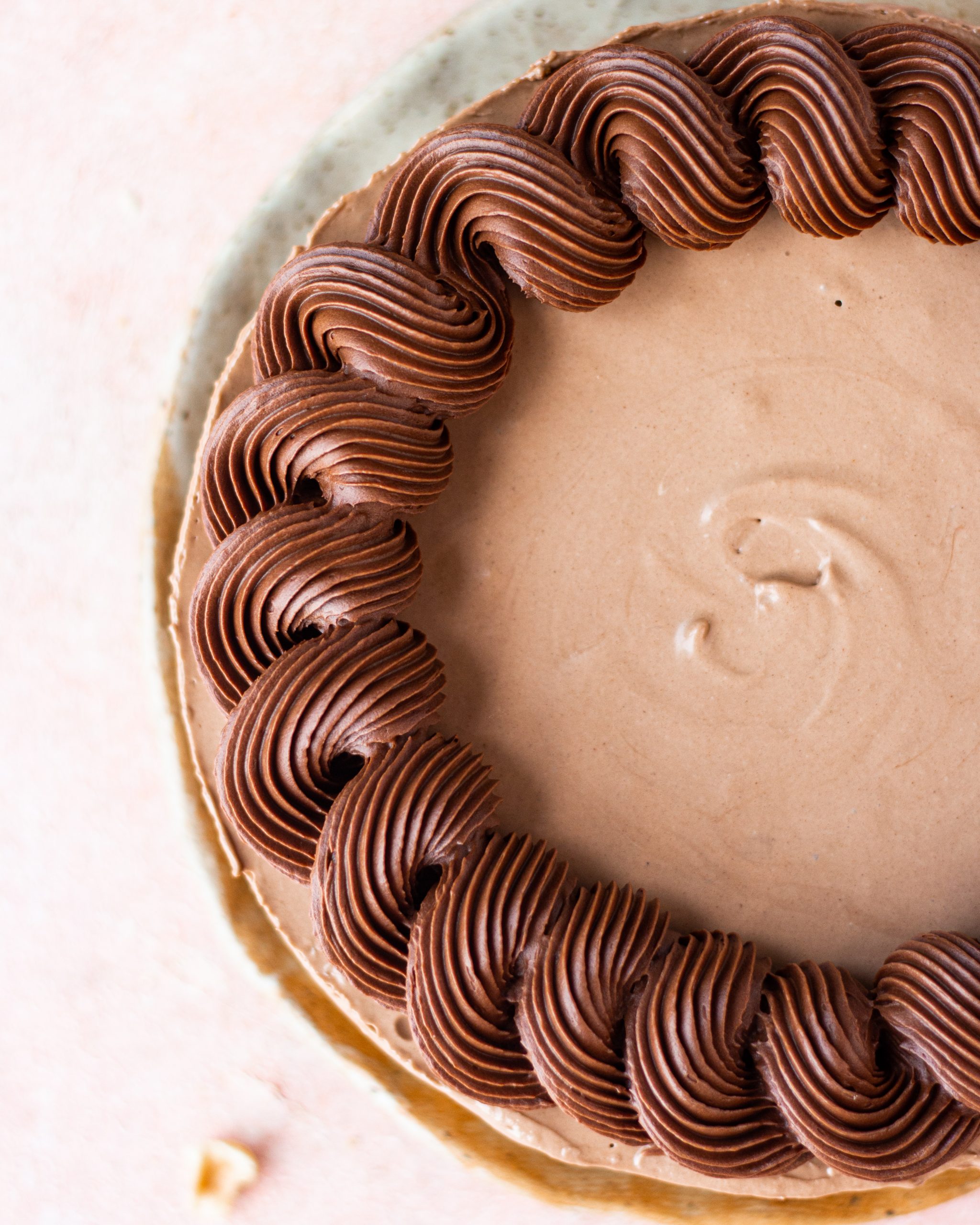 Process of making no bake nutella cheesecake
The process of making this cheesecake is fairly easy. The first thing you need to do is make the biscuit base. Combine crushed biscuits with melted butter and spread it across in one even layer at the base of the springform pan. Refrigerate the base so that the butter can firm up and make a stable base. 
Next, we work on the filling. Add softened cream cheese to a bowl. Use a spatula to soften the cheesecake even more, ensuring there are no lumps in the cream cheese. 
In the same bowl, add in icing sugar and mix that in too. Next goes in nutella. If you store your nutella in the fridge then make sure it is brought to room temperature and is in a pourable consistency while adding to the cream cheese mix. Combine everything together. 
In another bowl add in whipping cream and whip till you reach stiff peaks. Carefully fold the whipped cream into the nutella cream cheese mix. Doing this in three or two batches works best. Make sure you are using the cut and fold method so that you can retain as much air as possible in the mixture. This is what will make the structure of the entire cheesecake.  
Carefully pour the mixture into the springform pan. Make sure it has a smooth top and the filing has been spread around evenly. Tap the pan on the working surface to knock out any air bubbles. Put the cheesecake in the freezer overnight. 
Tips to keep in mind while making no bake nutella cheesecake
Always use softened cream cheese. If you are using cream cheese that is right out of the fridge, just microwave it for 20-30 seconds and you will have instant softened cream cheese. 

Make sure to whip the heavy cream to stiff peaks and gently use the cut and fold method. If you add the whipped cream vigorously into the cream cheese mixture, it will definitely lose out all the air and your cheesecake will have no structure. 

Freezing the cheesecake is very important, especially in the summer heat of places like Delhi. Freezing for an adequate number of hours is important to help it maintain its structure while you are demoulding the cheesecake and slicing into it. 

Use a good quality spring form pan. If you want a lot of height for your cheesecake, use a pan with a small base, like a 6inch pan instead of one with a bigger base like an 8inch pan. 

You can decorate the nutella cheesecake however you like. I loved piping some ganache on top. Gives the cheesecake some more height and a great classic look.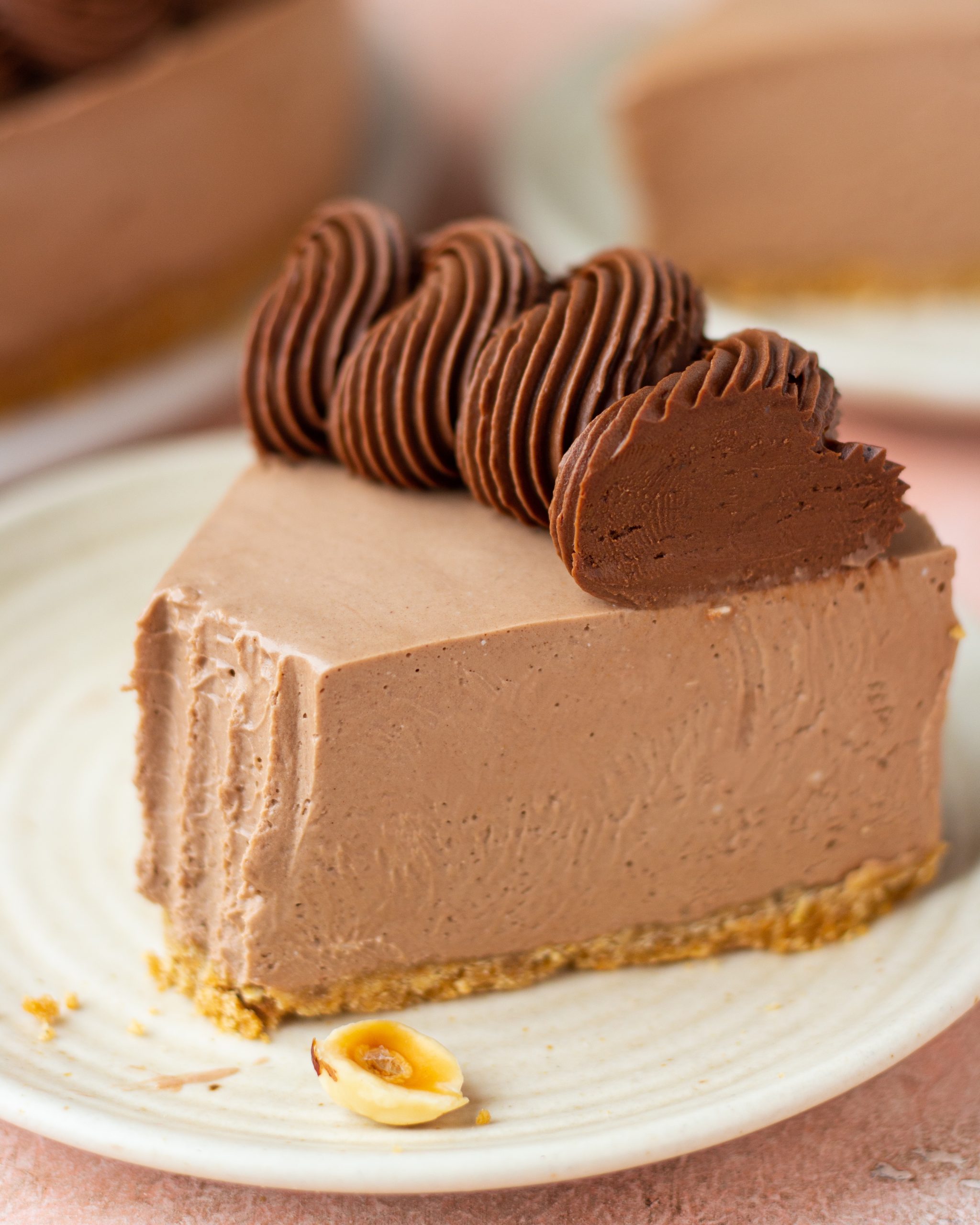 No Bake Nutella Cheesecake Recipe
No bake nutella cheesecake: without gelatine
Ingredients
For the base:
1 + ½ cup (180gms) crushed biscuits
3 tablespoons (37gms) melted butter
For filling:
2 +1/4 cup (350gms) cream cheese
¾ cup (37gms) icing sugar
1 cup (300gms) of Nutella
2 +1/2 cups (290gms) whipping cream
Instructions
In a bowl add crushed biscuits and melted butter and coat all the biscuit crumbs with the butter.
In a 6inch spring form pan, transfer this mixture and spread it around in one even layer to make the base.
Use the back of a spoon to push down the crumbs and make sure the base is tightly packed.
Refrigerate while making the filling.
To make the filling, in a bowl add in softened cream cheese. Use a spatula to make sure there are no lumps in the cream cheese.
Add in powdered sugar and mix again.
In the same bowl add in Nutella and mix that in too.
Take another bowl and add whipping cream to it. Use an electric whisk to whip at high speed till it reaches stiff peaks.
Carefully fold in the whipped cream into the Nutella cream cheese mixture and make sure everything is well incorporated.
Transfer the filling into the prepared spring form pan.
Spread it around evenly and get rid of any air bubbles by banging the pan on the work surface a few times.
Let the cheesecake set in the freezer overnight.
Pipe some chocolate ganache on top or garnish as you wish.
Enjoy!
So excited to see all of you try out this recipe for yourself! It is so easy to put together, I know you will have a blast making it. Whenever you recreate the recipe, do not forget to share images with me on my Instagram @shivesh17. Happy no-bake baking!