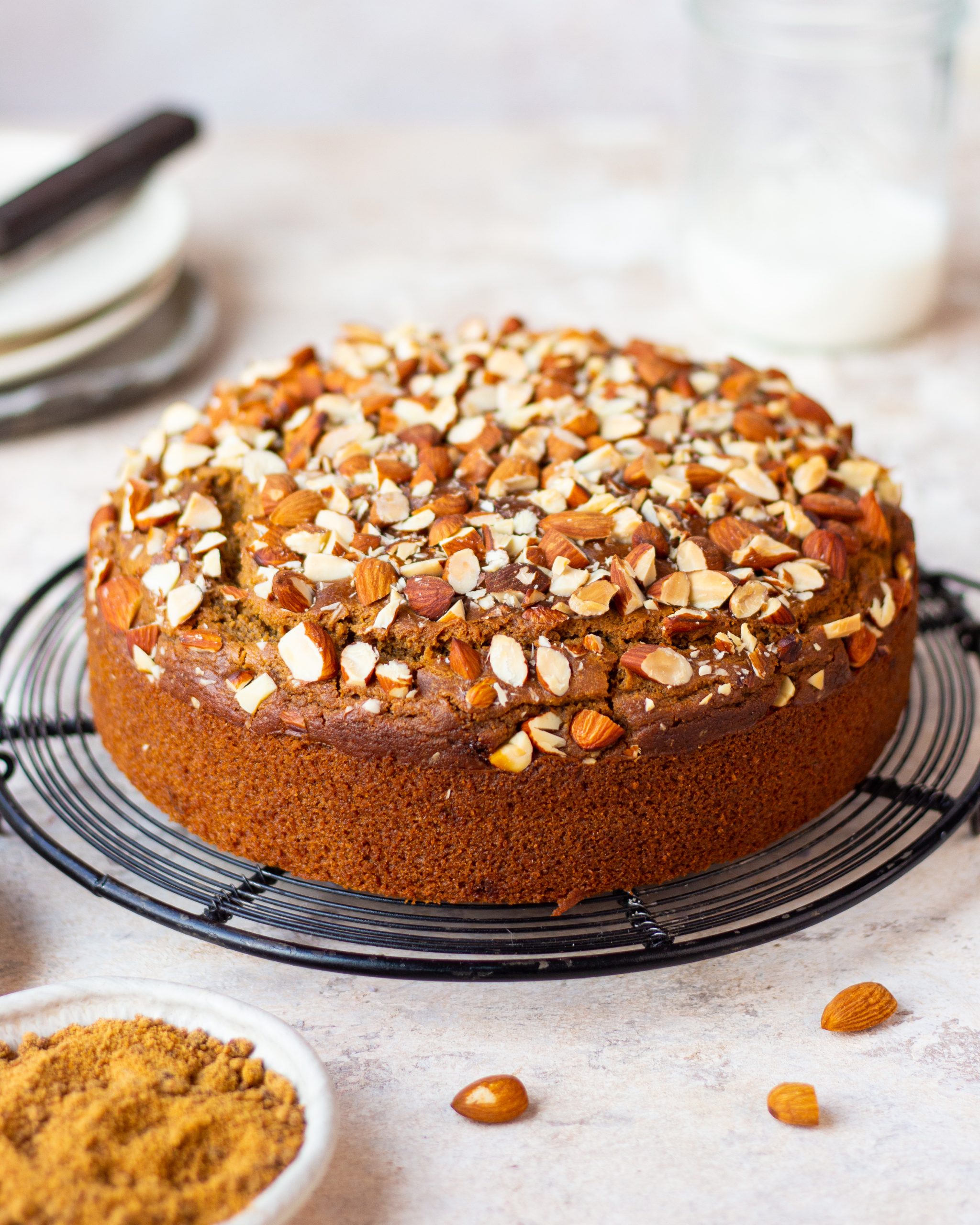 A simple tea cake is all you need to make your bad days good and your good days even better. This eggless, atta jaggery cake is the perfect dessert to make for a lazy evening, where you want to cozy up with your cup of tea and your favorite show.
I decided to top this simple cake with lots of crushed almonds that add a much needed crunchy element and add a great texture to the atta jaggery cake. 
Ingredients needed for atta jaggery cake 
The ingredients that you need for this cake are very basic which you might already have on hand. For the dry ingredients, you need whole wheat flour, that is atta, baking soda, baking powder, and jaggery. Just four dry ingredients and you are good to go. For the wet ingredients, you need homemade curd or greek yogurt, vegetable oil, and milk. 
Whole wheat flour i.e. atta 
This flour is heavier than the commonly used, all purpose flour. This is why, all around the world, people widely use all purpose flour to make baked goods. All purpose flour being a lighter flour means that it gives fluffier desserts that are not heavy or dense. 
While using whole wheat flour, it becomes important to incorporate air into the other elements of the dessert. One definite way to do that is by making sure you sift your dry ingredients instead of  just adding them in the bowl with the wet ingredients. 
Baking powder and baking soda 
I used both baking powder and baking soda for this recipe. Both are leavening agents and play their roles in different ways. Baking soda is mixed in with the yogurt for this recipe which creates a super foamy and airy mixture. This is another element that will add air to the batter. Baking powder is added in with the rest of the dry ingredients and reacts only once the cake pan has been put in the oven. 
Jaggery 
We are making this cake with jaggery and not with any refined sugar. I bet your parents and grandparents will be very happy to know this fact once you serve this cake in front of them! The flavor of jaggery goes really well with whole wheat flour too. However, if you want, you can also use plain caster sugar here instead or do a mix of both and add 50% of jaggery and 50% of caster sugar here.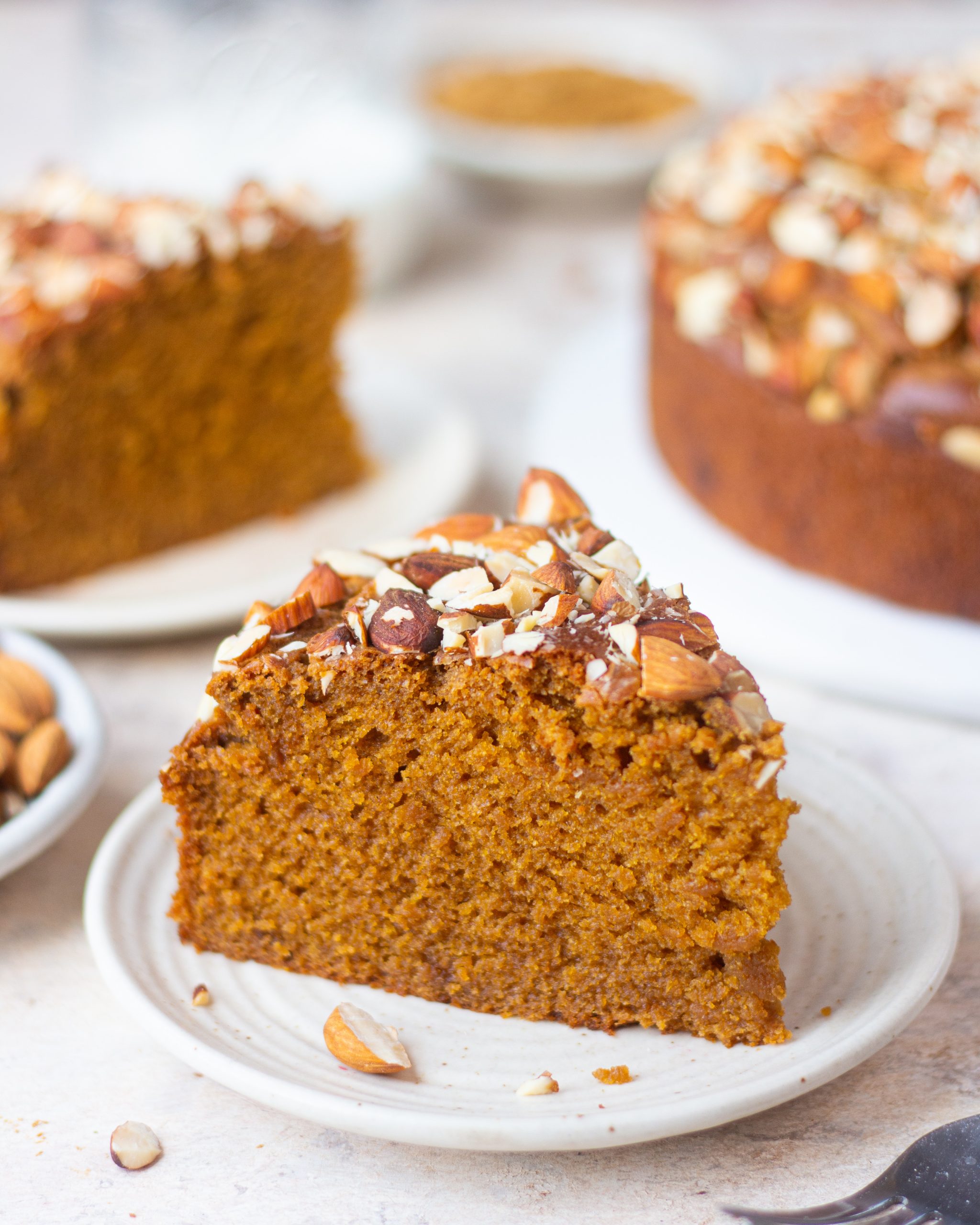 Yogurt 
For simple cakes like this, I love to use homemade dahi. Make sure it is thick and not watery. If you want, you can also use greek yogurt. Both work perfectly well. 
Milk 
While adding ingredients like milk, I like to warm them up before adding them into the batter. This ensures that it is well incorporated with the rest of the ingredients. If you add cold milk, it might make the batter slightly lumpy at first and get incorporated slower than warm milk.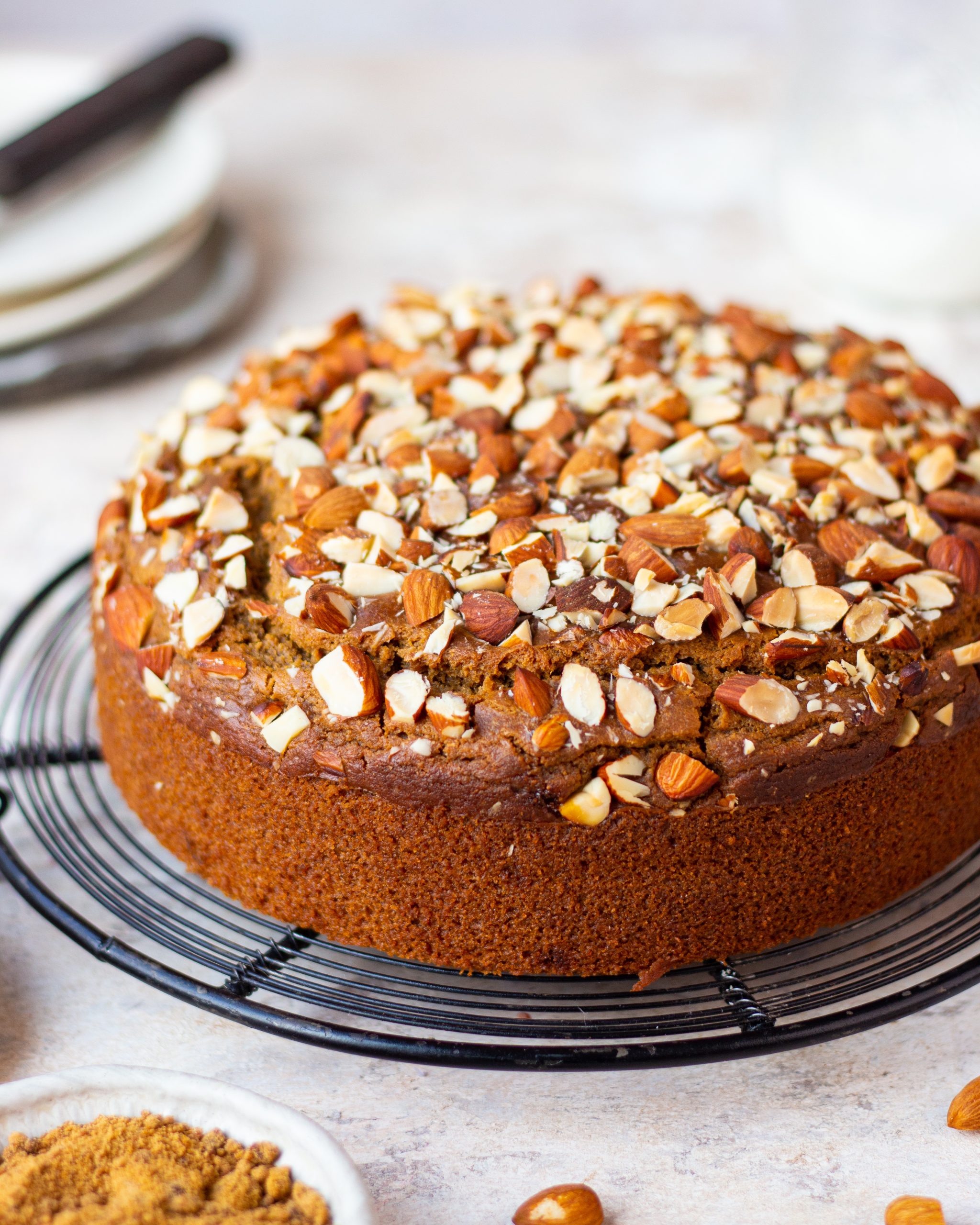 Topping of the atta jaggery cake 
I wanted to create a cute look for the cake without much effort and also wanted to add a crunchy element in a plain cake like this one. Adding nuts is one of the easiest and the best ways to do that. Once your batter is ready, pour it in the prepared baking pan, even out the top and just spread some (or lots) of chopped almonds on top and then put the cake in the oven for baking. 
Whenever you are adding something like this on top, keep a close eye when the cake is in the oven to make sure the nuts do not burn in case the cake takes longer to bake. If you think the nuts might burn, lightly cover the top of the cake with aluminum foil and continue to bake till the cake is fully cooked. 
Process of making the atta jaggery cake 
The absolute first step while baking anything is to prepare your baking pan and baking trays. For this cake, I used an 8 inch round cake pan that I greased with oil and lined with parchment paper. Once ready, keep this aside and preheat your oven at 180C for 10-15 minutes. 
To make the batter, the first thing we need to do is in a bowl add in yogurt and baking soda. Give this a good mix and let the mixture foam up. You will see it almost double in size, or even triple. Once it foams up, you can add in oil, jaggery and vanilla into the bowl and whisk till it's well combined. Next, all you need to do is sift in your dry ingredients. Place a large sieve over the same bowl and add in whole wheat flour, and baking powder. Sift that in and use a hand spatula to carefully mix in the dry ingredients into the wet ingredients.
Lastly, add in warm milk and mix that in too. Be careful not to overmix the batter or else you will end up knocking out the air we have carefully incorporated into the batter and end up with a dense cake. Transfer the batter into the prepared baking pan, add the chopped almonds all over the top and then put the cake in the preheated oven for 30-35 minutes or until golden brown. 
I actually wanted to make one large cake so I measured out the ingredients accordingly. However, if you want to make a smaller cake, say in a 6inch cake pan, then all you need to do is half this recipe and you can make a smaller cake!
I hope you like this recipe and that you will make it for your family. Do not forget to share photos with me on my Instagram @shivesh17 when you do. I love seeing your recreations!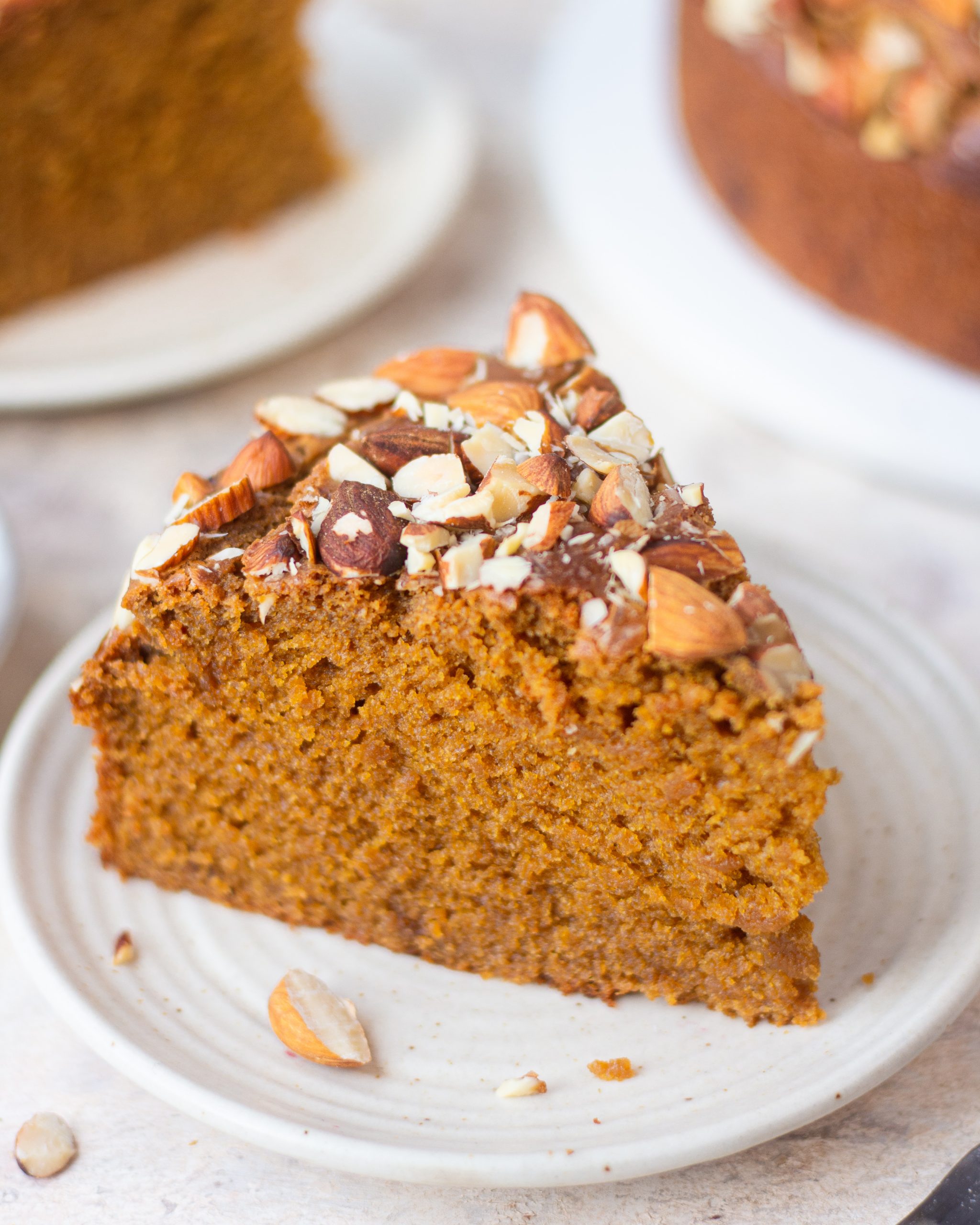 Other tea cake recipes on the blog 
Lemon & Black Tea Cake with fresh blackberries
Recipe for eggless atta jaggery tea cake
Eggless Atta Jaggery Cake
Ingredients
2 cups (570gms) yogurt
1 tsp (3gms) baking soda
3 cup (360gms) whole wheat flour
2 tsp (8gms) baking powder
1 + ½ cup (300gms) jaggery
1 cup (240ml) vegetable oil
1 tsp (5ml) vanilla
½ cup (120ml) milk
½ cup (50gms) chopped almonds
Instructions
Grease an 8inch circular pan with oil and line it with parchment paper.
In a large bowl add in yogurt and baking soda. Give this a good mix and set it aside for 5 minutes. The mixture will foam up and almost double up in size.
Sieve whole wheat flour and baking powder in another bowl and set it aside.
For the wet ingredients, combine jaggery and vegetable oil and whisk the two till everything is well combined. Now add the yogurt and baking soda mixture and combine.
Add in vanilla and milk and mix that in too.
Combine the dry ingredients with the wet ingredients and bring the batter together.
Transfer batter in the prepared baking pan and sprinkle chopped almonds all over the top.
Bake at 180C for 45-50 minutes or until a skewer inserted comes out clean.