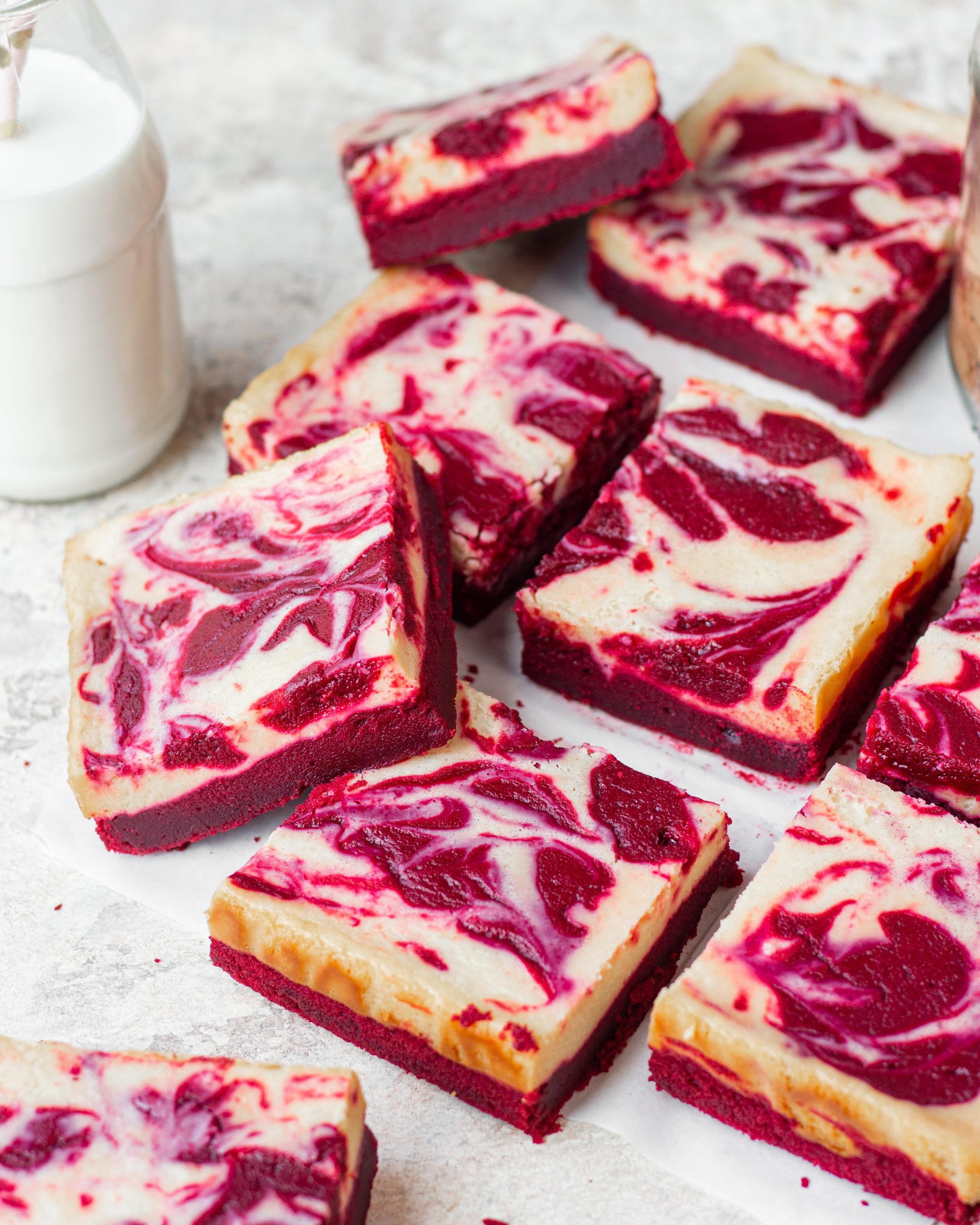 I mean is the title not convincing enough that this recipe has been made at home and loved? A few months ago I did a video recipe sharing the red velvet cheesecake brownies but that recipe had eggs, it was thoroughly loved but also so so many of you asked for an eggless recipe. So here I am, many months later than anticipated with an eggless version of my red velvet cheesecake brownies. 
This decadent dessert has a red velvet brownie base that is so fudgy even without the eggs and then a cheesecake swirl on top that makes this dessert super creamy, smooth and balances out the sugar in the brownie with tartness from the cream cheese. I mean what is better than two of my favourite desserts combined into one epic dessert. Let us go over the ingredients for this one by one. 
Butter
A very crucial ingredient for any brownie recipe. Butter being a fat adds that rich flavour to our red velvet cheesecake brownies. I always prefer using salted butter for desserts. Because salt and sweet really go well together. However if you are going to use unsalted butter, you can add in a pinch of salt to achieve the same balance in the final dessert. 
Buttermilk
Another well known ingredient for any type of red velvet dessert is buttermilk. It is basically an amalgamation of milk and vinegar. However in this recipe we are replacing the milk with yoghurt and adding vinegar. This will still add that much needed tartness. However if you are not a fan of using vinegar in your recipes you can try and replicate the same with lemon juice. 
Cocoa powder
Another important addition to the regular red velvet recipe is the addition of cocoa powder to the dry ingredients. Cocoa powder not only adds to the flavour of the overall cake but really helps the red colour to shine through in the red velvet cheesecake brownies. I usually go for the unsweetened cocoa powder. Some brands that I have been using over the years are Hershey's and Cadbury. 
Red food colour
There are three types of food colour available in market gel, liquid and powder. I most of the time use and suggest using gel food colours based on how less of a colour you have to use and how it doesn't affect the consistency of your batter. 
But for this red velvet cheesecake brownie recipe I will suggest to go for the liquid food colour in a bright red shade. Using the liquid colour here will really help you achieve a bright red, very lively tinge to the brownies. 
Also, make sure that you really colour your batter brighter than you would need in the final result. As baking can bring down the saturation the colour and the colour can fade away. 
Curd
This simple homemade ingredient is what will be the replacement to our eggs in their eggless red velvet cheesecake brownie recipe. I have baked multiple recipes over the years without eggs and have experimented enough to realize that yoghurt is really good replacement in a brownie recipe. It adds the similar amount of fat to the recipe hence mimicking the texture of a brownie with eggs. You can either use homemade yoghurt that is on the thicker side (strain excess liquid if you need to) or use store bought yoghurt.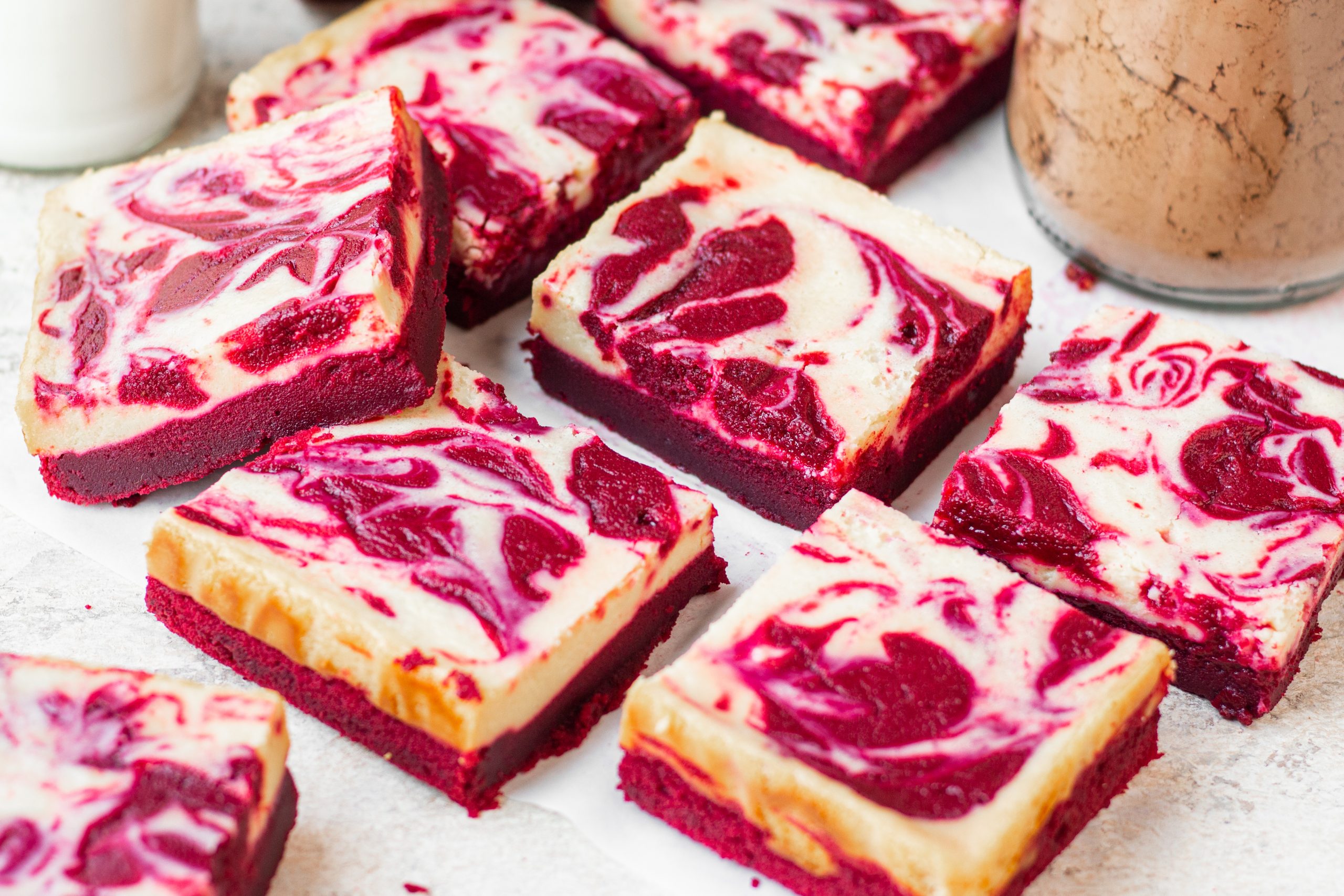 Cheesecake layer
Let's talk about this exceptional creamy and perfectly tang cheesecake layer. I mean I personally think it's a genius combination. This combination is so popular like when making a red velvet cake I always go the cream cheese frosting. The cream cheese balances the sweetness of the the cake/brownie base so beautifully. 
Few key points to keep in mind while making the cheesecake layer:
Make sure the cream cheese that you are using is of good quality. Using the best of the ingredients is what can make or break the recipe. When I have time on my hand I prepare my own cream cheese at home. It's super simple and just uses two ingredients. However when buying out I usually trust brands like D lecta, Philadelphia and Britannia. 
Since we are not using any sugar in the recipe for the cheesecake layer, be sure to use sweetened condensed milk. This will not only add sweetness to the cheesecake layer but also a lot of richness. 
Make sure you do add that corn flour, I know the quantity seems small and unavoidable but it's an important ingredient. Corn flour will add structure to our cheesecake layer by thicken up the mixture. 
Another thing to keep in mind is to keep your cream cheese at room temperature while using. You can either soften it by leaving it out for 10-15 minutes or simply microwaving it for 30 seconds. Once the cream cheese has softened it is very easy to work with and honestly way too satisfying. 
Last ingredient which is a flavouring agent used here is vanilla. Now I have said this time and time again, using a good quality vanilla can really make a huge difference in your desserts. I personally love both goodness vanilla and sprig. They add really vanilla flavour to my desserts and uplift the flavour so so much.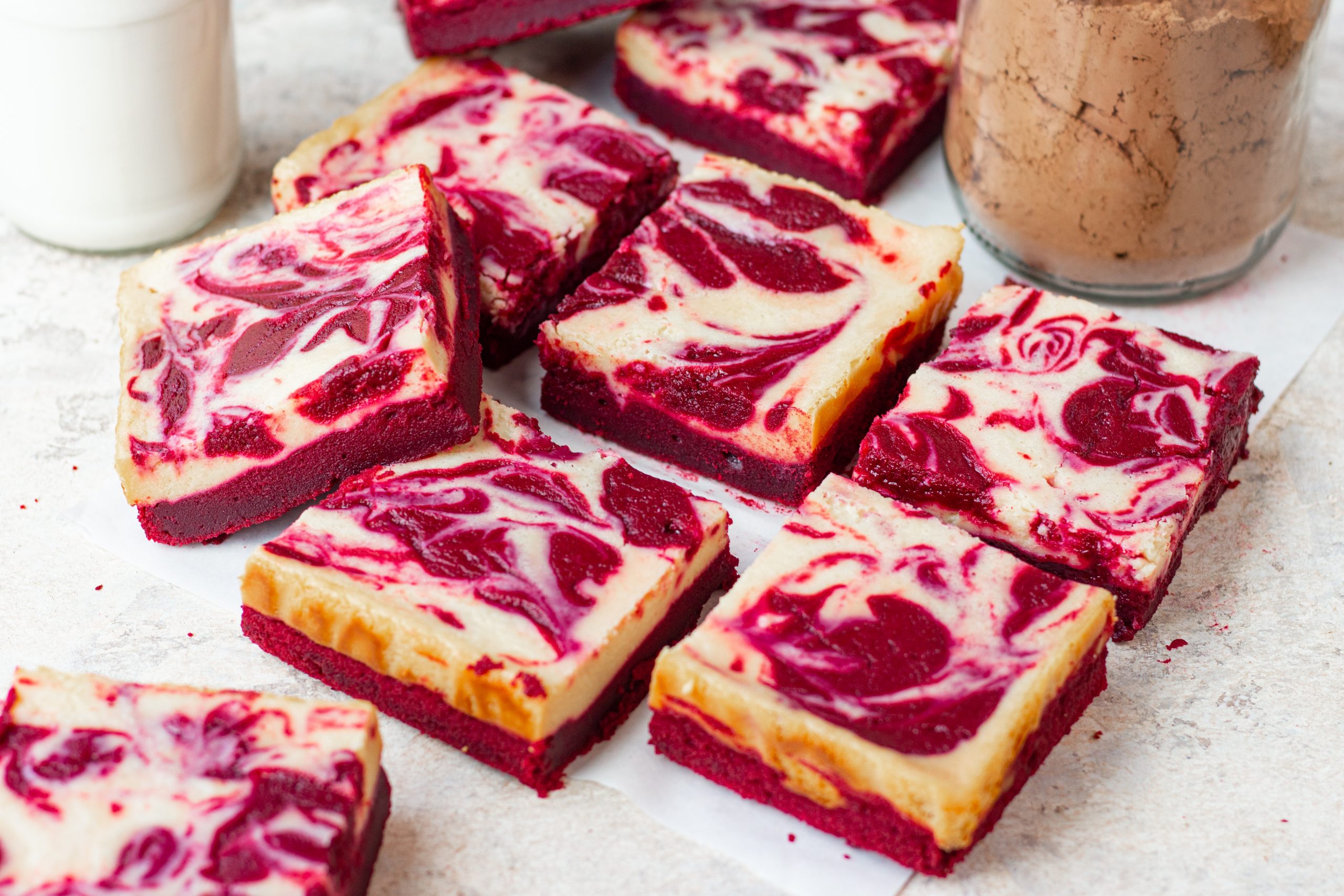 Tips for a perfect red velvet cheesecake brownie
While this recipe is fairly easy, there are certain steps that we can always follow to attain perfect, gooey brownies. Some thing to keep in mind are:
The type of food coloring you will use to obtain the red color will always vary. While some brands' food coloring gives off a strong, pigmented color, some other brands' will not end up satisfying you. In such situations, the amount of food coloring you will put will vary. I would recommend a cautious drop-by-drop method for mixing the food coloring in order to obtain the perfect red color.
After preparing the batter, do not let the batter for these red velvet brownies rest for long as the vinegar will react with the other ingredients and can end up seriously altering your recipe and not yield the desired dessert.  
Keep a watch on your red velvet brownies when they are in the oven. Do not open the oven time and again to check because the cream cheese mixture on top gets affected and the top may crack.
For more tips on brownies, you can refer to my Top 6 tips for the perfect brownies article!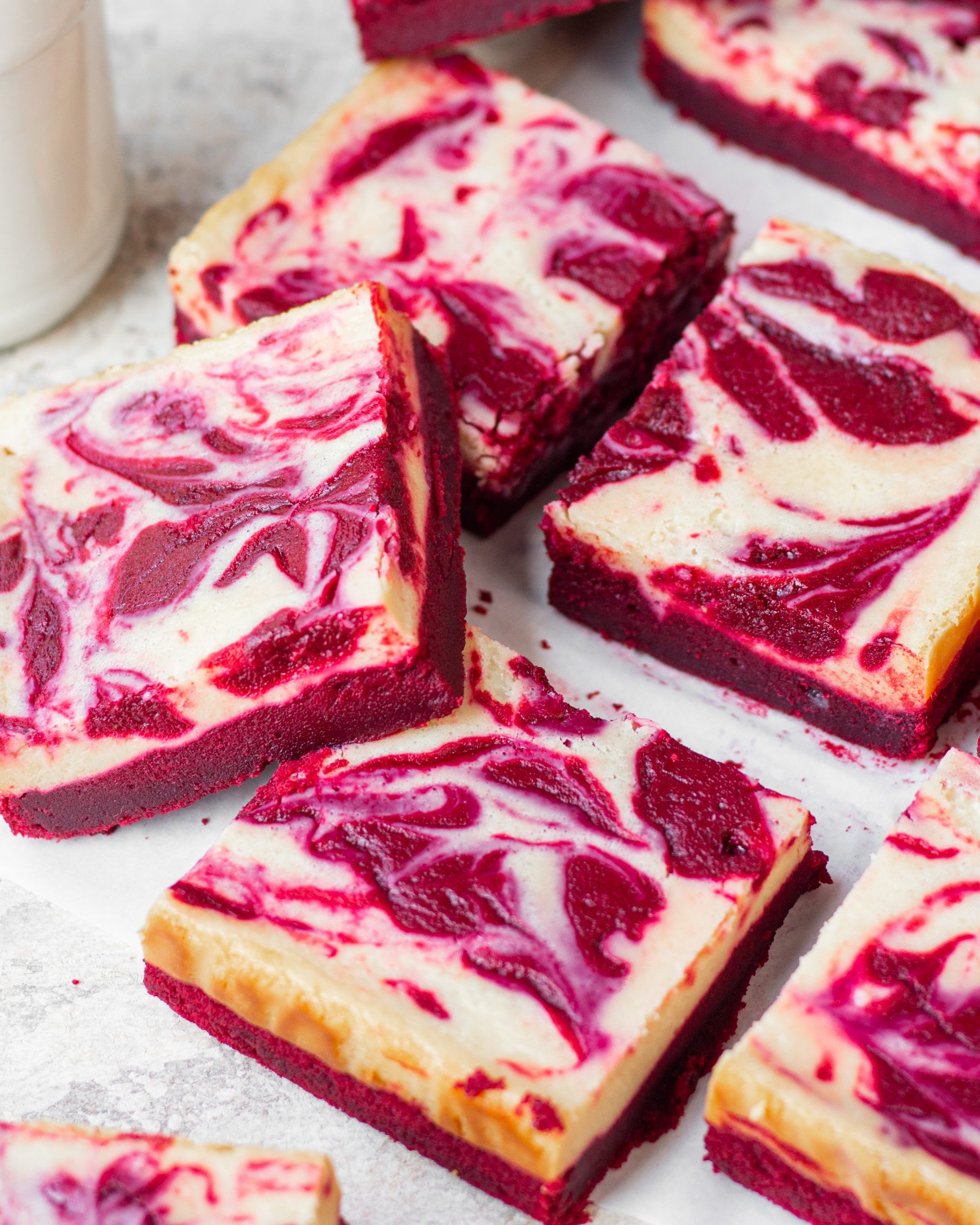 Recipe
red velvet cheesecake brownies- eggless
Ingredients
For brownie:
1 cup (226gms) butter
1 + ½ (300gms) sugar
1 cup (285gms) curd
1 tsp (5ml) vanilla
2 tsp (10ml) vinegar
2 cups (240gms) maida
¼ cup (30gms) cocoa
3 tsp (15ml) red food colour
For cheesecake layer:
1+1/2 cup (225gms) cream cheese
½ cup (153gms) condensed milk
1 tsp (5ml) vanilla
1 + ½ tbsp (15gms) cornflour
Instructions
Preheat the oven to 180C. Grease and line an 8' inch square pan with parchment.
In a bowl add maida and cocoa. Give it a good mix and set it aside.
Take a separate bowl add the butter and caster sugar. Mix these two until light and fluffly.
To the sugar and butter mix add the yoghurt and vanilla. Mix it well until fully combined.
Add vinegar to this mixture and mix well. (it's okay for the batter to look curdled)
Next, add in the maida and cocoa powder and fold gently using a spatula.
Add in the red food colour and give the batter a final mix. Reserve ½ cup of the prepared batter and tranfer the rest in the lined cake pan.
To prepare the cheesecake layer to a bowl add the creamcheese, condensed milk, vanilla and cornflour. Using a whisk combine everything together.
Pour the cheesecake layer on top of the red batter in the cake pan.
Now with the reserved red velvet brownie batter, add spoonfuls on top of the cheesecake. Use a sweker to swirls on top.
Set this to bake at 180 C for about 40-45 minutes.
Chill in the fridge for 1 hour before cutting in to it and enjoying.