Motichoor Cheesecake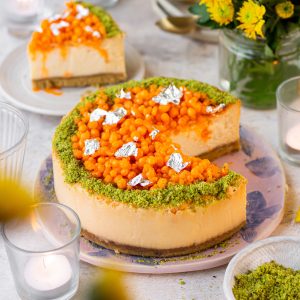 1+1/2 cups (150gms) crushed biscuit
¼ cup (25gms) pistachios
½ cup (95gms) ghee
½ cup (50gms) besan
⅓ cup (80ml) water
1 tsp (2.5ml) Orange food colouring
⅓ cup (80gms) water
½ cup (100gms) sugar
1 tsp rose water
Orange food colouring
2 cups (360gms) cream cheese
¼ tsp (1gm) cardamom
a few strands of saffron
¾ cup (180gms) whipping cream
1+1/2 tbsp (18gms) cornflour
1+1/2 cup (484gms) condensed milk
In a bowl add in crushed biscuits, powdered pistachios, and melted ghee. Mix all of these till everything is coated in ghee evenly.
Transfer the biscuit mixture to your spring form pan. Use the back of a glass to push down and cover the base of the pan with the biscuit mixture. Set it aside in the refrigerator.
For the boondi, in a mixing bowl take besan and gradually add water while whisking continuously. Make sure there are no lumps. Lastly, add a few drops of orange food colour and mix well.
In a kadhai set over medium heat, add ghee and wait for it to reach the temperature. Gradually pour the batter over a spider spoon very carefully.
Let the boondis fry for a while before taking them out.
For the sugar syrup, take a pan and add water, sugar, rose water and orange food colour. Let the sugar dissolve.
Immediately dunk your boondis in to the syrup while it's still hot. Let it sit for a while.
For the cheesecake filling, in a small bowl add whipping cream and cornflour and mix this till its lump free. Set it aside.
In a large bowl add softened cream cheese. Use a spatula to smooth it out. Add in cardamom with saffron and mix well.
Now add in the cornflour slurry that was kept aside, along with condensed milk. Bring everything together till there are no large lumps.
Bring out the spring form pan from the refrigerator and transfer the filling over your biscuit base.
Lastly, top the filling with homemade sweet boondis.
Prepare a hot water bath and put the cheesecake in a preheated oven at 170 degree C for 40-45 minutes.
Let it cool down completely.
Top it with some more boondis, powdered pistachios and gold leaf for decoration and enjoy!!!