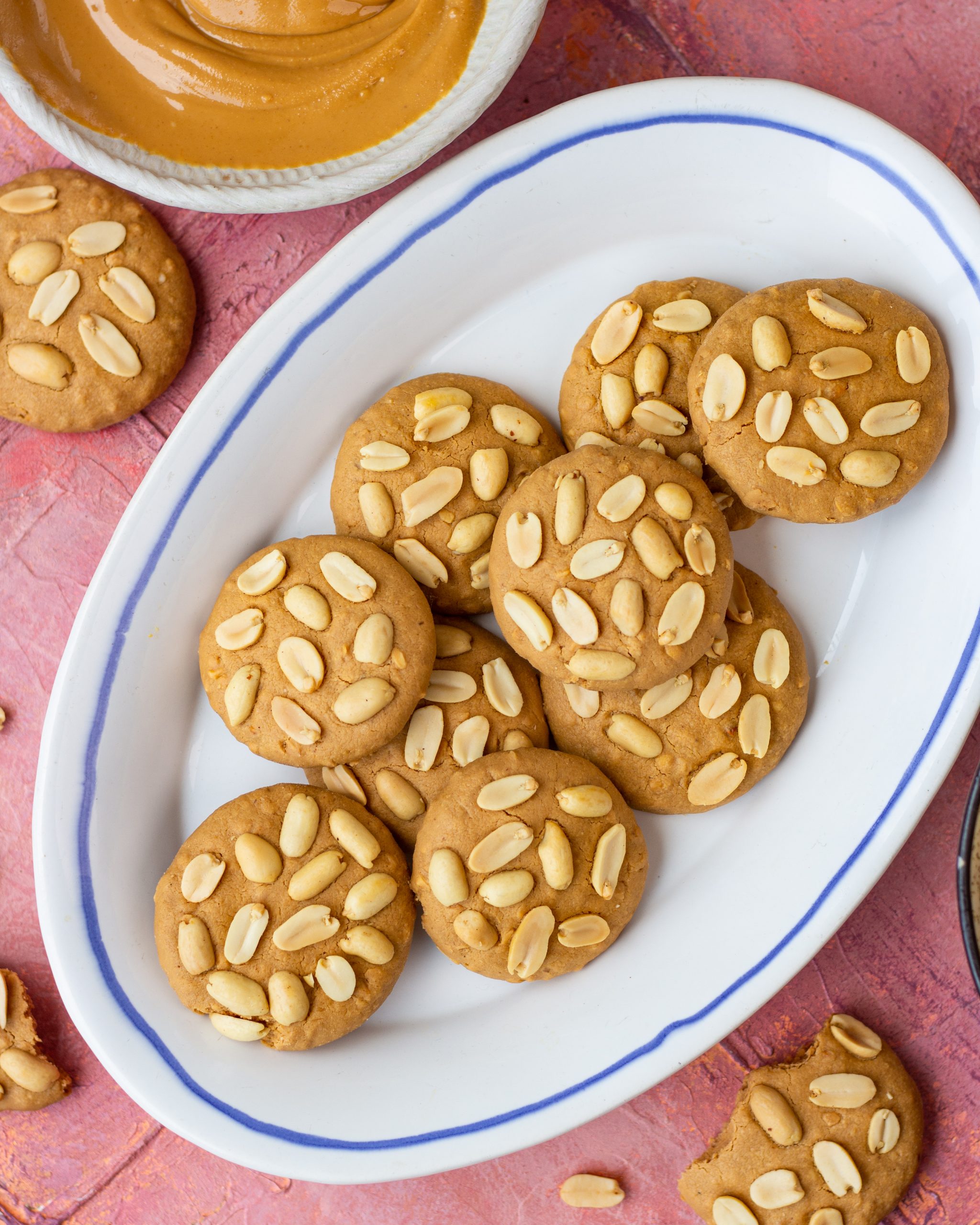 Let us face it, every once in a while I want a dessert that takes zero effort and serves the purpose of curbing my cravings. These eggless, 3 ingredient peanut butter cookies could not have been easier to make and prepare for. They take limited time to bake and are always a go to treat for when I am in the mood for something hearty, easy, and yummy. 
To make the cookies you literally only need three ingredients- peanut butter, icing sugar, and all purpose flour. 
Which peanut butter to use for making 3 ingredient peanut butter cookies 
Personally I love using crunchy peanut butter for everything but you can actually use creamy peanut butter too. The only difference is that crunchy peanut butter will have buts of peanuts in it whereas creamy peanut butter is completely smooth. 
There are so many peanut butter brands available in the market. I end up using Dr, Oetker Fun Foods Peanut Butter but you can ofcourse use any peanut butter you like. 
Using icing sugar for 3 ingredient cookies 
Icing sugar comes in powdered form and mixes in super quickly with the batter. If you do not have icing sugar at home, no need to go to the store and buy a packet just for this recipe. You can make icing sugar at home by simply blitzing the granulated sugar or caster sugar that you have in a mixer grinder. Grind the sugar till it reaches a powdered consistency and voila, you now have icing sugar ready.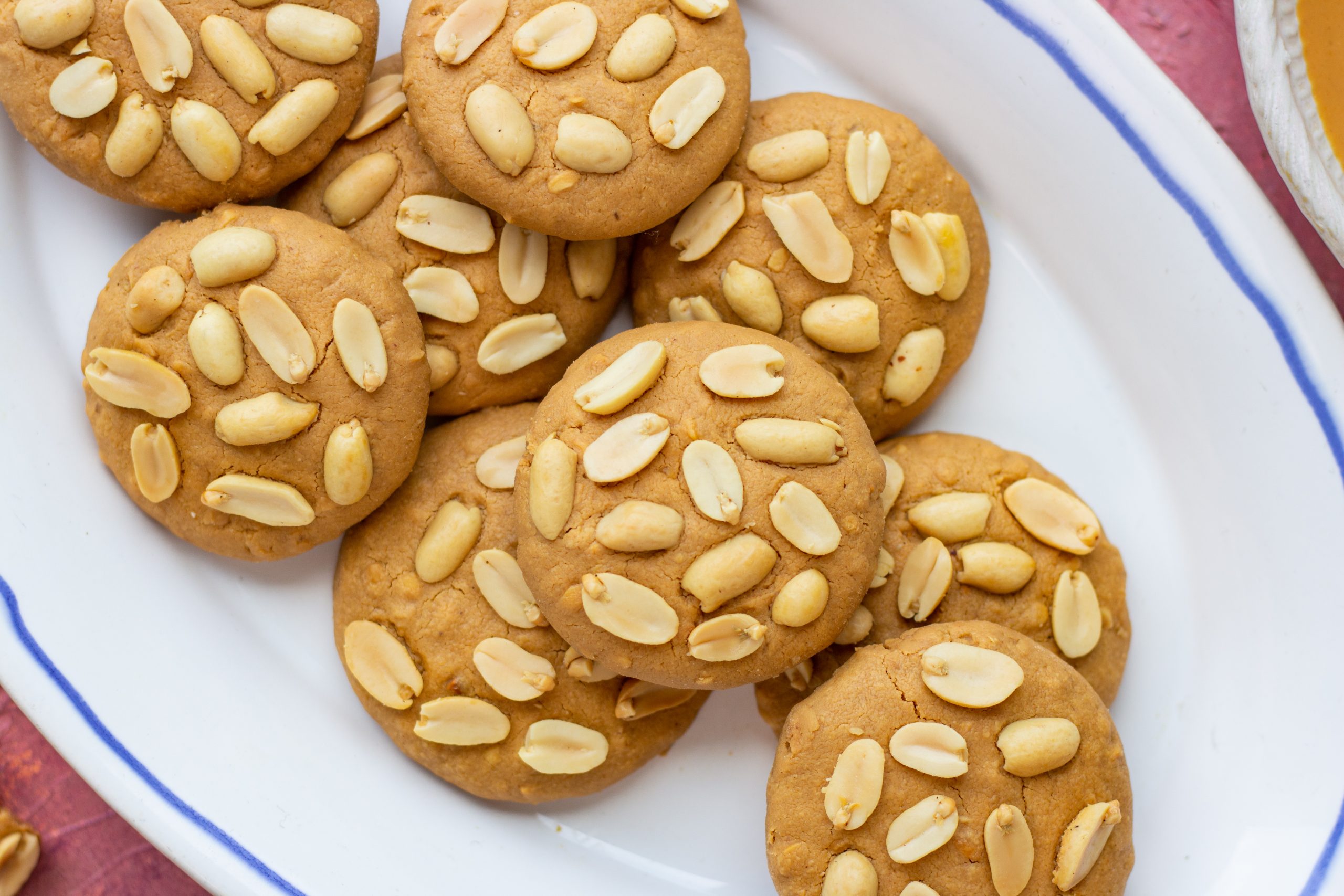 Process of making 3 ingredients peanut butter cookies 
To make the cookies, we are first using the microwave to make sure our peanut butter is softened. Just add peanut butter in a microwave safe bowl and let it heat for 15-20 seconds. 
Take the peanut butter out of the microwave and in the same bowl sift in icing sugar and all purpose flour i.e. maida. Use a hand spatula to mix everything and bring the cookie dough together. 
Take out equal portions from the cookie dough, in accordance with how big you want each cookie to be. Roll each portion into a ball and then place it on your baking tray and flatten it out a little. 
Before putting the cookies in the oven, you can also top them with some roasted peanuts. This is completely optional but will add a great crunch to your cookies. You can also play around with a variety of nuts and add roasted  almonds or walnuts if you like. Bake these cookies at 180C for 10-12 minutes or until the edges are golden brown. Once baked, let the cookies cool down completely and then 
Things to keep in mind while making the 3 ingredient cookies 
We are softening the peanut butter because it makes it more malleable. This means that peanut butter will get evenly mixed in with the rest of the ingredients and the cookie dough will come together easily. 
While softening peanut butter in the microwave, make sure to only do it for 15-20 seconds. If you do it for more. The peanut butter will melt completely and that will hamper the final texture of the cookie dough. 
Icing sugar mixes in easily because of its powdered form. If your icing sugar has chunks make sure to sift it before you add it in. This will ensure evenly mixed in icing sugar and a lump free cookie dough.
If your cookie dough is too soft to work with, you can refrigerate it for 15-20 minutes and then start shaping each cookie.  
Since these cookies do not have any leavening agents like baking powder or baking soda, it is important to push them out a little with your hands, just to help the cookies spread a little before going into the oven. If you skip this step, your cookies will come out very thick. 
Adding roasted peanuts on top is a great way to add some crunch on your cookies. While roasting peanuts make sure you are doing it on low medium heat and move your pan constantly so that no peanuts get burnt. 
Baking these cookies in a microwave 
You can also very easily just make these cookies in a microwave! Just click on the convection mode of your microwave and preheat the microwave for 10 minutes along with the circular baking tray that comes with the microwave. Make sure to place the microwave safe wire rack first and then the circular tray on top of it while preheating and while making the cookies. Once preheated, place the cookie dough in the preheated tray and microwave for 6-7 minutes on 180C. 
If you make these gorgeous cookies, do not forget to share your pictures with me on my Instagram @shivesh17. Happy baking!
Other cookie recipes on the blog
Caramel Filled Chocolate Cookies 
My Favorite Chocolate Chip Cookies 
Eggless Chocolate Filled Cookies

3 ingredient peanut butter cookies- eggless
Ingredients
½ cup (78gms) peanut butter
1 tbsp (8gms) icing sugar
¼ cup (30gms) maida
Roasted peanuts on top (optional)
Instructions
In a microwave safe mixing bowl, add peanut butter and melt it in the microwave for about 15-20 seconds.
Sift in icing sugar and maida.
Mix well until it forms a dough.
Divide into five equal balls and flatten them out a bit.
Top it with roasted peanuts, it's optional.
Bake them in a preheated oven @180C for about 10-12 minutes.