Tell me what is better than soft gooey- chocolate chip cookies loaded with pools of chocolate chips. Reminds me of my days in the states where they had similar large bakery style chocolate chip cookies, that felt like a warm hug! Easily enjoyed with a warm cup of coffee or tea or can become your friend when you are having midnight cravings. These cookies are about to become your go to chocolate chip cookie recipe. They have the nuttiness of brown butter and a great amount of chewiness from the brown sugar.
This recipe is not only a great recipe to have in your baking repertoire, but I am also going to be sharing my tips that will help you make these chocolate chip cookies absolutely perfect.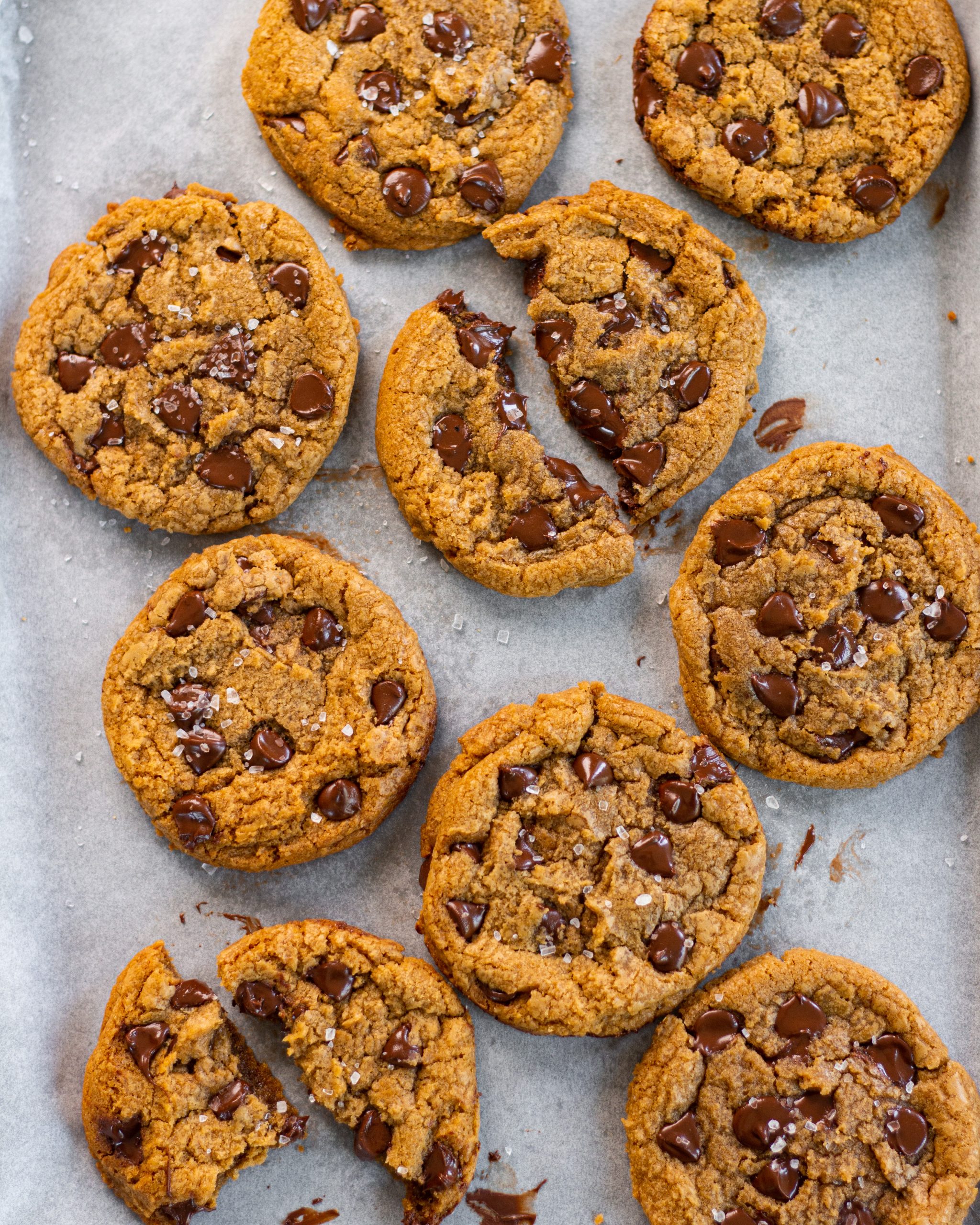 INGREDIENTS USED IN CHOCOLATE CHIPS COOKIES
First up let's talk about the ingredients that I have used in this recipe.
Unlike most of my cookie recipes that use softened butter, this recipe uses brown butter. I know that this might seem like an extra step but browning your butter allows the natural sugars in it to caramelize. This adds such a nice fragrance and nuttiness to your cookies. Browning your butter is as simple as adding it to a pan and allowing it to cook until it gets foamy and brown in colour. Make sure you constantly keep stirring it and as soon as you start seeing a light brown colour, turn the heat off.
There is a fine line between brown butter or burnt butter, please don't burn it. Haha! Telling from my personal experience, it can get burnt very easily and will be a waste of a hell of butter. I have also used salted butter here to develop a balance between sweet and salty flavour. If you are using unsalted butter, you can simply add in a tiny pinch of salt in your batter. If you don't want to use brown butter, you can use the same quantity of melted butter without browning.
In this particular cookie recipe, I made sure I added the vanilla bean and the pod itself into the brown butter. Using the real vanilla bean is far more superior in flavour and taste when compared to vanilla essence or extract. Though vanilla essence or extract may be a more affordable option, it is artificially synthesised and tastes nothing like the real deal. You can easily get fresh vanilla bean online at either sprig or from goodness vanilla.
Both white and brown sugar play a very essential role in our chocolate chip cookie recipe. White sugar provides structure and a bite to the cookie. It is very important to use white caster sugar in your baking recipes, if you are having trouble finding it you can find it here. Brown sugar provides that beautiful caramel flavour and chewiness to our cookies. I recommend using light brown sugar, especially the one from tate and lyle that is easily available here. Also, if you want to skip out on brown sugar, simply replace it with white caster sugar.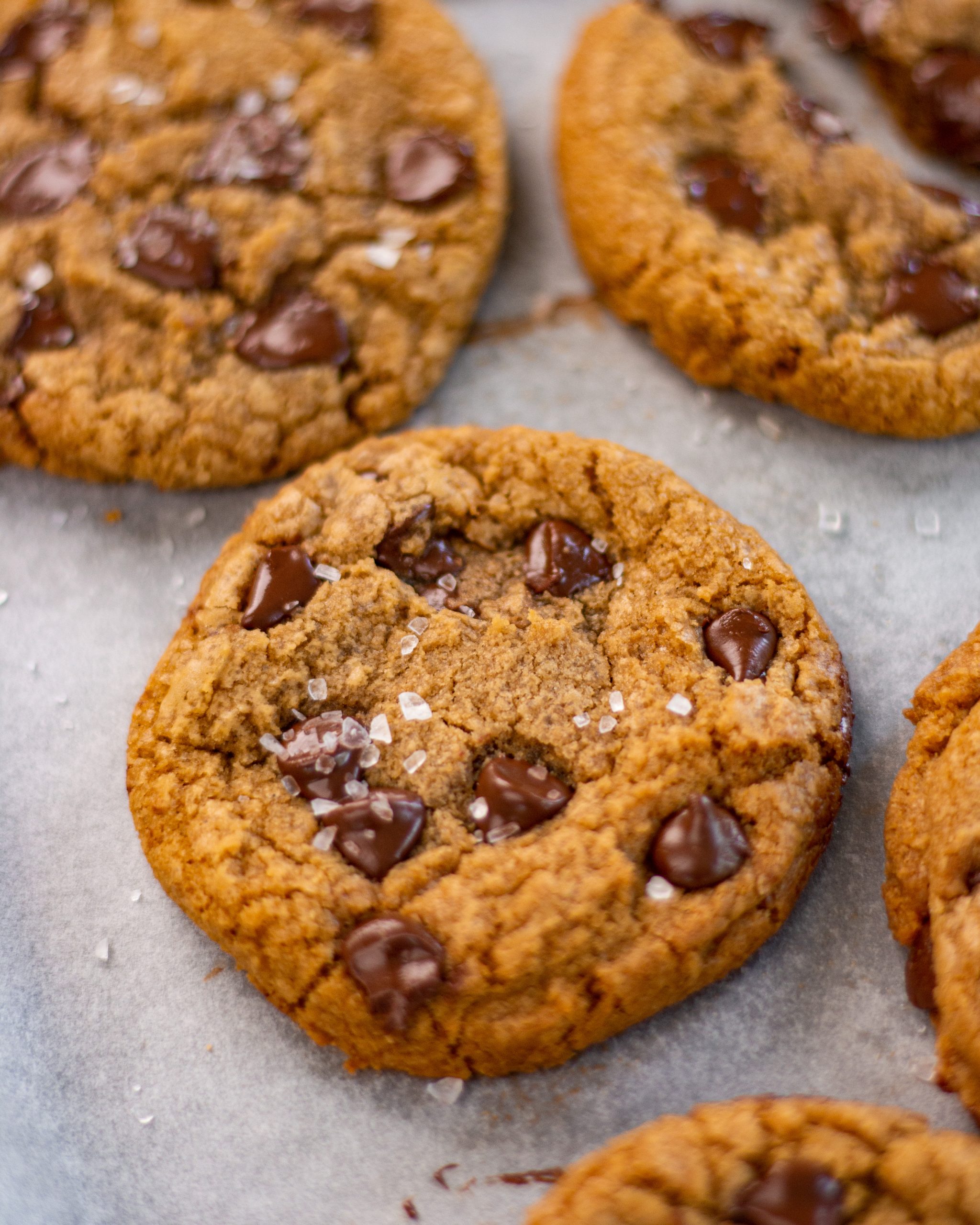 Probably the most controversial baking ingredient to ever exist in India, haha! Yes, these chocolate chip cookies do have eggs in them. Eggs help the cookies bind together and give them a good structure. I have used one whole and an extra yolk that will also help keep our cookies moist and the texture soft and chewy.
How to make Chocolate Chip Cookies eggless
Now however if you are into eggless baking do not worry, this recipe will work for you still. Let me introduce you to flax eggs, they perform the same function as your regular eggs. They add structure, help with the texture and keep our cookies moist. For this recipe, you can add 2 flax eggs which will be equal to 2 tablespoons of ground flax seeds mixed in with 6 tablespoons of water. Allow the water and ground flax seeds to rest for 5 mins and coagulate before adding it in place of regular eggs. You can also check out my Eggless Chocolate Chip Cookie here.
Cornflour may seem like an odd ingredient here, but cornflour helps soak up all the excess moisture and makes our cookies have a little crunch to them. Adding cornflour will make our chocolate chip cookies crispy and allow them to remain that way when stored in an airtight container. If you do not have cornflour, you can just replace the quantity mentioned for cornflour with regular all purpose flour. I use cornflour by either Brown & Polson or Weikfield.
It is always suggested to use couverture chocolate chips rather than compound. Couverture chocolate chips tend to melt in the oven and give our cookies that gooey chocolate feel. I have used Godiva here, which unfortunately is not available here in India. However you can find good quality chocolate chips here.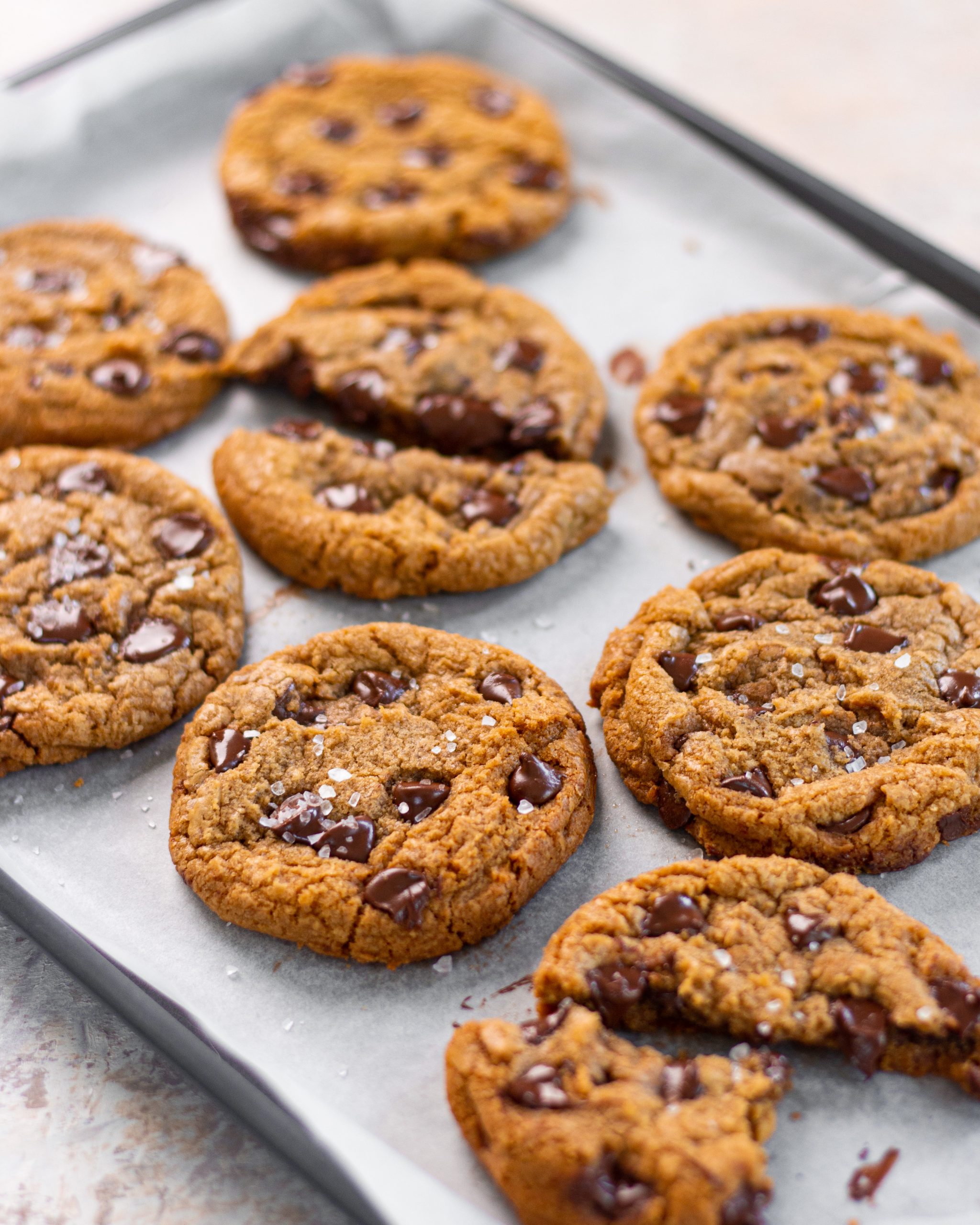 Tips to make the perfect chocolate chip cookies
With these tips, you'll make perfect chocolate cookies in no time –
1. Chill the cookie dough properly
When creating a delectable recipe like chocolate chip cookie and the recipe asks you to wait for the dough to chill- it can be very disheartening. If it was up to me, I would dive right into baking the cookies the same very second, cause for the love of god I do not like waiting! BUT, it is very important to take this extra step. Chilling the dough for a minimum of 1 hour to a recommended time of 24 hours will result in cookies that will hold its shape beautifully and not spread unnecessarily.
If you chill your dough for 24 hours, the cookies will develop a better flavor and a darker color. The flour will absorb more moisture and your final cookie will be a lot thicker and chewier in texture.
2. Scoop the dough into individual balls before chilling
Now for the longest time I was portioning out my cookie dough after it had chilled. And it was nothing but a struggle to scoop out hard cookie dough. So the trick is to scoop out the cookie dough first and then set it in the refrigerator to chill.
3. Always bake on parchment paper or silicone mat
Baking your cookies on either a piece of parchment paper or on a silicon mat, will help the cookies not get stuck on the tray or get burnt. Having a layer of parchment or silicone mat between the baking tray and cookies will help the cookies get an evenly baked cookie bottom.
4. Don't press down on your cookies
To get that rustic bakery style look for your chocolate chip cookies you will have to skip out on pressing the cookies down. So baking these in the same scooped shape will allow the fat in the cookie to melt down and form a rusty edgy shape, that is so much more fun to eat.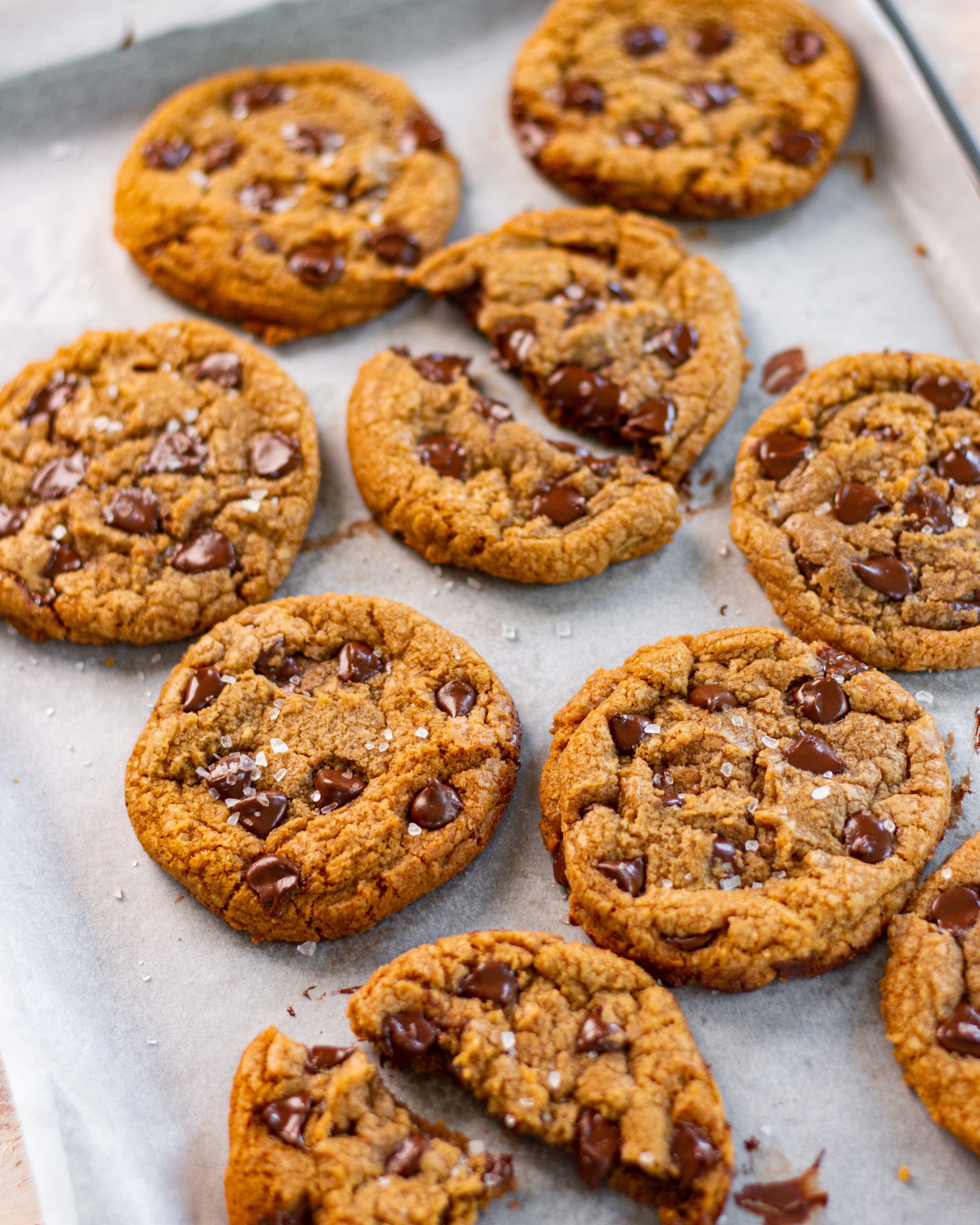 5. Add chocolate chips in the middle of the baking process
I think we all love the look of chocolate chip cookies that have a loaded chocolate chip right on the face of it. Mixing the chocolate chips in the cookie batter can lead to the chocolate chips disappearing in the batter. So my trick is after the cookies have baked for about 9-10 minutes, I will take them out and add some extra chocolate chips on top and then bake again for 1-2 minutes. This will make your cookies have that gooey chocolate chip look on top that nobody can say no to!
6. Tap your cookie tray on the counter a few times
I really like my cookies to have a crackly top, just like my BROOKIES. To get that rustic look, simply tap your cookie tray once it is out of the oven. Tap the tray on top of your kitchen counter a couple of times and you will start seeing your cookie develop natural cracks. This hack will make your cookies have a perfect bakery style look to them.
7. Allow your cookies to rest
Now it's the return of the waiting game, haha! No matter how much I want to eat the cookies once they are right out of the oven. Allowing them to cool will help the cookies harden up a little bit and let them hold their shape. So take that extra time and allow the cookies to cool down slightly before becoming a cookie monster.
8. Do not over-bake your cookies
This is one thing that you absolutely shouldn't be doing to your cookies! Over-baking your cookies will ruin the chewy texture of your chocolate chip cookies and make them harder. You may also end up with cookies with brown bottoms and let's face it, we don't want that!
9. Sprinkle that salt.
I swear by sprinkling sea salt over all my cookies, because this helps the cookies strike a perfect balance between sweet and salty. And salt also helps bring out the sweetness even more. I use Saxa sea salt, you can also get it here.
If you are a cookie fanatic like me, I think my other cookie recipes are bound to make you happy. Check out my Double Chocolate Chunk Cookies, Chocolate Chip and Pecan Cookies and Caramel Filled Chocolate Cookies.
Disclaimer: This article includes affiliate links.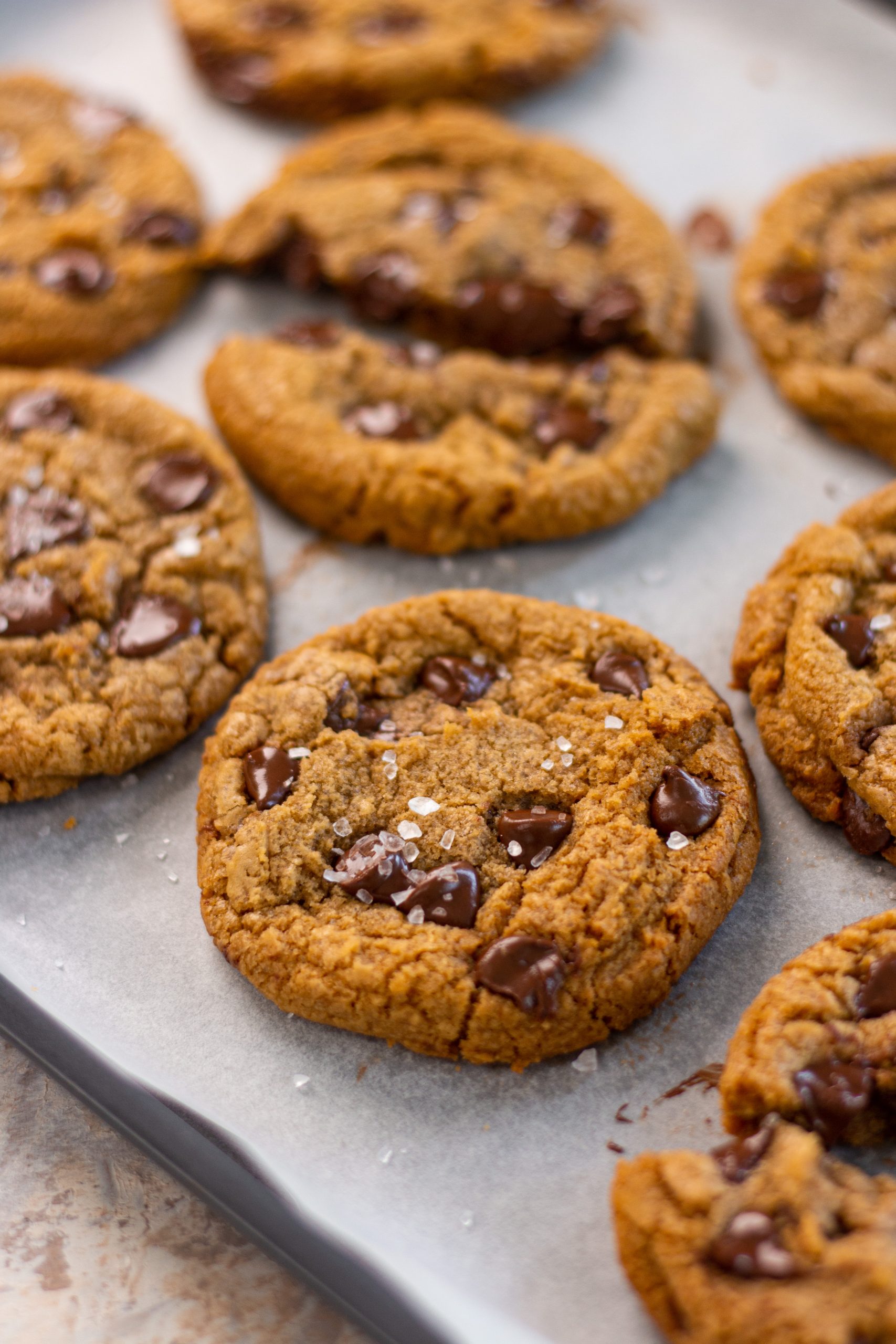 Chocolate chip cookies recipe
Chocolate Chip Cookies
Ingredients
½ cup (113 gms) butter
½ vanilla pod
½ cup (100 gms) soft brown sugar
½ cup (100 gms) caster sugar
1 egg + 1 egg yolk
1 + ¼ cups (150 gms) all-purpose flour (maida)
1 tbsp (12 gms) cornflour
½ tsp (2.5 gms) baking soda
½ cup (88 gms) chocolate chips
Sea salt
Instructions
Add the butter to a saucepan over medium heat and allow the butter to brown gently. Once it starts getting a little foamy, add in the vanilla and continue cooking until the butter has browned. Transfer to a bowl and cool slightly.
In a separate bowl, add in the flour, cornflour and baking soda. Mix well.
To the bowl of brown butter, add both white and brown sugar. Using an electric whisk, whisk for 2-3 minutes.
In the same bowl, add in the egg and yolk. Whisk until fully combined and the mixture has become light and fluffy.
Add in the dry ingredients and using a spatula, bring the cookie dough together.
Add the chocolate chips and fold them in as well.
Scoop out even sized portions of the cookie using an ice-cream scooper, keeping distance between each ball of dough and place on a tray lined with parchment paper.
Refrigerate the cookie dough for a minimum of 1 hour or preferably 24 hours.
Bake in a preheated oven at 180 C for about 10-12 minutes.
Once fully baked, take the cookie tray and tap it on the kitchen counter to develop cracks and sprinkle some sea salt. Allow it to cool slightly and then dig right in!
If you like this recipe, then do make it and tag me on
Instagram
/
Facebook
using #Bakewithshivesh. Happy Baking!