It's no revelation that I love a good brownie. I have so many delicious brownie recipes on the blog and I have absolutely loved experimenting with different flavors when it comes to brownies. Recently, I saw a jar of Biscoff spread in my pantry and I thought to myself, that'd be great in a brownie! And I never thought this recipe would turn out this good, but I am also not surprised! Biscoff and chocolate are two of my favorite flavors and these biscoff brownies is a marriage of two delicious flavors coming together.
So I want to introduce you to my new favorite dessert! Fudgy, gooey Brownies topped with Biscoff swirls and Biscoff biscuits – it doesn't get any better than this! Next time you're looking for an indulgent dessert for a night-in, this biscoff brownie has to be on your list. So let's get into the recipe.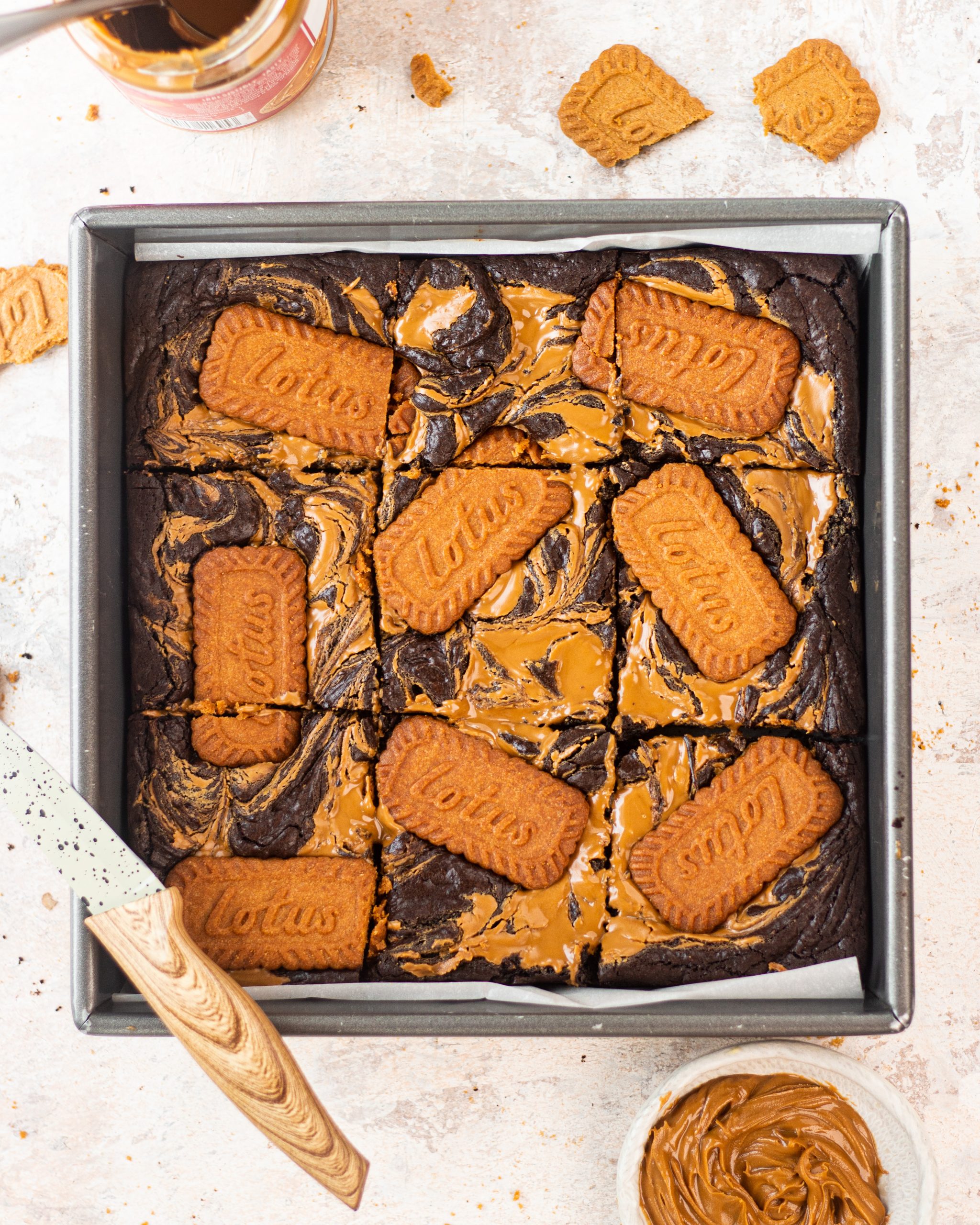 MAIN INGREDIENTS FOR BISCOFF BROWNIES
BUTTER
I always use regular salted butter in my desserts. If you want, you can use either salted or unsalted. Just make sure to add a pinch of salt if you are using an unsalted butter. Adding salt makes sure that the flavor of chocolate will shine through.
CHOCOLATE
I recommend using dark chocolate. If you want, you can also use milk chocolate but this will make your brownies much more sweet. It is very important to use chocolate and not compound. So keep an eye for the same.
CASTER SUGAR
I like keeping it simple and adding just caster sugar into my brownies. I know a lot of people who love to add a mix of both caster and brown sugar. You can do the same in this recipe if you wish. Just add the same total quantity of sugar and keep it half caster and half brown. Brown sugar adds chewiness to your brownies.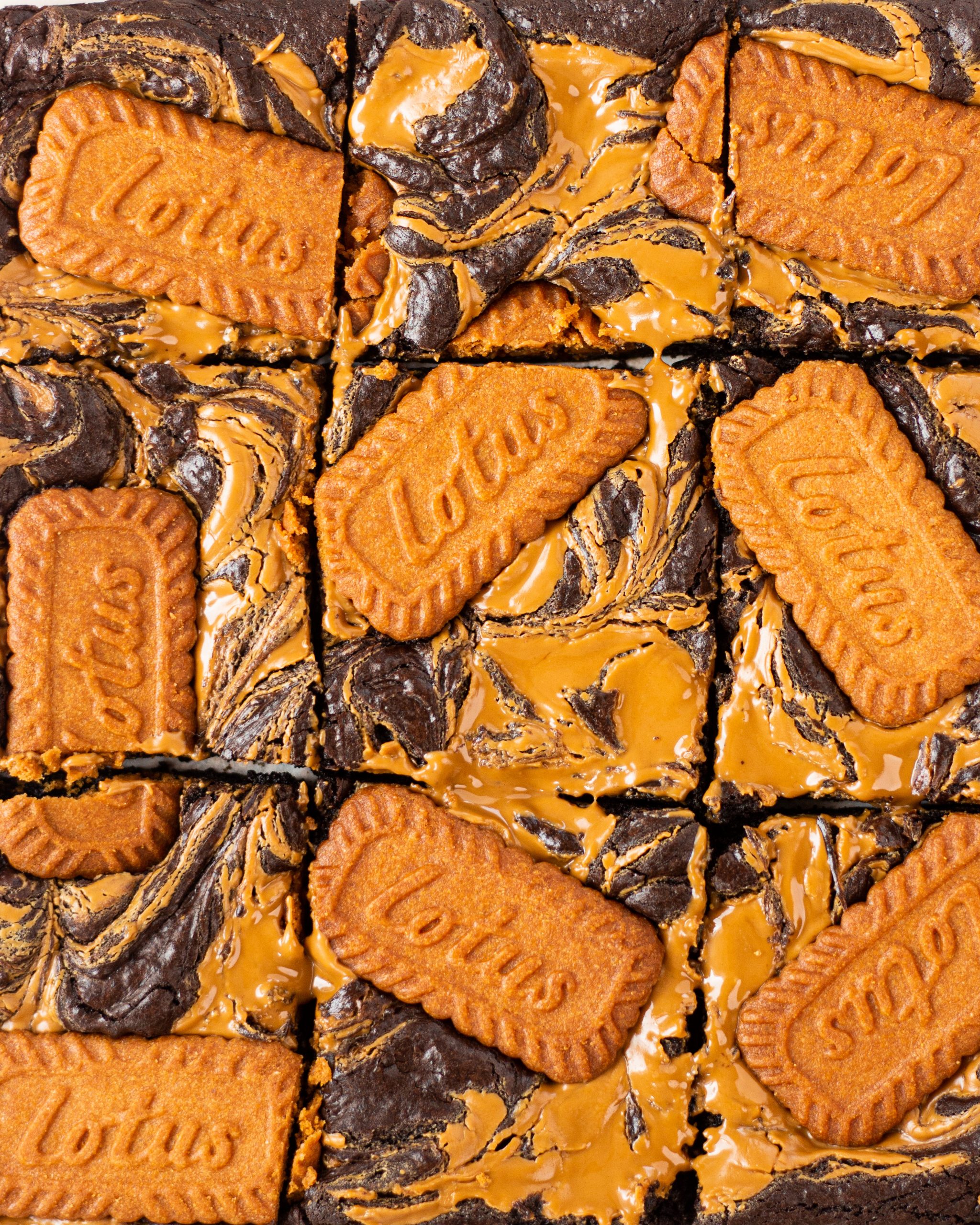 EGGS
These are what is adding structure to the brownie. Whip your eggs and sugar really nicely for that perfect crinkly top that everyone raves about in brownies. To substitute eggs, you can add Greek Yogurt.
ALL PURPOSE FLOUR
I used basic maida but you can use a combination of almond flour and oat flour if you are not a fan of using maida.
COCOA POWDER
I love using the Weikfield cocoa powder for my brownie. It is natural cocoa powder which means it is not so overpowering and also gives me the beautiful brown color that I love in my brownies.
BAKING POWDER
I like my brownies to have a bit of a lift and some height. If you want, you can skip on this ingredient.
These are a few staple ingredients that you need for baking these biscoff brownies. Now coming to the two MOST important ingredients –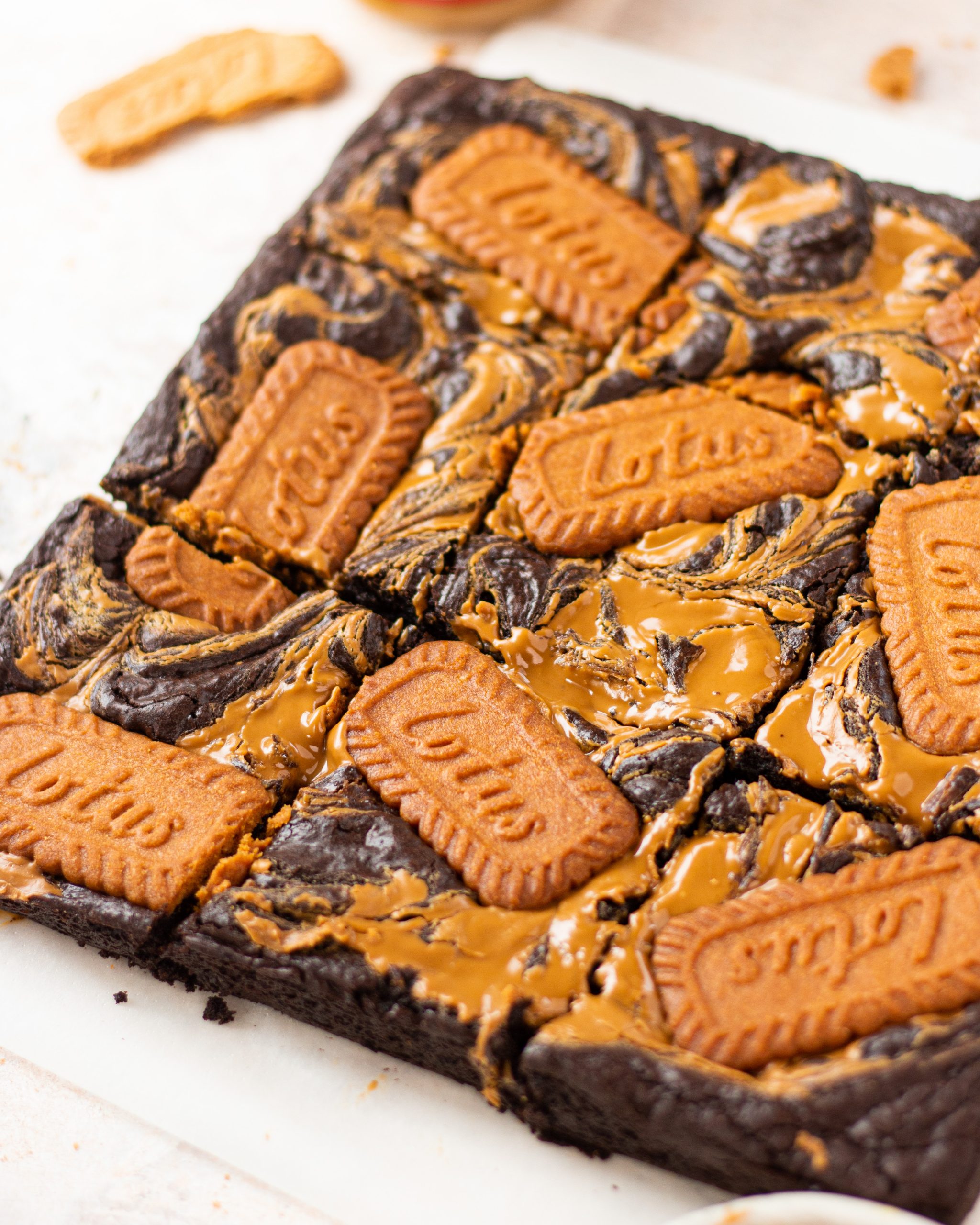 FLAVORS OF BISCOFF BROWNIES
These biscoff brownies are so heavenly. I absolutely love how chocolate and biscoff complement each other to give this rich, caramel flavor. One of my favorite ingredients to work with is Chocolate. I love using dark chocolate in my brownies. It makes sure my brownie is not too sweet and is perfectly decadent. Very commonly available dark chocolate is Amul and Morde. I use Amul 55% couverture for baking my brownies. You can also use brands like Colocal, Vanleer and or Vanhouten.
What makes these brownies the best brownies ever is the biscoff spread and biscoff cookies. Biscoff is actually a cookie butter that is made from biscoff cookies. Biscoff spread tastes sweet, with just the perfect amount of spices like cinnamon and ginger. It also has some delicate caramel notes to it. When combined with chocolate, it results in a beautiful brownie which suddenly tastes just like a cookie! Doesn't that sound just perfect?
How to make biscoff brownies eggless
To substitute eggs in this recipe, you can use greek yogurt instead of eggs. Yogurt is a great alternative and one of the most common ingredients used as a substitute for eggs. It gives the brownies a very similar texture.
Wondering about more egg substitutes? There is an entire blog post dedicated to that and I know it will give you a better understanding of the entire thing!
TIPS FOR MAKING THE BEST BISCOFF BROWNIES
These tips for the perfect brownies will make you go gaga-er over brownies as they ensure the perfect texture, height, taste, and flavors in any brownie whatsoever –
Choose good quality ingredients always – When baking a perfect batch of brownies, every ingredient is important. You must always be aware of the quality of each ingredient and how it will affect your recipe.
Use the right pan – The right size and quality of baking pan can make a great deal of difference to the texture of your brownies. Brownies are traditionally baked in a square pan. I use an 8″ pan for baking my brownies but if you don't have one, you can get it here.
No overtaking / under baking – Make sure you don't under bake or over bake your biscoff brownies because that makes all the difference. Always follow your recipe's baking time (toothpick test doesn't work here!) and bake your brownies until they're done. I usually bake my brownies for 30-35 minutes at 180 degrees Celsius and they turn out perfectly well but if you're following some other recipe, make sure you stick to 'em numbers!
Let the brownies cool – Now, I know it's very tempting to just take out your perfect gooey brownies from the oven and dive right into it but I cannot emphasize harder on how important it is to let your brownies cool for 10-15 minutes before you take them out on the pan.
For more such tips, you can check out my article on Tips to make the perfect brownies.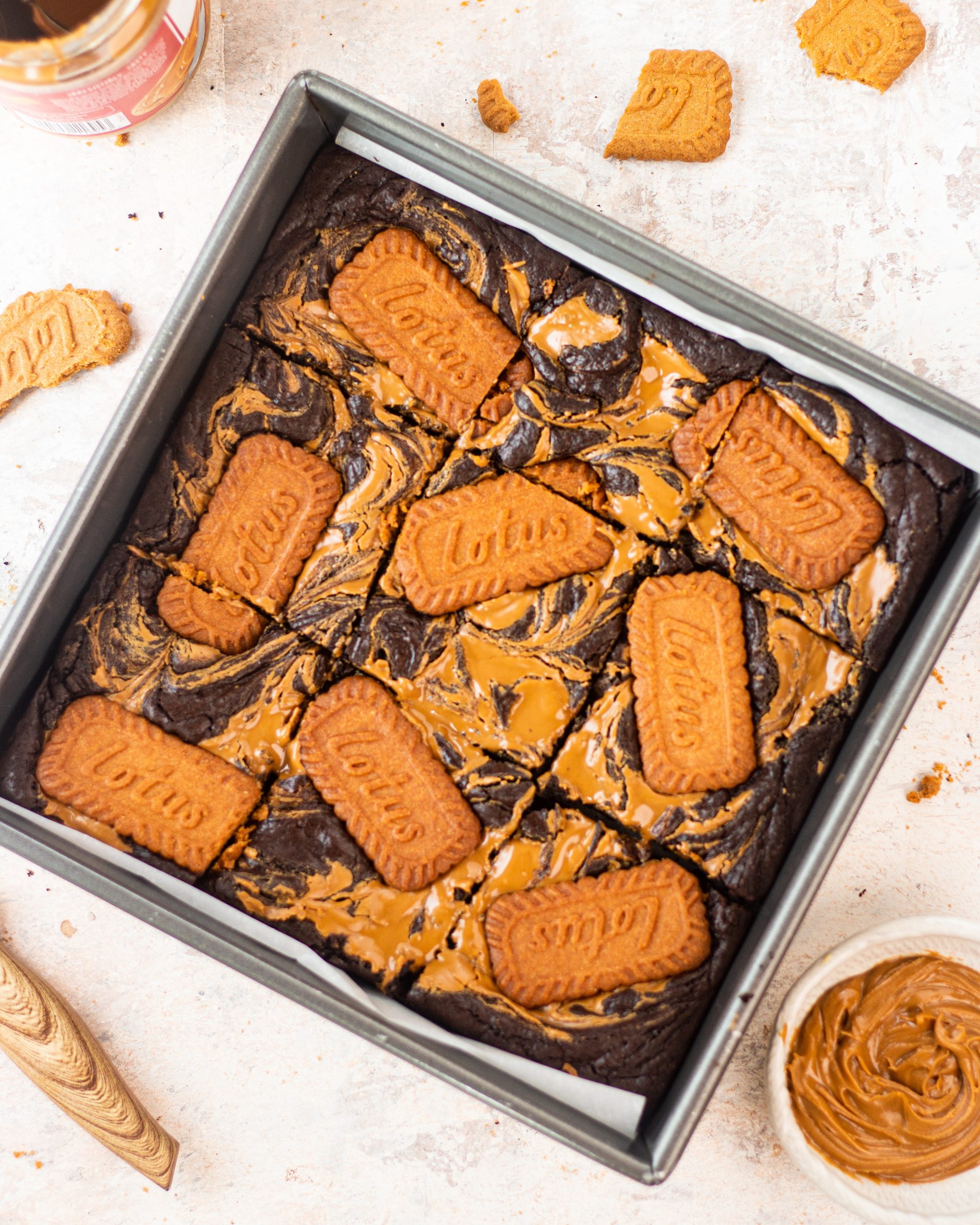 How do I store my biscoff brownies?
If you want your brownie stash to last you a while, store your biscoff brownies in an airtight container in the fridge. Brownies firm up when put in the fridge and become extra fudgy which is the whole point of brownies haha! If you like your brownies warm, simply put your biscoff brownie in the microwave for 15 seconds or so before serving.
OTHER BROWNIE RECIPES ON THE BLOG
If you want to try out some other brownie recipes from the blog, here's a compilation of my most favorite ones –
Disclaimer : this article contains affiliate links.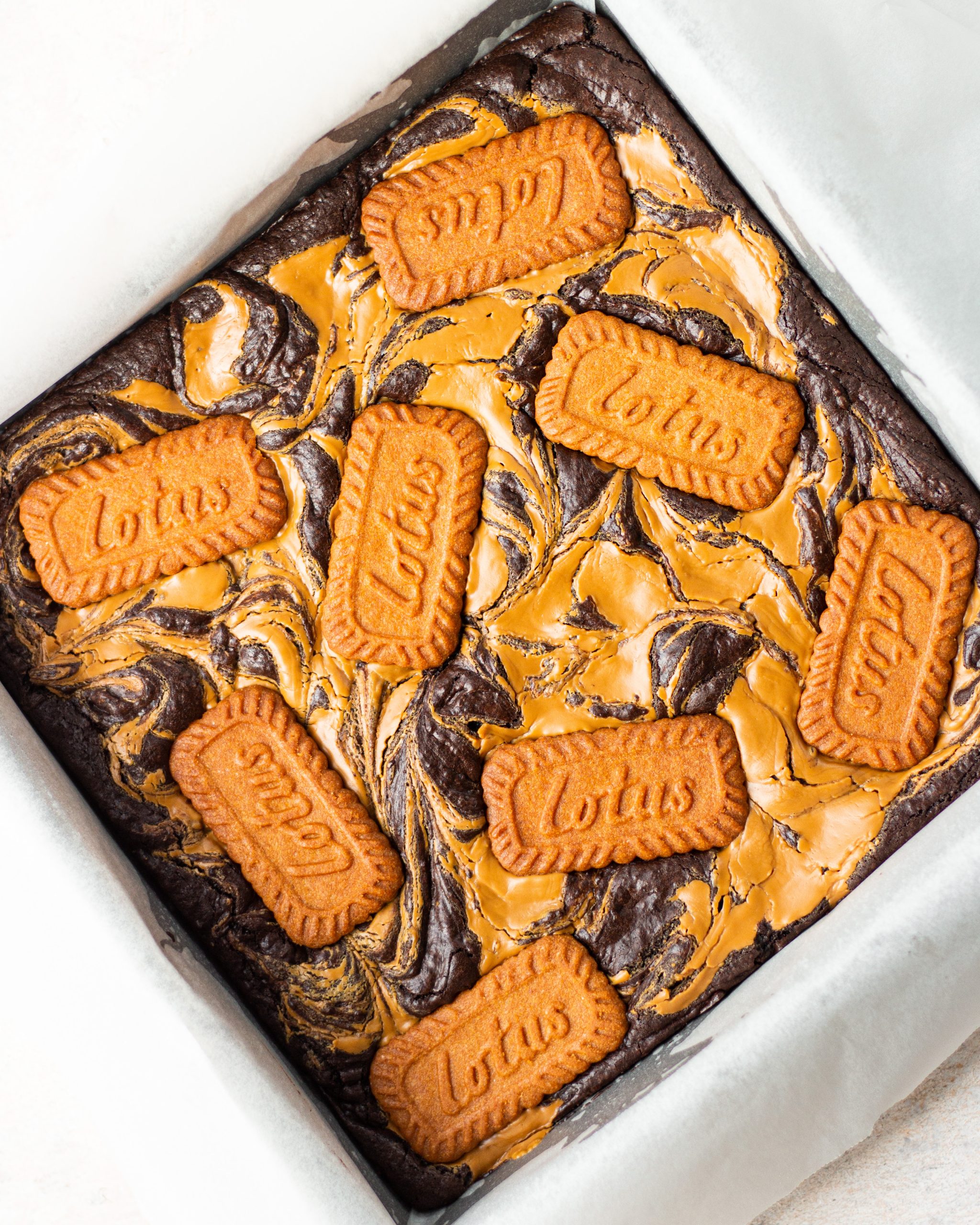 BISCOFF BROWNIES RECIPE
Biscoff Brownies (WITH EGGLESS OPTION)
Ingredients
1 cup ( 175gm) dark chocolate, coarsely chopped
½ cup (113gm) butter
1 cup (200gm) caster sugar
2 eggs or 1 cup (285gm) Greek yogurt
½ cup (60gm) all-purpose flour (maida)
1 tsp (4gm) baking powder
3 tbsp ( 23gm) cocoa powder
10 tbsp biscoff spread
Biscoff biscuits (optional)
Instructions
Butter an 8" square pan and pre-heat your oven to 180C.
In a saucepan set over low heat, melt butter and chocolate. Let it cool.
Combine sugar and eggs ( or Greek yogurt). Add the cooled chocolate mixture.
Add in the flour, cocoa powder and baking powder.
Transfer the batter to the baking dish.
Add dollops of biscoff spread and using a skewer, make swirls. Top with biscoff biscuits.
Bake at 180C for 30 minutes-35 minutes. Let the brownies cool completely before you try and cut them.
If you like this recipe and happen to make it in your kitchen, then do share your creations with me on
Instagram
/
Facebook
using #bakewithshivesh.