Chocolate Chip Cookies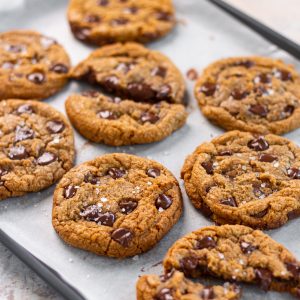 ½ cup (113 gms) butter
½ vanilla pod
½ cup (100 gms) soft brown sugar
½ cup (100 gms) caster sugar
1 egg + 1 egg yolk
1 + ¼ cups (150 gms) all-purpose flour (maida)
1 tbsp (12 gms) cornflour
½ tsp (2.5 gms) baking soda
½ cup (88 gms) chocolate chips
Sea salt
Add the butter to a saucepan over medium heat and allow the butter to brown gently. Once it starts getting a little foamy, add in the vanilla and continue cooking until the butter has browned. Transfer to a bowl and cool slightly.
In a separate bowl, add in the flour, cornflour and baking soda. Mix well.
To the bowl of brown butter, add both white and brown sugar. Using an electric whisk, whisk for 2-3 minutes.
In the same bowl, add in the egg and yolk. Whisk until fully combined and the mixture has become light and fluffy.
Add in the dry ingredients and using a spatula, bring the cookie dough together.
Add the chocolate chips and fold them in as well.
Scoop out even sized portions of the cookie using an ice-cream scooper, keeping distance between each ball of dough and place on a tray lined with parchment paper.
Refrigerate the cookie dough for a minimum of 1 hour or preferably 24 hours.
Bake in a preheated oven at 180 C for about 10-12 minutes.
Once fully baked, take the cookie tray and tap it on the kitchen counter to develop cracks and sprinkle some sea salt. Allow it to cool slightly and then dig right in!