There are many magical things in the world, but nothing compares to a soft chocolate cake covered in fluffy chocolate ganache. I know we've all heard of chocolate ganache before but what is whipped chocolate ganache, you ask? Believe me, once you try this whipped version of chocolate ganache, there's no turning back. It's the best and the dreamiest of frostings.
The best part of any chocolate ganache is how versatile it is – I use this whipped chocolate ganache all the time for frosting my desserts, whether it is cakes, cupcakes or filling my tarts. It is so fluffy, beautiful to look at and an absolute pleasure to frost with!
What is Chocolate Ganache?
Ganache is a glaze, icing, sauce, or filling for pastries, made from chocolate and cream.
Ganache is normally made by heating equal parts by weight of cream and chopped chocolate, warming the cream first, then pouring it over the chocolate. The mixture is stirred or blended until smooth, with liqueurs or extracts added if desired. Butter is generally added to give the ganache a shiny appearance and smooth texture. Adding corn syrup also gives it a shiny color and is used to sweeten the ganache without the crystallization side effect that comes from other sugars. Depending on the kind of chocolate used, for what purpose the ganache is intended, and the temperature at which it will be served, the ratio of chocolate to cream is varied to obtain the desired consistency. Typically, two parts chocolate to one part cream are used for filling cakes or as a base for making chocolate truffles, while one to one is commonly used as a glaze. If using white chocolate, a ratio of 3 parts chocolate to 1 part cream is standard. Heavy whipping cream is generally preferred, to make a creamier, thicker ganache. This pairs well with dark chocolate between 60 and 82%. If the chocolate should seize while being mixed with the warm cream, adding tablespoon by tablespoon of hot water to the mixture can remedy the problem.
Cooled ganache can be whipped to increase volume and spread as icing to cover a cake. It becomes thicker as it cools.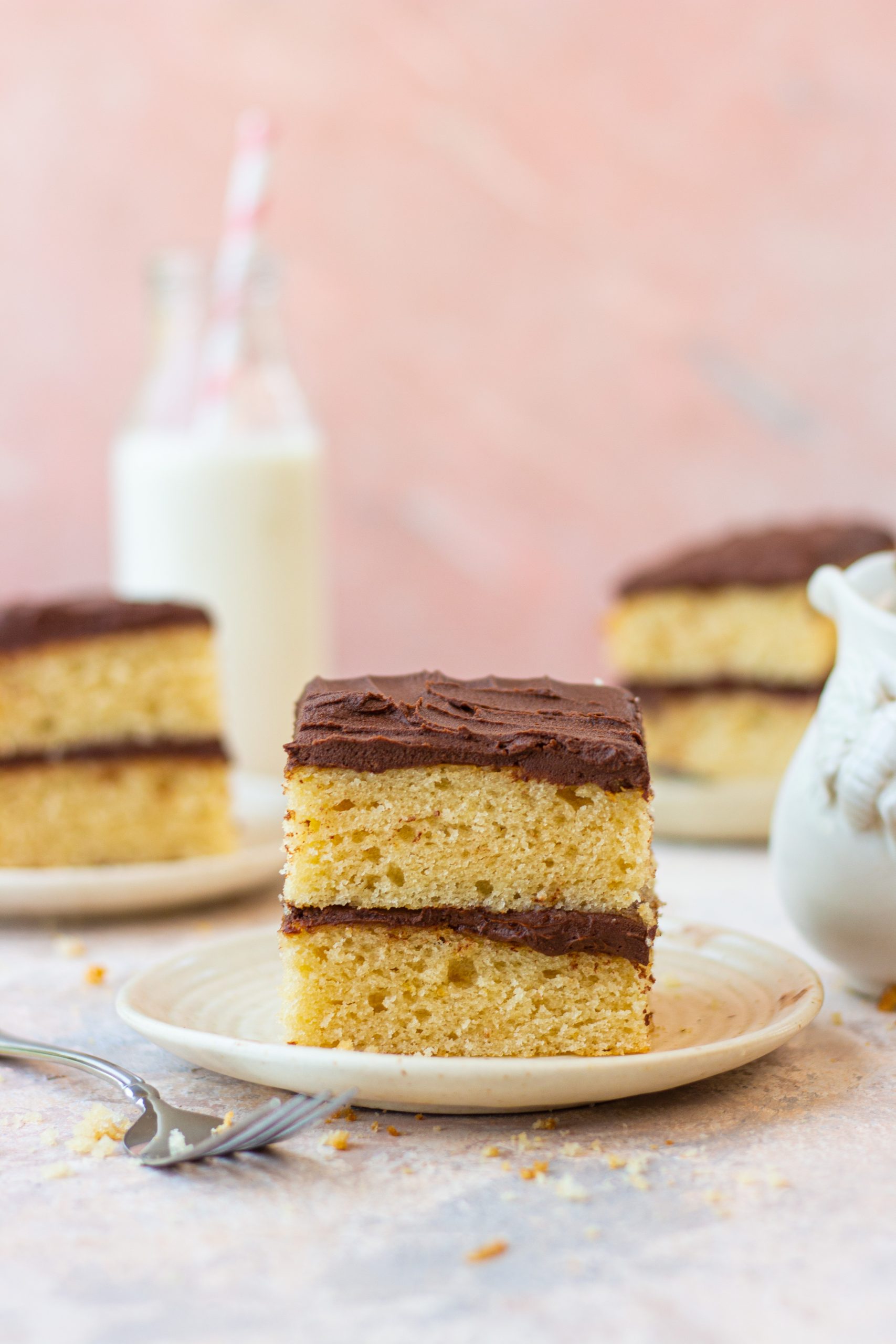 How to make whipped chocolate ganache?
Whipped chocolate ganache is made by simply whipping some cooled chocolate ganache using an electric beater. (or a hand whisk if you're looking for an arm workout)
Whipping Chocolate Ganache is a combination of chopped chocolate and heavy cream. Because it contains heavy/whipping cream, it can be beaten into a light-colored and fluffy texture.
After chocolate ganache is whipped, it gets a very rich texture and flavor. However, because it contains chocolate, it is much more stable to work with than whipped cream. It is actually a great alternative to any frosting.
Ingredients for whipped chocolate ganache
HEAVY CREAM
In my kitchen we always lean towards making the ganache using fresh cream. But once we discovered this whipped chocolate ganache, there was no turning back! This whipped chocolate ganache is made with heavy cream / whipping cream. The brands that I trust for heavy cream are Tropolite and Rich. These are soy based, non-dairy heavy cream that give the ganache its fluffy texture. However, you can also try making this ganache with Amul heavy cream, which is a dairy-based cream. It's slightly difficult to get your hands on, but works equally well!
CHOCOLATE
You can make your ganache with any kind of chocolate be it couverture or compound, or even chocolate chips. You can also make your ganache different based on what kind of chocolate you prefer, white, milk or dark. My personal favourite has to be dark chocolate ganache. It hits all the right accents of sweet and sharp. Some of the trusted brands that I use are- Callebaut, Regal, Amul, Vanleer and Morde. ​I've recently been using the Amul 55% Dark Chocolate for my whipped chocolate ganache and I love it!
Tools needed to make Whipped Chocolate Ganache
There are many good things about this whipped chocolate ganache recipe, one of them being that it requires minimal ingredients and equipment. You will only need –
Disclaimer – All Amazon links are affiliate links.
HOW TO FIX WHIPPED CHOCOLATE GANACHE?
If your mixture has released fat, the right way to fix it is to use a hand blender to blend it so it emulsifies.
If your chocolate ganache has chocolate chunks, the best way to fix it, is to heat it in the microwave and mix it well after 10 seconds so that the chocolate chunks melt and the ganache is nice and smooth.
If your ganache is not whipping up properly, the solution is to chill it for a little while longer and then whip it.
STORAGE
Always store with a piece of plastic wrap pressed against the surface to prevent any film or crust from forming. The whipped chocolate ganache needs to be refrigerated at all times, specially in hot temperatures. You can also freeze it for up-to 1 month. Before using the frozen ganache remember to thaw in the fridge and then let it come to room temperature.
For more ganache basics, you can check out my video on how to make the perfect chocolate ganache.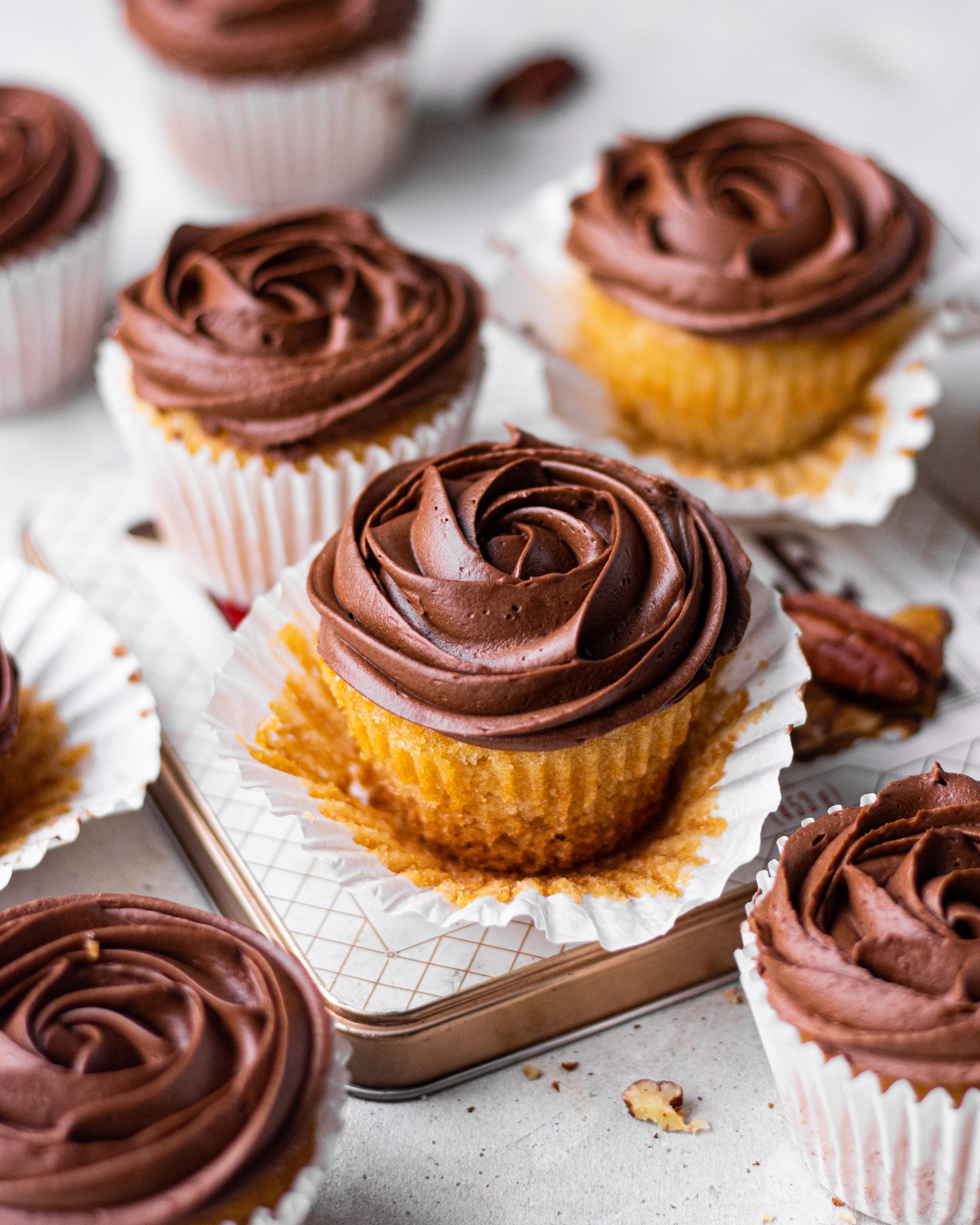 Tips for making whipped chocolate ganache
Making this delicious whipped chocolate ganache is the easiest thing ever, but here are some tips that will make the process seamless –
Chop the chocolate evenly, this will ensure even melting of the chocolate making the mixture smooth and lump free.
Do not stir the cream when you pour it over chopped chocolate. Be patient, let the cream do its work.
Make sure the chocolate does not come in contact with water, this will seize the chocolate. Keep all your bowls, spatulas and pans dry at all times.
Technically to prepare this ganache the procedure remains the same but in order for whipping it up you need to make sure that the cream you are using is heavy cream. The cream you use should have a minimum fat content of 30%.
Completely cool your ganache before whipping it.
How can you use Whipped Chocolate Ganache?
I use this incredible whipped chocolate ganache for a number of things – my favorite way of using it is for these delicious vanilla cupcakes. It also makes for a great option for frosting your simple cakes, I recently posted a reel on my Instagram where I topped my eggless vanilla cake with whipped chocolate ganache. It turned out soooo good!
It would also taste awesome when frosted for my Chocolate Butter Cake, you should definitely check out this recipe!
Whipped Chocolate Ganache Recipe
Whipped Chocolate Ganache
Ingredients
1 cup (175 gms) dark chocolate
1 cup (230ml) whipping cream
Instructions
In a saucepan over medium heart, bring the whipping cream to a simmer.
Pour the hot cream over chopped chocolate and let it rest for a minute.
Whisk the chocolate cream mixture until everything is combined well.
Let it cool in the fridge for 30 minutes.
Using an electric beater, beat the ganache till it becomes fluffy, voluminous and the color becomes lighter.
If you liked this easy and simply frosting recipe and happen to make it, then do share your creations with me on
Instagram
/
Facebook
using #bakewithshivesh.
*This article has affiliate links.