Have you ever heard of the phrase 'Chocolate makes everything better'? I am a strong believer of it. If you have been following my work, by now you must know that my love for chocolate is clearly undeniable. But with the festive season around, I have been eating a lot of Indian sweets and missing on all the chocolatey goodness! So, the other day while having Rasmalai I had a thought! What if I experiment and make a Chocolate Rasmalai? But most of us think that making Rasmalai at home is a tedious job. Let me make it easy for you!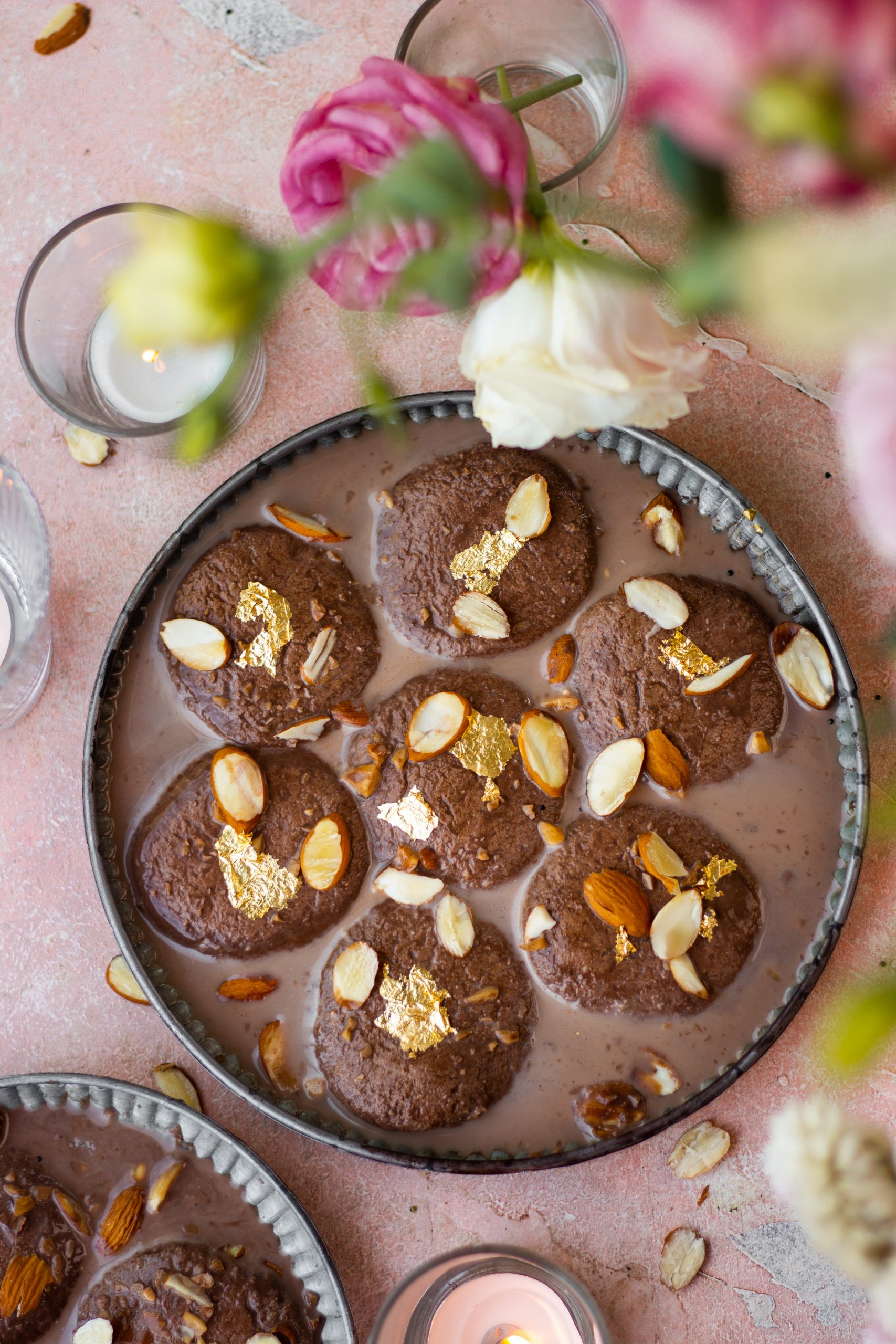 HOW TO MAKE CHOCOLATE RASMALAI AT HOME?
For the Chocolate Rasmalai, there are three components that you need to take care of –
The chenna
The ras or the chocolate milk for chocolate rasmalai to dunk in
The sugar syrup in which we will cook our chocolate chenna balls.
We will start by making chenna for which you will need one litre full fat milk and vinegar.  We will start heating the milk until it becomes lukewarm, to this we'll add a mix of equal quantity of water and vinegar. Once the milk starts to curdle, we will strain it on a muslin cloth and wash it thoroughly with ice-cold water to get rid of any taste and smell of vinegar. And also, to stop the cooking process of chenna immediately.
For the next step in making chocolate rasmalai, we will make the chocolate milk for which all we need is some milk, sugar, cardamom powder, cocoa powder and chopped almonds. You can replace the almonds with your choice of nut. Almonds and chocolate are my personal favorite nut and chocolate combination.
To make our chocolate rasmalai more chocolatey, I also added some cocoa powder to chenna before the final knead and shaped them into flattened balls. Lastly, you will need a 1:4 Sugar: Water syrup to cook these chocolate chenna balls for our chocolate rasmalai.
TIPS ON HOW TO MAKE PERFECT CHOCOLATE RASMALAI
DO NOT BOIL YOUR MILK
To make the chenna for our chocolate rasmalai, make sure you do not add vinegar-water mixture to milk which is at boiling temperature. You just need it to be lukewarm. You can dip your pinky finger to check whether its lukewarm or not. If the finger feels its hot enough, switch off the heat immediately.
DO NOT ADD VINEGAR ALL AT ONCE
Make sure you do not add the vinegar-water mixture all together. You need to tip in the mixture slowly while continuously stirring. Another thing to take care of while making chenna for the chocolate rasmalai is to stir the milk with soft hands after the vinegar is added. You not want to disturb your curdled mix with rigorous stirring.
ICE COLD WATER IS THE WAY
Once your milk has curdled and you have strained it over muslin cloth to get the chenna, you need to immediately wash it with ice cold water thoroughly to stop the cooking process. It will also help to get rid of the smell and taste of vinegar from our chenna that we made for our chocolate rasmalai.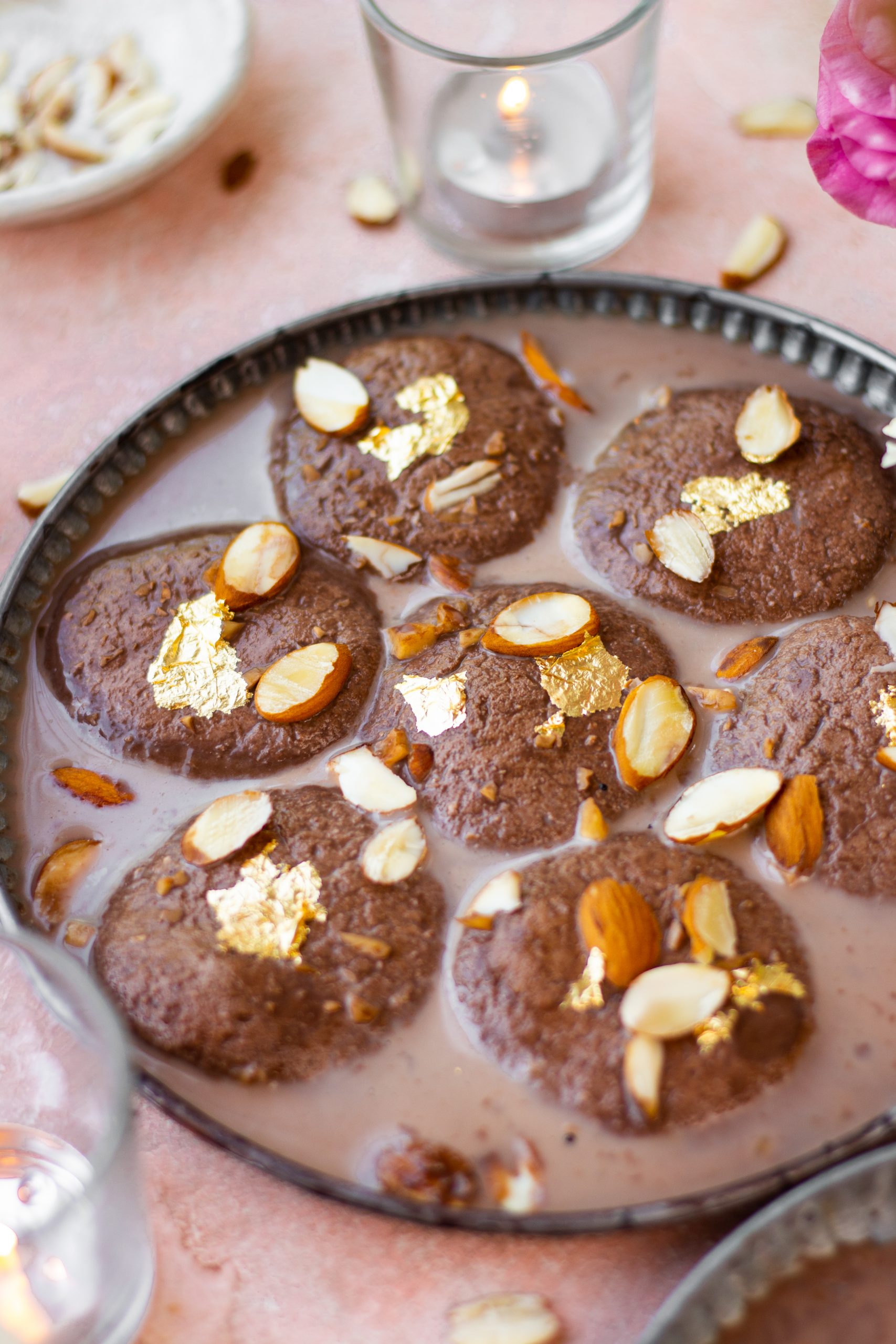 LET THE CHENNA DRAIN OUT
Once your chenna is washed and ready, make a potli with the muslin cloth and squeeze out all the excess water that's left. Let it sit on your strainer for at least 20 minutes before you start making chocolate rasmalai balls from it.
CORRECT WAY OF KNEADING
The best way to knead the chenna is from your palms and not the knuckles. Once you have kneaded a little, added in your cocoa powder and knead until you see no lumps and get an even colored dough for your chocolate rasmalai.
CRACKS ARE A BIG NO
If you have seen other videos and recipes of Rasmalai, you might already know how a smooth flatten chenna ball is a good sign of a perfect rasmalai. Let me tell you, it's correct but at the same time you need to know that some cracks will appear and those are absolutely fine. And since our chenna ball will get a beautiful brown color from the cocoa powder, the cracks will be visible even more so. In short, just make sure that the chenna ball for our chocolate rasmalai isn't falling apart.
SUGAR SYRUP NEEDS TO BE BOILING
To cook our chocolate chenna balls for the chocolate rasmalai, we will need our syrup to be boiling at all times. After adding the chenna balls, make sure you cover the pan with a lid and then cook it. Keep checking in a few minutes. Once they have doubled in size, take them out in ice cold water again to stop the cooking process and firm them up. But make sure you squeeze out all the excess water before dunking in the chocolate milk.
ALL ABOUT CHOCOLATE MILK AND FLAVOURS
I have replaced the ras in our everyday rasmalai is with a luscious chocolate milk. You can customize it as per your taste. I have paired it with a bit of cardamom and it just took it to another level when blended in with cocoa powder. I have also added chopped almonds but feel free to use hazelnuts, pistachios, cashews or even pecans here. The tip here to make your you continuously whisk in the cocoa so as to not get any lumps in your chocolate milk for chocolate rasmalai.
MAKE SURE THE CHOCOLATE MILK IS HOT
When your chocolate chenna balls are ready to be dunked in the milk, make sure the milk is hot so that its easy for the chenna balls to soak in all of it. Let them rest for at least an hour, preferably more before you serve and enjoy the chocolate rasmalai.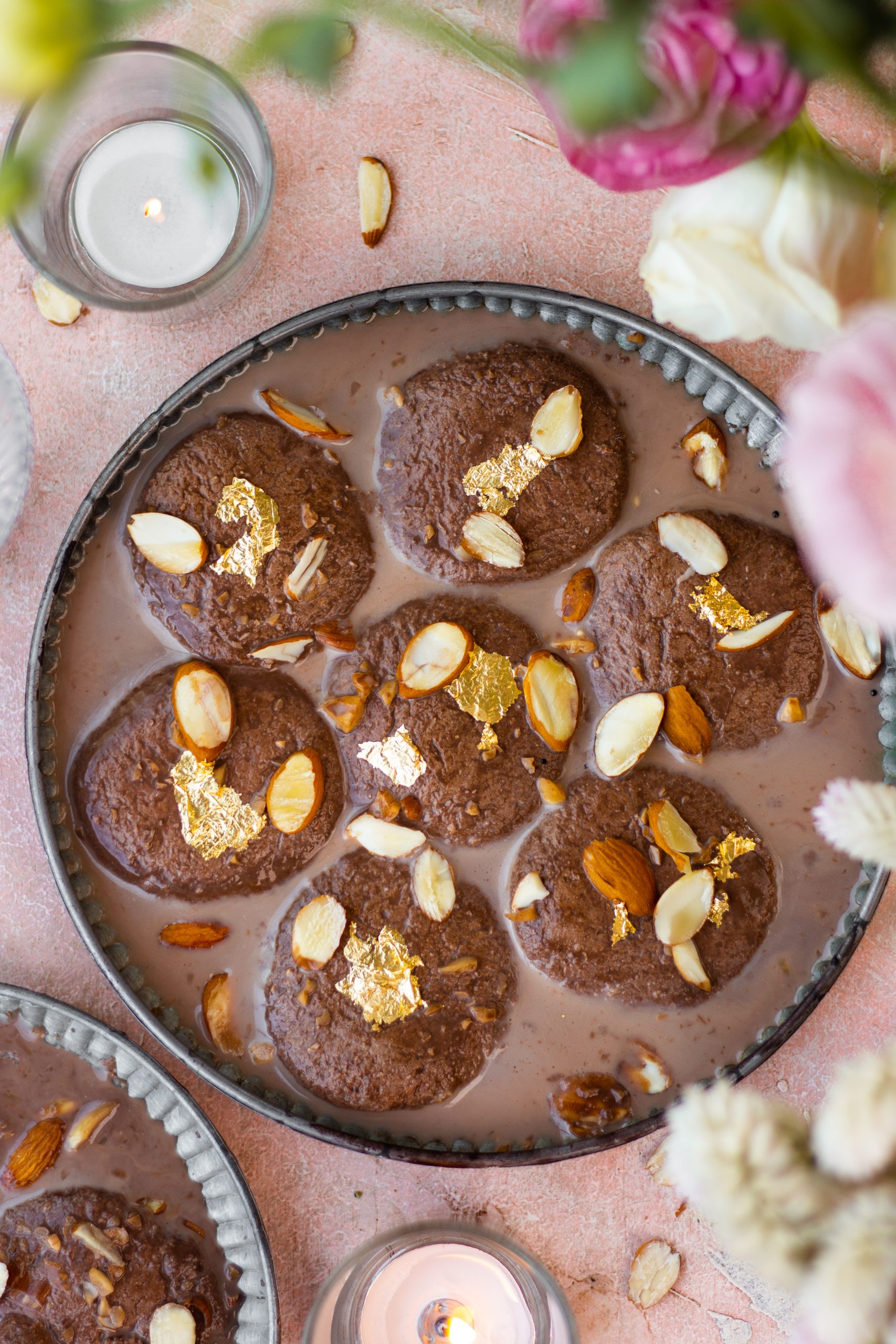 OTHER FUSION DESSERTS ON THE BLOG
If you liked this recipe and try it at home, don't forget to share a picture with me on Instagram @shivesh17. I also have some other amazing fusion recipes on the blog, do check them out-
CHOCOLATE RASMALAI RECIPE
CHOCOLATE RASMALAI
Ingredients
For the Chenna
4 cups (960ml) milk
3 tbsp (14ml) vinegar
3 tbsp (15ml) water
2 tsp (7gms) cocoa powder
2 cups (480ml) Cold water
For the Chocolate Milk
3 cups (720ml) milk
⅓ cup (67gms) sugar
2 tbsp (14gms) cocoa powder
¼ tsp (1gms) cardamom powder
2 tbsp (8gms) Chopped almonds
For the Sugar Syrup
4 cups (960ml) water
1 cup (200gms) sugar
Cold water to dunk cooked chocolate chenna balls
Instructions
In a thick bottomed vessel, heat the milk while continuously stirring so as to avoid the milk sticking at the bottom. Heat only until its lukewarm. Switch off the stove.
Mix vinegar and milk together in a separate container and tip it slowly in the milk. Stir continuously with soft hands.
Once the milk has curdled, strain it over a muslin cloth on a strainer. Immediately wash it with ice cold water.
Squeeze out all the excess liquid and let the chenna sit on the strainer, covered in the muslin cloth for at least 20 minutes.
In this time, you can start making your chocolate milk. In a pan, add milk, sugar and cardamom powder.
Let the sugar dissolve. Gradually add cocoa powder while continuously whisking.
Lastly add chopped almonds and cook for a while. Once done, keep it aside.
Open your muslin cloth and transfer the chenna to a plate. Crumble the chenna and start kneading it with your palms.
After a few minutes into the kneading, add the cocoa powder and knead well. Make sure you see no lumps of cocoa in the chenna.
Make balls, flatten it a bit and let them sit covered.
In a separate pan, add sugar and water. Let it come to a boil.
Add your chocolate chenna balls to this and cook it covered for 8-10 minutes.
Once they have doubled in size, dunk them in cold water and let them stay until they are cool to touch.
Take them out, squeeze out the excess water and dunk them in hot chocolate milk.
Let them soak for at least one hour and garnish with some more almonds and gold leaf before serving.