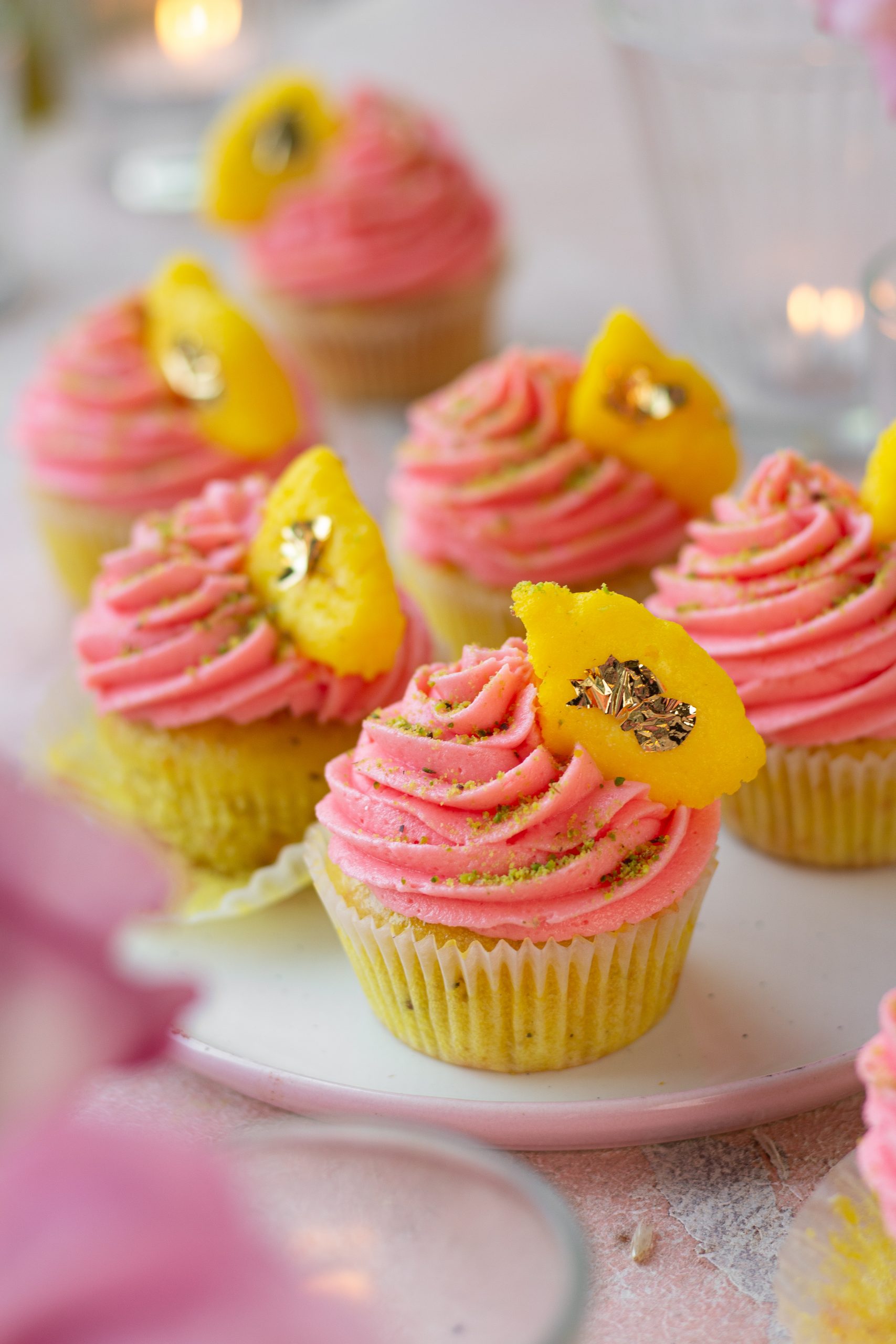 The festive season is right around the corner and unlike last year, I think a lot of us are pumped up this time! Things are fortunately looking better and almost everyone I know has been fully vaccinated and is in more of a festive mood than what they were last time. To start the festivities on the right note, I have decided to share some simple, easy to make recipes that you can recreate at home this Diwali. One of my favorites has to be these Rose Rasmalai Cupcakes that are just too cute to eat.
My Rose Rasmalai Cupcakes have a rasmalai flavored cupcake sponge, stuffed with actual rasmalai pieces, and topped with a rose buttercream frosting. I also soaked my cupcakes in actual rasmalai syrup which honestly, makes these cupcakes a real flavor bomb.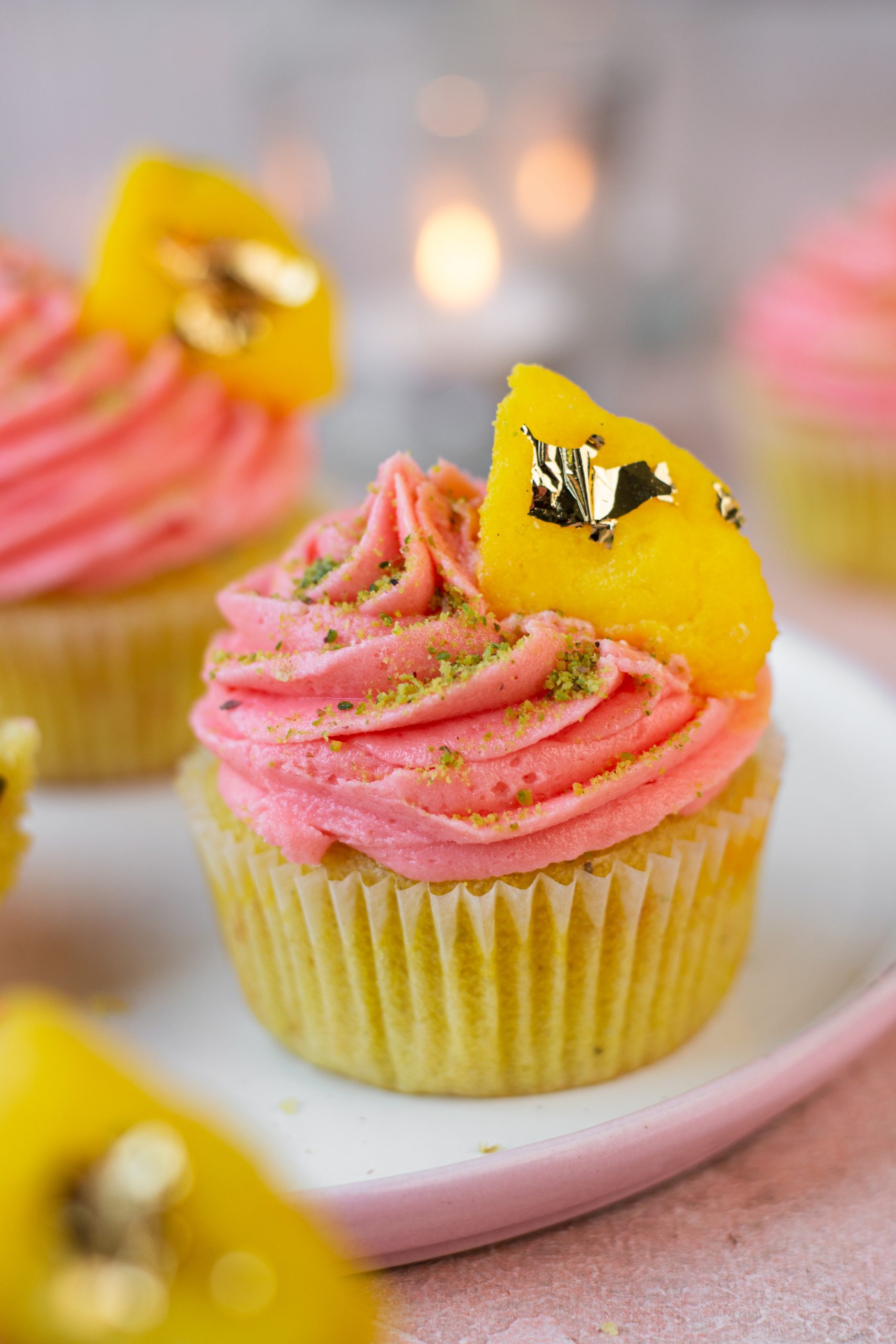 Rasmalai cupcake batter
I wanted these cupcakes to have a lot of rasmalai flavor so I made sure my batter was made that way. The cupcake batter is eggless so for the base we have all purpose flour, baking powder, baking soda, curd, vegetable oil, caster sugar, and milk. To infuse the rasmalai flavor I also added some cardamom powder and infused the milk with saffron. If you want, you can also add some vanilla essence or kewra extract into your batter.
I actually made these cupcake in a mixer grinder where I dumped in all my dry and wet ingredients together and just blitzed everything till it formed a smooth batter. You can also make this in a blender or if you want, you can make it via the orignal method.
In a bowl add in your dry ingredients and give them a good whisk so that everything is evenly combined. In another bowl add in oil, curd, and caster sugar and give it a good mix with either a hand mixer or a manual whisk. Combine the wet and the dry ingredients and pour the batter in cupcake liners and put the cupcakes into baking.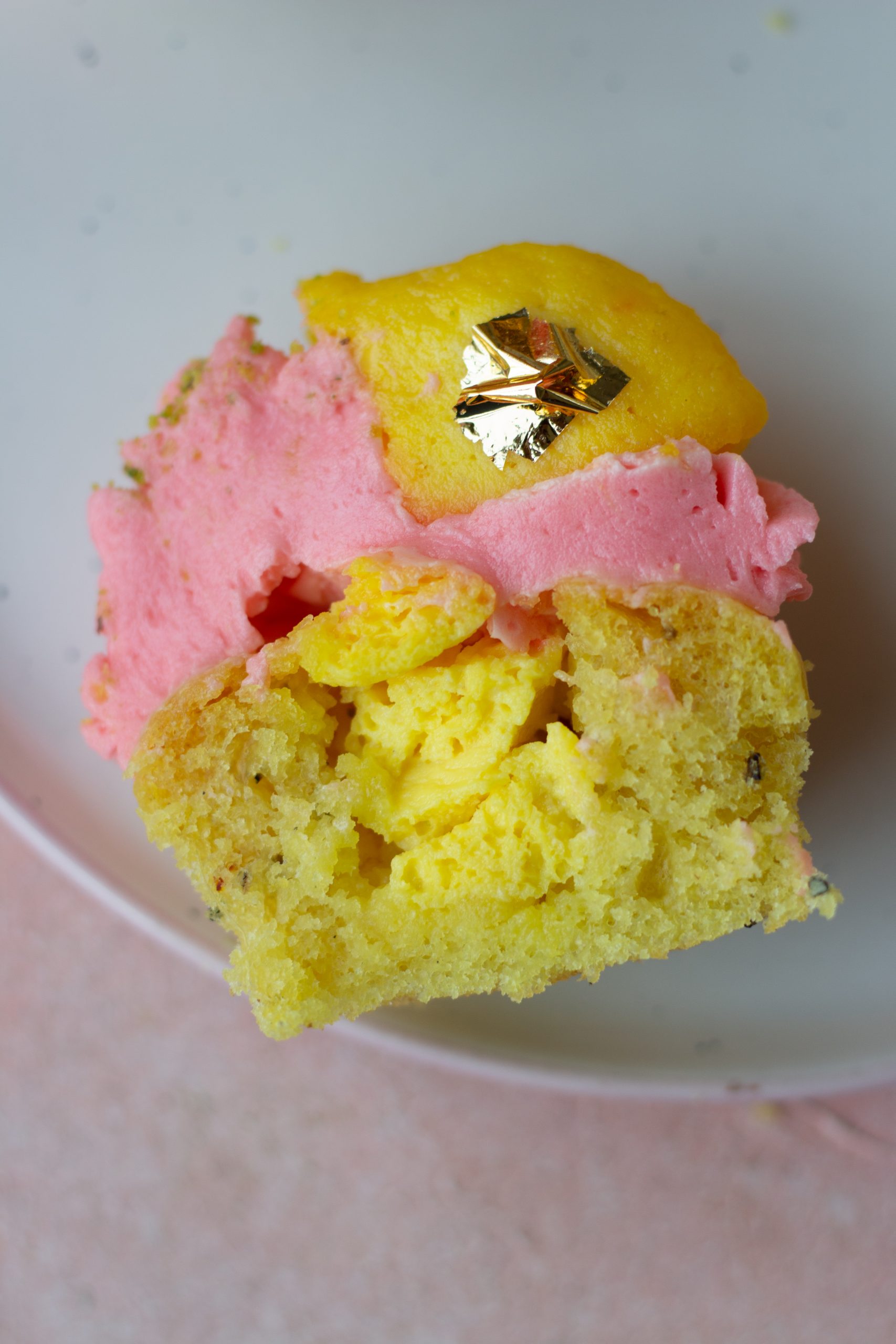 Rose Buttercream frosting
Nothing looks better on the rasmalai cupcakes than this rose buttercream frosting. It tastes amazing and looks super cute because of its rose pink color. To make the rose buttercream frosting, all you need is some softened butter, icing sugar, pink food color, and kewra extract or rose essence.
I love a good buttercream frosting. It requires minimal ingredients, comes together quickly, and is also very stable which makes decorating cakes and cupcakes with it even more fun. Just like the cupcake batter, I made the rose buttercream frosting also in the mixer grinder. I know it sounds weird but it actually worked like a dream! So if you are ever in a fix about not having an electric whisk, you can totally make the frosting in a mixer grinder too.
Add the butter first into the mixer and whip it for a few seconds. Next add in icing sugar in two batches and make a smooth mix. Next add in pink food color and whip till the color is mixed in.
You can use any piping tip to pipe frosting on top of your cooled down cupcakes but I used a star tip that gave me a beautiful swirl design on top.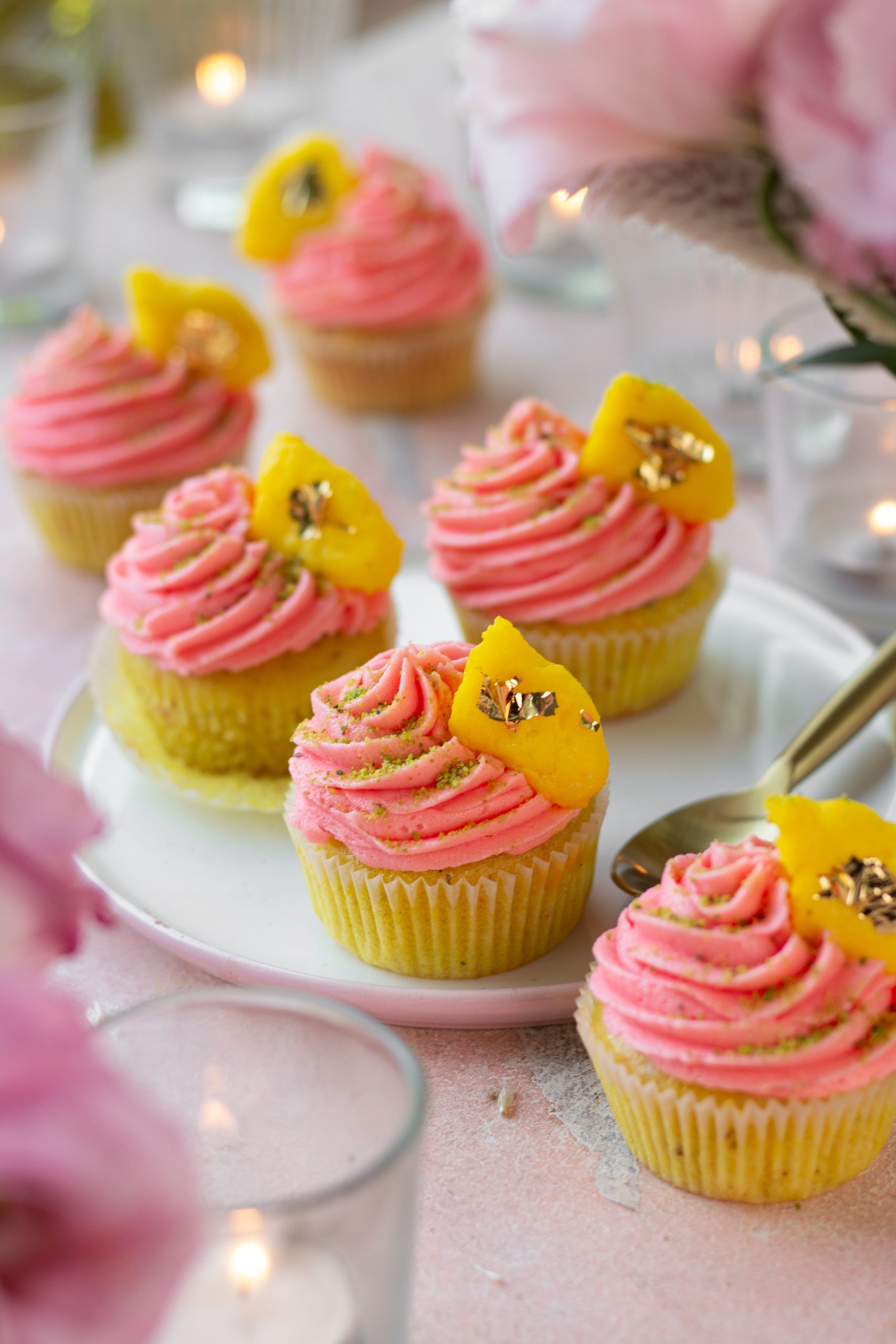 Assembly of the rose rasmalai cupcakes
The rose rasmalai cupcakes obviously have the cupcakes and the frosting, but my favorite part is the stuffed center of the cupcakes. Once the cupcakes have cooled completely, the first thing we do to assemble the cupcakes is to hollow out the center of each using a core remover. In the hollow space we are actually goingto add in actual small rasmalai chunks and fill it all the way up to the top of the cupcake. Next, for that extra rasmalai flavor, also brush each cupcake with the rasmalai liquid that's already there in the rasmalai box. Once each cupcake has been stuffed and soaked in rasmalai liquid, we then frost all cupcakes with the rose buttercream.
Lastly, to garnish the cupcakes we add a small rasmalai piece, some very festive golden foil, and a light sprinkle of some powdered pistachios.
In case you have never made cupcakes and frosting before check out these tips and tricks that will help you out.
Tips for perfect cupcakes
Do not over mix the batter– Mixing of the batter causes gluten in the flour to develop, that gives your cupcakes their texture. More gluten development due to over mixing leads to a denser texture.
Invest in good quality cupcake liners– It might seem insignificant, but cupcake liners are kind of a big deal you guys! Do your liners become greasy and almost translucent when you take your cupcakes out of the oven? Or, does the liner stick to the cupcake? If either is the case, you are using the wrong kind of cupcake liners. I suggest you to buy ones made of parchment paper or just look for 'grease-proof' on the packaging.
Fill the liner properly– Ensure that you are putting in the same quantity of batter in every liner. I like using an ice-cream scoop to measure the batter. Ideally, you should be filling up to 2/3rd of it, giving the batter enough space to rise.
Allow them to cool completely before frosting– Now this might sound obvious, but let your cupcakes cool completely before you frost them. Leave them out on the wire rack to come to room temperature. The slightest heat can melt your frosting, resulting in what would look like a sloppy cupcake!
Frost the whole cupcake– When you are baking your cupcakes ahead of time, they tend to dry out. To prevent this situation, frost the entire visible surface of the cupcake. The frosting acts as a seal, retaining the moisture in your cupcake and not letting it dry out. Also, extra frosting harms no one!
Making these cupcakes in a microwave
If you do not have an oven, you can make these cupcakes in a microwave. your microwave must have a convection mode. Press on that and put in the microwave safe wired rack inside and let your microwave preheat on its own for 10 minutes. Once preheated, place your cupcake tray on top of the wired rack and press start. Your cupcakes should be baked in about 20-25 minutes.
Remember to use aluminum baking moulds that are microwave safe while baking in a microwave. I actually have a detailed video on how to bake a cake in a microwave. Make sure to check it out and it will answer all your questions about using a microwave to make desserts!
Make these cupcakes for your diwali dinners and share your pictures with me on my Instagram @shivesh17. Happy baking!

Rose Rasmalai Cupcakes: Eggless diwali dessert
Ingredients
½ cup (142gms) yogurt
¼ cup (50gms) caster sugar
¼ cup (60ml) vegetable oil
2-3 drops yellow food color
¾ cup (90gms) all purpose flour
½ tsp (2gms) baking powder
¼ tsp (0.75gms) baking soda
¼ tsp (1gm) cardamom powder
1 tbsp (15ml) milk (warm)
3-4strands of saffron
For frosting:
1 cup (226gms) softened butter
2 cups ( 270gms) icing sugar
½ tsp kewra extract
2 drops pink food color
For filling:
For garnishing:
Silver leaf
Rasmalai chunks
Crushed pistachios
Instructions
Line a cupcake tray with cupcake liners and preheat your oven at 180C.
In your food blender, add in yogurt, oil, caster sugar, and yellow food coloring
On top of that add in flour, baking soda, baking powder, and cardamom powder.
Also add in the 1 tablespoon milk after infusing it with 3-4 strands of saffron.
Blitz the batter till everything is well combined.
Scoop out the batter and add it into your cupcake liners. Bake at 180C for 20-25 minutes.
Once baked. let the cupcakes cool down completely.
Meanwhile to make the frosting, add in softened butter, icing sugar, kewra extract and pink food color all together and blend till it is well combined.
In a few seconds your frosting will be ready. Transfer this to a piping bag and set it aside.
To assemble the cupcakes, the first thing you need to do is scoop out the center of all.
Soak each cupcake with the rasmalai liquid and fill the center with rasmalai chunks.
Next, pipe the rose buttercream frosting on top and garnish with some silver leaf, a rasmalai piece and crushed pistachios.