Rose Rasmalai Cupcakes: Eggless diwali dessert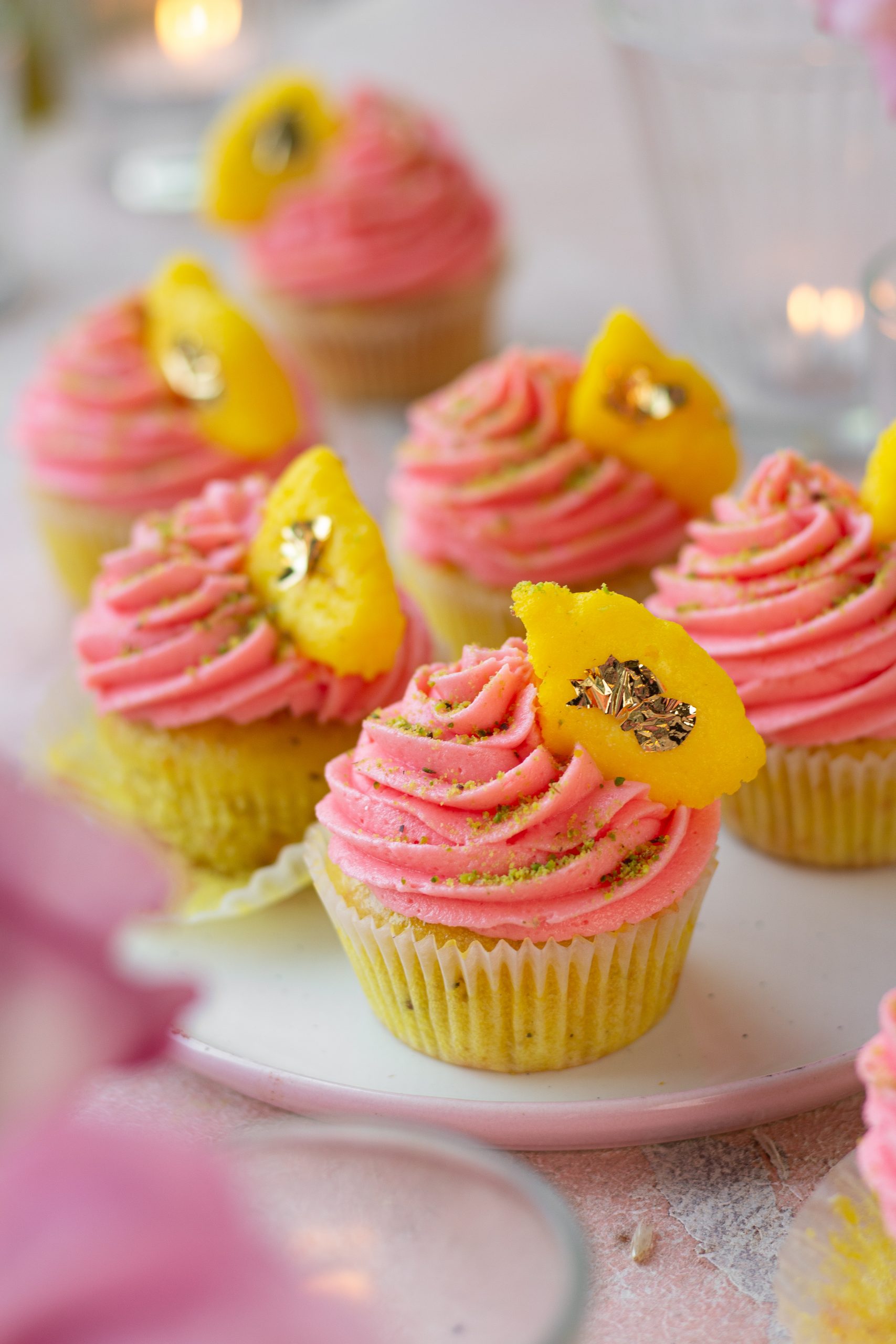 ½ cup (142gms) yogurt
¼ cup (50gms) caster sugar
¼ cup (60ml) vegetable oil
2-3 drops yellow food color
¾ cup (90gms) all purpose flour
½ tsp (2gms) baking powder
¼ tsp (0.75gms) baking soda
¼ tsp (1gm) cardamom powder
1 tbsp (15ml) milk (warm)
3-4strands of saffron
1 cup (226gms) softened butter
2 cups ( 270gms) icing sugar
½ tsp kewra extract
2 drops pink food color
Silver leaf
Rasmalai chunks
Crushed pistachios
Line a cupcake tray with cupcake liners and preheat your oven at 180C.
In your food blender, add in yogurt, oil, caster sugar, and yellow food coloring
On top of that add in flour, baking soda, baking powder, and cardamom powder.
Also add in the 1 tablespoon milk after infusing it with 3-4 strands of saffron.
Blitz the batter till everything is well combined.
Scoop out the batter and add it into your cupcake liners. Bake at 180C for 20-25 minutes.
Once baked. let the cupcakes cool down completely.
Meanwhile to make the frosting, add in softened butter, icing sugar, kewra extract and pink food color all together and blend till it is well combined.
In a few seconds your frosting will be ready. Transfer this to a piping bag and set it aside.
To assemble the cupcakes, the first thing you need to do is scoop out the center of all.
Soak each cupcake with the rasmalai liquid and fill the center with rasmalai chunks.
Next, pipe the rose buttercream frosting on top and garnish with some silver leaf, a rasmalai piece and crushed pistachios.
Recipe by
Bake with Shivesh
at https://bakewithshivesh.com/rose-rasmalai-cupcakes-eggless-diwali-dessert/