The festive season this year has been all about experimenting with things I haven't tried making before and I've been whipping up some delicious treats in my kitchen! From fusion desserts to interesting twists on desi mithai, it has been a such an enjoyable learning experience for me too and of course, nothing makes me happier than to see you all recreating these desserts in your kitchen.
That being said, there are some desserts which truly have that festive touch and this eggless, no-oven mawa cake is one such recipe. It's made with a very few simple ingredients, the hero of which is Mawa. So let's get into the recipe!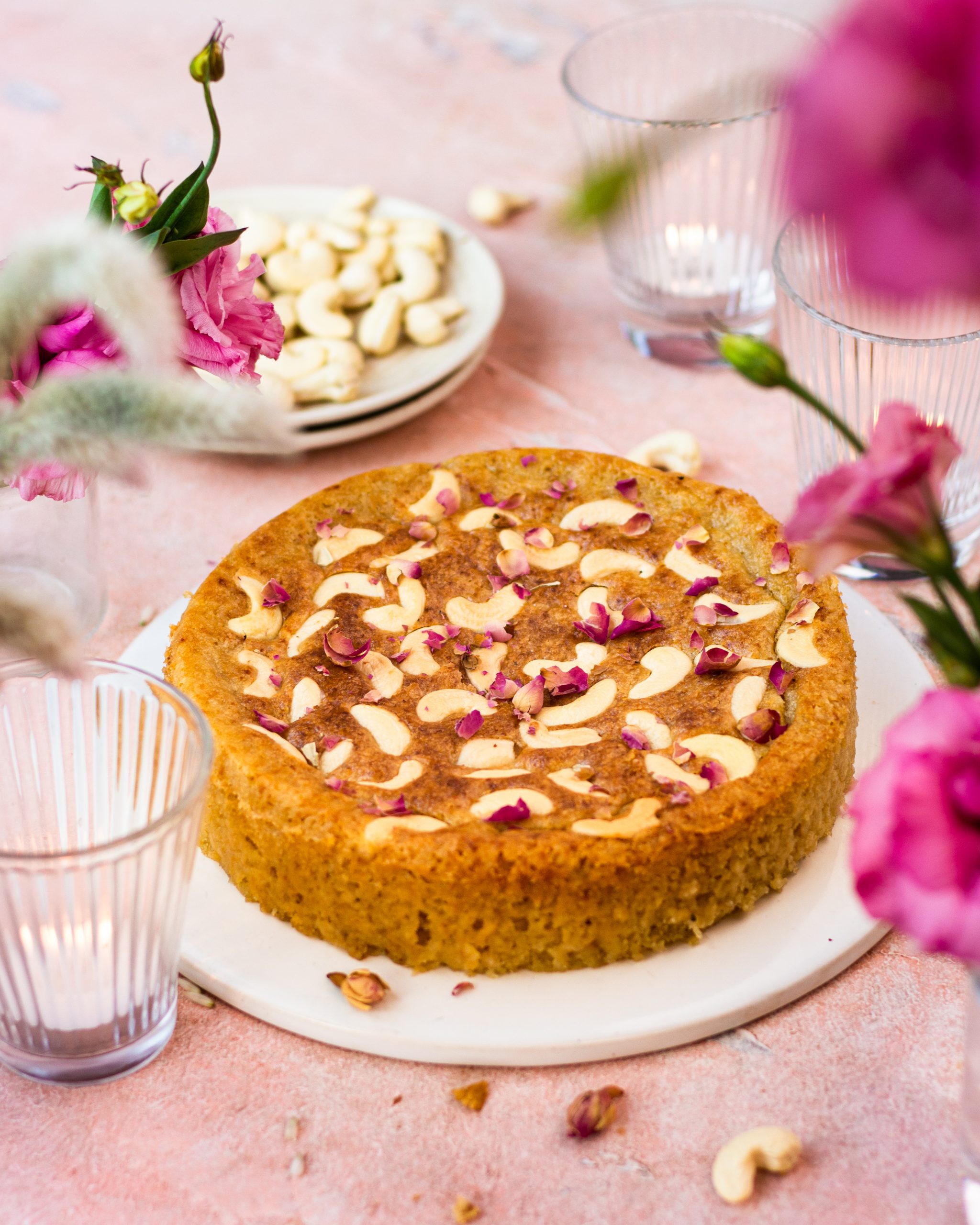 What is Mawa?
Mawa / Khoya is used as the base for a wide variety of Indian sweets. Mawa is nothing but dried, evaporated milk solids which is made by simmering full-fat milk in a large, shallow iron pan for several hours over a medium fire. The gradual evaporation of its water content leaves only the milk solids.
Another quick way of making mawa is to add full fat milk powder to skimmed milk and mixing and heating until it becomes thick. This may, however, not have the same characteristics as traditionally made Mawa.
Ingredients used in eggless no-oven Mawa Cake
There are the most basic ingredients being used in this Eggless No-Oven Mawa Cake! Absolutely nothing is complicated and this recipe for mawa cake will not let you down. Just take care of some tips about the ingredients and you are good to go!
Besides the basic flour, baking powder, baking soda and sugar that you need, you also need yogurt, oil, milk, cardamom powder, rose water and Mawana to make this eggless, no-oven Mawa Cake. The mawa that we grate into the cake batter is the essence of this cake so I'll recommend you to get your hands on the best quality Mawa possible.
If you cannot find mawa, you can also make it at home! Take 1 liter of full cream milk in a heavy-base saucepan and cook it until it becomes thick and all the moisture evaporates! Don't forget to keep stirring the milk so that nothing burns. What you'll be left with is the solid mass which will thicken more as it cools and give you delicious, homemade mawa!
To give this Mawa Cake that festive touch, I f rose water and cardamom powder! I also use whole cashews and dried rose petals for garnishing the cake and it's truly a great dessert if you're planning to make something for your guests this Diwali.
General tips for making this eggless no-oven mawa cake
This Mawa cake is quite literally a one-bowl recipe but keep these tips in mind and your cake will be ready in a jiffy –
1) Mawa / Khoya is the most important ingredient for this eggless, no-oven mawa cake, so make sure you get the best quality mawa you can find! If you can, I would suggest you make your own mawa at home as homemade is always better!
2) I cooked my cake on stove and it took 35-40 minutes. It might take lesser time on an induction. So keep an eye on your cake- this is super crucial.
3) You can use the same recipe to bake a cake at 180C in the oven or a convection microwave. Bake for about 35 min!
Pressure Cooker set up for this eggless no-oven mawa cake
Baking cakes in a cooker doesn't have to be intimidating! Here's how you do it-
1. Take a big enough pressure cooker and ensure you are measuring that the tin fits well inside.
2. Pour in 2 cups of salt, place a stand or an inverted bowl, or even an inverted plate with some height.
3. Preheat at medium flame for 10 minutes with lid on.
4. Place the tin inside after pre-heating. And then, on medium flame, allow it to cook for 30 minutes. (Do keep an eye on the cake and lower heat if necessary).
Other festive recipes on the blog
Eggless No-Oven Mawa Cake Recipe
Eggless No-Oven Mawa Cake
Ingredients
1 cup (200gms) sugar
½ cup (144gms) yogurt
½ cup (120gms) oil
¼ tsp (1gms) cardamom powder
1 tbsp (5ml) rose water
½ cup (120ml) milk
1+1/2 cup (180gms) maida
1 tsp (4gms) baking powder
½ tsp (1.5gms) baking soda
½ cup mawa / khoya (100gms)
¼ cup (35gms) cashews
Dried rose petals for garnish
Instructions
Grease an 8" pan and line it with parchment paper.
In a bowl, whisk together sugar, yogurt, oil, cardamom powder, rose water and milk until well combined.
Add in maida, baking powder and baking soda.
Using a grater, grate in the Mawa.
Gently fold in the dry ingredients and mix until everything is well combined and there are no large flour pockets in the batter. Do not over mix at this stage.
Transfer the batter to the prepared cake pan. Arrange cashews on top of the cake batter.
Take the pressure cooker and remove the whistle. Pour in 2 cups of salt and place an inverted stand inside the cooker.
Secure the lid firmly on the cooker and preheat the cooker over medium heat for 10-15 minutes.
Once preheated, place your baking tin inside and allow to bake at medium flame for 30-40 minutes.
Alternatively, you can bake in preheated oven at 180 degrees for 30-35 minutes.
Once baked and cooled completely, garnish with dried rose petals.
If you like this recipe, don't forget to tag me on
Instagram
using #bakewithshivesh. Happy Baking and Happy Festive Season!