I don't know about you, but my Diwali is absolutely incomplete if I don't gobble up an insane amount of sweets! That being said, nothing beats desi mithai and specially if it comes with a twist. So today, we're making the simplest chocolate pedas which will definitely be the only dessert you'll make for your guests this festive season.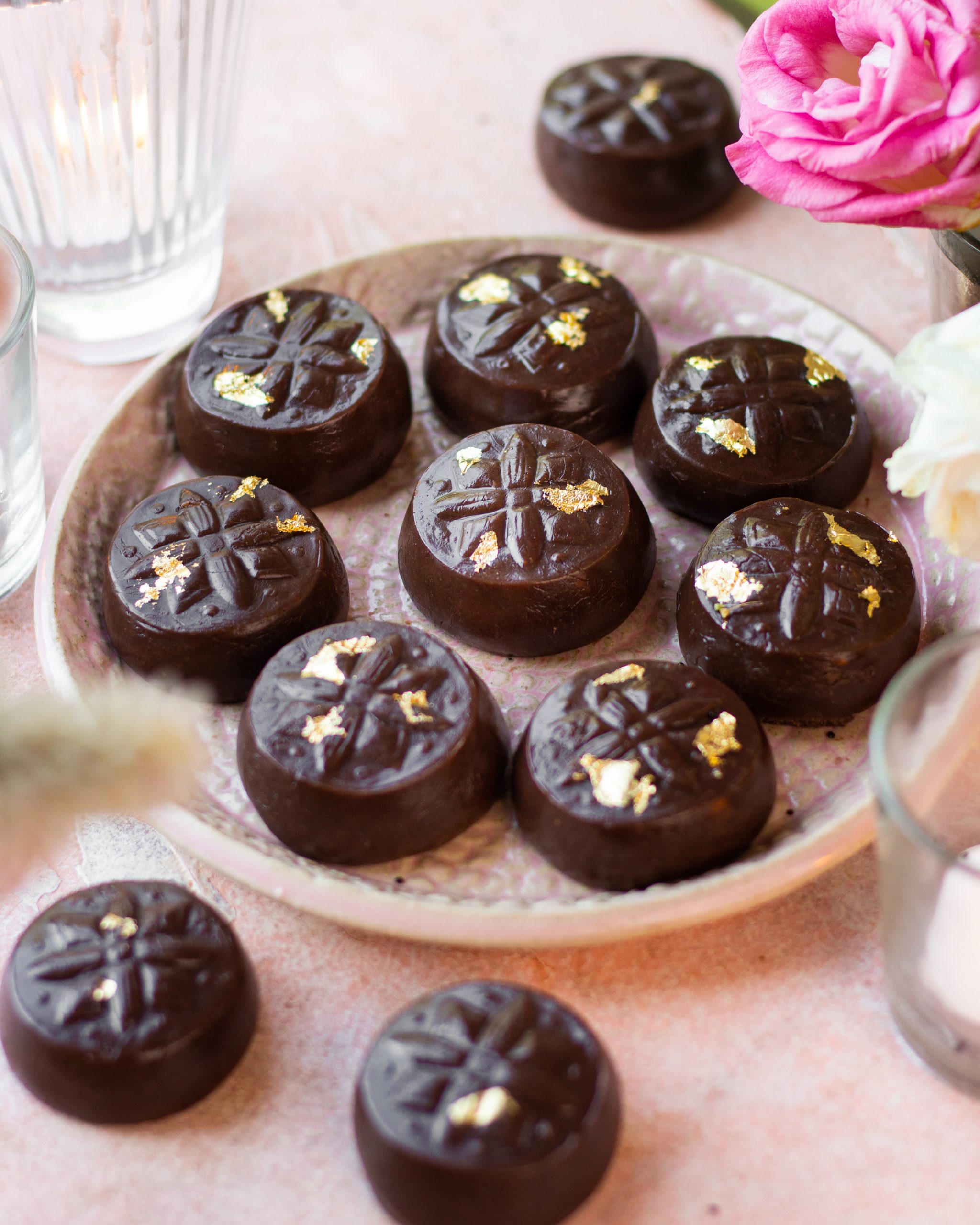 What is peda?
Peda is a sweet dish hailing from the Indian subcontinent. Usually prepared in thick, semi-soft pieces, its main ingredients are khoya, sugar and traditional flavorings including cardamom, pistachio nuts and saffron.
Pedas are usually served during festivals as an offering to god, although they are enjoyed and consumed throughout the year. Today, pedas come in many different shapes and variety, and is perfect for gifting during the festive season! We are making these pedas without khoya and it's still going to be absolutely delicious!
How to make chocolate peda at home?
For the Chocolate Peda, there are three things you need to take care of –
Good quality ingredients – No matter what you're making in the kitchen, be it cakes or mithai, I will always encourage you to get the best quality ingredients you can get! Since these chocolate pedas don't need khoya, cocoa powder is the star ingredient as it gives the peda its chocolatey flavor! So get a good quality cocoa powder like Hershey's / Weikfield and you'll be good to go!
Cooking of the peda dough – To make the dough for the peda, we will take milk powder, condensed milk, ghee and cardamom powder in a non-stick pan. Cook this till the mixture becomes slightly thick. Now, what you have to be super careful about is to keep stirring the peda mixture continuously! We don't want anything to burn, do we? Once your mixture has thickened slightly, add in the cocoa powder and keep mixing till it's well incorporated. Take it off the heat and allow it to cool completely before you start shaping it.
Shaping the peda dough – Now comes the most fun part of making these chocolate pedas! You could obviously shape them by hand, but let's face it, it's the festive season and we are all running on hectic schedules. Gifting, guests, decor – there is so much to take care of! So let me make it easy for you. I used a Peda stamp to shape my dough and give them a beautiful design. It's literally as quick as it can get and you'll have beautiful chocolate pedas in no time. You can get the peda stamp here.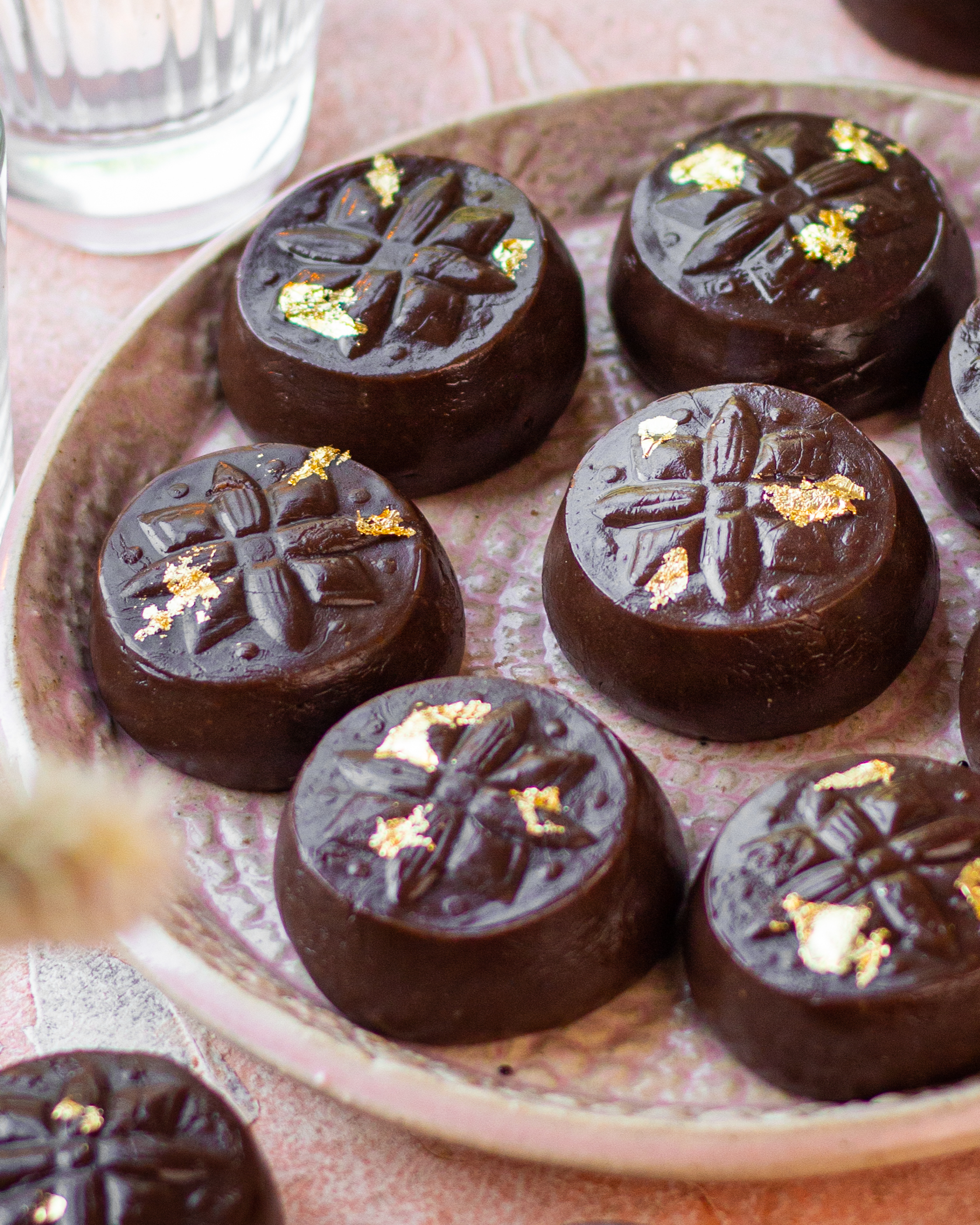 Gifting ideas for chocolate peda
These Chocolate Pedas make for the perfect gift for your friends and family over the festive season. You can gather some beautiful, rustic gifting boxes from your house, add some parchment paper to it and use it for gifting purposes! A little extra hard work goes a long way and I'm sure that the person who receives them will appreciate you for all the hardwork that you've done. So go ahead and spread some extra cheer this festive season.
Moreover, if you're planning to add a quick Diwali dessert to your Diwali hampers, then this is the perfect dessert for you!
Chocolate Peda Recipe
Chocolate Peda - Quick Diwali Dessert
Ingredients
2 cups (240gms) milk powder
1 can (400gms) condensed milk
1 +1/2 (22gms) tbsp ghee
Pinch of cardamom powder
4 tsp (10gms) cocoa powder
Gold leaf for garnish
Instructions
In a non-stick pan, add milk powder, condensed milk, ghee and cardamom powder.
Cook this over low heat and keep stirring the mixture continuously. It will become thick in 2-3mins.
When it forms a thick mass and leaves the sides of the pan, add cocoa powder and mix well to form a smooth paste. Keep cooking for another 2-3 minutes.
Take it off the heat. Transfer the mixture to a bowl and allow it to cool down completely.
Using a peda stamp, shape the peda dough by adding a spoon of dough inside the stamp and pushing it using the opposite end. You'll see that the pedas come out with a beautiful design on top.
Garnish with gold leaf and refrigerate for 15-20 minutes.
If you like this recipe and make it for the festive season, do share pictures with me by tagging me on
Instagram
using #bakewithshivesh. Happy Diwali!