There are some days in the festive season when you have no time to make elaborate desserts. But still want to make something quick and easy for your friends and family? I got you! This recipe is as easy as it can be. With just 7 ingredients which can easily be found in any Indian kitchen, bread gulab jamuns are quick to make, soft and just delicious. This dessert recipe is so quick that it can be made in minutes and is perfect for when you want to showcase your skills and woo the guests at a Diwali or a Holi party or any get together for that matter.
HOW TO MAKE BREAD GULAB JAMUNS AT HOME?
Bread gulab jamuns are an easy way out for the traditional gulab jamuns which are made with khoya or milk powder. These quick gulab jamuns taste like a sweet soft bread pudding.Since all kids love gulab jamuns and the process of making these bread gulab jamuns is so easy, you can easily involve the kids at your home to make these with you. It could turn out to be a fun activity for them as well as for you! Let's go through the process to make these soft, decadent and instant bread gulab jamuns which everyone would definitely love!
DOUGH FOR
THE
BREAD GULAB JAMUNS
For the bread gulab jamun dough, all you need is 8 slices of regular white bread, some milk powder and milk to form the dough. We will start by turning the bread into fine bread crumbs in a mixer. Add milk powder to this and form a soft dough with the help of some milk. Kneading for a few minutes would result in softer bread gulab jamun. Once the dough is ready, let it rest for 15 minutes before you divide them into small balls.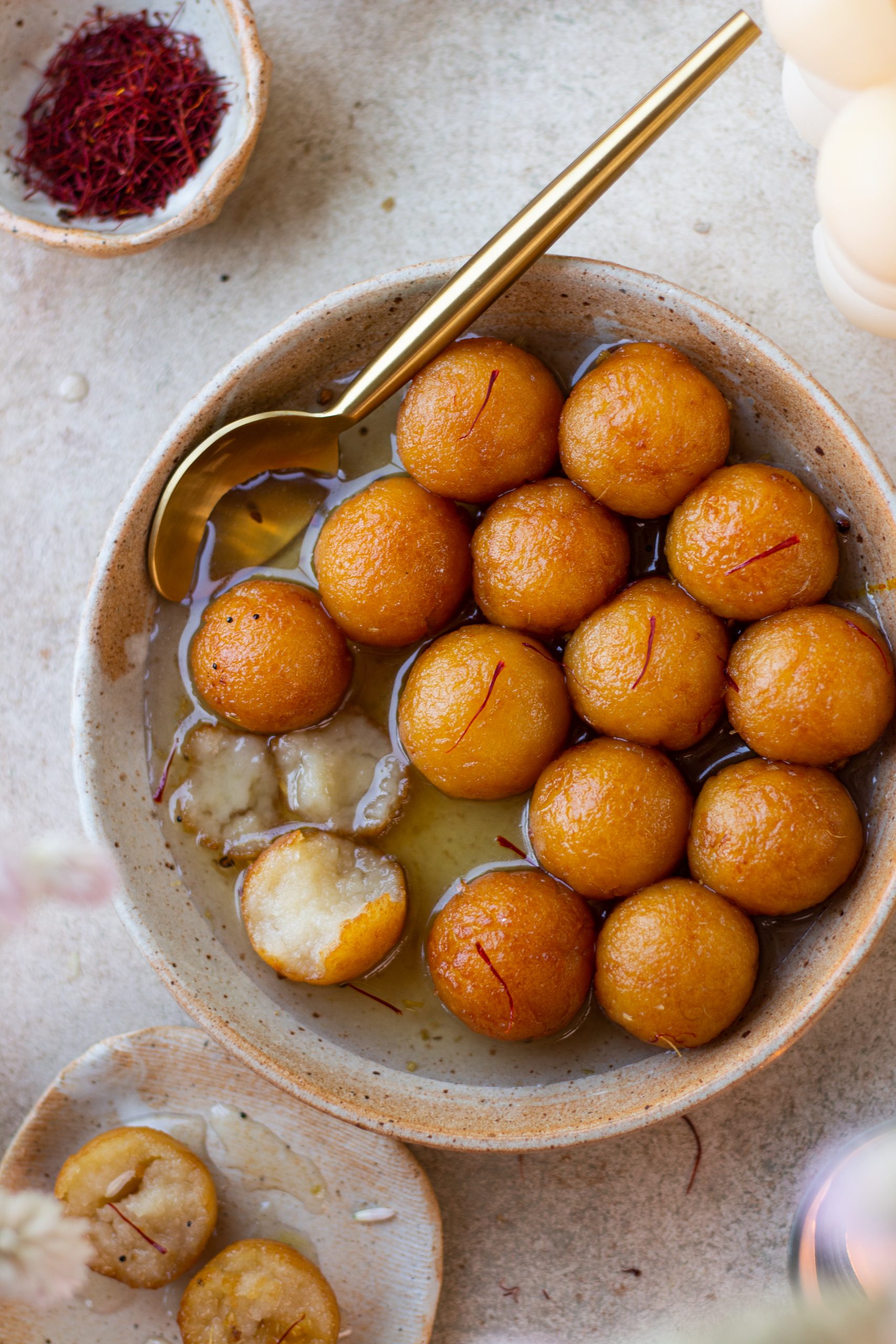 CHASHNI FOR THE BREAD GULAB JAMUN
The chashni for the bread gulab jamun is made in 1:1 Sugar: Water ratio. We will start by adding sugar to a pan, followed by water. Let it boil until the sugar dissolves. Continue boiling till it thickens like chashni. Once it starts to thicken, add cardamom powder and kesar for the flavor. If you like, you can also add a dash of rose water or kewra extract to this.
LET THE BREAD GULAB JAMUNS SOAK FOR A WHILE
Before serving these super quick and soft bread gulab jamuns, make sure you soak them for at least 2 hours. This will ensure you get a better softer sweeter crumb.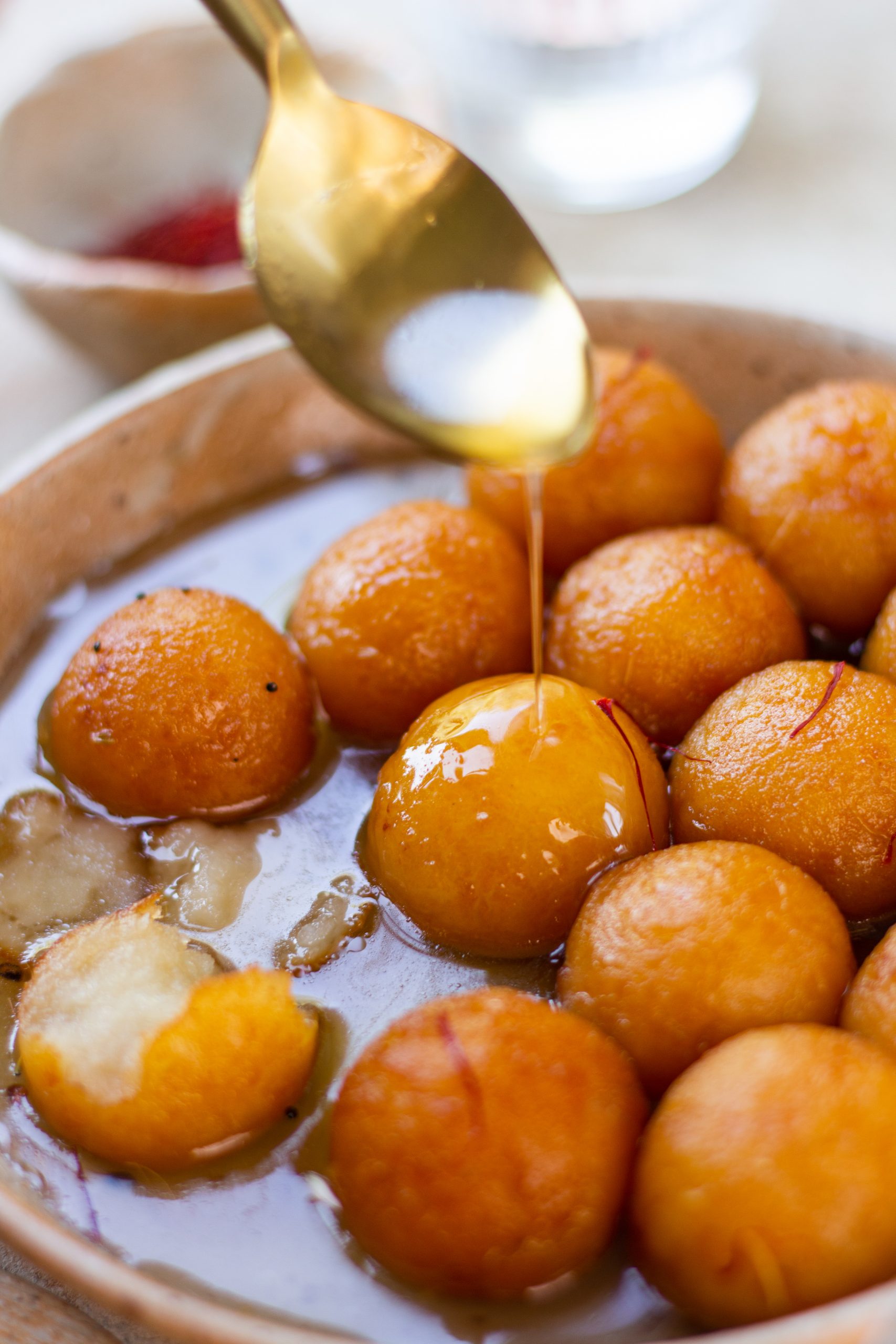 TIPS TO MAKE
BREAD GULAB JAMUN
SOFT DOUGH IS THE KEY
Once the dough comes together, make sure you knead it a bit and let it rest for 15 minutes and not more. A longer rest time would further dry up the dough and a lesser rest time won't result in a very soft dough for our bread gulab jamuns.
QUANTITY OF MILK WOULD DIFFER
You may need a bit more or bit less of milk to form the dough. This will depend on how fresh and soft your bread is. A fresh bread has moisture already and is easier to come together when forming a dough whereas a dry bread would need more milk to make a dough for the bread gulab jamun.
MILK POWDER IS OPTIONAL
Milk powder adds a creamier flavor and taste to any cooked or baked good. It's definitely optional in this recipe but I would absolutely recommend to add for softer and a beautiful colored bread gulab jamun.
THE SIZE OF THE BREAD GULAB JAMUNS
Keep the size of the bread gulab jamuns a little smaller than how you want them to be. This is because once you dunk them in the chashni, they will soak up and become bigger in size. If you like you can also fill the bread gulab jamuns with chopped nuts of your choice. Pistachios and almonds goes well gulab jamuns.
THE TEMPERATURE OF OIL
Oil should not be at a high temperature, medium to low is absolutely perfect. This would ensure the bread gulab jamuns don't form a skin and are soft throughout. Also frying lesser bread gulab jamuns together would make sure they get an even color throughout.
EITHER OF THEM SHOULD BE HOT
Either our fried bread gulab jamuns or the chashni should be hot enough so that its easier for the bread gulab jamuns to soak up the chashni. The longer you let it soak the better crumb of these bread gulab jamuns will be.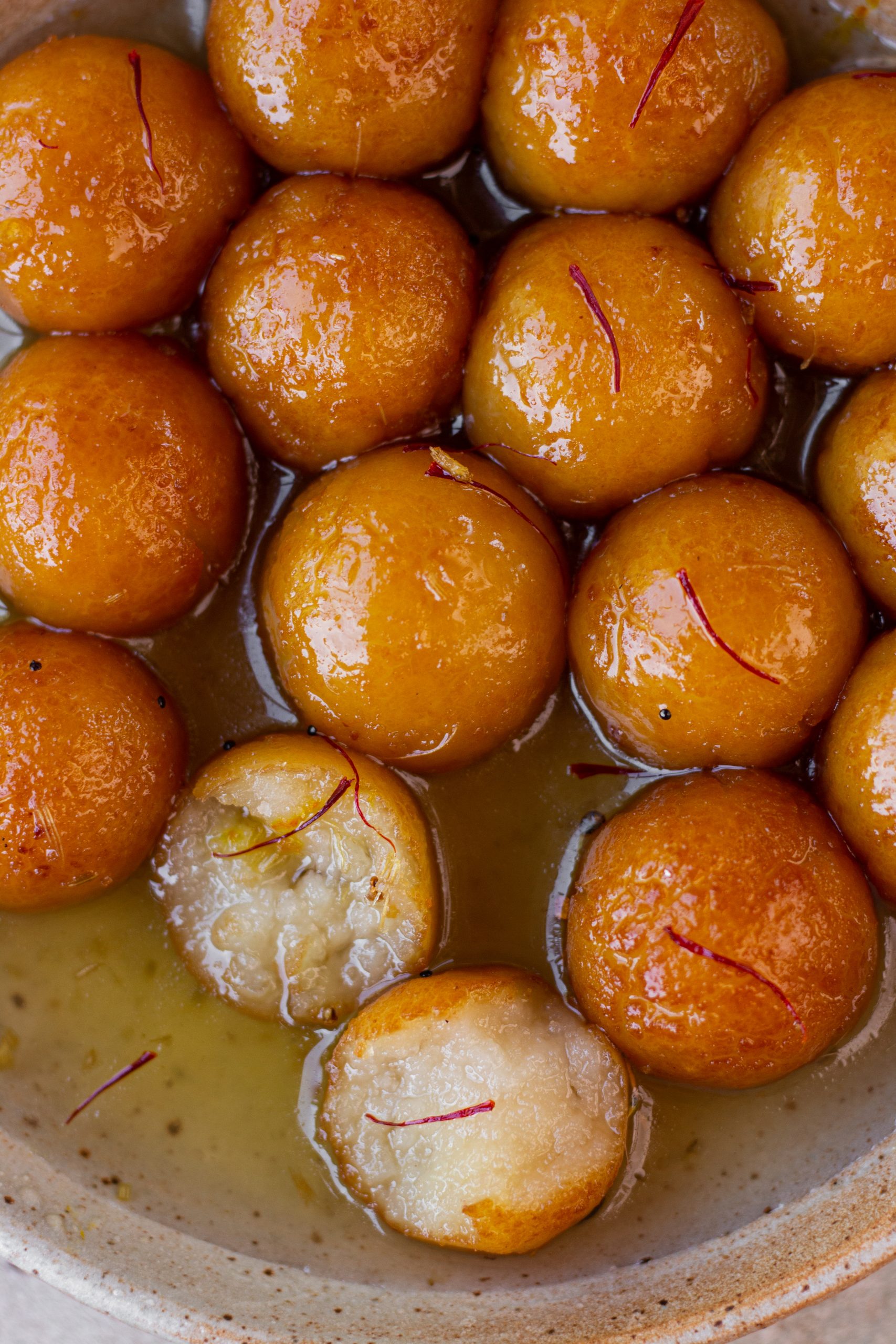 OTHER FESTIVE RECIPES ON THE BLOG
If you try these super easy and quick bread gulab jamuns this festive season, make sure to tag me on Instagram @shivesh17. Here are some other festive recipes if you are looking for something quick to make-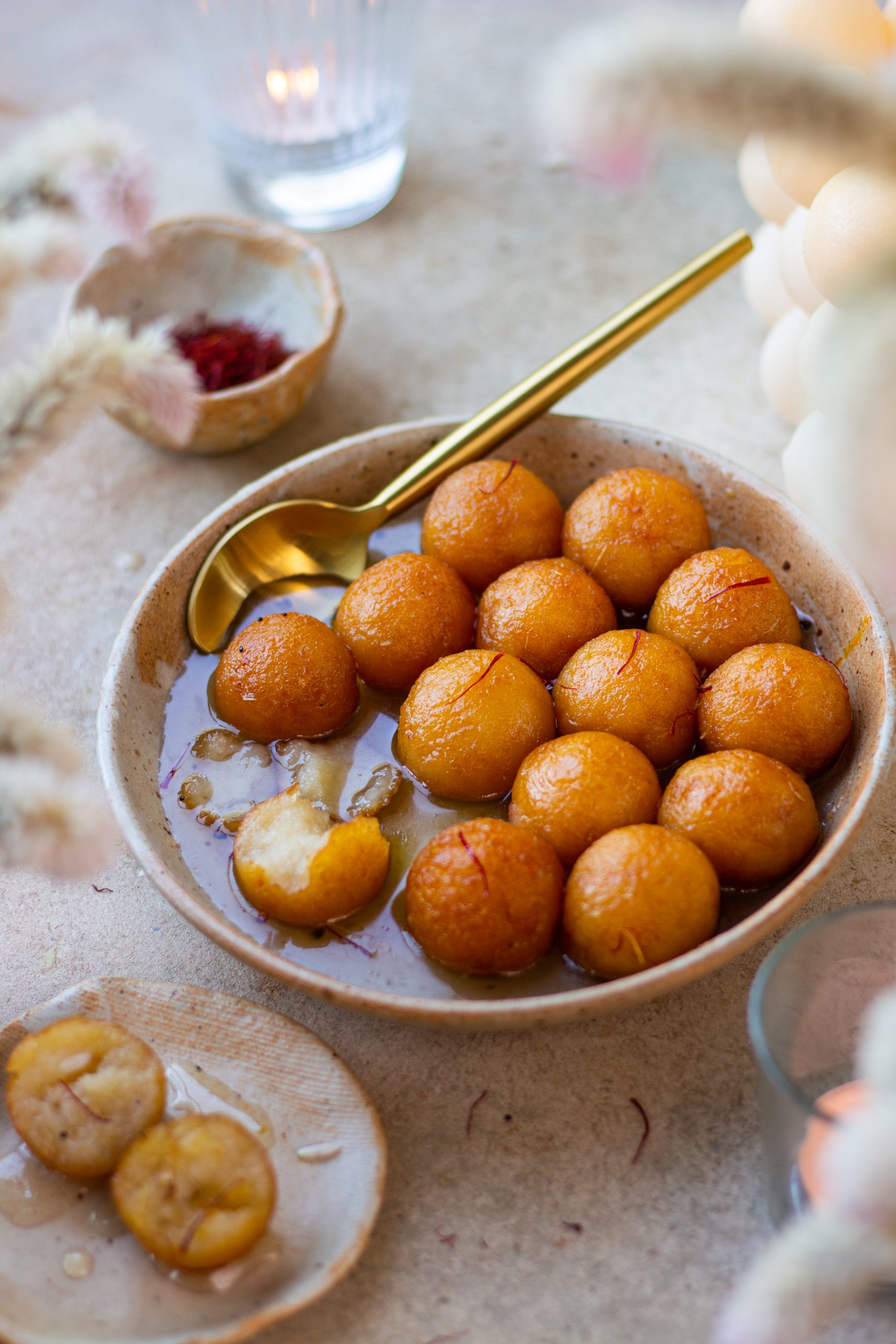 Bread Gulab Jamun Recipe
Bread Gulab Jamun
Bread Gulab Jamun
Ingredients
8 bread slices
1 tbsp (8gms) milk powder
½ cup (120ml) milk
1 cup (200gms) sugar
1 cup (240ml) water
½ tsp (2.5gms) cardamom powder
4-5 strands saffron/ kesar
Oil for frying
Instructions
In a mixer, grind 8 slices of bread until you get bread crumb.
In a medium sized mixing bowl, add bread crumbs, milk powder and milk to form a soft dough.
Cover it and let it rest for 15 minutes.
Meanwhile, prepare your chashni. For that, in a pan add equal quantity of sugar and water.
Let it boil until sugar dissolves and the mixture starts to thicken.
Once it starts to thicken, add cardamom powder and a few strands of kesar.
Once done, take it off the heat and keep it aside.
Make small balls from the dough and cover it.
In a kadhai, add oil and heat it at medium – low flame.
Start frying the bread gulab jamuns a few together once the oil reaches the temperature.
Fry all the bread gulab jamuns and dunk them in warm syrup.
Let it soak for at least an hour or more before serving.