Sometimes, you come across recipes which are exquisite and rich, yet packed with a plethora of flavors. My life is a mission to find such recipes and bring them to your kitchens so that you can recreate them and enjoy them as much as I do!
Since we're in a festive month, I'm sharing one such recipe with you today – Pista Sooji Cake or a Pistachio Semolina Cake. Nothing screams festive seasons better than pistachio, rose and kesar flavors and this recipe brings you the best of the three worlds! So let's get into the recipe.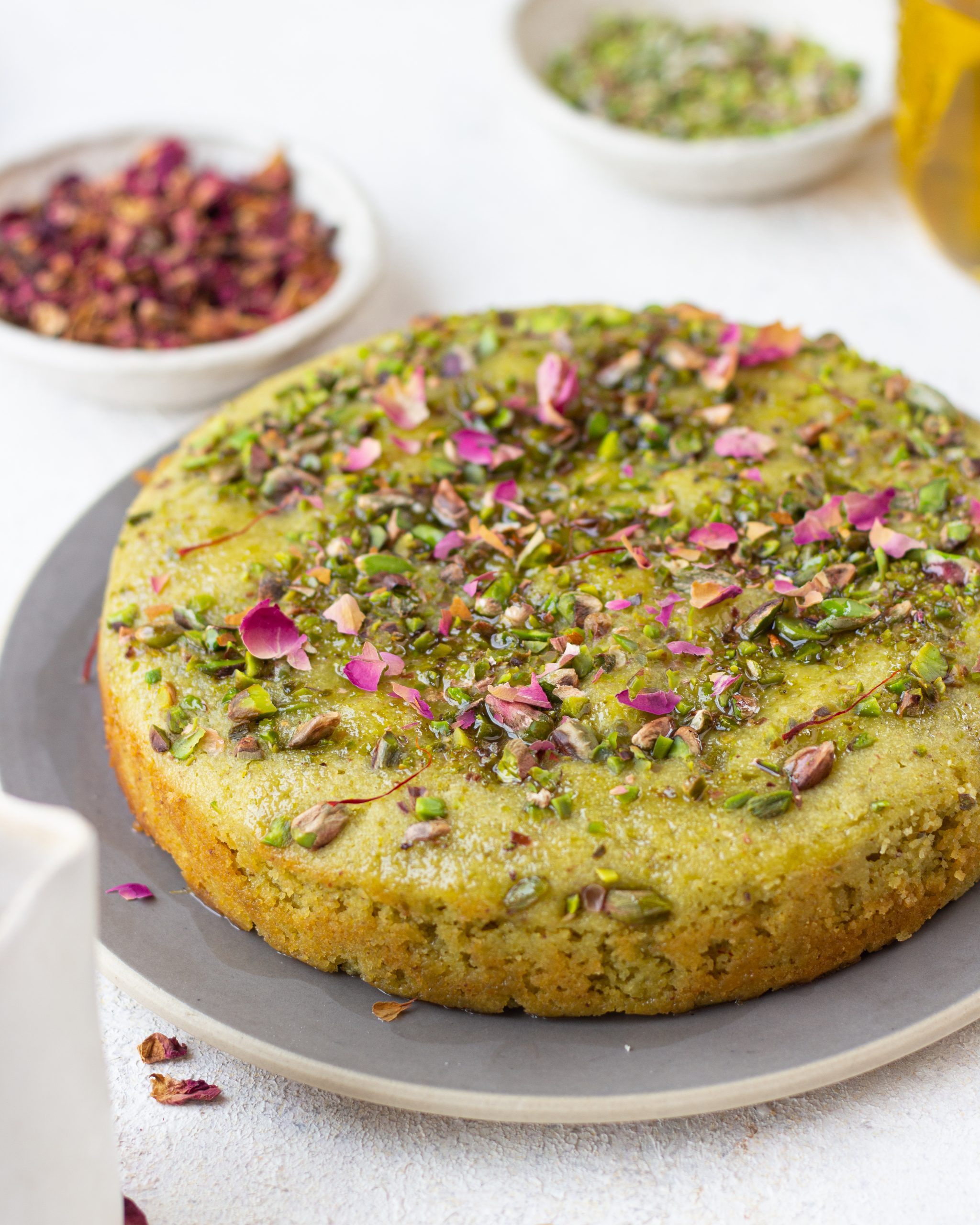 Ingredients used in Pista Sooji Cake
This cake uses some very humble ingredients to give you a treat that's truly special. The main ingredient that gives the cake its beautiful texture is an ingredient that is found in every Indian household – sooji / semolina. Yes, you can make more than your delicious halwa from sooji and I really hope this recipe gets you to use semolina in ways more than one! Apart from sooji, we also blend some pistachios with our dry mix. It gives it our batter a beautiful green color and a great nutty taste!
For the wet ingredients, I'm using yogurt as we are making this cake eggless! Yogurt acts as a great substitute of eggs and helps in making your baked goods lighter and fluffy. We are also using some ghee / clarified butter and some warm milk infused with kesar to enhance the festive flavors of this cake!
BAKING THE PISTA SOOJI CAKE
I would go ahead and call this Pista Sooji cake absolutely perfect because, well, it is delicious, it does not require any complex ingredients, and it comes together without any hassle. Moreover, we're making this in a kadhai / wok which you will already have in your kitchen. To get your Pista Sooji Cake perfect (more perfect, haha), I would also like to suggest some tips. I assure you, you will fall in love with baking this cake once you realize how easy it truly is!
Always line your pan with parchment paper before you put your batter in it. This makes sure your cake doesn't stick to the pan after baking.
After making your batter, rest it for 30 minutes. This makes sure that the semolina fluffs up and makes your batter fluffy.
Since we're baking this cake in a kadhai, you don't need an oven or a microwave for this recipe.
To pre-heat your kadhai, add some salt in it and then place either an aluminium idli rack or a small aluminum bowl on top of the salt. Cover the kadhai and let it preheat on the stove, on low-medium heat for 10 minutes.
While you're preheating your kadhai, add some baking powder to your cake batter and then transfer it to your
To test whether your cupcakes are done or not, you can always use a toothpick. However, when you think your cupcakes are evenly baked, you can push the center with your finger. If it bounces back, they're completely baked. (Only try this with cupcakes that have cooled down a bit).
How is this pista Sooji cake eggless?
Traditionally, a sponge cake has both egg whites and egg yolks whipped in it separately. This is what makes a it airy and light. Since this is an eggless recipe, I used yogurt instead of eggs. Yogurt is a great alternative and one of the most common ingredients used as a substitute for eggs. It gives the cake a very similar texture and makes it fluffy and light.
Topping for pista suji cake
Now let me tell you! This cake is great as it is. But some beautiful garnish never hurt anybody. To top my Pista Sooji Cake, I wanted to go more festive and make a chashni flavored with saffron! To make the chashni, you take some granulated sugar, water and saffron strands in a pan. You let this cook on low heat till all the sugar has dissolved and the chashni becomes thick. And there you have it! Douse your cake in this beautiful and sweet kesar chashni. I also add some more crushed pistas and dried rose petals to give my cake that festive edge. After all, it's Rakhi!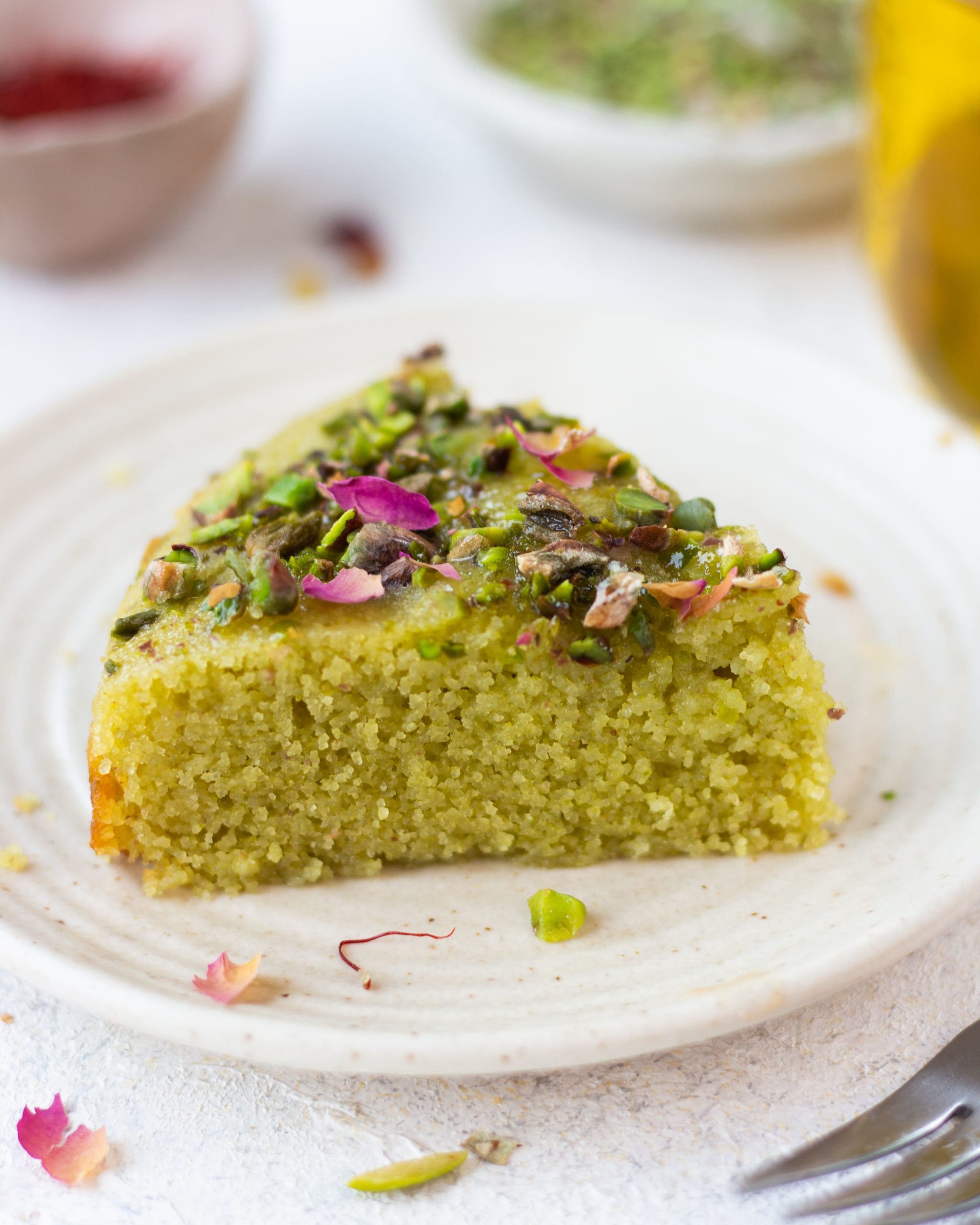 Other festive recipes on the blog
Pista Suji Cake
Ingredients
For cake
1 cup (175gms) sooji
¼ cup (25gms) pistachios
½ cup (100gms) granulated sugar
½ cup (142gms) yogurt
¼ cup (60gms) ghee
½ cup (120ml) milk
6-8 strands saffron
1 tsp (4gms) baking powder
For chashni
¼ cup (50gms) granulated sugar
¼ cup (60ml) water
5-6 strands of saffron
To top:
More crushed pistas (before putting into baking)
Dried rose petals
Instructions
In a blender, add semolina, granulated sugar and pistachios.
Blend the three together till you get a fine powder and set this aside.
In a separate bowl, add yogurt and ghee and using a whisk, combine well.
Add in the dry ingredients to the yogurt ghee mixture and using a spatula, fold in gently till well combined.
To a jar of warm milk, add a few strands of saffron and mix well.
Add this milk to your batter and fold it in.
Let the batter rest for 30 minutes.
In a kadhai, add salt and place an aluminum idli tray or a small aluminum bowl on top of the salt.
Let the kadhai pre-heat on the stove for 10 minutes on low-medium heat.
After your batter has rested for 30 minutes, add in the baking powder and mix well.
Transfer the batter to an 8 inch baking pan line with parchment paper.
Top with some crushed pistachios and bake in the pre-heated kadhai on low-medium heat for 40-50 minutes / until a skewer inserted comes out clean.
To make the chashni, take sugar, water and saffron in a pan. On a stove over low heat, cook the syrup till all the sugar has melted and the syrup is slightly thickened.
Once baked, take the cake out of the kadhai and let it cool completely.
Top the cake with some chashni and garnish with some more crushed pistachios and dried rose petals.
If you like this recipe and happen to make it for Raksha Bandhan, don't forget to share pictures with me by tagging me on
Instagram
/
Facebook
using #bakewithshivesh.