I feel like tea cakes are one of the best things to make at home. They are easy to put together, everyone loves eating them and it is a great way to get the family together during the evening tea/coffee time. This eggless oreo cake with a chocolate ganache is a must have tea cake recipe.
The eggless oreo cake is made by combining the yummy flavors of vanilla, classic oreo biscuits, and milk chocolate. The recipe is super simple to put together. Let us take a look at what all you need to make this tea cake.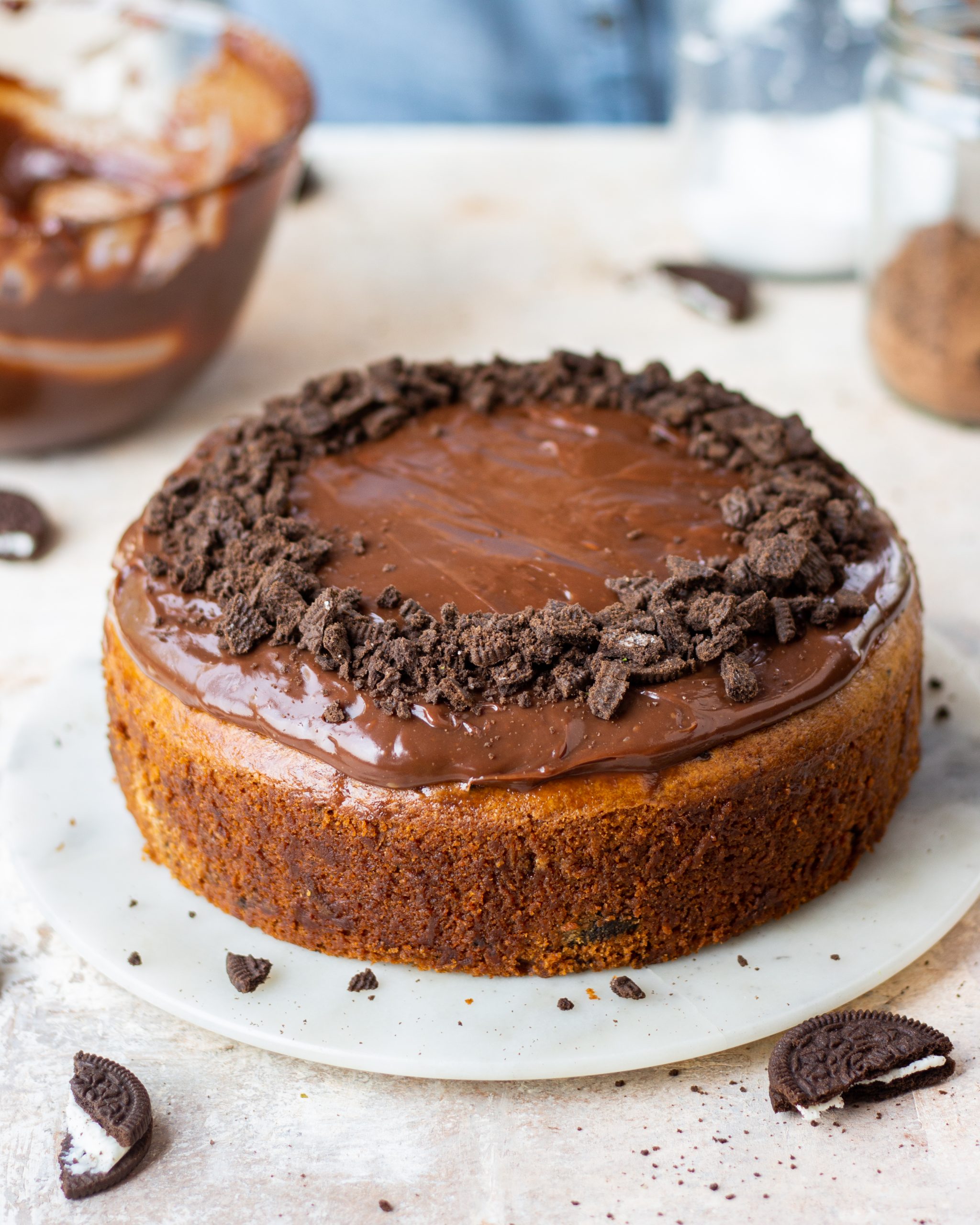 Ingredients for eggless oreo cake with chocolate ganache
This cake is eggless so the first thing you need for a super fluffy eggless cake is curd and baking soda. Mix the two together and keep it aside. Baking soda will react with the curd and make the mixture foamy and airy.
You will also need caster sugar, also known as breakfast sugar or superfine sugar, along with vegetable oil. I love using sunflower oil but you can use whichever flavorless oil you like, canola oil or soybean oil can also work.
Adding vanilla to cakes is always a great way to add extra flavor into them. I love using spring's vanilla. Good quality vanilla makes all the difference and gives you an enriched taste instead of a synthetic taste. You can also use either goodness vanilla or fresh vanilla bean pods for the ultimate flavor.
And ofcourse, in an oreo cake you need oreo biscuits. I used the classic ones but if you want, you actually use any flavor you like! Chocolate oreos or even strawberry ones will work well in this recipe. It is all about your personal preference.
In addition to the tea cake, I also made a very simple milk chocolate ganache. The ganache only requires two ingredients- milk chocolate and fresh cream. If you do not have milk chocolate, you can also use dark chocolate instead. And if you do not like ganache, you can definitely leave out this component and just enjoy the tea cake as is.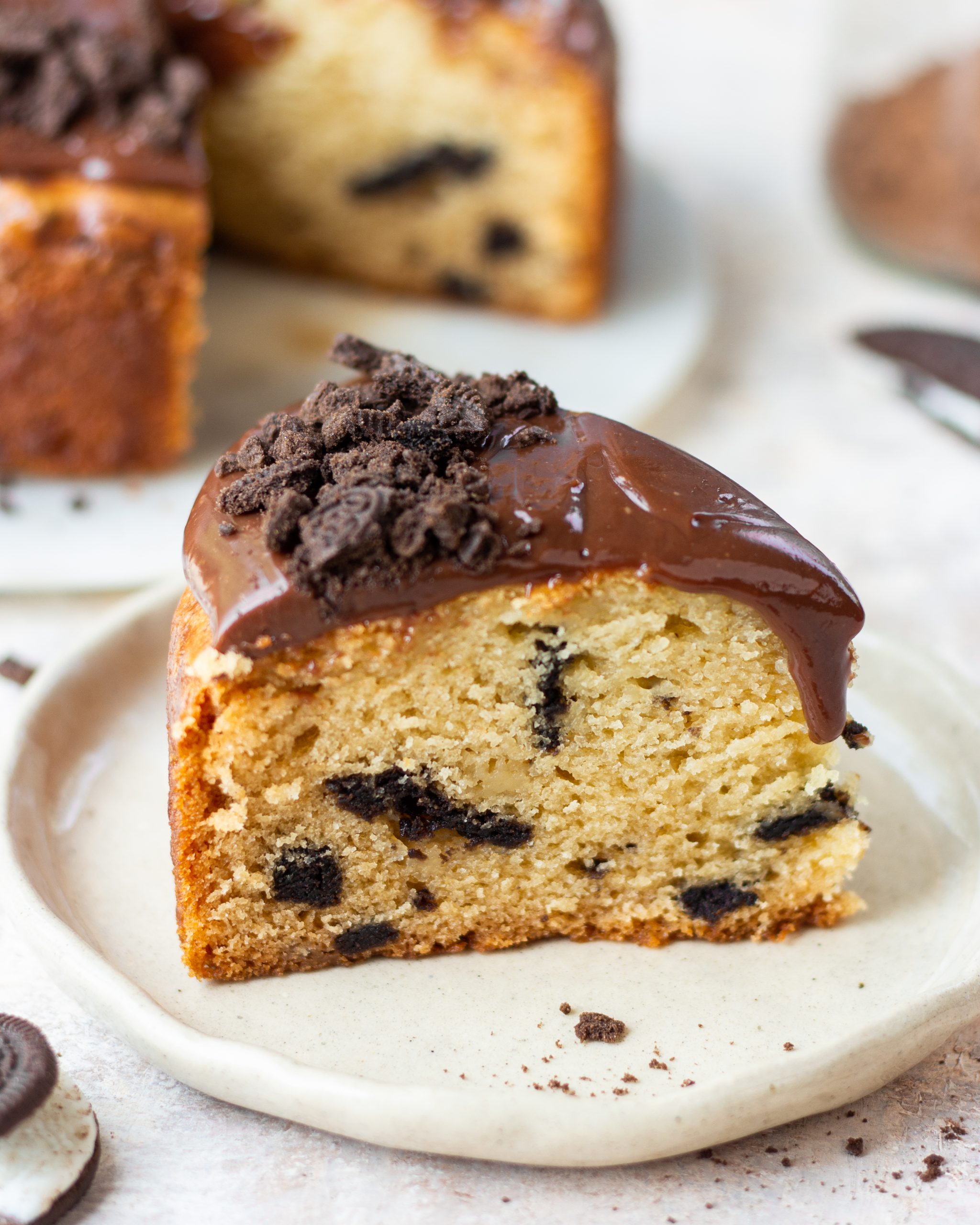 Tips to keep in mind while making the eggless oreo cake with chocolate ganache
Before making this eggless vanilla sponge cake, make sure you line your baking tin with parchment paper. If you don't have parchment paper, you can brush the pan generously with melted butter/ oil.
Make sure all your ingredients, including yogurt, are at room temperature. This is important because room temperature ingredients mix in nicely with each other.
While combining dry and wet ingredients, be sure to NOT over-mix. By over-mixing, you will knock out all the air and land up with a dense cake. Simply use an offset spatula and gently fold the dry ingredients into the wet ingredients.
Let the cake cool completely before you start frosting it. If you frost a warm cake, the frosting will melt instantly and create a mess on the cake.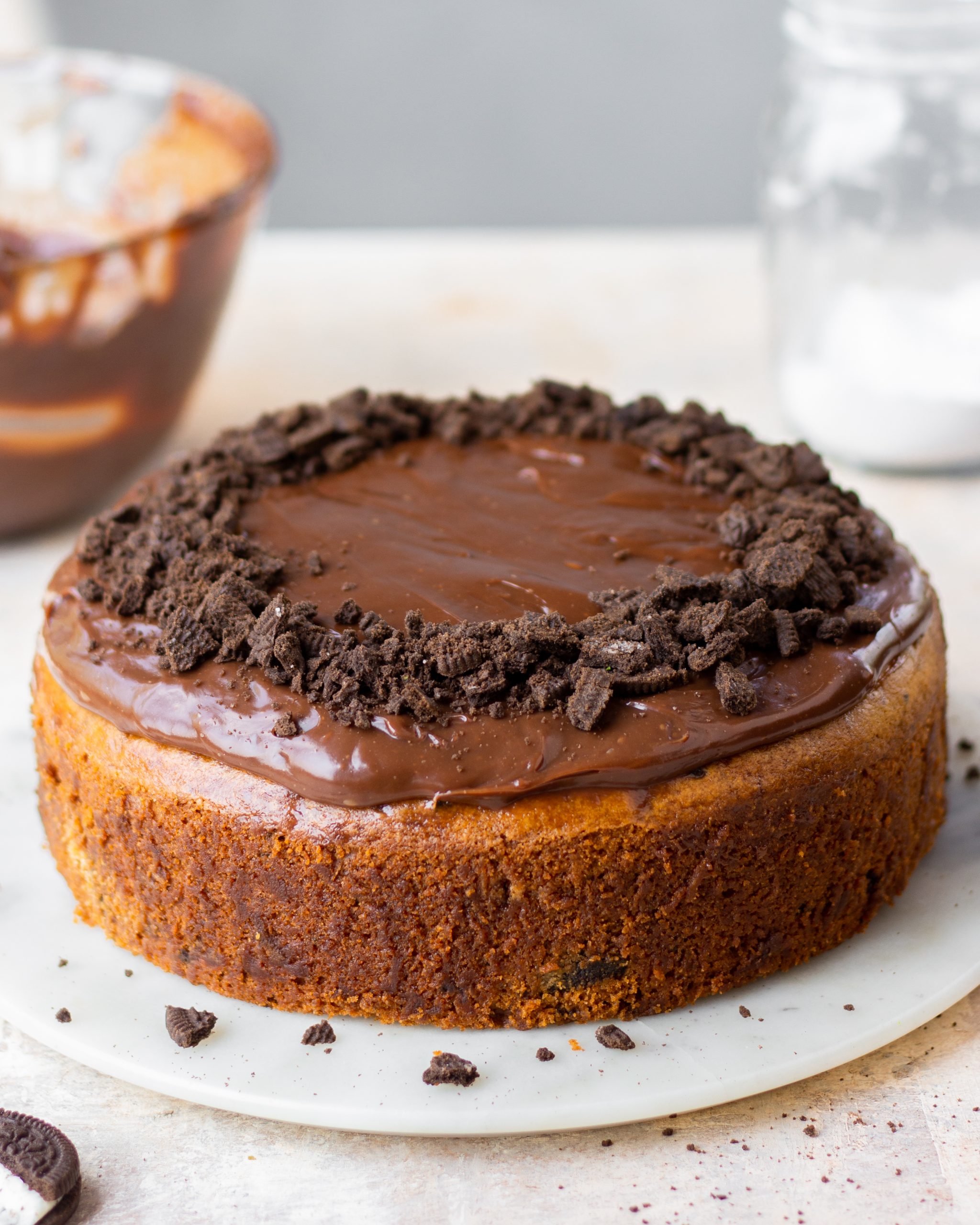 Making this eggless oreo cake in the microwave
Just like most of my recipes, this cake is versatile enough to bake in an oven and a microwave. For the oven, I would recommend baking it at 180 C for 25-35 minutes.
But, for a microwave, bake it at 180 C in the convection mode for about 25 minutes.
And if this oreo recipe has you head over heels for oreo, try some of my other oreo recipes like the oreo cheesecake bars or the chocolate oreo truffles.
Some alternative ingredients
I love oreos and I know a lot of you out there do too! I always have some oreo packs on hand and that is why making this cake is so easy and fun. However, if you do not stack up on oreos like I do, you can use any biscuit you love or have on hand!
Jim jam, hide and seek, bourbon biscuit or any you like. I would recommend choosing a sandwich biscuit like jim jam or bourbon which has cream stuffed in them. This will give your cake extra flavor and extra decadence.
For the ganache I used milk chocolate and fresh cream. You can of course use any chocolate you like and use either fresh or heavy cream. You can also frost this cake with other great frostings like the best chocolate fudge frosting.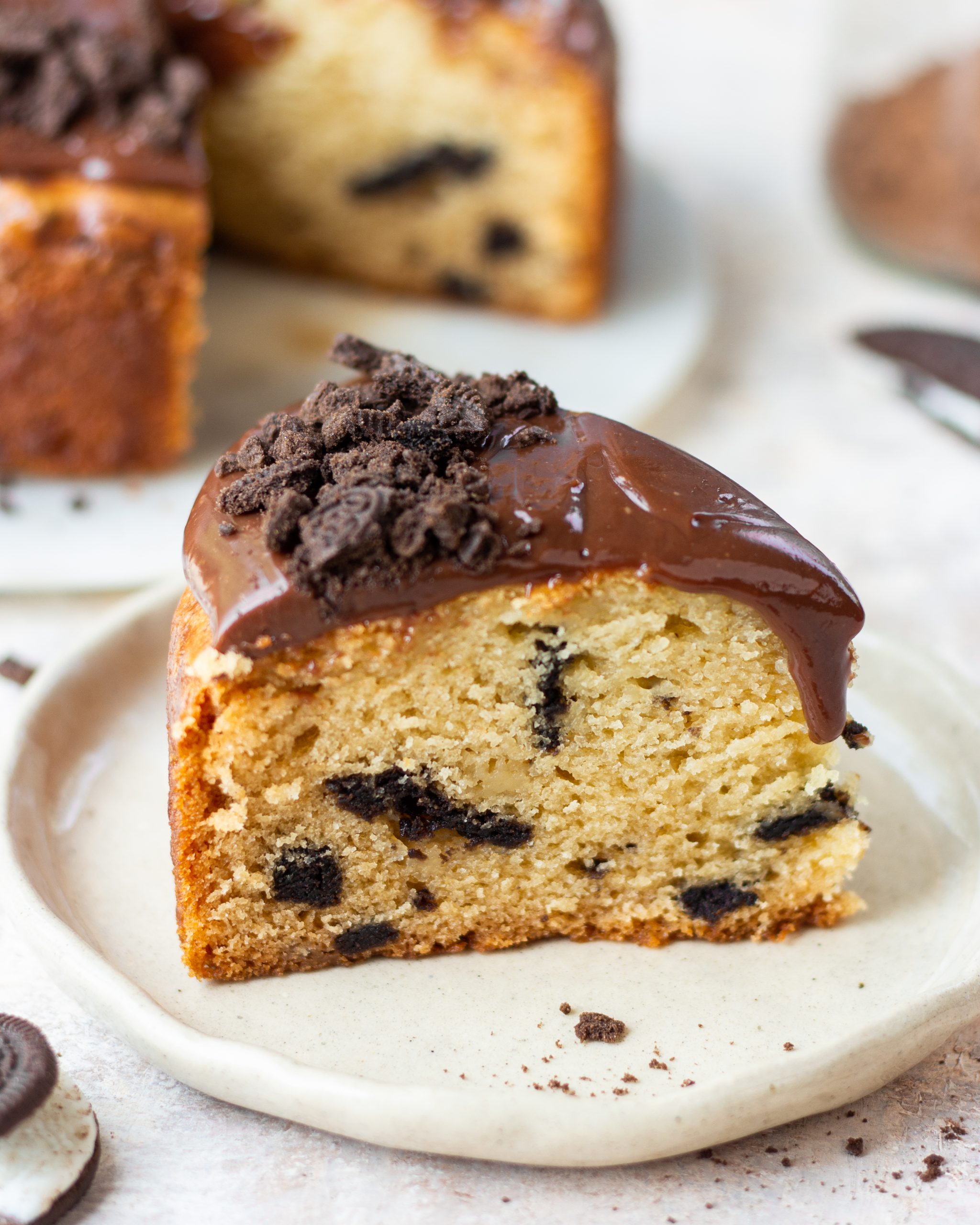 Making milk chocolate ganache
While the cake is baking, work on making the simple chocolate ganache. All you need to do is combine chopped chocolate with warm fresh cream. Let the chocolate melt completely with the heat of the cream and combine in a smooth silky ganache. You will need to cool this down in either the fridge or the freezer so that the ganache becomes thick and obtains a spreadable consistency. If you are keeping it in the freezer, keep a close eye on it and take it out before it sets hard so that you don't have to re melt the ganache for spreading.
Make this cake and share your pictures with me on my Instagram @shivesh17. I would love to see your recreations!
Other simple recipes on the blog
Eggless Oreo Cake with Chocolate Ganache Recipe
Eggless Oreo Cake with Chocolate Ganache
Ingredients
For cake:
2 cup (570gms) yogurt
1 teaspoon (3gms) baking soda
1 + ½ cup (300gms) castor sugar
1 cup (240ml) vegetable oil
1 teaspoon (5ml) vanilla extract
3 cups (360gms) all purpose flour
2 teaspoon (8gms) baking powder
12 Oreo biscuits, chunks
Ganache:
1 cup (175gms) chocolate
½ cup(120ml) cream
Crushed Oreo biscuits (to top)
Instructions
Pre -heat the oven to 180 degree C and line an 8 inch round cake pan with parchment paper.
In a bowl add the yogurt and sprinkle baking soda over it and set it aside to foam up.
Whisk together castor sugar and oil in a separate bowl until pale and well combined.
Now pour the yogurt mixture to the oil and sugar mixture and mix well.
Add the vanilla extract.
Place a sieve over the bowl and sift in flour, and baking powder
Gently fold in the flour and mix until everything is well combined there are no large flour pockets in the batter. Also add in the oreo biscuit chunks and fold those in too. Do not over mix at this stage.
Transfer the batter to the prepared cake pan.
Bake at 180C for 40-50 minutes or only until a skewer inserted in the center comes out clean.
To make the ganache, pour hot cream over chopped milk chocolate and combine. Let the cream melt the chocolate and form a smooth ganache.
Set the ganache in the fridge and let it firm up a bit.
Once the cake is baked and cooled down, spread the ganache on top. Add more crushed oreo biscuits on top and enjoy!