Diwali calls for delicious sweets and I am all about experimentation! So I needed something super delicious to surprise my family, and I got it – a super yummy Gulab Jamun Kulfi Cake! The perfect twist to our usual Diwali Mithais, don't you think?
This Gulab Jamun Kulfi Cake has layers of biscuit base, the softest gulab jamuns and the creamiest Kulfi ice cream! If you're looking for a great last minute dessert to make for your guests on Diwali, this one is for you! So let's get into the recipe.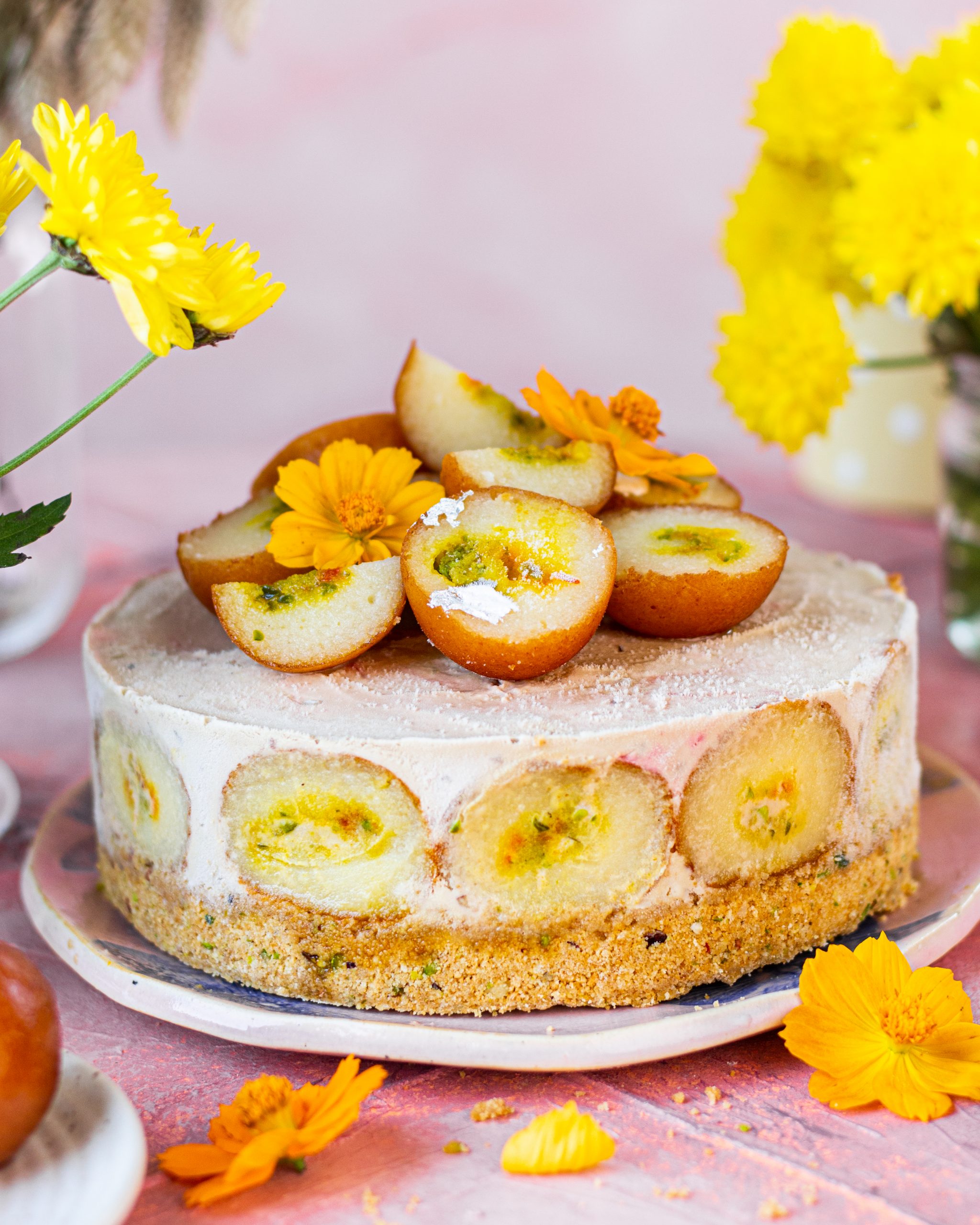 Ingredients used in Gulab Jamun Kulfi Cake
You know the best thing about this Gulab Jamun Kulfi Cake? It literally needs 5 ingredients but ends up looking like you spent the entire evening working on a stunning dessert, haha! Extra points on the taste because who won't go gaga over kulfi ice cream combined with gulab jamuns? For me, this is a dessert I'll be making over and over again. The biscuit base is the last thing you taste when you eat this Gulab Jamun kulfi cake but it is rather important because it brings the whole dessert together. So I would recommend that you take your time in processing the biscuits and pistachios together so that you get chunks of pista or biscuit as you eat. For the kulfi ice cream, if you have an ice cream maker at home and have some time in hand, go for homemade ice cream as homemade is always better! But if you're running short on time and cannot make ice cream from scratch, then you can get any kulfi ice cream from the store! It would taste just as good.
WHAT ARE NO-BAKE DESSERTS?
As the name suggests, no-bake desserts are desserts that are made without any actual baking. These are cold set desserts that require either some setting agents like gelatine or agar agar or you need to play around with ingredients that can hold well themselves. These can be simple ingredients like heavy cream, cream cheese, egg whites, and so on.
No bake desserts do not require any baking process but they do require a relevant amount of setting time. In my experience, no-bake desserts that are layered, like this Gulab Jamun Kulfi Cake, need at least 6-7 hours of refrigeration before you can cut into them.
This is perfect to prep your desserts a day ahead whenever you have a party planned the next day! Trust me, prepping up a dessert a day in advance is always the best decision and keeps all your guests super happy too.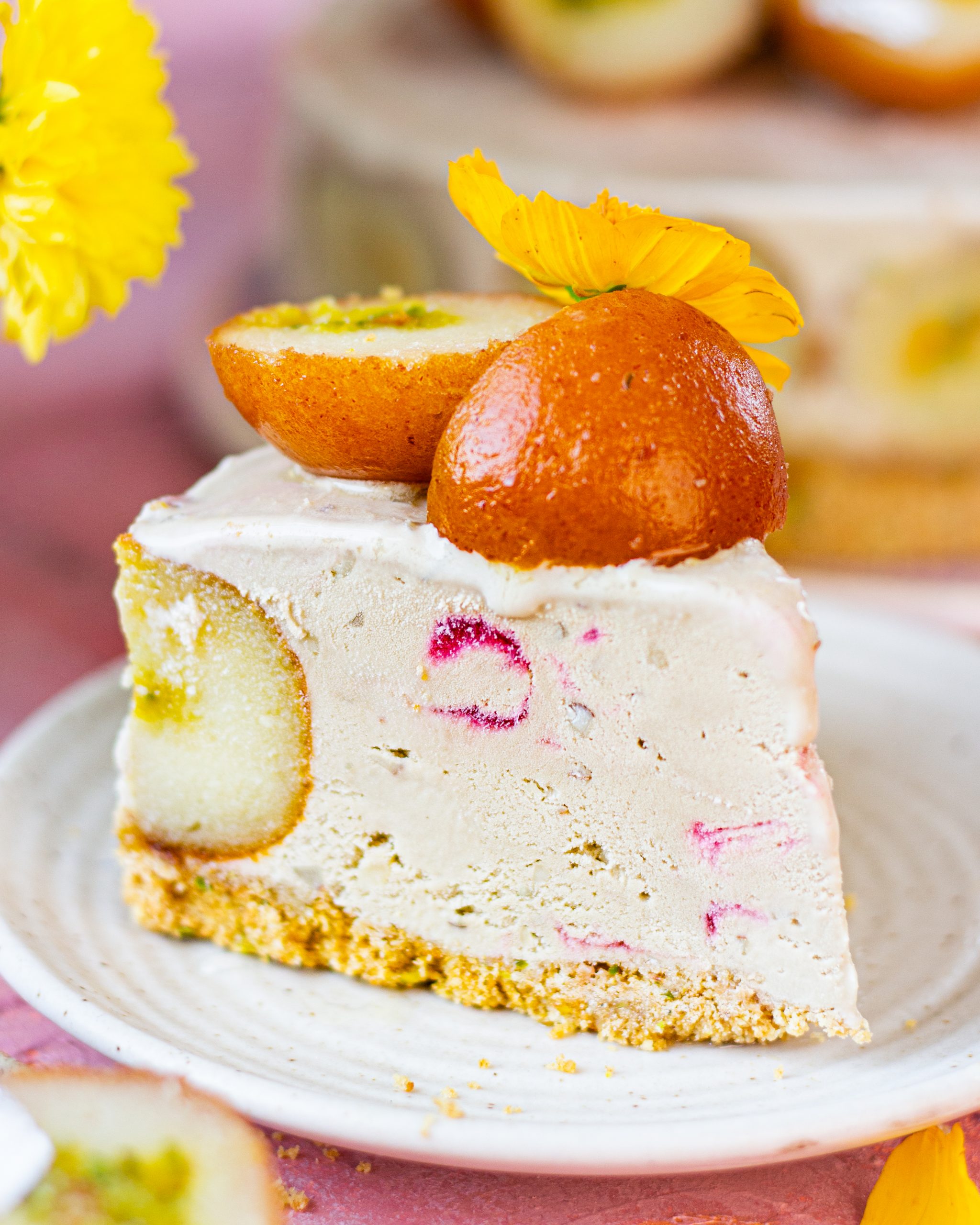 The festive Layers of gulab jamun kulfi cake
This awesome gulab jamun kulfi cake has three elements which give it the structure it needs –
The biscuit base – I make the base of my Gulab Jamun Kulfi Cake with digestive biscuits, powdered pistachios and some ghee. Normally I would use butter but we are in all the festive feels right now! Hence, ghee adds that perfect desi touch to this Gulab Jamun Kulfi Cake. I use Britannia digestive biscuits for the base of my Gulab Jamun Kulfi Cake and generally for all my cheesecakes. But you can use any digestives you can get your hands on.
The gulab jamuns – I can eat a thousand gulab jamuns at once and I'm not even exaggerating! I couldn't think of a better combination than these gulab jamuns and creamy kulfi ice cream. We arrange the gulab jamuns on the side of our Springform pan to give our Gulab Jamun Cake a stunning look!
The final Kulfi Ice Cream layer – I wanted this gulab jamun kulfi cake to have a lot of texture in every bite, otherwise what is the point of a cake? And let's not forget, this is a festive cake, which means there gotta be celebration in every layer!
HOW to demould Gulab Jamun kulfi cake?
Building the Gulab Jamun kulfi cake may seem easy, but it still needs you to be careful about demoulding the cake so that you don't mess the beautiful structure of this cake-
For making the Gulab Jamun kulfi cake, two important tools for you to have is a springform pan and an offset spatula. Springform pan makes sure that the edges of the cake are smooth and makes it so much easier to demoed the cake- you just have to open the lock and lift! The offset spatula helps you in spreading the kulfi ice cream layer evenly on the base and helps in making look super aesthetic.
Before starting work on the Gulab Jamun kulfi cake, make sure you have enough space in the freezer so that once your cake is ready, you don't have to wait for space- otherwise you may end up completely melting your ice cream!
If you feel that your ice cream cake is stuck to the 6 inch springform pan, then you can quickly run a cold knife around the edges to loosen the cake up a little. Just make sure you do this smoothly as to not spoil the look of the cake!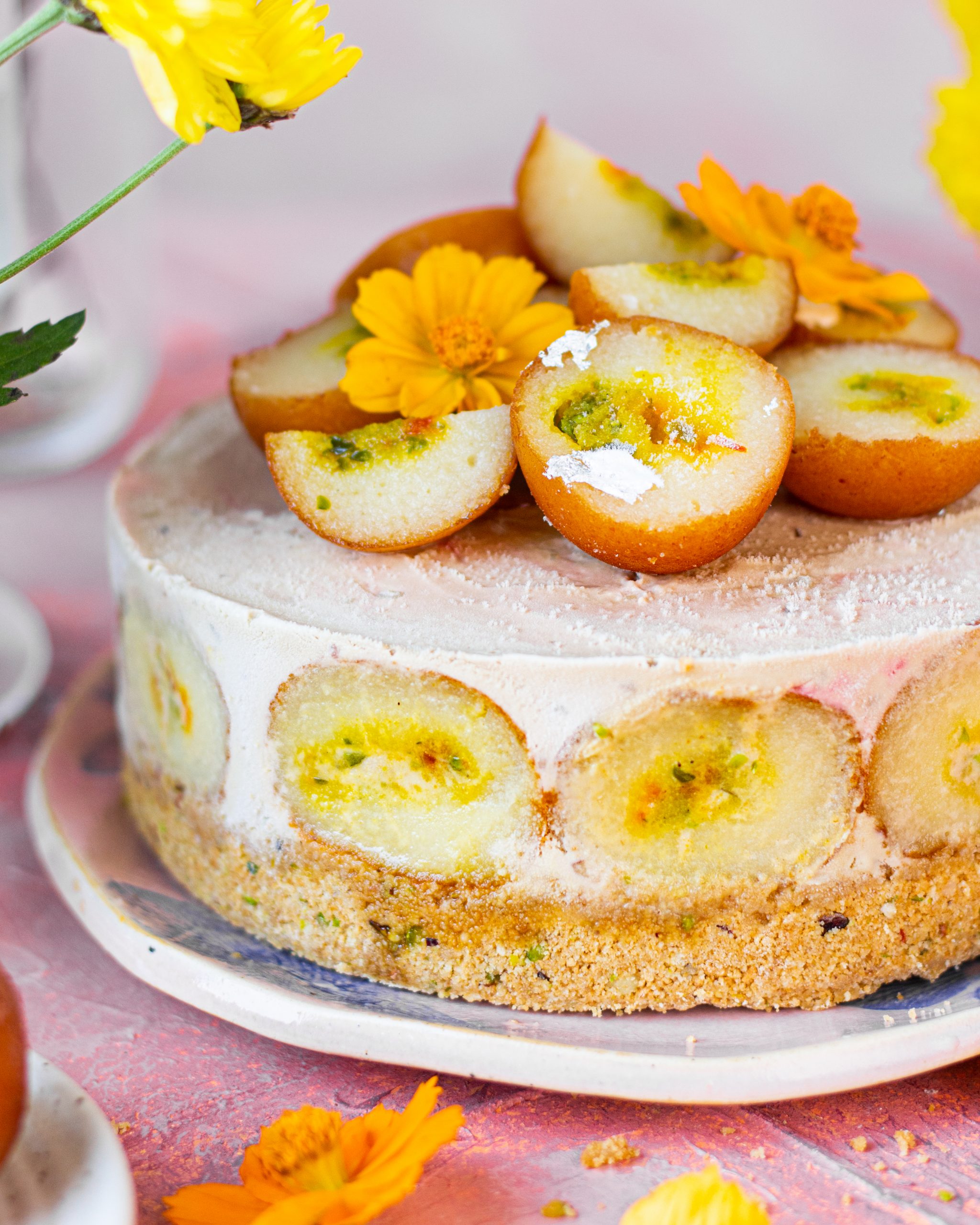 How I gave my Gulab Jamun cake the perfect festive look
This has to be everyone's favorite part where all that is left to do is decorate the cake, make it look pretty and then slice and eat! I used lots of gulab jamuns and edible flowers to garnish my cake and it ended up looking super cute! As it was a celebratory cake for Diwali, it made the occasion even more perfect!
But you can use any garnish you wanna use- more than a recipe, this cake is all about innovating and experimenting what works best for you. So go crazy with flavors and looks!
Other festive recipes on the blog
Gulab Jamun Kulfi Cake
Creamy Kulfi Gulab Jamun Cake
Ingredients
For the base
1+1/2 cups (125gms) crushed biscuits
¼ cup (25gms) pistachios
½ cup (95gms) ghee
4 cups (600gms) Creamy kulfi ice cream, softened
9-10 gulab jamuns, cut in half
Gulab Jamun and edible flowers for garnish
Instructions
In a bowl add in crushed biscuits, powdered pistachios, and melted ghee. Mix all of these till everything is coated in ghee evenly.
Transfer the biscuit mixture to your spring form pan. Use the back of a glass to push down and cover the base of the pan with the biscuit mixture. Set it aside in the refrigerator.
Cut gulab jamuns in half and arrange them around the edges of the pan.
In a separate bowl, take creamy kulfi ice cream and soften it using a spatula.
Using an offset spatula, spread the softened ice cream in an even layer on top of the base.
Freeze the gulab jamun ice cream cake overnight.
Demould the cake and garnish with more gulab jamuns and edible flowers.
If you like this recipe and happen to make it in your kitchen, do share pictures with me on
Instagram
using #bakewithshivesh.