An impressive twist on the European classic Black Forest Cake, this White Forest Cake is the absolute opposite to it. But what's important is this white forest cake is eggless, soft and moist, delightful and one hundred percent delicious.
By opposite I mean the chocolate cake layers are replaced with vanilla cake, the whipped cream is replaced by a fluffy and delicious whipped white chocolate ganache and the cherry compote is replaced by canned cherries. I decorated the cake with white chocolate shavings and more canned cherries on top. You can absolutely use fresh cherries in place of canned ones in this white forest cake if they are in the season for you. Let's understand these elements one by one in detail.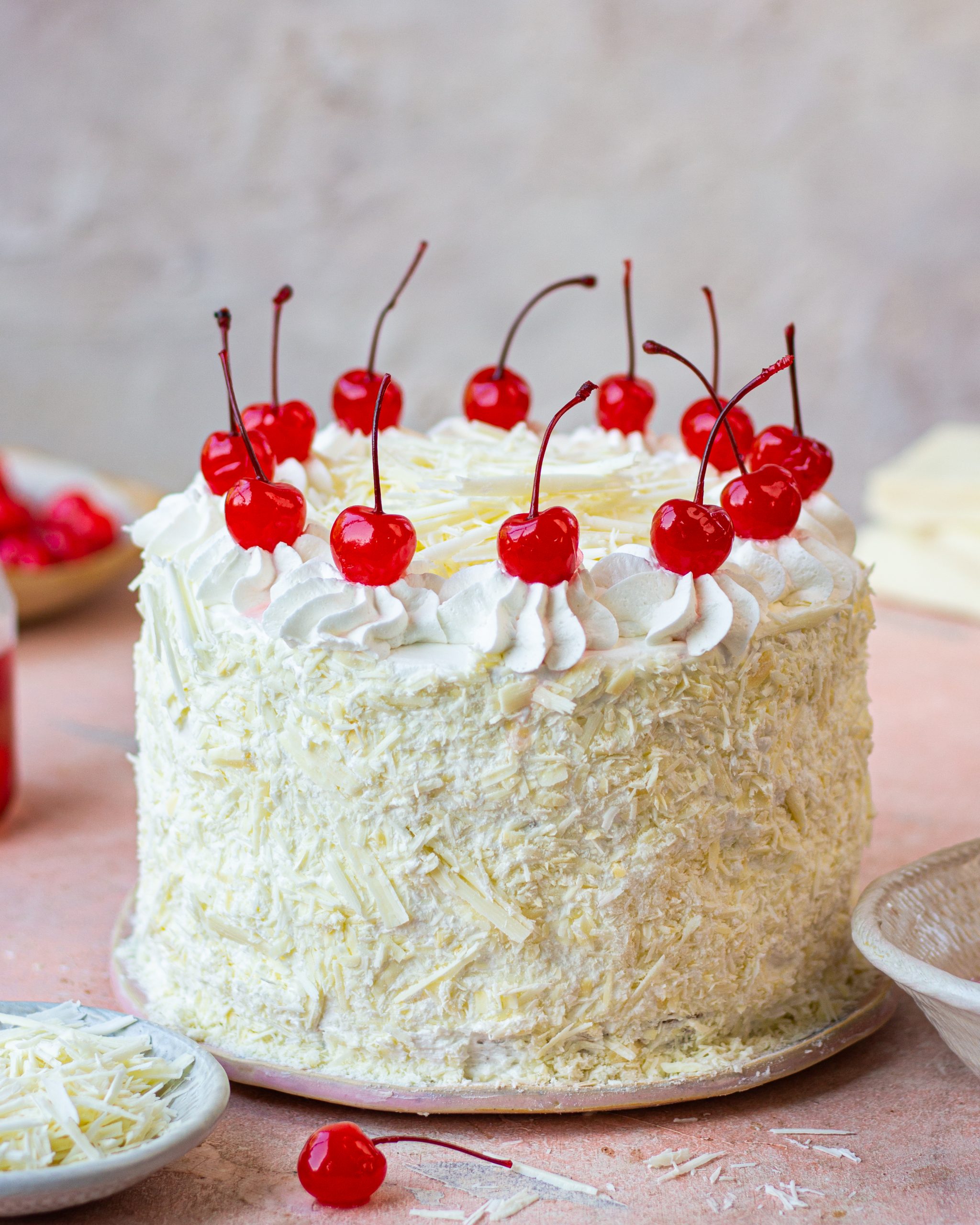 THE EGGLESS CAKE SPONGES
I decided to go all out and make a four-tiered white forest cake. I used two of my 6inch cake pans to bake the cake. I divided my cake batter into two equal portions. Weighing each portion in grams will give the most accurate results but if you want, you can also use cups to help keep the amount of batter equal. I then divided both the cakes into two layers and got four layers in total.
If you are baking one layer at a time for this white forest cake, you can keep the remaining batter in the fridge and bring it out when you are ready to bake the next layer.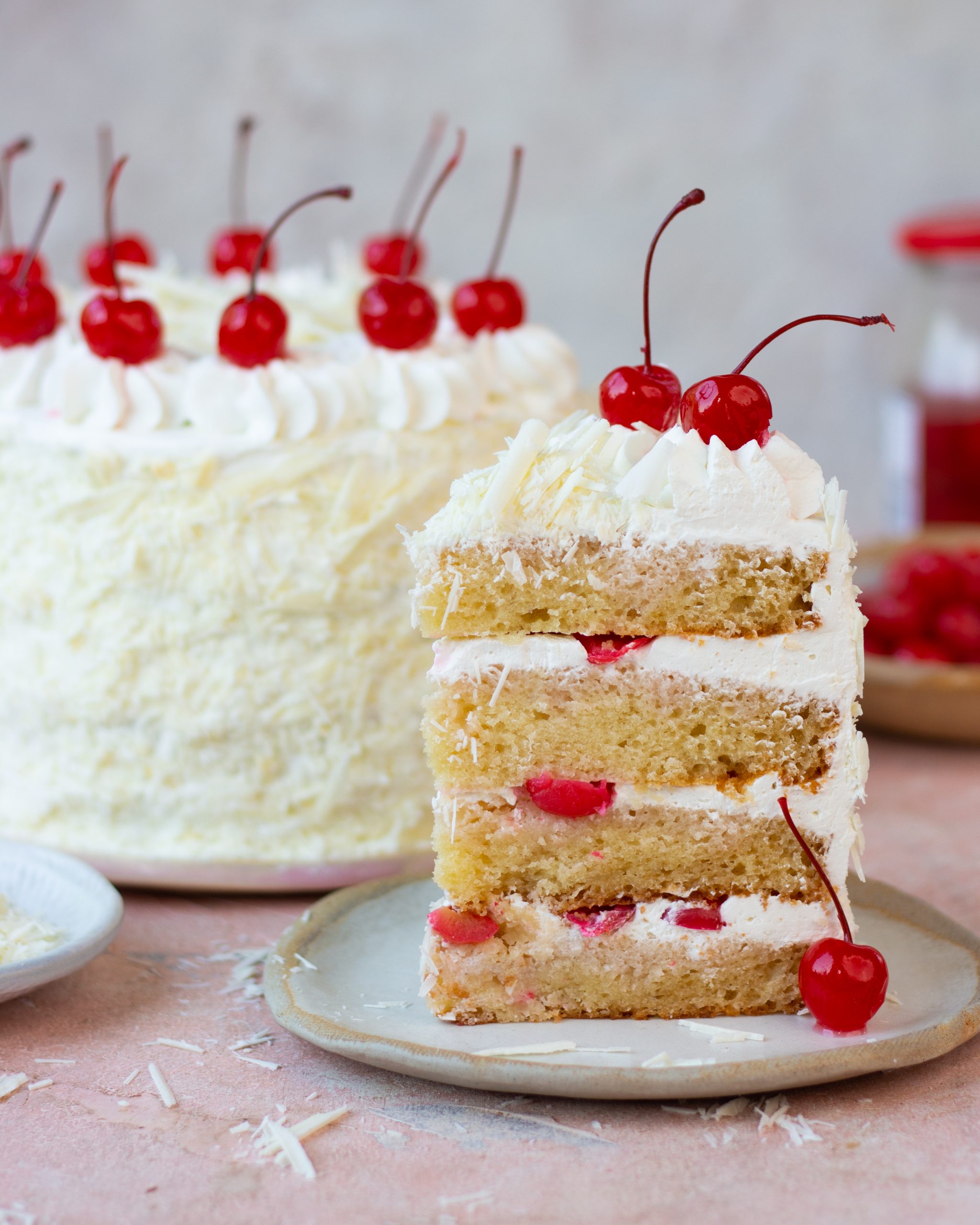 When making an elaborate cake like this one, I like to prepare my cake sponges a day in advance so that I can divide my work and not stress myself with doing everything in one single day. Having your sponges ready to go makes all the difference. You are less stressed and definitely have more fun assembling and decorating the cake!
If you want to make a two layer with a good height, you can just divide the recipe by half and still make a gorgeous two layered white forest cake.
WHIPPED WHITE CHOCOLATE CREAM
Is any forest cake, be it black or white, complete without whipped cream? I don't think so. Every forest cake has an airy, light, and fluffy whipping cream layered in between the cake sponges. It strikes the perfect balance between a decadent cake sponge and sweet cherry in between.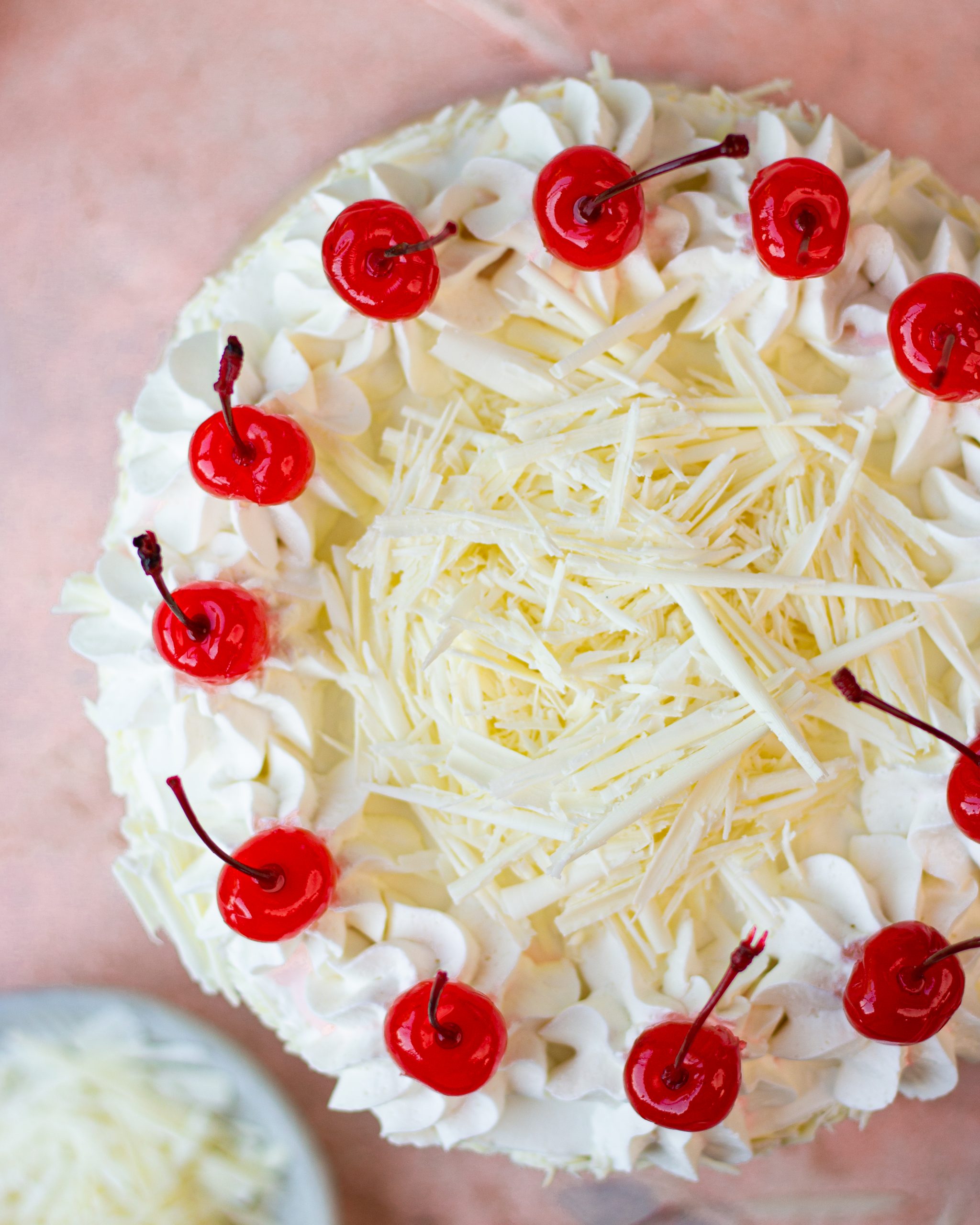 But for this white forest cake, I took the whipped cream a step ahead and made a whipped white chocolate ganache instead. It's rich and decadent and you are going to love it. For that I simply made white chocolate ganache by mixing some white chocolate in slightly warm whipping cream until it melted completely.
Once the chocolate melted, I kept it in the refrigerator to cool it down for at least two hours.  After it sets, using an electric whisk, I whisked the ganache to get a whipped white chocolate ganache for our white forest cake.
CHERRIES IN BETWEEN THE LAYERS
To maximize the cherry flavor in the white forest cake, I soaked the cake layers in the cherry syrup from the canned cherries and layered the cake with some canned cherries.
You can absolutely use fresh cherries in place of canned ones in this white forest cake if they are in the season for you. I also topped the cake with some more canned cherries once it was completely frosted.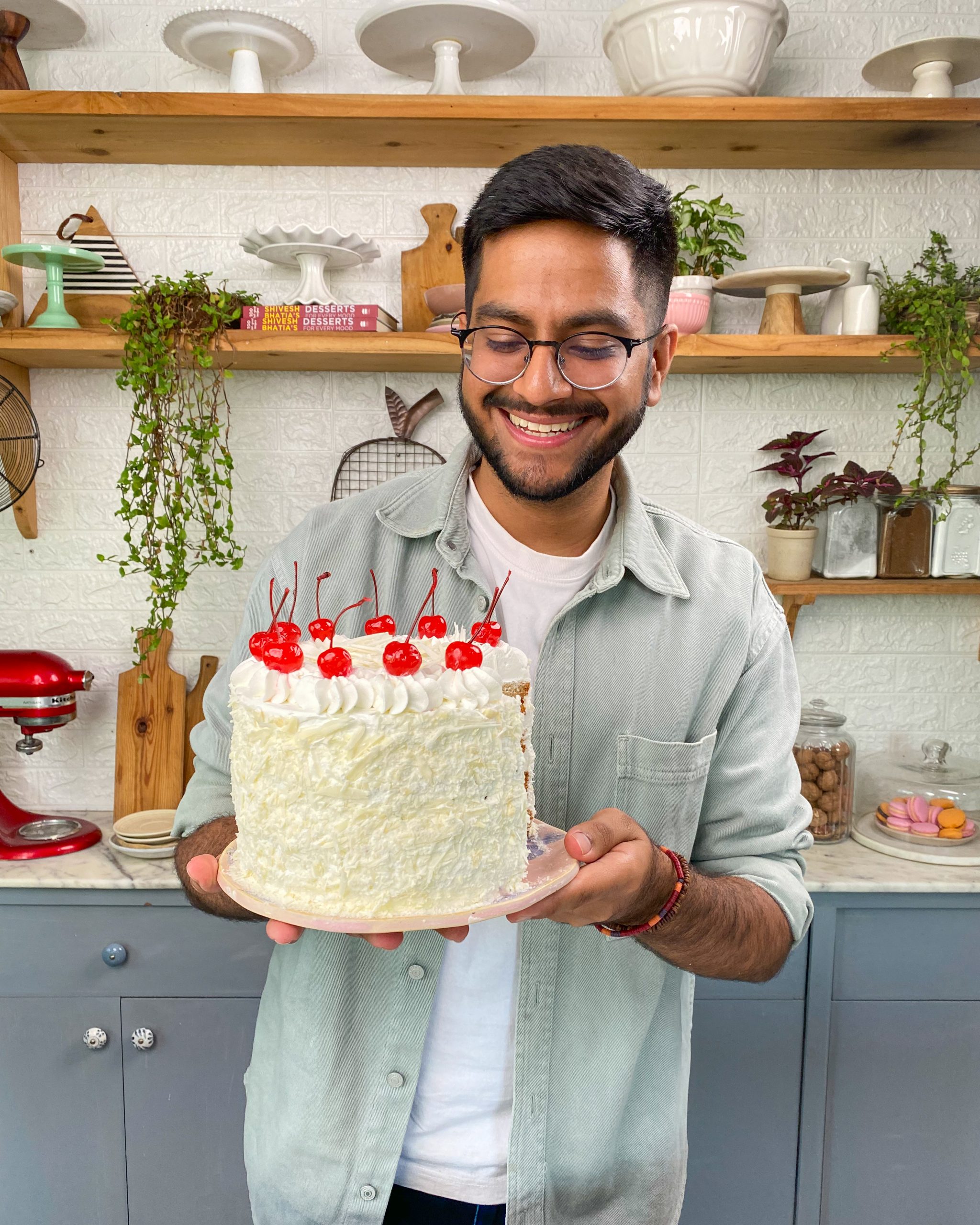 WHITE CHOCOLATE SHAVINGS FOR GARNISH
Chocolate shavings look so cute on any forest cake, be it black or white. It might look like a fancy garnish but is actually really simple to make at home. I made mine by just using a sharp knife and white chocolate bar. I simply scrapped off the white chocolate from the back of my white chocolate bar with the help of a sharp knife. They will look adorable on the white chocolate cake once assembled.
ASSEMBLING THE WHITE FOREST CAKE
Now to my favorite part, assembling the cake. Before you start to actually assemble the cake, make sure you have all your elements ready. This includes your cake sponges demolded, whipped white chocolate ganache whipped and ready to pipe, and cherry syrup ready to be brushed and spread across the cake and canned cherries for the layers.
Now the structure of the cake is simple. You take one cake sponge, soak it with the cherry syrup and then make a well of whipped white chocolate ganache around the edge of the cake, and then inside the well, add a scoop of some more whipped ganache and spread it out in an even layer. I then added some canned cherries on top. If you're a beginner at frosting cakes, this guide on layering and frosting will be extremely helpful to you!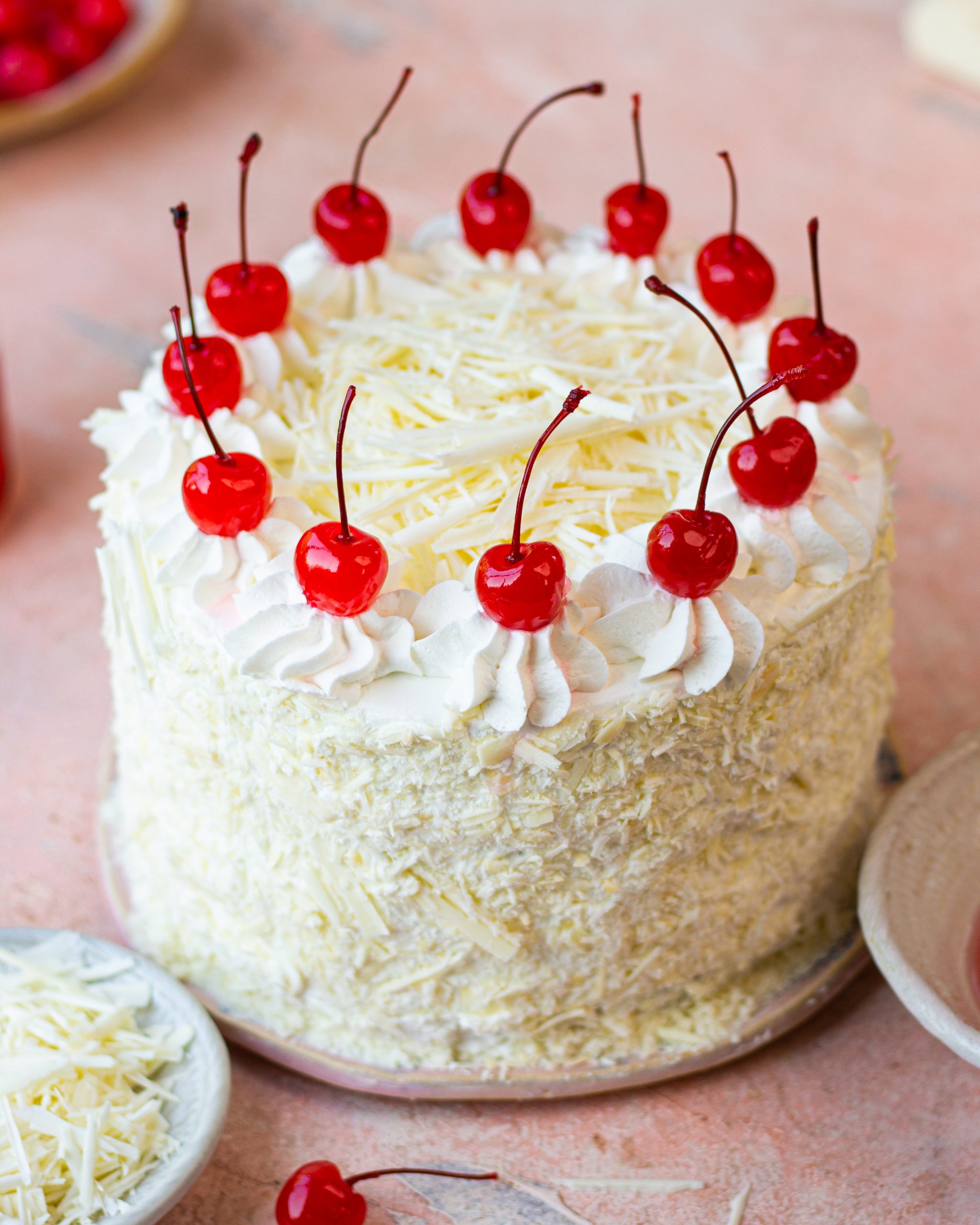 Once this is done, carefully place the second layer of cake on top. Push it down a little to make sure all edges are in contact with the whipped ganache. Then soak the second layer with cherry syrup and repeat all the previous steps. Similarly add the third layer. Place the fourth cake sponge on top and spread the leftover whipped ganache on all sides and edges of the cake.
HOW TO FROST THE WHITE FOREST CAKE
Once all four layers are stacked and you have added the remaining whipped ganache on top, you need to use your offset spatula to start spreading the whipped ganache on all edges and top of the cake.
Once your top is clean, take the offset spatula to the edge of the cake and go in front and back motions with your hand to spread the whipped ganache. Continue this motion till you are happy with the frosted look. You can add as much or as little cream you want. I wanted to completely cover my cake on the outside.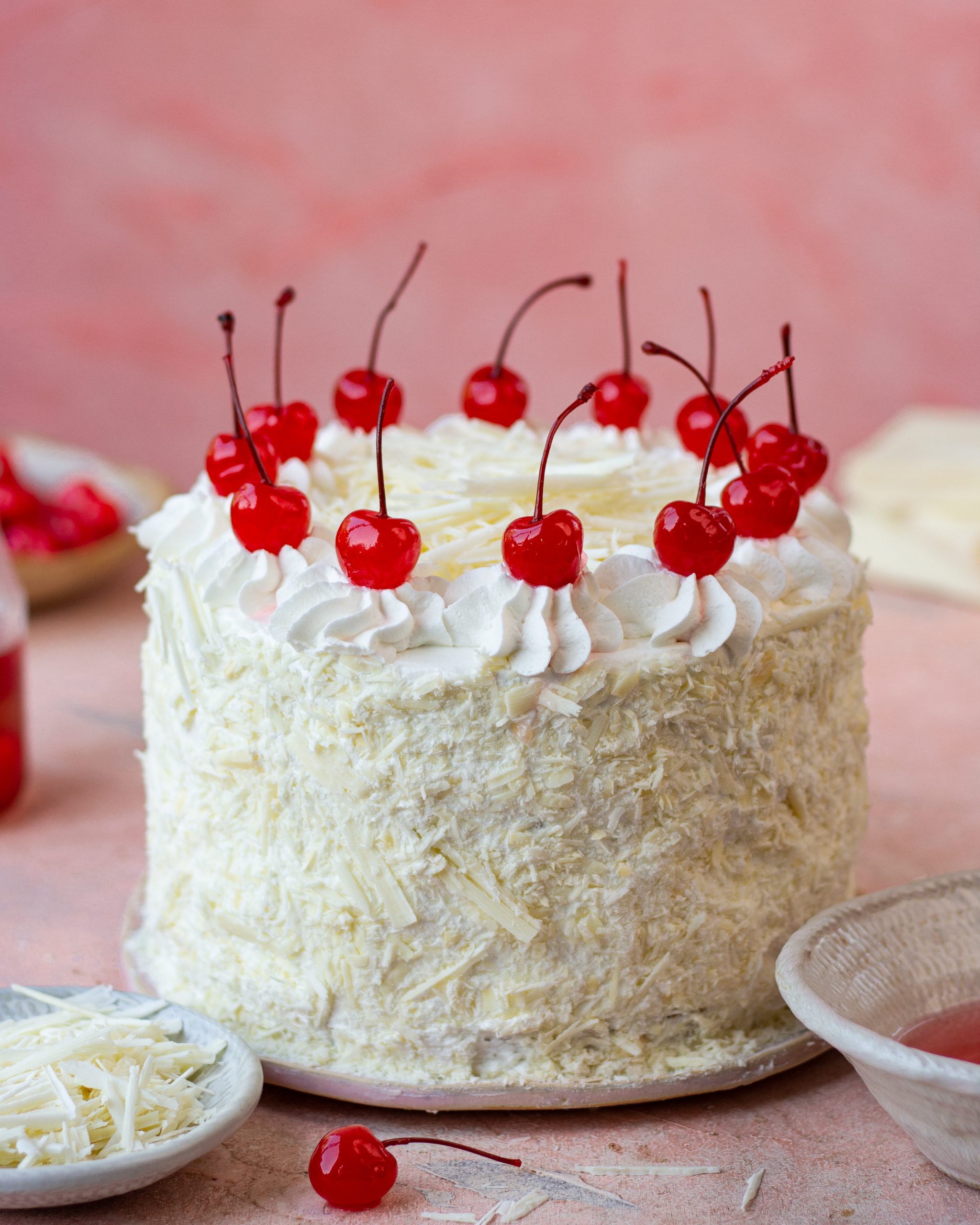 Once done with the frosting, I covered all over the sides of the cake with white chocolate shavings. And I then piped dollops of whipped ganache on the circumference of the top layer using an open star nozzle. Lastly, I added more white chocolate shavings in the center and canned cherries on the dollops that I made on the circumference of the cake.
I had too much fun making, dressing up, and eating this cake! It is worth all the effort that went into making it and I am sure your family will love it too. If you make this recipe, do not forget to share images with me on my Instagram @shivesh17. Happy baking!

EGGLESS WHITE FOREST CAKE
Ingredients
For cake
3 cups (360g) all purpose flour (maida)
2 teaspoon (8g) baking powder
2 cups (570g) yogurt
1 teaspoon (6g) baking soda
1 + ½ cups (300g) castor sugar
1 cup (240mL) vegetable 0il
2 teaspoon (10mL) vanilla extract
For whipped white chocolate ganache
2 cups white chocolate
2 cups whipping cream
For cherry syrup and canned cherries
For chocolate shavings
Instructions
Pre-heat the oven to 180*C. Line two 6" baking pans with parchment paper.
In a bowl whisk together flour and baking powder and set aside.
In a separate bowl add the yogurt and sprinkle baking soda over it and set it aside to foam up.
Once it has become foamy, add in the vegetable oil, caster sugar and vanilla extract. Mix well.
Sift in the flour and gently fold until everything is well combined there are no large flour pockets in the batter. Do not over mix at this stage.
Divide batter into two equal portions and bake at 180*C for 30-35 minutes or until a toothpick inserted in the centre comes out clean.
While the cakes are baking and cooling down, let's make the white chocolate ganache. In a bowl, add white chocolate and pour slightly warmed whipping cream on top. I warmed my whipping cream for about a minute in the microwave.
Let chocolate melt completely and use a spatula to make sure the ganache is one smooth mixture. Let it cool down for about two hours in the freezer or at least four hours in the fridge. I would recommend that you chill the ganache in the fridge overnight.
Once it's set, use an electric mixer to beat it at high speed so that it becomes fluffy and voluminous.
Divide the cooled cake layers into two so that we have four cake layers in total.
Once all elements are ready, it is time to assemble the cake. Place one cake sponge on the bottom, brush some cherry syrup all over it. Pipe whipped ganache on the circumference, making a well. Inside the well add a scoop of whipped ganache. Spread it and top it with some canned cherries. Continue by placing the second cake sponge on top. Repeat till all layers are completed.
Once you reach the top layer, cover the cake with whipped ganache.
Now cover the complete sides of the cake with white chocolate shavings which I have simply made by scrapping the back of a white chocolate bar using a sharp knife.
Transfer remaining whipped ganache in a piping bag and pipe swirls of whipped ganache on the circumference of the top layer. In the empty space in the middle, add some more white chocolate shavings and some canned cherries on top!
Set it in the fridge for an hour before serving. Enjoy!