I do not know why it has taken me this long to share my recipe for a black forest cake but better late than never! I am actually very happy with this recipe and if you want to make a stunning, bakery style, black forest cake at home then this recipe will come to your rescue.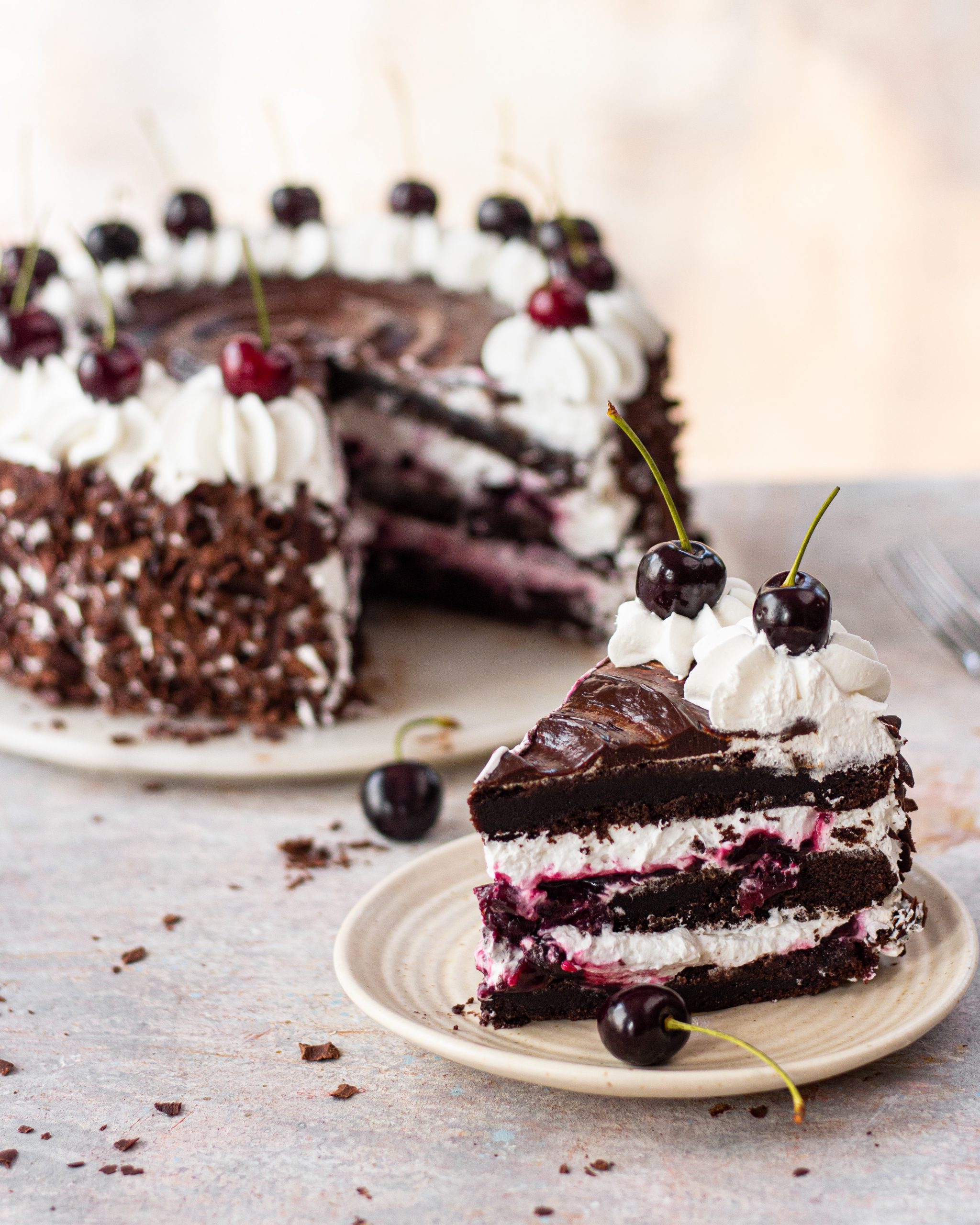 Believe it or not, this is an eggless cake, with lots of whipped cream, cherry compote, a silky chocolate ganache and of course, some fresh cherries and lots of chocolate shavings. Let me take you through each and every element of this cake carefully. 
The eggless cake sponges
I decided to go all out and make a three tiered black forest cake. I used my 8inch foodhall cake pan to bake each layer. To make sure that all my layers were even and of the same height, I divided my cake batter into three equal portions. Weighing each portion in grams will give the most accurate results but if you want, you can also use cups to help keep the amount of batter equal. 
Baking three layers can be time consuming, especially when you only have one cake pan of the same size. I actually had two cake pans so I baked two layers together and one layer later. 
If you are baking one layer at a time, you can keep the remaining batter in the fridge and bring it out when you are ready to bake the next layer. 
When making an elaborate cake like this one, I like to prepare my cake sponges a day in advance so that I can divide my work and not stress myself with doing everything in one single day. Having your sponges ready to go makes all the difference. You are less stressed and definitely have more fun assembling and decorating the cake! 
If you want to make a single layer with a good height, you can just divide the recipe by half and still make a gorgeous single layered black forest cake.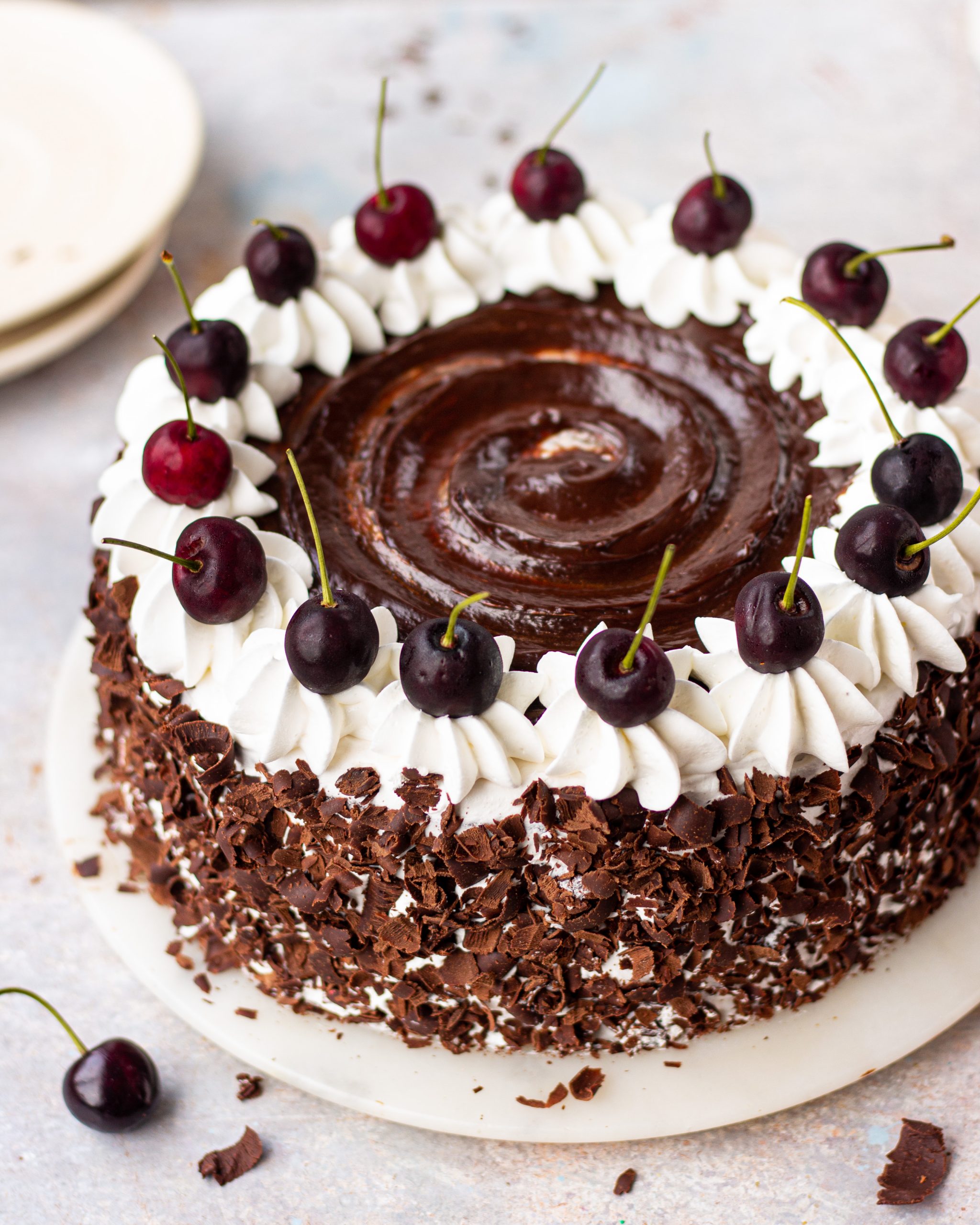 Cherry syrup and cherry compote for all black forest cake flavors 
To maximize the cherry flavor in the cake, I made a cherry syrup and a cherry compote from scratch. To make the syrup, all you need to do is cook pitted cherries, sugar and water till all the sugar dissolves and you end up with a thick and slightly sticky mixture. Then you sieve out the cooked cherries and the leftover liquid is your cherry syrup. 
These cooked cherries have a lovely flavor so we are going to use these to make our cherry compote and reduce them down further. For the compote, again you need some water, sugar and the cooked cherries along with some fresh cherries. You want to cook down this mixture till it is thicker and the cherries have broken down to smaller chunks.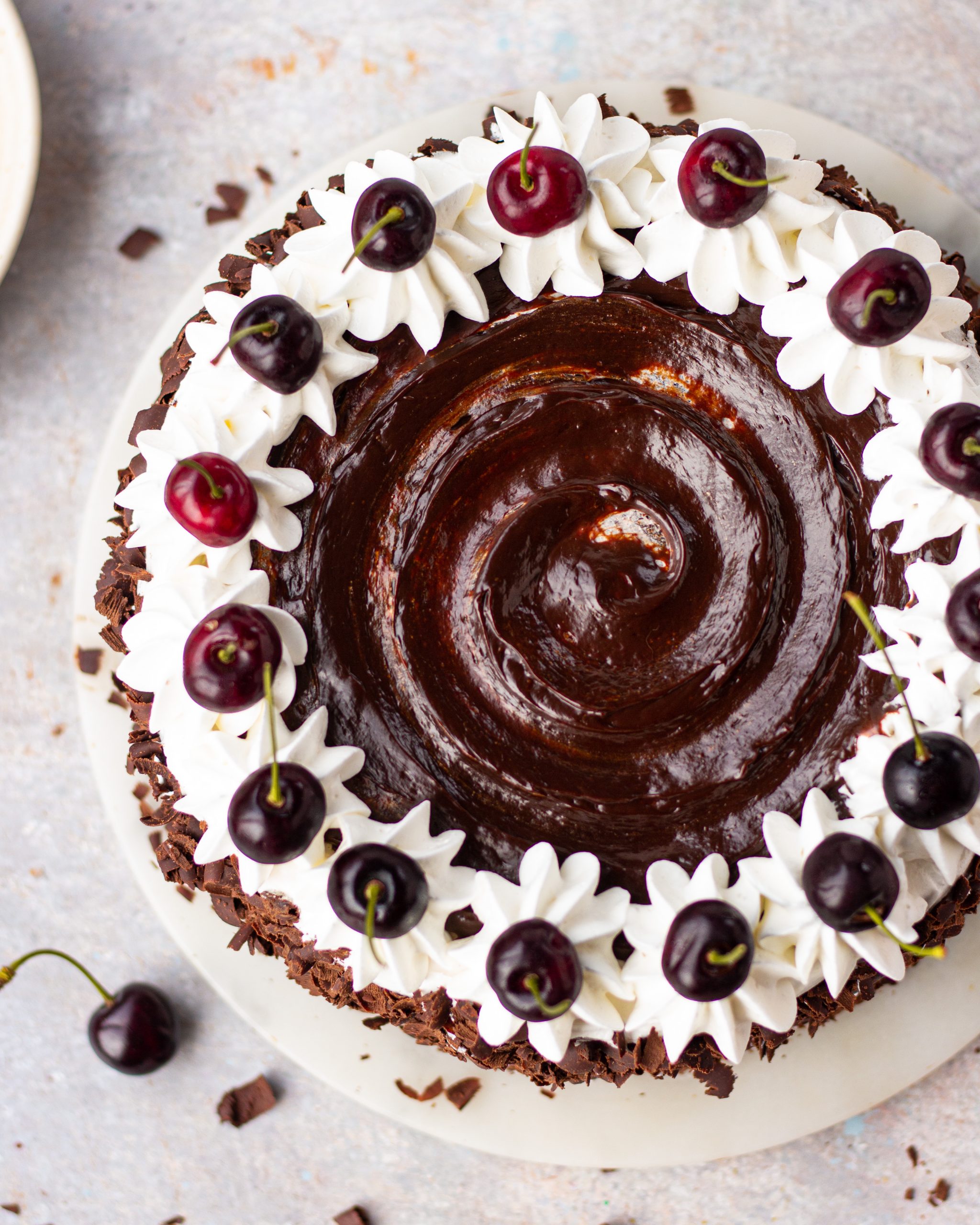 Whipped cream 
Is any black forest cake complete without whipped cream? I don't think so. Every black forest cake has an airy, light, and fluffy whipping cream layered in between the cake sponges. It strikes the perfect balance between a decadent cake sponge and sweet cherry compote. If you have ever found dealing with whipped cream difficult, you can check out my video on How To Whip Cream on my Youtube channel and get all your doubts cleared before you dive into making this cake.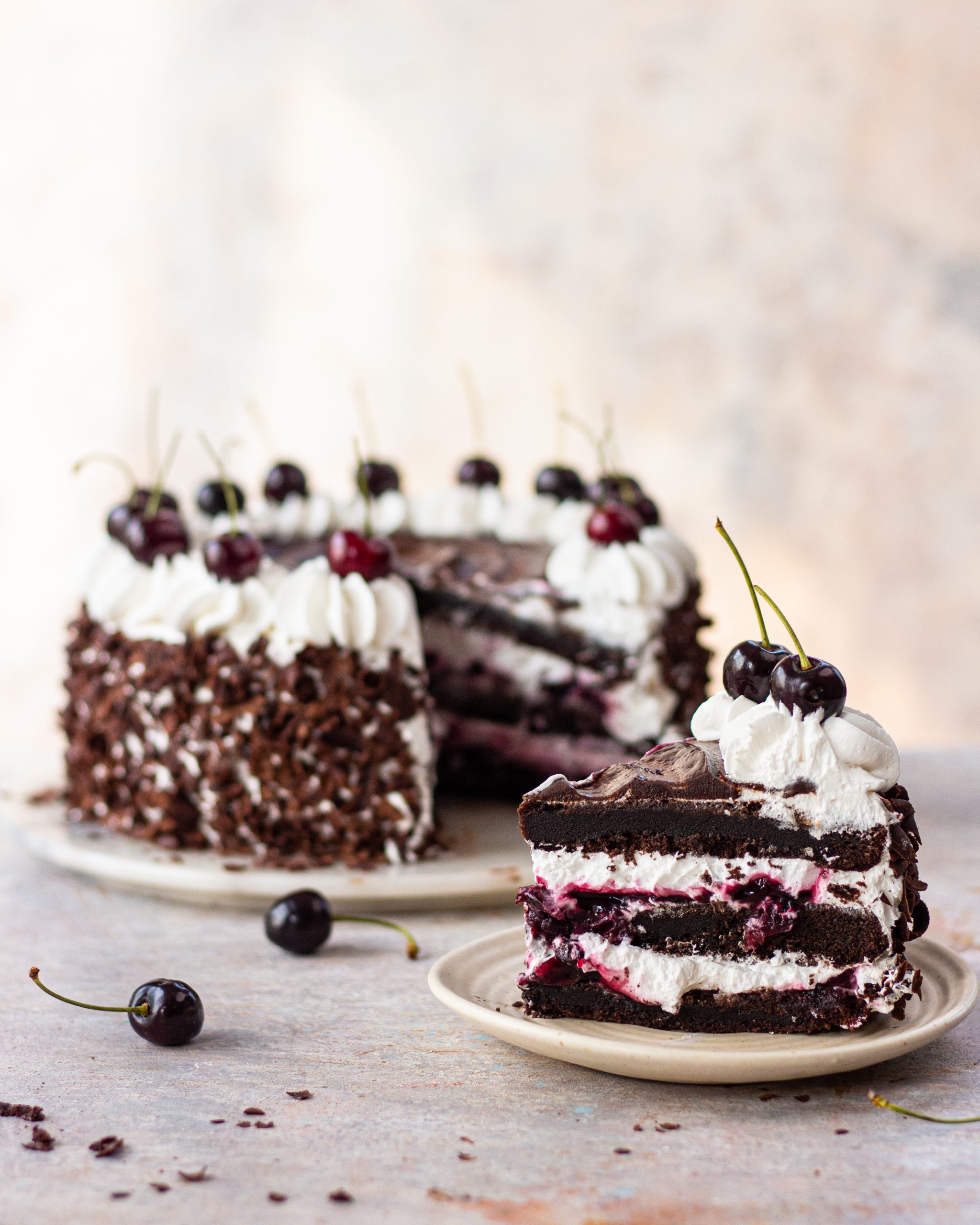 Chocolate ganache for some black forest decadence
A little bit of chocolate ganache goes a long way. It adds to the chocolatey goodness of the cake, makes for a perfect pair with the whipped cream, and leaves everyone wanting a little bit more. I make a simple chocolate ganache with dark chocolate and cream. You can find tips on how to make the perfect chocolate ganache here.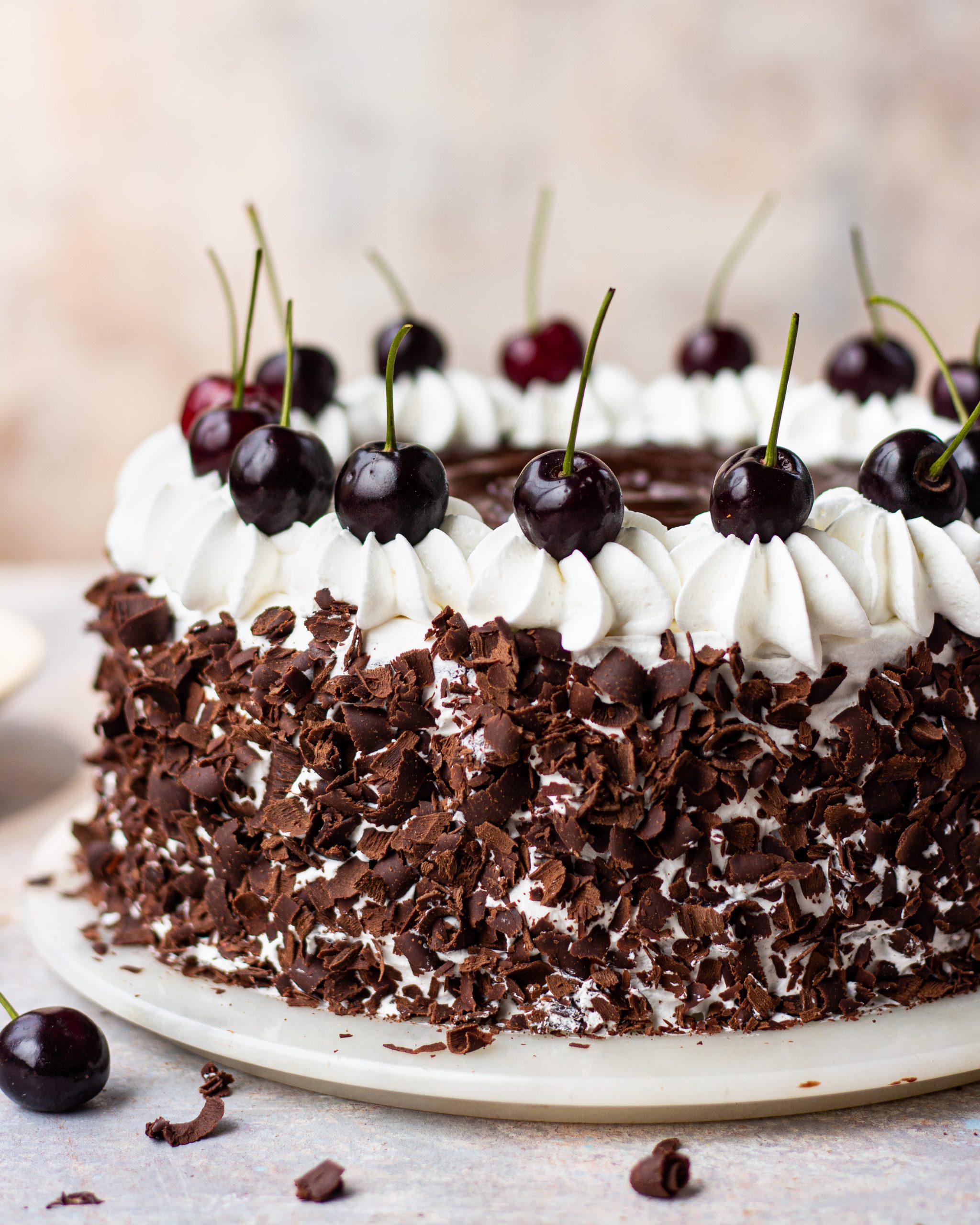 Chocolate shavings for garnish 
Chocolate shavings look so cute on a black forest cake! It might look like a fancy garnish but is actually really simple to make at home. All you need to do is spread melted chocolate on a clean piece of parchment, or silicone mat, or the back of your flat baking tray. Evenly spread the chocolate and let it set in the fridge. Once set, take it out of the fridge and use a scraper to scrape out small chocolate curls. Adorable! 
Assembling the black forest cake 
Now to my favorite part, assembling the cake. Before you start to actually assemble the cake, make sure you have all your elements ready. This includes your cake sponges demolded, chocolate ganache cooled and thick, whipping cream whipped cream ready to pipe, and cherry syrup and compote cooled down and ready to be brushed and spread across the cake. 
Now the structure of the cake is simple. You take one cake sponge, soak it with the cherry syrup and then make a well of whipped cream around the edge of the cake, and then inside the well, spread a generous layer of cherry compote, and top it off with a layer of whipped cream.
Once this is done, carefully place the second layer of cake on top. Push it down a little to make sure all edges are in contact with the whipped cream. Then soak the second layer with cherry syrup and repeat all the previous steps. Place the third cake sponge on top and spread the leftover whipped cream on all sides and edges of the cake.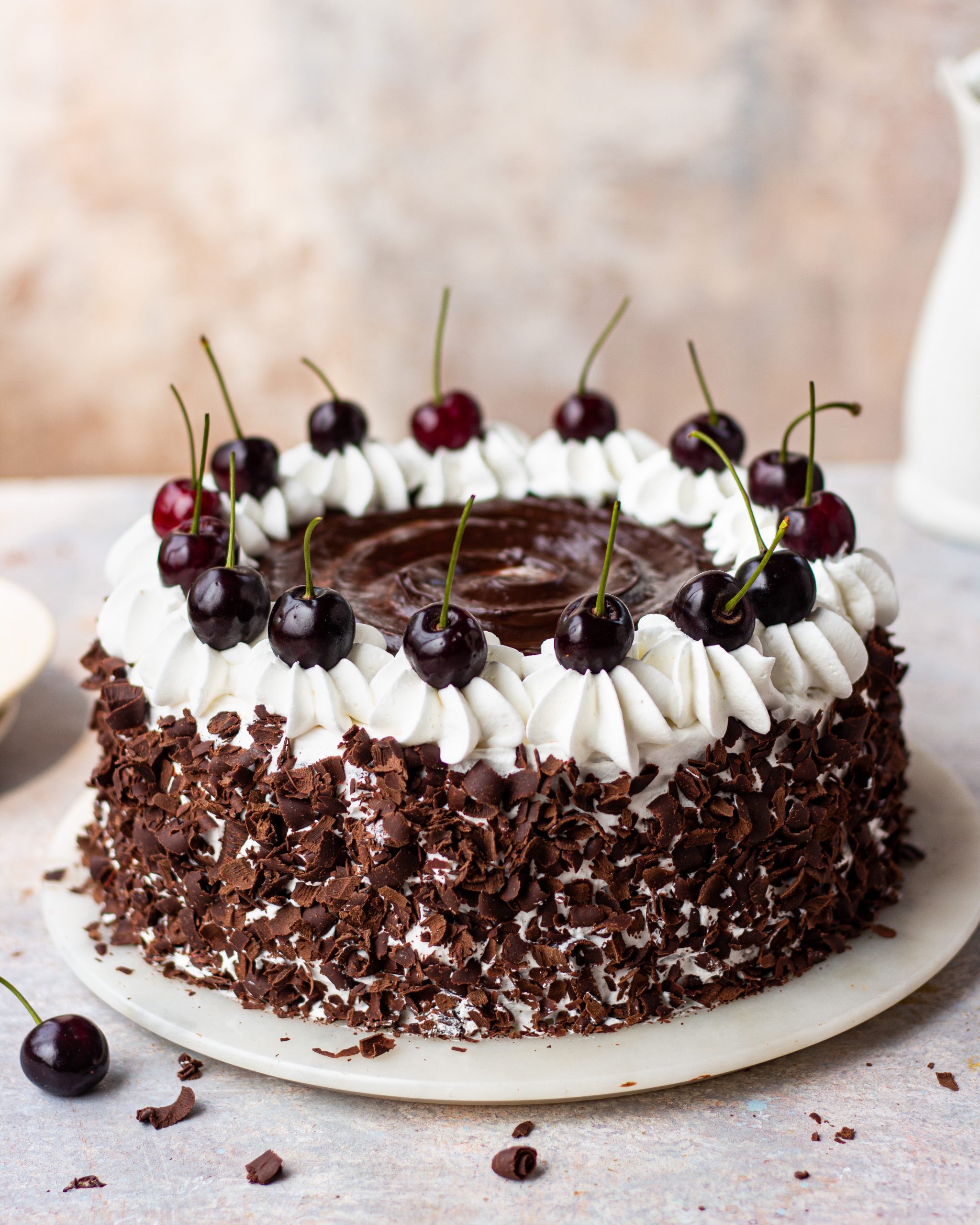 How to frost the black forest cake 
Once all three layers are stacked and you have added the remaining whipped cream on top, you need to use your offset spatula to start spreading the whipped cream on all edges of the cake. I like to start by spreading an even layer on the top and letting the excess slightly fall over the edges. 
Once your top is clean, take the offset spatula to the edge of the cake and go in front and back motions with your hand to spread the whipped cream. Continue this motion till you are happy with the frosted look. You can add as much or as little cream you want. I wanted to completely cover my cake on the outside. 
Once done with the frosting, I piped small swirls of whipped cream on the circumference of the top layer, and in between spread another layer of chocolate ganache and added some fresh cherries. And oh! Covered all over the sides of the cake with chocolate shavings. 
I had too much fun making, dressing up, and eating this cake! It is worth all the effort that went into making it and I am sure your family will love it too. If you make this recipe, do not forget to share images with me on my instagram @shvesh17. Happy baking! 

Eggless Black forest cake
Ingredients
For cake
2 cups (240gms) maida
1 cup (120gms) cocoa powder
½ tsp (3gms) baking soda
1 + ½ tsp (6gms) baking powder
1 cup (240ml) oil
2 + ¼ cup (450gms) sugar
1 + ½ cup (427gms) curd
1 tsp (5ml) vanilla
½ cup (120ml) milk
For cherry syrup
1 cup (140gms) cherries
¼ cup (50gms) sugar
¾ cup (180ml) water
For cherry compote
1 cup (140gms) cooked cherries (from syrup)
1 cup (140gms) fresh cherries
¼ cup (50gms) sugar
2 tbsp (30ml) water
1 tbsp (10gms) cornflour
For ganache
½ cup (115ml) fresh cream
½ cup (88gms) chopped chocolate
For chocolate shavings
Melted chocolate
Whipped cream (to frost and layer)
Instructions
Pre-heat the oven to 180*C. Line a 8" baking pan with parchment paper.
Whisk cocoa, flour, salt, baking soda and baking powder into a bowl.
In a large bowl, beat together oil and sugar until the mixture is pale and light. Add yogurt and mix well.
Beat in vanilla using mixer at low.
Add the flour mixture to the wet ingredients alternating with milk, starting and ending with flour mixture. Mix only until well combined. Don't over mix.
Divide batter into three equal portions and pour one portion into the pan and bake at 180*C for 30 minutes or until a toothpick inserted in the center comes out clean. Repeat for all three sponges.
While cakes are baking and cooling down, make the cherry syrup and cherry compote.
To make the syrup, add cherries, water, and sugar in a saucepan. Cook till the sugar has dissolved and the syrup becomes thick.
Sieve out the cooked cherries and the remaining liquid is your cherry syrup.
To make cherry compote, in a saucepan add the already cooked cherries, along with some fresh cherries, water and sugar. Let this cook on low medium heat till cherries have broken down a little and the mixture becomes slightly thick.
To make the ganache, in a saucepan add fresh cream and bring it to a simmer. Take it off the heat and add chopped chocolate. Let chocolate melt completely and use a whisk to make sure the ganache is one smooth mixture. Let it cool down.
To make chocolate shavings, spread melted chocolate on a sheet of parchment and let it set firm in the fridge. Once set, use a scraper to scrape small chocolate shavings.
Once all elements are ready, it is time to assemble the cake. Place one cake sponge on the bottom, brush some cherry syrup all over it. Pipe whipped cream on the circumference, making a well. Inside the well spread a layer of cherry compote. Spread another layer on whipped cream on top of the cherry compote and continue by placing the second cake sponge on top. Repeat till all layers are completed.
Once you reach the top layer, cover the cake with whipped cream.
Transfer remaining whipped cream in a piping bag and pipe swirls of whipped cream on the circumference of the top layer. in the empty space in the middle, spread a layer of chocolate ganache and add some fresh cherries on top!
Lastly, cover all the edges of the cake with chocolate shavings, giving it the classic black forest cake look.
Set it in the fridge for an hour before serving. Enjoy!