Eggless Black forest cake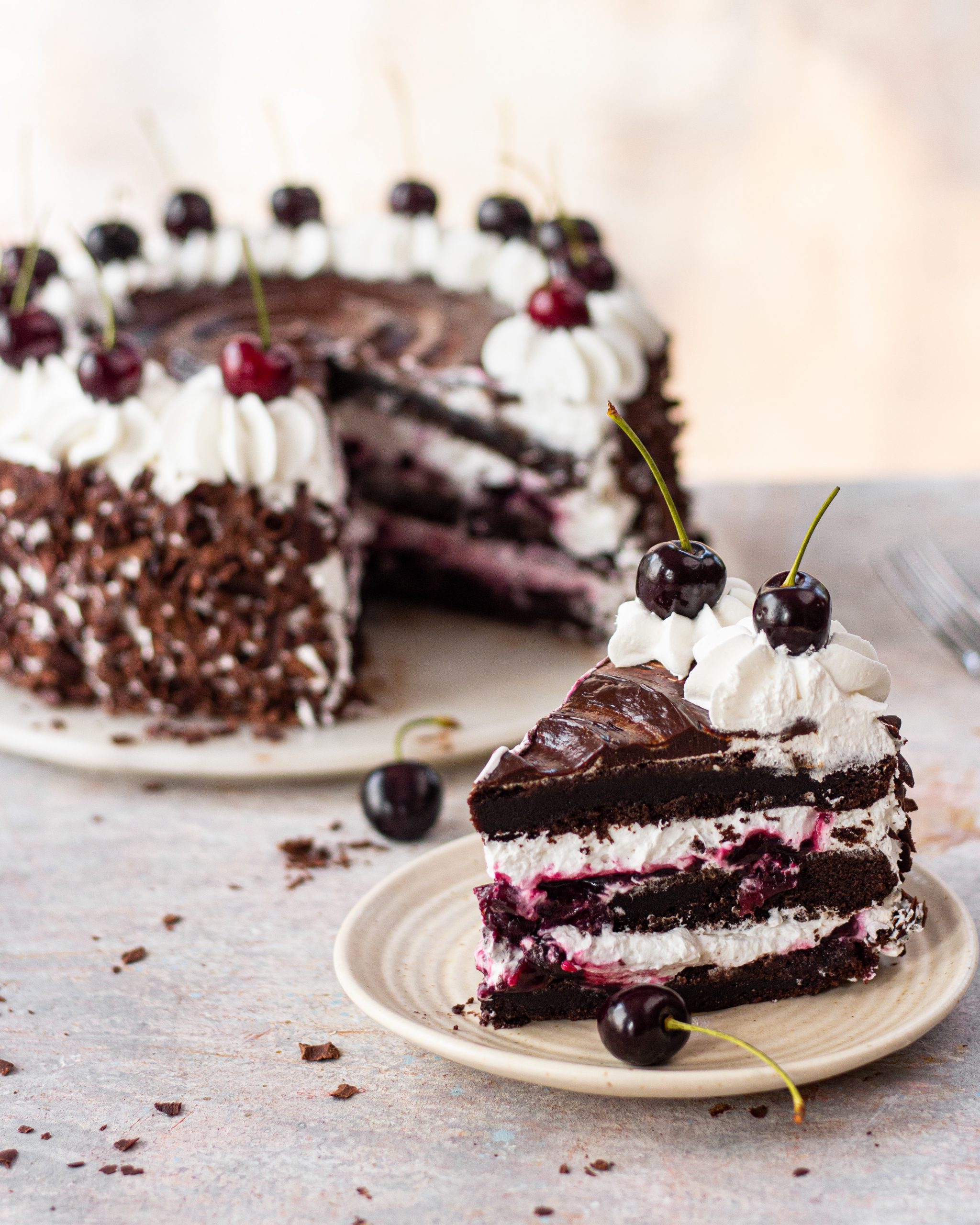 2 cups (240gms) maida
1 cup (120gms) cocoa powder
½ tsp (3gms) baking soda
1 + ½ tsp (6gms) baking powder
1 cup (240ml) oil
2 + ¼ cup (450gms) sugar
1 + ½ cup (427gms) curd
1 tsp (5ml) vanilla
½ cup (120ml) milk
1 cup (140gms) cherries
¼ cup (50gms) sugar
¾ cup (180ml) water
1 cup (140gms) cooked cherries (from syrup)
1 cup (140gms) fresh cherries
¼ cup (50gms) sugar
2 tbsp (30ml) water
1 tbsp (10gms) cornflour
½ cup (115ml) fresh cream
½ cup (88gms) chopped chocolate
Melted chocolate
Whipped cream (to frost and layer)
Pre-heat the oven to 180*C. Line a 8" baking pan with parchment paper.
Whisk cocoa, flour, salt, baking soda and baking powder into a bowl.
In a large bowl, beat together oil and sugar until the mixture is pale and light. Add yogurt and mix well.
Beat in vanilla using mixer at low.
Add the flour mixture to the wet ingredients alternating with milk, starting and ending with flour mixture. Mix only until well combined. Don't over mix.
Divide batter into three equal portions and pour one portion into the pan and bake at 180*C for 30 minutes or until a toothpick inserted in the center comes out clean. Repeat for all three sponges.
While cakes are baking and cooling down, make the cherry syrup and cherry compote.
To make the syrup, add cherries, water, and sugar in a saucepan. Cook till the sugar has dissolved and the syrup becomes thick.
Sieve out the cooked cherries and the remaining liquid is your cherry syrup.
To make cherry compote, in a saucepan add the already cooked cherries, along with some fresh cherries, water and sugar. Let this cook on low medium heat till cherries have broken down a little and the mixture becomes slightly thick.
To make the ganache, in a saucepan add fresh cream and bring it to a simmer. Take it off the heat and add chopped chocolate. Let chocolate melt completely and use a whisk to make sure the ganache is one smooth mixture. Let it cool down.
To make chocolate shavings, spread melted chocolate on a sheet of parchment and let it set firm in the fridge. Once set, use a scraper to scrape small chocolate shavings.
Once all elements are ready, it is time to assemble the cake. Place one cake sponge on the bottom, brush some cherry syrup all over it. Pipe whipped cream on the circumference, making a well. Inside the well spread a layer of cherry compote. Spread another layer on whipped cream on top of the cherry compote and continue by placing the second cake sponge on top. Repeat till all layers are completed.
Once you reach the top layer, cover the cake with whipped cream.
Transfer remaining whipped cream in a piping bag and pipe swirls of whipped cream on the circumference of the top layer. in the empty space in the middle, spread a layer of chocolate ganache and add some fresh cherries on top!
Lastly, cover all the edges of the cake with chocolate shavings, giving it the classic black forest cake look.
Set it in the fridge for an hour before serving. Enjoy!
Recipe by
Bake with Shivesh
at https://bakewithshivesh.com/eggless-black-forest-cake/