Chocolate, chocolate, chocolate. Every kid's, umm actually no every adult's dream dessert has to have chocolate in it. It is a flavour that everyone agrees upon and loves. To make my chocolatey dreams come true. Which means layers and layers of different chocolate components that gave birth to this 4 layer chocolate heaven. This dessert will be your perfect go to, whether it is for your late night movie marathon, or celebrating someone special at home during these tough times.
This 4 layer chocolate heaven is a perfect mix of soft chocolate cake (p.s. You have to bake it), silky chocolate pudding, and a creamy chocolate ganache. Another thing that goes perfectly well with chocolate is coffee so we are also adding in a coffee soak to round up this beautiful dessert. Now before I start dreaming or drooling any further let me show you how to make this heavenly dessert in your own kitchen! Let's do this.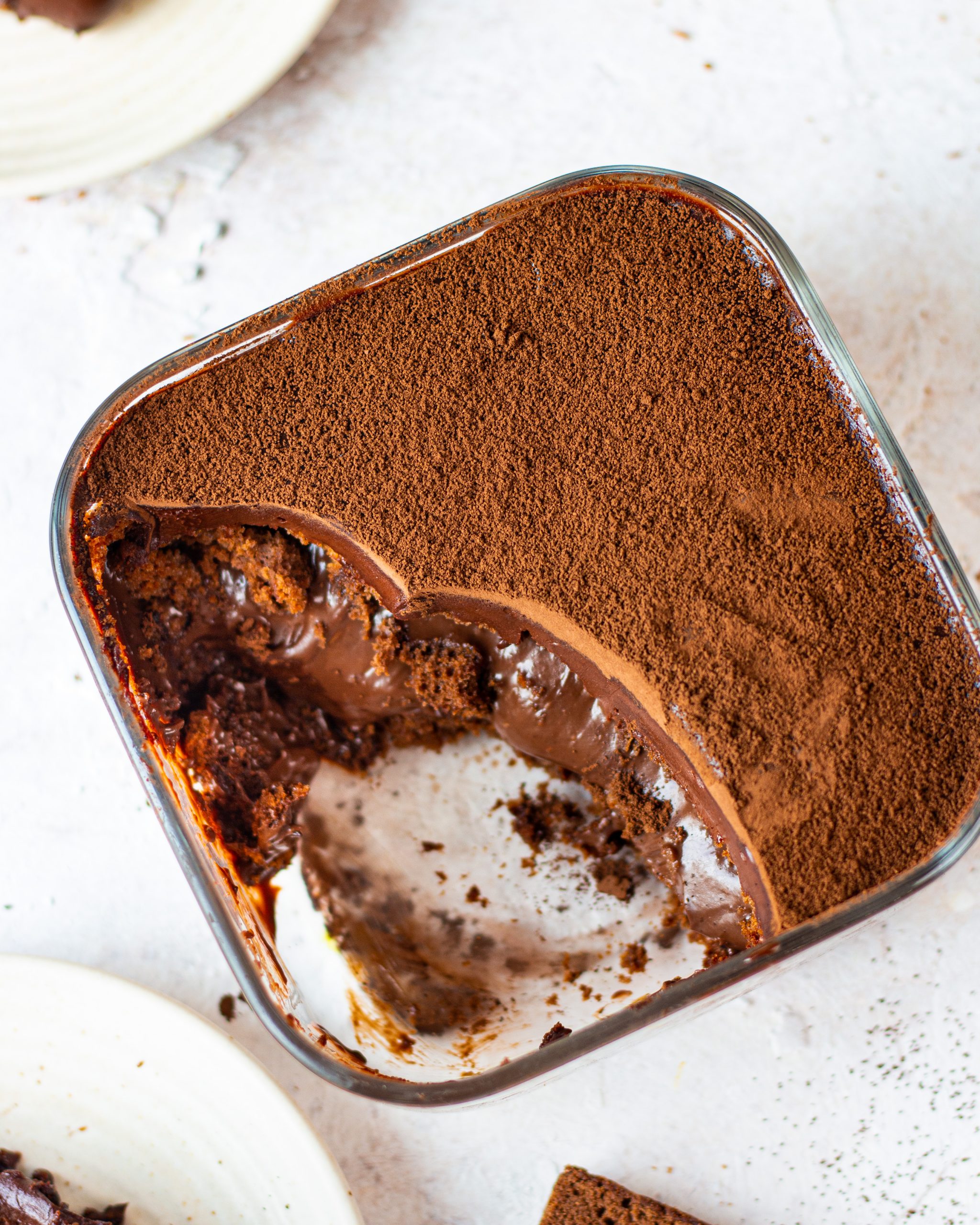 Layers of the 4 layer chocolate heaven
I am always up for baking a fresh moist chocolate cake at home, but sometimes I want to sit back and relax which means indulging in a store bought cake. There are a lot of brands out there that sell dry packed tea cakes like britannia, parle-g and cadbury. They are readily available and will make our dessert super quick to assemble. However if you want to get a little more indulgent you can make my easy Best Eggless Chocolate Cake or 6-minute Microwave Chocolate Cake.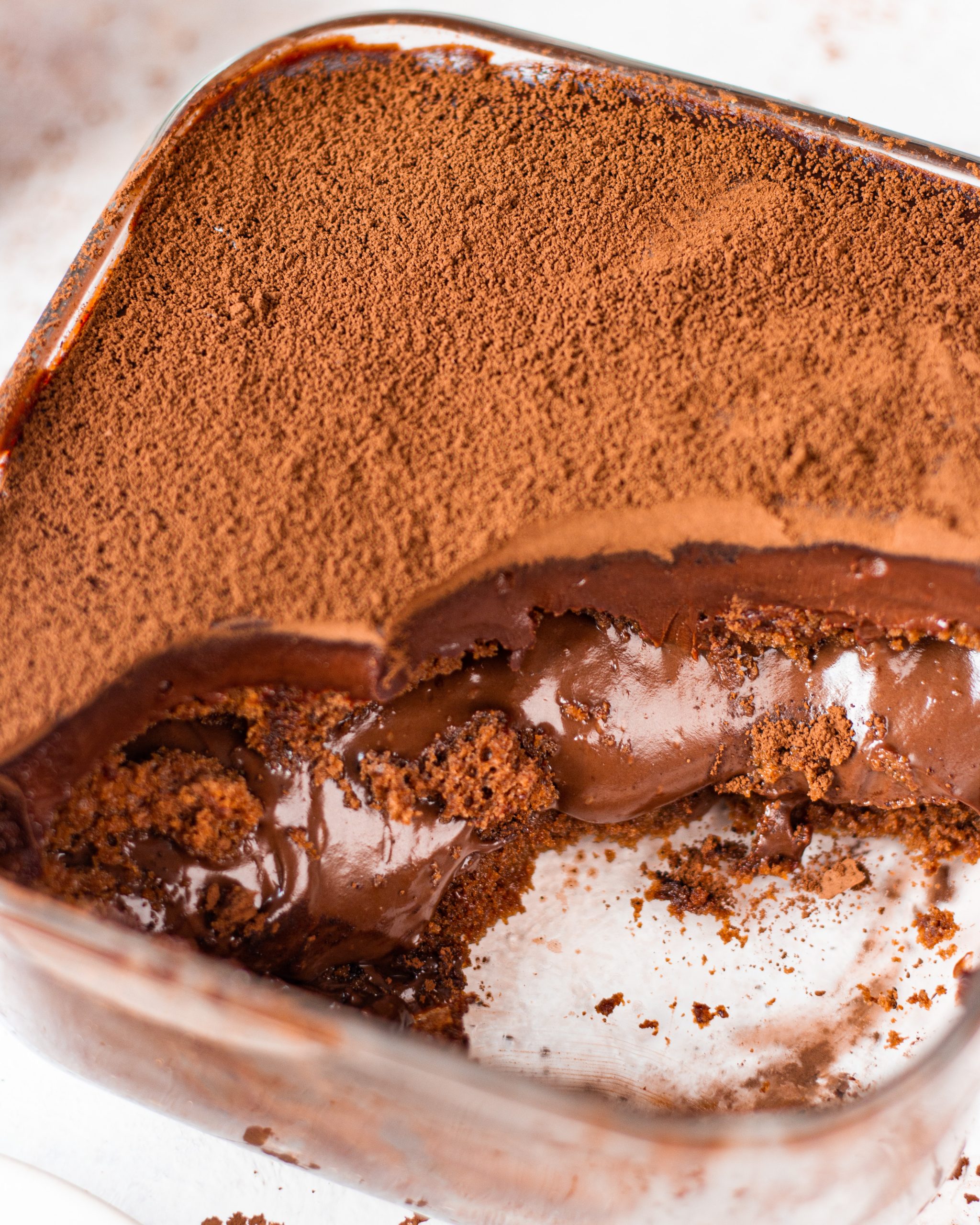 The flavour combination of coffee and chocolate are a perfect match that has been made. To make this coffee concoction we are simply going to mix 1 tbsp of instant coffee powder with hot water, but not boiling. The strong taste of coffee will match perfectly with the sweet taste of the chocolate cake. Not only acting like a flavour enhancer but also helping the cake stay moist. You can gently brush the cake with the coffee soak or simply pour it over and spread evenly.
I mean I know I say it a lot but this truly is one of the best chocolate desserts I have ever made in my studio. This chocolate pudding is creamy, silky, so smooth and tastes absolutely luscious. It will literally melt in your mouth, ahh I am craving it again already! Haha.
A few things to keep in mind while making this component for the 4 layer chocolate heaven:
1. Make sure to use a good quality saucepan that does not burn easily or else the chances of you burning your chocolate pudding increase.
2. The first step of the recipe is to heat your milk, cream and chocolate. Be careful not to over boil this mixture or else you can end up with an oily mixture in which the fat from the cream gets separated.
3. This recipe will not work if you use compound so make sure to use cooking chocolate only. You can buy it here – https://amzn.to/3fJjiq7
4. Chop your chocolate in even chunks before you add it with the milk and cream. Even chunks will ensure that your chocolate melts nicely and makes sure there are no chocolate chunks in your smooth pudding mixture.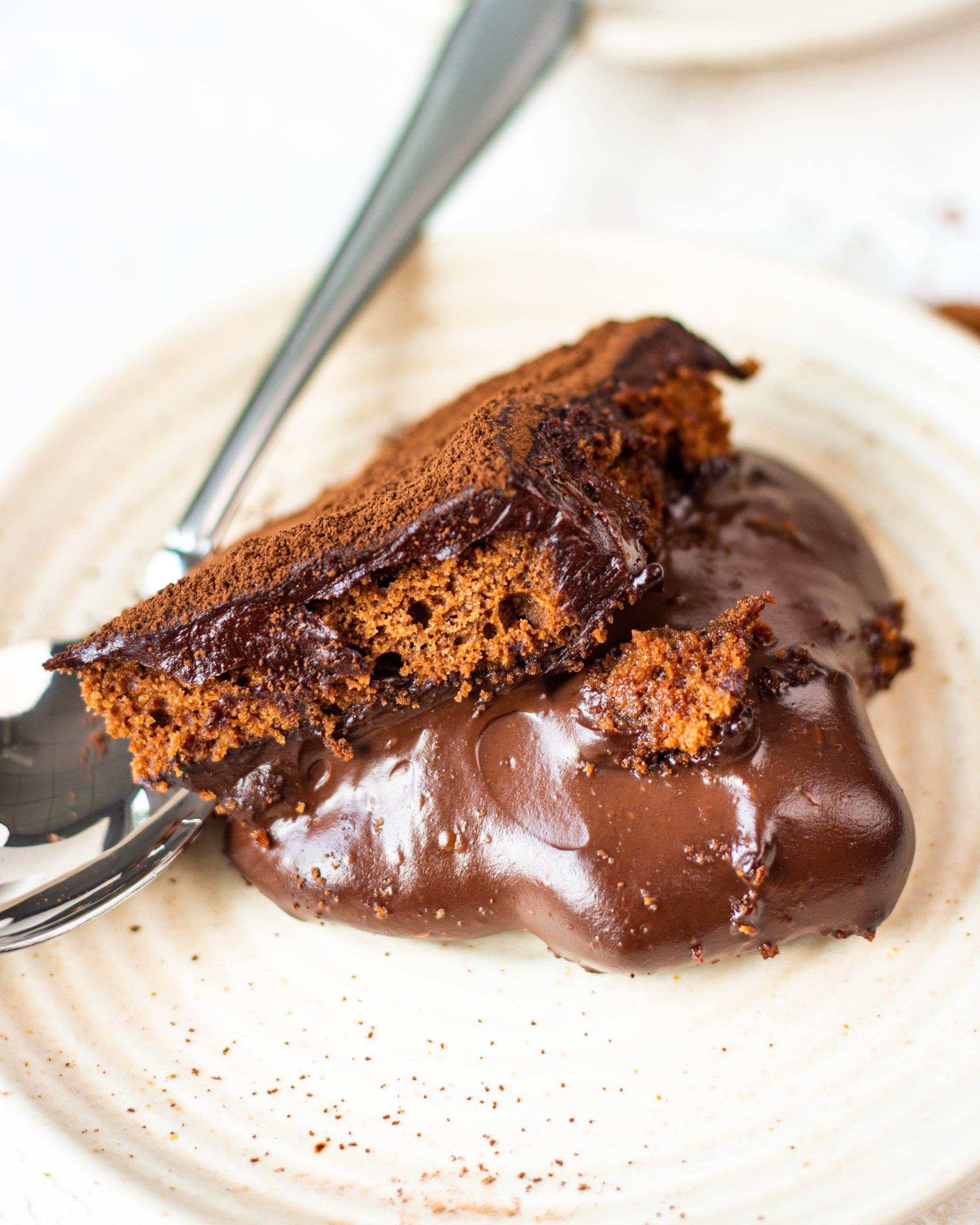 A lot of you find ganache and the ratios intimidating but it is so so simple to make. All we need to do is follow a 1:1 ratio. So for 1 part of chocolate we will use 1 part of cream. You can use any sort of chocolate that is available to you, be it compound or coverture. As for the cream, fresh cream works absolutely fine. I use amul fresh cream for my ganache. A quick tip to simplify the ganache making process is to heat your cream in the microwave for about 40 seconds rather than doing it over in a saucepan. Microwave heating is quick and easy, you don't have to worry about your cream burning/scorching on the bottom of the pan. You can also read up more about different ratios of ganache and in-depth details in my article How to make the best Chocolate Ganache.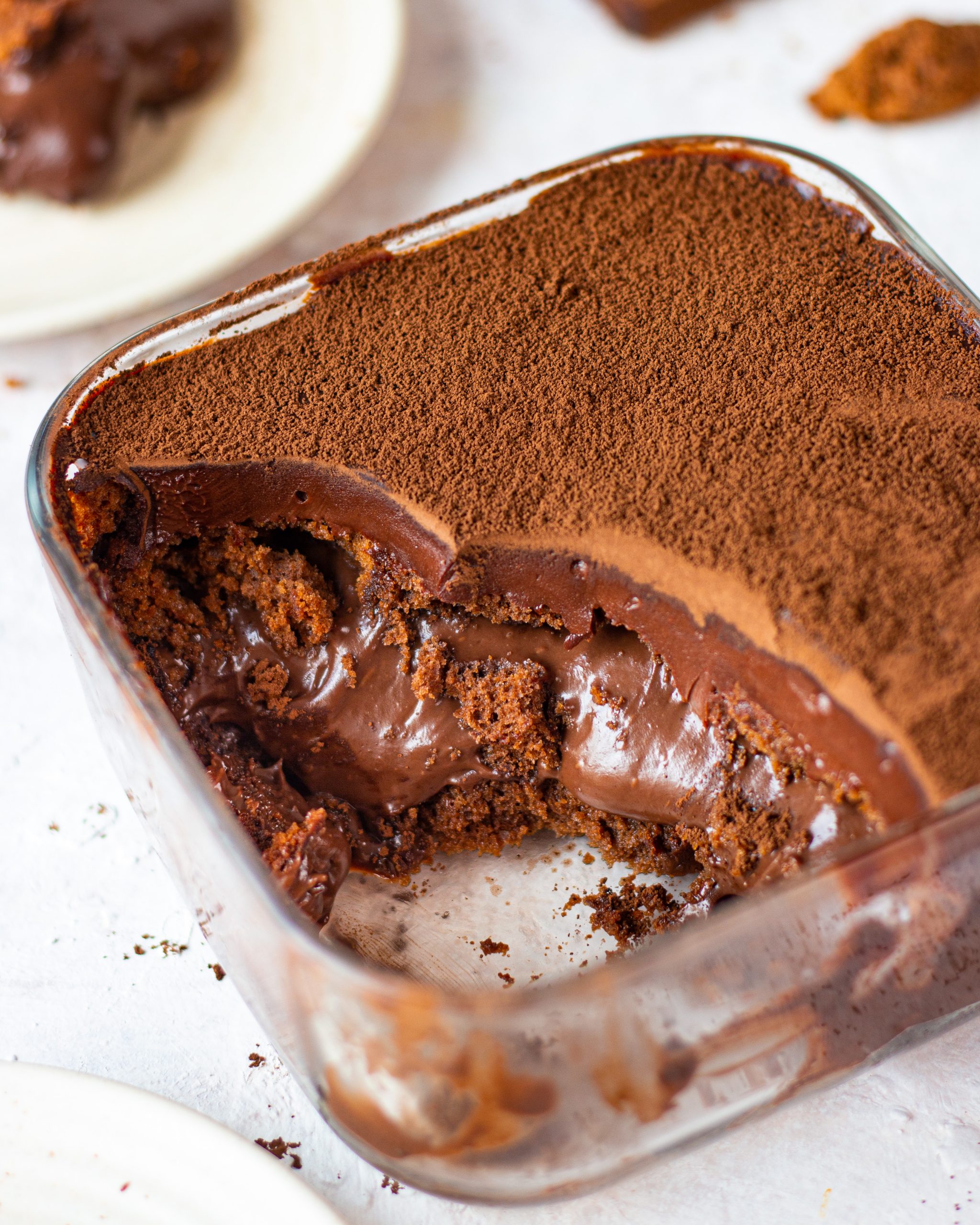 Tips for perfect layers
To successfully make this 4 layer chocolate heaven, layering is key and with these tips you will ace this gorgeous dessert. I have used a small square glass container but you can make this layered dessert in any type of container or even layer these in glasses for a single serve experience.
1. Make sure you lay down the cakes in an even layer and try to fit every corner of your container.
2. Soak the cakes evenly with coffee concoction, this might seem like a simple step but soaking the entire cake's surface is very essential for the cake to stay moist and also add additional flavour.
3. When you layer the pudding make sure to use a heavy hand, the thicker the layer of pudding the yummier the final dessert.
4. Also ensure that you allow your dessert to chill and set in the fridge. I know waiting can be very very hard. Especially when you have this delicious chocolate dessert at hand but this additional step will really enhance the taste and texture of our final dessert. Chilling the dessert will allow both our pudding and ganache to set.
Other layered desserts on the blog
4 layer chocolate heaven Recipe
4-layer Chocolate Heaven
Ingredients
Pudding:
2 cups (480ml) milk
½ cup (115ml) heavy cream
1 cup (175g) dark chocolate, chopped
3 tablespoon (30g) cornflour
6 tablespoon (75g) sugar
2 tablespoon (15 g) cocoa powder
2 tablespoon (25 g) Butter
1 teaspoon (5ml) vanilla
Ganache:
½ cup (115ml) fresh cream
½ cup ( 88 g) dark chocolate, chopped
Coffee soak:
1 tablespoon (12g) instant coffee powder
1 cup (240ml)warm water
15 cake pieces
Cocoa powder for dusting
Instructions
In a large bowl add sugar, cornflour and cocoa powder. Use a whisk to combine the ingredients.
For the pudding in a heavy bottom saucepan over medium heat, add the chopped chocolate, milk and cream. Once everything melts and gets slightly warm, pour it over gradually onto the bowl of dry ingredients while whisking continuously.
Transfer the pudding mixture back in the saucepan, bring it to a bowl while whisking
continuously. Set aside.
For ganache, in a bowl add in chopped chocolate and fresh cream that has been microwaved for 40 second. Let it sit for 1 minute, before stirring it until everything is well combined.
For the coffee soak, in a bowl mix together the instant coffee powder and the warm together. Set aside.
To layer the dessert, in a square dish lay down the chocolate cake slices first.
Brush/pour over the coffee soak. Add a generous layer of pudding, spreading it from corner to corner.
Add another layer of chocolate cake, pour the coffee soak over and then spread the ganache corner to corner.
Allow the dessert to set for at least 2-3 hours in the refrigerator. Once set, dust some cocoa powder on top and then dig right in!
If you like this recipe and happen to make it, do tag me on
Instagram
/
Facebook
using #bakewithshivesh.