EGGLESS WHITE FOREST CAKE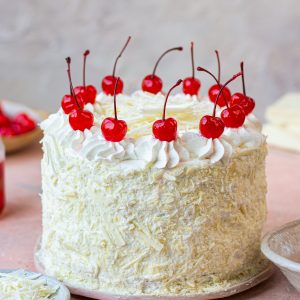 3 cups (360g) all purpose flour (maida)
2 teaspoon (8g) baking powder
2 cups (570g) yogurt
1 teaspoon (6g) baking soda
1 + ½ cups (300g) castor sugar
1 cup (240mL) vegetable 0il
2 teaspoon (10mL) vanilla extract
2 cups white chocolate
2 cups whipping cream
Pre-heat the oven to 180*C. Line two 6" baking pans with parchment paper.
In a bowl whisk together flour and baking powder and set aside.
In a separate bowl add the yogurt and sprinkle baking soda over it and set it aside to foam up.
Once it has become foamy, add in the vegetable oil, caster sugar and vanilla extract. Mix well.
Sift in the flour and gently fold until everything is well combined there are no large flour pockets in the batter. Do not over mix at this stage.
Divide batter into two equal portions and bake at 180*C for 30-35 minutes or until a toothpick inserted in the centre comes out clean.
While the cakes are baking and cooling down, let's make the white chocolate ganache. In a bowl, add white chocolate and pour slightly warmed whipping cream on top. I warmed my whipping cream for about a minute in the microwave.
Let chocolate melt completely and use a spatula to make sure the ganache is one smooth mixture. Let it cool down for about two hours in the freezer or at least four hours in the fridge. I would recommend that you chill the ganache in the fridge overnight.
Once it's set, use an electric mixer to beat it at high speed so that it becomes fluffy and voluminous.
Divide the cooled cake layers into two so that we have four cake layers in total.
Once all elements are ready, it is time to assemble the cake. Place one cake sponge on the bottom, brush some cherry syrup all over it. Pipe whipped ganache on the circumference, making a well. Inside the well add a scoop of whipped ganache. Spread it and top it with some canned cherries. Continue by placing the second cake sponge on top. Repeat till all layers are completed.
Once you reach the top layer, cover the cake with whipped ganache.
Now cover the complete sides of the cake with white chocolate shavings which I have simply made by scrapping the back of a white chocolate bar using a sharp knife.
Transfer remaining whipped ganache in a piping bag and pipe swirls of whipped ganache on the circumference of the top layer. In the empty space in the middle, add some more white chocolate shavings and some canned cherries on top!
Set it in the fridge for an hour before serving. Enjoy!
Recipe by
Bake with Shivesh
at https://bakewithshivesh.com/eggless-white-forest-cake/