Since the last one year, I have been making and experimenting with lots of fusion desserts in my kitchen. From ras malai tres leches to Motichoor cheesecake, there have been lots of new flavors that have made it to my baking repertoire, which I actually didn't know could exist together, in one dessert.
My most favorite thing about these desserts have been the fact that I always took something super simple and converted it into a stand-alone, stunning dessert. That's how life is, no? Nobody has the time to bake extravagant, detailed desserts all the time. But when you master simple recipes and the art of flavor variations, you can take any dessert from basic to festive. So in this article, we'll be talking about how you can take the simplest of recipes and turn them into showstopper, instagram-worthy desserts.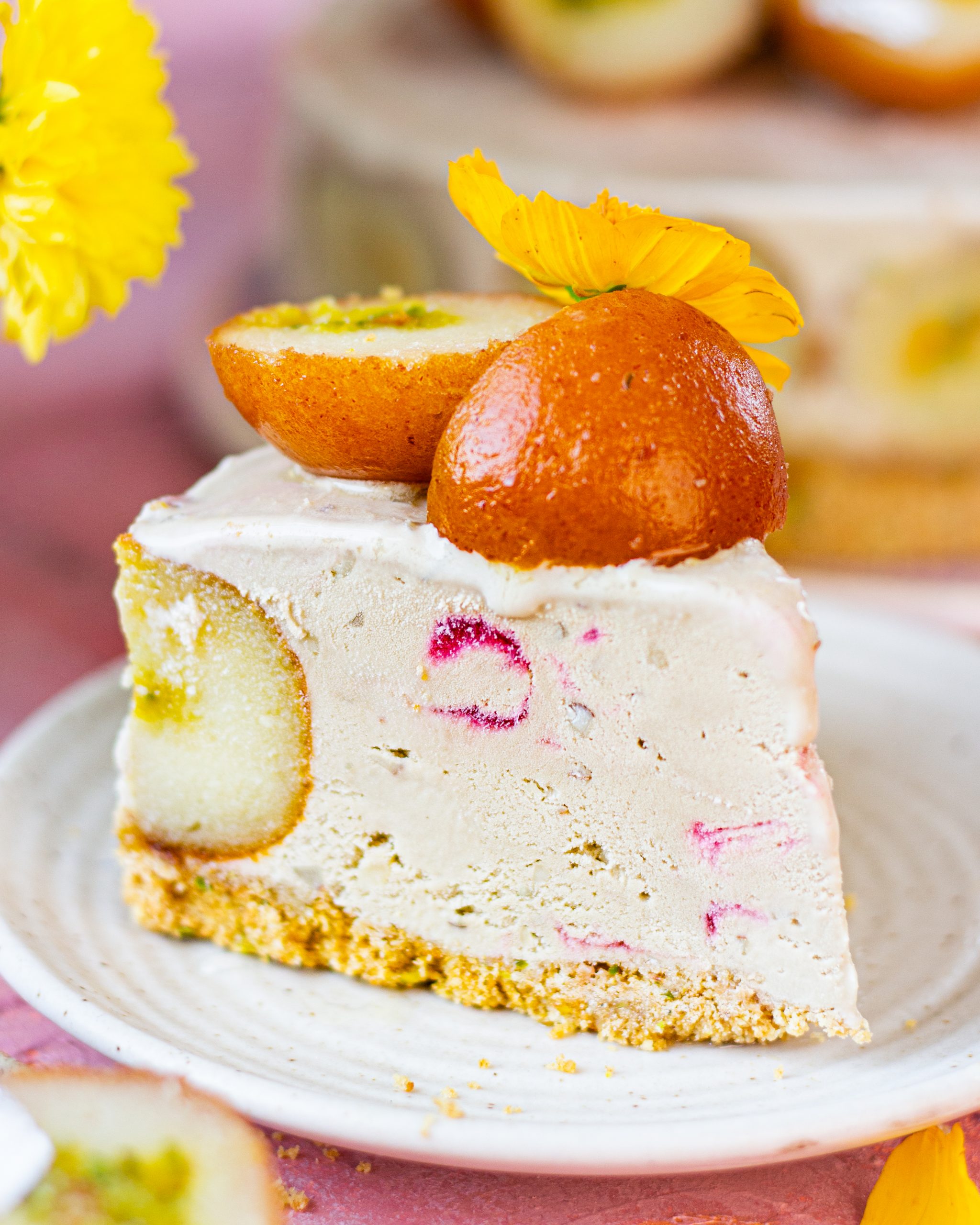 What are some popular festive ingredients?
Since holi is around the corner, it's the perfect time to bring out those special festive ingredients which have over time, made it to the back of your pantry. Of course, if that is truly the case, you should check if they are still good to use and haven't reached their expiration date! But here are some of my favorite festive ingredients that I've baked a lot with and that work really well –
Pistachios – I love pistachios throughout the year and not just during the festive season. It's the most underrated nut of the nut world but has such beautiful, nutty and festive notes. You can pair it with the most simplest of flavors and it'll shine through. My pista sooji cake is one such example where I've mixed ground pistachios with Sooji and it has given my cake a wonderful texture and a beautiful green color. I'll be honest, I've eaten a lot of pistachios but I've always been skeptical of using them in desserts. But this last one year has made me rediscover a new kind of love for the flavor of pistachios and you shall see some more recipes featuring pistachios, very soon!
Rose – Rose / gulab in any form screams of festivities. I cannot remember one time when I didn't use dried rose petals for a festive dessert I wanted to garnish. It takes the looks of the dessert up a notch and you can actually use it in so many forms! I recently made baked gujiya in my kitchen and the filling has delicious gulkand mixed with some regular khoya. For those of you who don't know, Gulkand is a paste made out of rose and the flavor it gives to desserts is nothing short of magical.
Saffron – Another ingredient which is the heart of many desserts I've made in my kitchen – saffron / kesar. Saffron comes in the form of strands and what it does is, it gives your desserts a beautiful yellow color and a festive flavor. It is readily available and it is by far, my most favorite ingredient when I simply want to bring a dessert from basic to festive.
You know what, the list is endless. Edible gulab jal, gold leaf, thandai powder, thandai syrup, pan, nuts, khas khas – there are soooo many ingredients that can be turned into festive desserts. Most of these things are so readily available that you must have never thought of using them in desserts. I hope after this article, you'll try to find inspiration in the most basic ingredients and convert them into delicious, festive desserts!
How to go from basic to festive?
Yes, okay, I'll come straight to the point! I know you're wondering how, HOW can we convert a simple cake / cheesecake into something festive? Is that even possible? Yes, it is. So I'll get to it and talk about 4 of my top festive recipes and how they were easily converted from simple to super festive desserts.
Motichoor cheesecake – Good ol' Baked New York Cheesecake given the traditional twist of motichoor laddoo. I used to think that these fusion desserts must taste so icky. But once I tasted this Motichoor cheesecake, it completely changed my point of view on fusion. If we talk about the base of this dessert, normally you would use digestive biscuits mixed with some melted butter for the base of a cheesecake. But by making some simple subtitutions, you can make it super festive. Just substitute melted butter with melted ghee, add some ground pistachios to our regular crushed digestive biscuits and you have your base done. For the creamy cheesecake filling, to my usual cheesecake batter, I added cardamom powder, saffron and some motichoor. Quite simple, right? It's actually just about understanding flavor combinations and what can perfectly complement your basic desserts to bring you a dessert that is totally out of the world!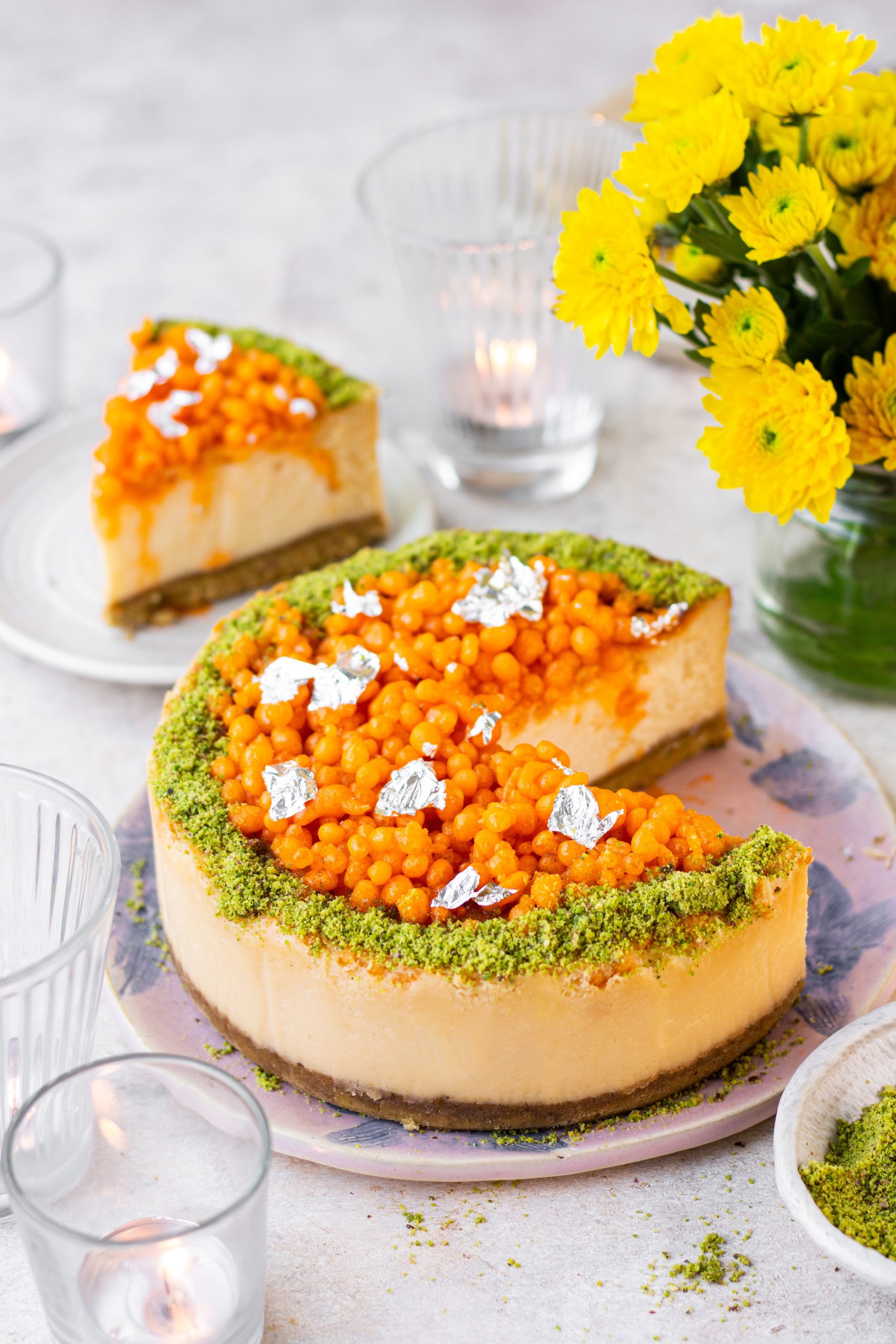 2. Pista Sooji Cake – If you're not too fond of having unhealthy, indulgent desserts, then this pista sooji cake is the perfect treat for you this holi. It's free of refined flour and more so, just the addition of pistachios and sooji makes the cake incredible in taste! Again, it's a very simple cake batter. But how I make it ultra festive is by bringing an element of rose sugar syrup to it. It's regular sooji cake, but flavored with ground pistachios and topped with our mithai wali chashni. This is by far one of the easiest ways of making a cake festive – topping and garnishing it with syrup and rose petals!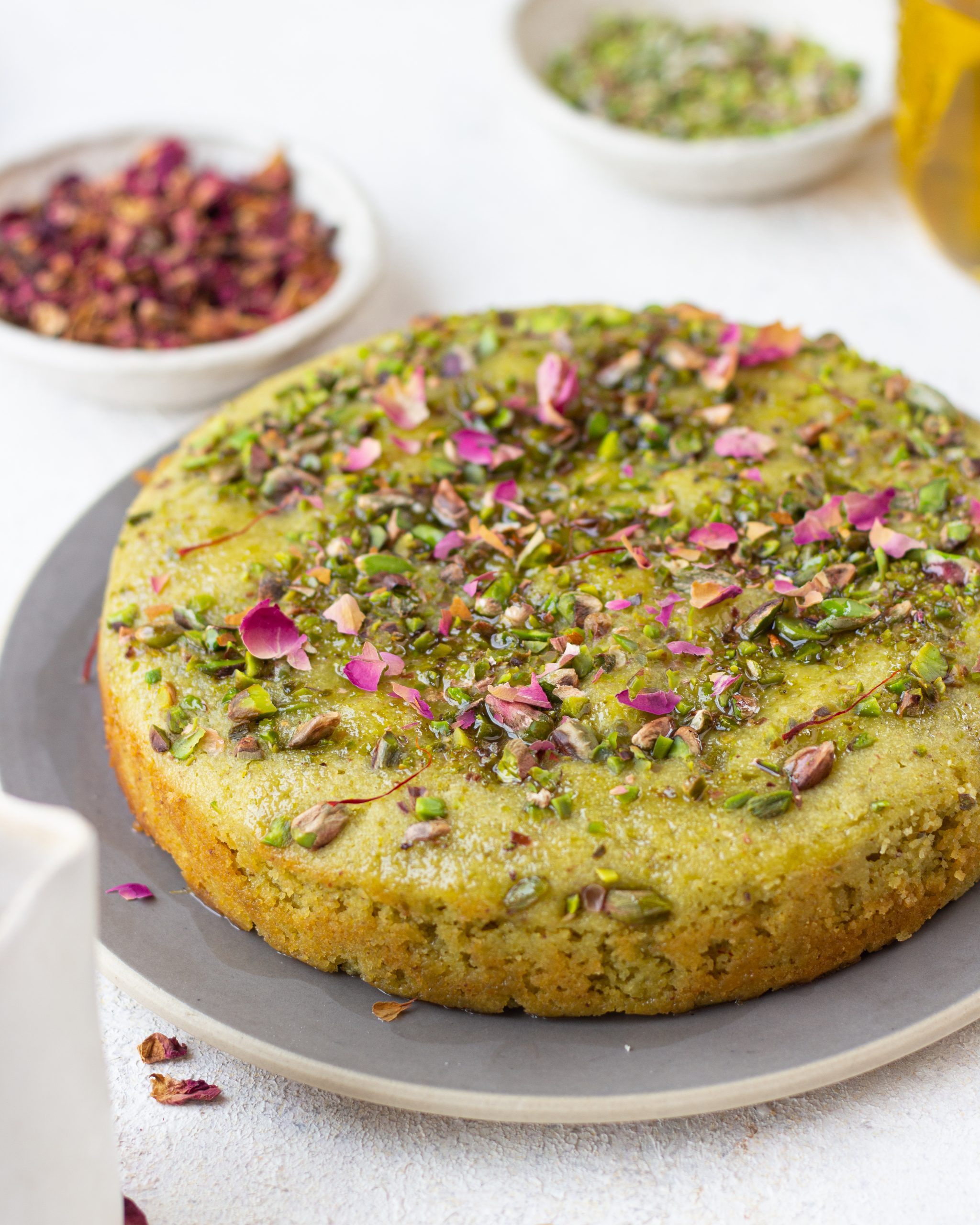 3. Chocolate Rasmalai- Every time I think of this ras malai, my mouth starts watering! If you're fond of making mithai at home, you'll love this recipe as with just one simple addition, you can convert rasmalai to a very fascinating chocolate ras malai. Just add cocoa powder to the chenna mixture and the milk that's used for soaking. That's literally the only thing you need to do, haha! The cocoa powder won't affect the texture of the rasmalai and bring out that rich chocolatey flavor, just enough to wow your guests this holi season!
4. Gulab Jamun Custard Cups – This dessert is made of elements which sound like completely separate desserts – but it comes together absolutely beautifully. We use the base of a cheesecake, we make a regular custard with a simple addition of thandai powder and add chunks of gulab jamun. If this is sounding simple to you, that's how it actually is! It just needed me to understand how to incorporate the flavor of thandai in the custard, then understand which sweet would go well with this thandai custard and then add an element of crunch – which was the biscuit base. This is how you need to understand flavor pairings. It should have crunch and balance – not too sweet and not flavorless!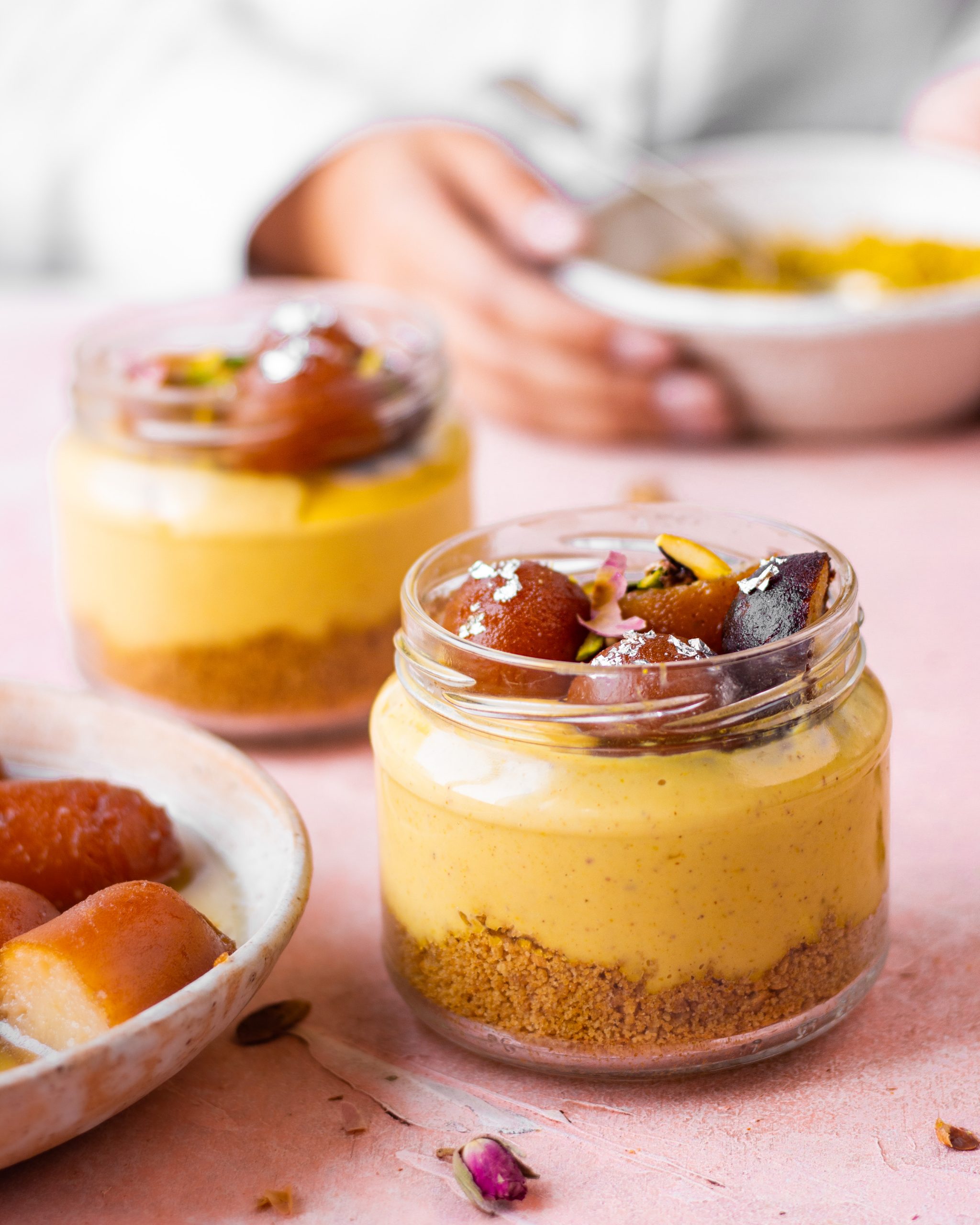 A little about flavor variations
So in order to understand how you can take a simple dessert and give it a festive twist, you need to understand flavor pairings. One such great flavor pairing is pistachio and rose. If you decide to make pistachio cupcakes, you can make a rose buttercream to go with it. The floral notes of rose will complement the nutty flavors of pistachio beautifully. Similarly, if you have a basic vanilla cake, you can make slight additions to it by adding saffron in the cake batter and make a saffron milk soak to go along with it. Prick the cake, pour the milk and you have a beautiful saffron Tres Leches. Similarly, you can make a rose Tres Leches by adding rose essence to the cake batter and rooh afza to the milk soak.
If you don't like bold flavors, you can simply fold in nuts of your choice in your favorite tea cake and you will get a happy, festive treat! Basically, it's just more or less about understanding flavors really well and knowing what goes with what.
If this article was helpful for you, do let me know in the comments! Happy Holi!