This year, holi, for me has been all about fusion desserts but I wanted to take some time and create something that is easy, takes simple pantry ingredients and yet is a complete showstopper on its own! After all, who has the time to break free from the holi madness? And if that's the case with you, then this almond brittle is the perfect fix. Adding festive touches like saffron and edible flowers takes this simple dessert from basic to brilliant.
This almond brittle is completely worth every single second of making it. Fantastic layers of buttery toffee combined with some silky sweet milk chocolate – do I need to say more? Let's get into the recipe.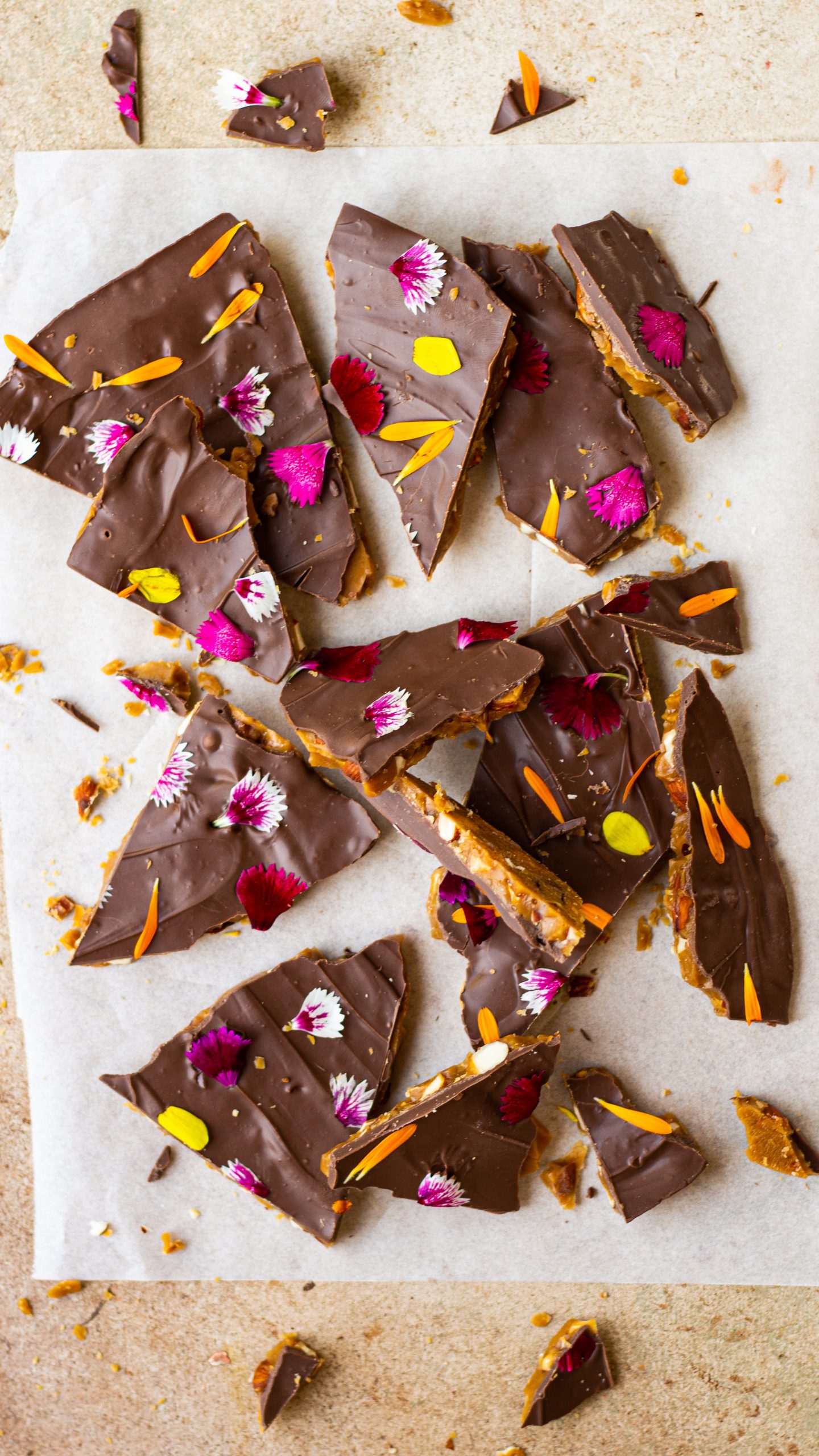 INGREDIENTS USED FOR THIS HOLI SPECIAL ALMOND BRITTLE
BUTTER
Butter is what makes this, holi special almond brittle crunchy and yummy. There are people who make
almond brittle by just caramelizing sugar and adding roasted almond and setting it. It works too but it
sticks to your teeth and is rock hard! That is why butter really helps enhancing the texture, color and
taste of course! I am using amul's salted butter here. If you like you can also use mother dairy's or
president's butter too!
SUGAR
If we are making an almond brittle, sugar has to be there! I prefer using caster sugar as it melts easily
and caramelizes evenly too. If you want to use granulated sugar, you can use it but you need to be extra
careful with the melting of it as it has to melt with butter evenly, without leaving any granules behind!
ALMONDS
I am using almonds in this holi special almond brittle because almonds give that richness to a brittle and
I love its flavor. If you want, you can use any nuts like cashews, peanuts or pecans. I use roasted and
chopped almonds before adding it to the butter and sugar, toffee mixture because it tastes better!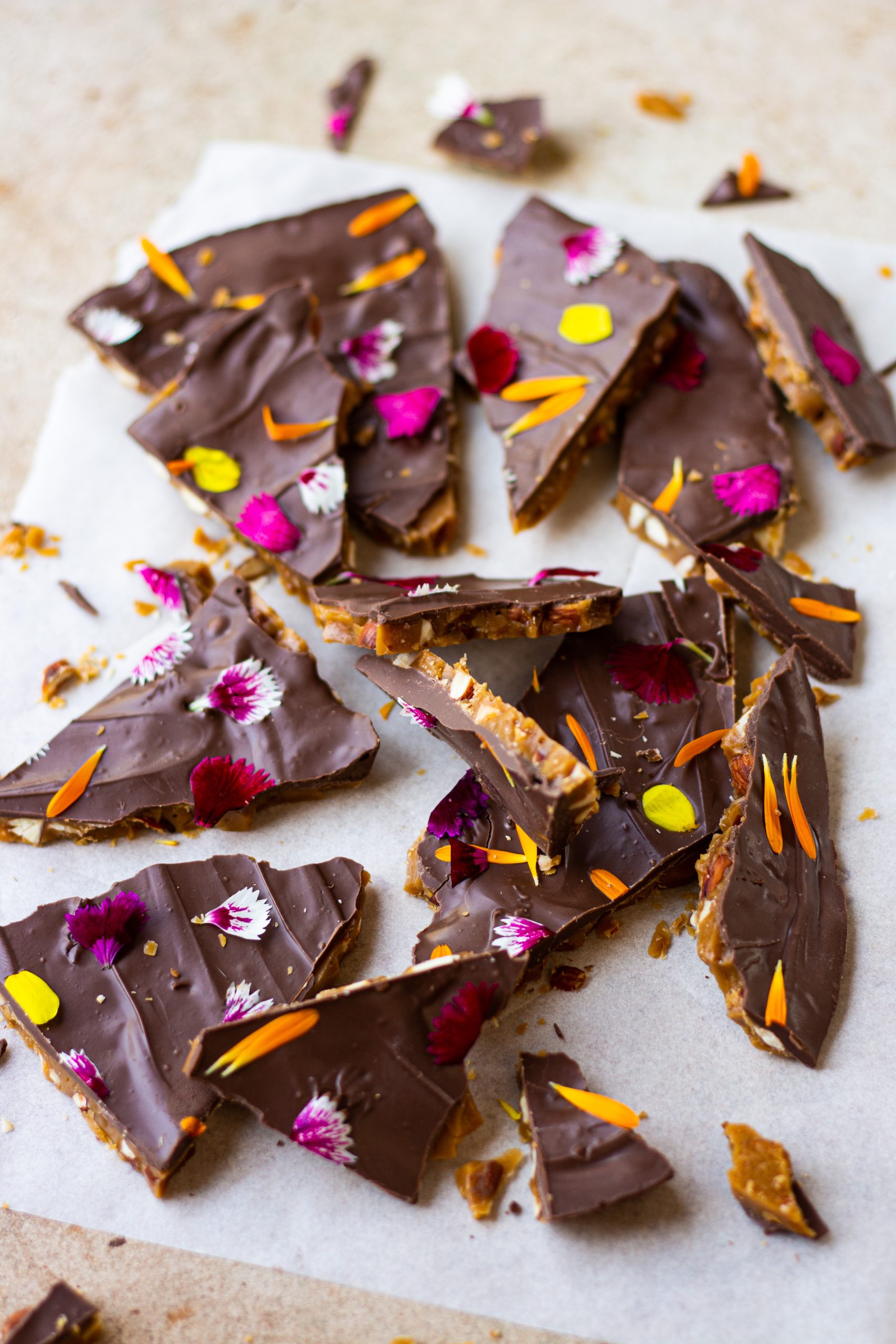 SAFFRON
This ingredient is totally optional for this holi special almond brittle. But it definitely takes this recipe up
a notch! So if you have it, do make it part of your recipe but if you do not get access to it, it is okay too!
You can even add a pinch of ground cardamom if you want instead of saffron strands or nothing at all.
MILK CHOCOLATE
After the holi special almond brittle sets, I spread the melted milk chocolate on one side of it for that
extra indulgence. I have use compound milk chocolate here. If you think it is a bit sweet to you with the
brittle, you can replace it with dark chocolate as well.
EDIBLE FLOWERS
Holi is all about colors! And I had to add color to this holi special almond brittle. Thus, I chose edible
flowers as they were blooming in my garden. If you have access to them, you can use it and if you don't;
you can simply put some dried rose petals with sea salt too. That's a combination no one can argue on!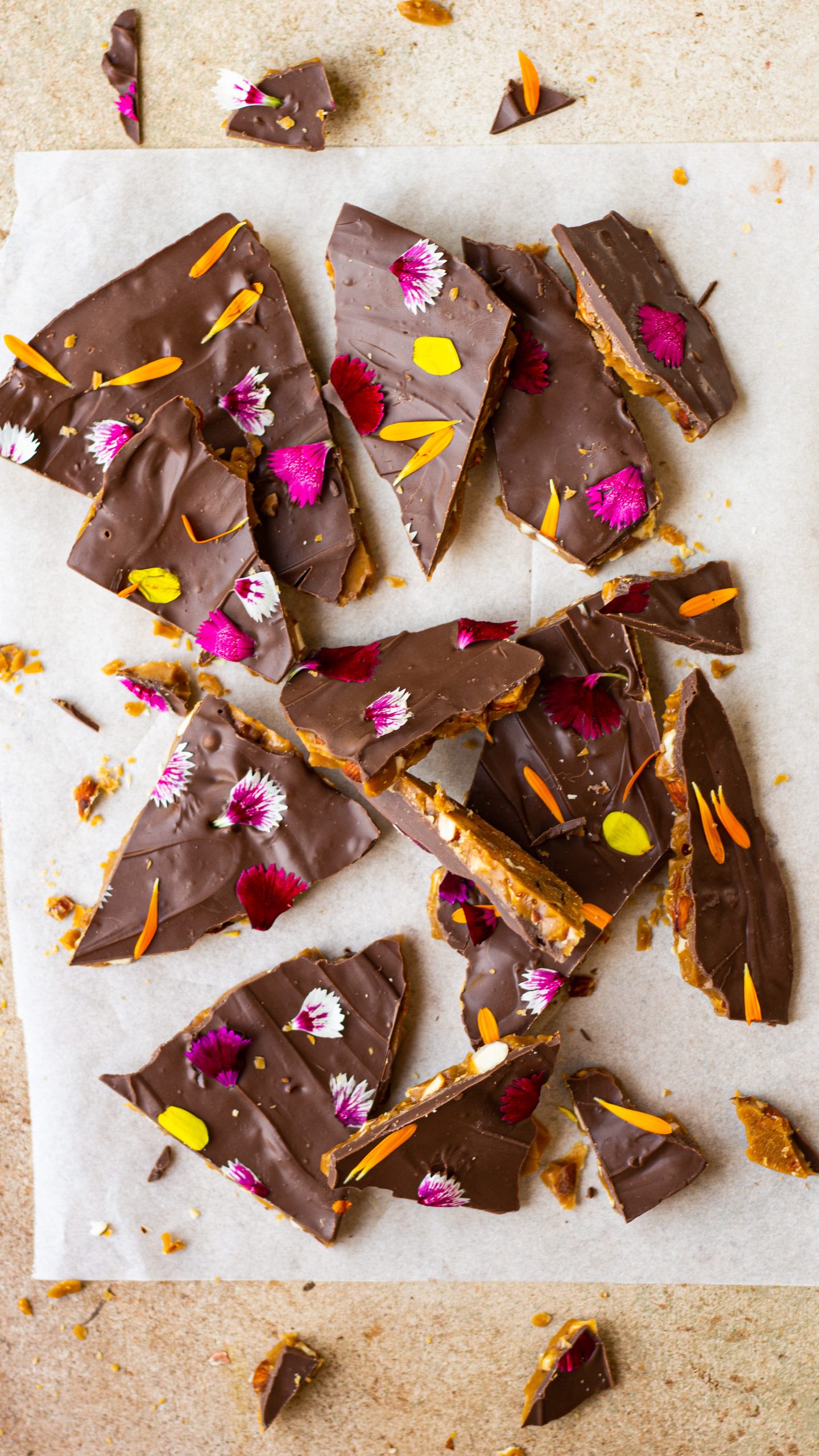 TIPS AND TRICKS FOR MAKING THIS HOLI SPECIAL ALMOND BRITTLE
Keep all your ingredients measured before starting the process as everything will be made
quickly and there will be no time in between to do anything else.
Make sure to pour the milk chocolate and spread, only when the almond brittle is set and cools
down.
As soon as the almond brittle has its amber color, pour it into the lined tray because it will begin
to set in fraction of minutes.
Stick the edible flowers on the chocolate side of the almond brittle when it is still wet.
Store the almond brittle in an airtight container at room temperature as in the fridge it will
retain moisture and gets sticky.
This holi special almond brittle can be consumed for about a week or so; depending upon the
climatic conditions of your country/state.
OTHER HOLI RECIPES ON THE BLOG:
HOLI SPECIAL ALMOND BRITTLE
Ingredients
½ cup caster sugar
½ cup butter
½ cup almonds
10-12 saffron strands
¾ cup milk chocolate
7-8 edible flowers
Instructions
Line a 9-inch square pan or a baking tray with parchment paper and some butter.
In a heavy bottom pan, add butter and sugar and let the sugar dissolve completely.
Bring the mixture to a boil and stir continuously. Add the saffron strands.
The toffee turns amber in color and leaves the pan sides and collects together, that's when its done.
Add the roasted and chopped almonds and give it a good mix.
Transfer this to the lined tray and spread it across with the help of your rubber spatula.
Set this aside, till it cools and hardens.
Meanwhile, in a bowl melt the milk chocolate.
As the almond brittle sets, pour the milk chocolate and spread it over evenly.
Stick the edible flower petals at this stage.
Let this cool properly, with the help of a knife break into barks and enjoy!
If you like this recipe and make it this holi, do share pictures with me tagging me on instagram
using #bakewithshivesh.