Yes, you're reading it right. We just made a beautiful Thandai Panacotta to welcome Holi with a delicious blast. Thandai is such a splendid drink. And this thandai pannacotta is even better. If you want to celebrate Holi in the classiest manner possible, this Thandai pannacotta is the way to go!
Apart from making the thandai drink, I wanted to use the thandai masala in a special way. Thandai is a drink that has ingredients that are perfect for the summer season. Holi is the festival of colors, it celebrates the arrival of spring, celebrating the victory of good over evil. And also, for people who don't like to play, it is also a festival of coming together, festival of celebrating relations, and festival of forgiveness. Plus, when people come together, the one thing that makes the conversations better is desserts. Hence, this thandai pannacotta.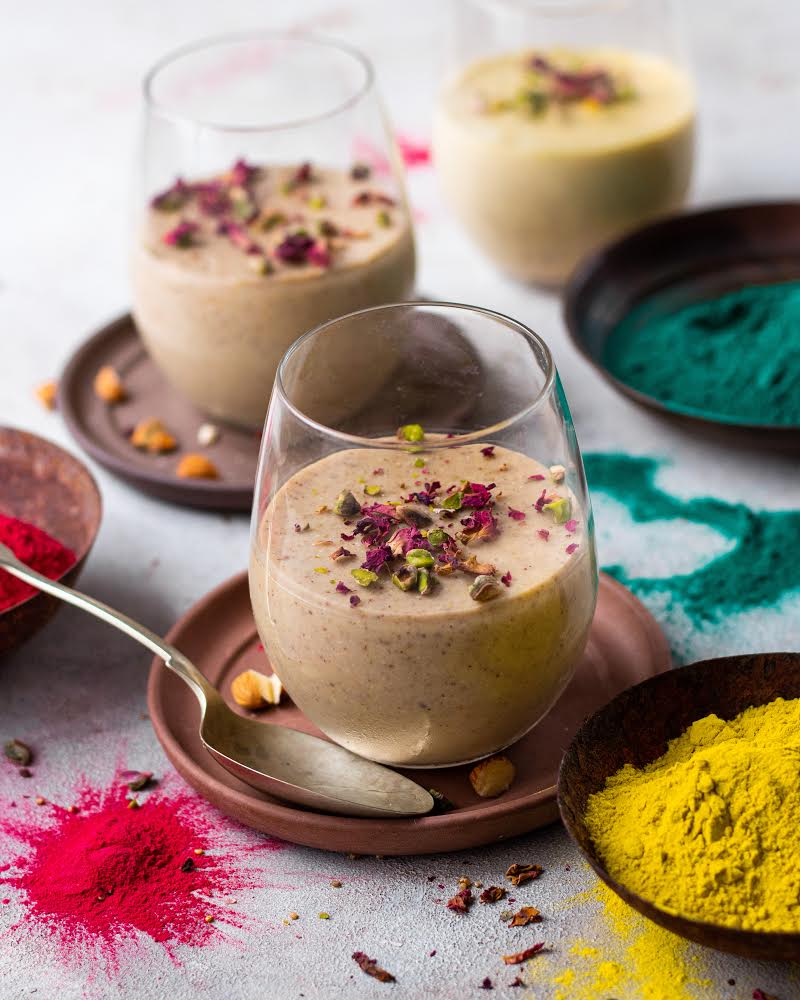 What really is pannacotta?
Panna cotta means 'cooked cream' in Italian. It includes very few ingredients and is basically a simple mixture of cream, sugar, and vanilla. Gelatin is added to set the mixture and create a custard-like consistency. The final product is rich and silky smooth. Despite the heavy cream, this dessert is perfect as a light not-too-sweet dessert after a heavy meal.If you wish to make an even lighter panna cotta, you can replace some of the heavy cream with a lighter cream or milk. I tried it that way a few times and it was still very much delicious.
Tips for the perfect thandai pannacotta
Soaking the gelatine in water is important for the gelatine to properly get integrated
When you put milk and cream on heat, be careful with the amount of heat as too much will burn the cream.
Adding the gelatine to the warm mixture is important so gelatine dissolves properly.
Thandai Pannacotta Recipe
Thandai Pannacotta
Ingredients
3 gelatine leaves ( or 1 tablespoon gelatine powder. Sprinkle the gelatin over 6 tablespoons cold water in a medium-sized bowl and let stand 5 to 10 minutes. )
1½ cup milk
½ cup heavy cream
7 strands of saffron
¾ cup thandai powder
Instructions
Soak the gelatine leaves in a little cold water until the leaves are soft.
In a saucepan set over medium heat bring milk, cream, to a simmer. Add in the thandai powder and let it get fully combined.
Once combined, take the pan off heat. Squeeze the water out of the gelatine leaves and add it to the cream mixture while it is still warm. Mix until the gelatine is dissolved.
Pour into ramekins or any other lightly oiled glass/ ceramic ware and refrigerate overnight
You can find the Thandai Powder recipe
here
.